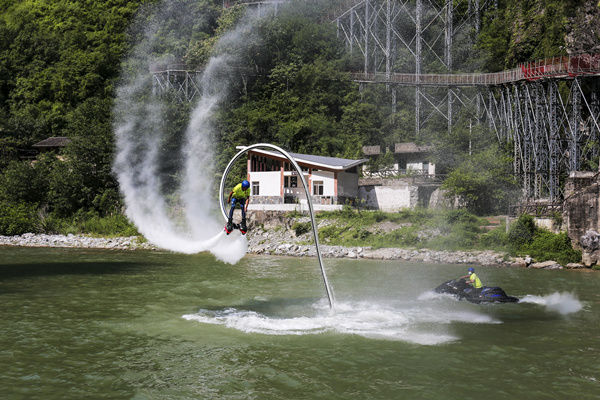 Event site.
Water trapeze performance, catching ducks on water… On the morning of August 4th, the Daning River, a romantic rafting summer – the 2022 Wuxi Daning River romantic rafting season was officially launched in the Wuxi Lingwu Cave Scenic Spot.
At 9:00 am, 15 couples who participated in the event came to the scene early to start the first interactive game, exploring the treasures of Lingwu Cave. At 9:30, the launching ceremony officially kicked off. When the dynamic music sounded, 6 tall models in swimsuits stepped onto the stage, instantly pushing the scene to a climax.
Then, the Wuxi County Cultural and Tourism Commission issued a letter of appointment to the contracted photographer. The person in charge of Wuxi County Shengjing Tourism Development (Group) Co., Ltd. introduced the event and explained the preferential policies of several scenic spots. .
At the launching ceremony, relevant leaders of Wuxi County introduced that Daning River rafting enjoys the reputation of "the first rafting in the Three Gorges", starting from Wuxi Lingwu Cave Scenic Spot and ending at Daning River Scissor Peak, with a total length of 6 kilometers. The whole rafting time is more than 1 hour. The entire Daning River rafting line has a national first-class water quality. The cliffs on both sides of the river stand against each other and the peaks stand. The picturesque scenery is breathtaking. The vast number of tourists and friends can not only experience the passion and excitement of rafting in open waters, but also participate in experiential activities such as water amusements, fully appreciate the beautiful scenery of Wuxi, and touch the long and bright humanistic customs of Wuxi.
At 10 o'clock, the event was officially launched. Two trapeze people rose from the Daning River holding event banners. The 15-minute wonderful trapeze performance made the tourists shout: "Wonderful, let's perform for a while." 15 pairs The couple put on life jackets and boarded the rubber boat, played water gun battles, duck rushing and other games. After that, the drifters who participated in the first drifting type went down to the Daning River together, starting from Lingwu Cave, and drifting all the way to Scissor Peak. end.
The relevant person in charge of the Wuxi County Cultural and Tourism Commission revealed that tourists who have participated in rafting on the Daning River do not need to leave in a hurry, but can also go to Hongchiba Scenic Spot and Lanying Grand Canyon to escape the summer. Such a summer package can be described as a witch The stream is unique. For citizens who want to drift off to escape the heat, the Daning River is waiting for you to drift. (Jiang Haitao)