This article is reproduced from: Guangming.com
Shanxi Daily New Media Comprehensive Report Pay attention to the opening of destination scenic spots in time.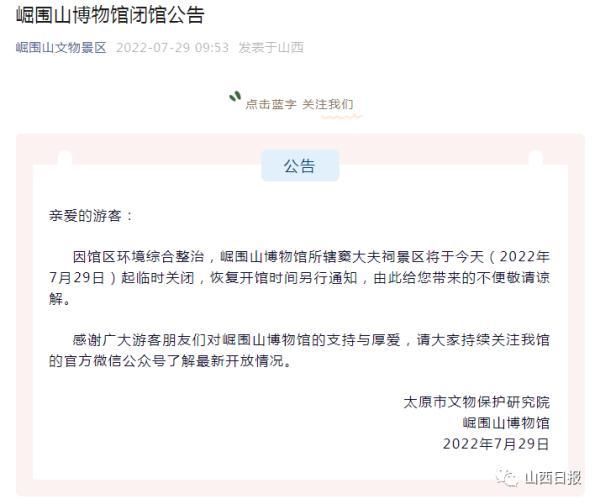 Taiyuan Jueweishan Museum issued an announcement saying that due to the comprehensive improvement of the environment in the museum area, the Dou Dafu Temple Scenic Spot under the jurisdiction of the museum will be temporarily closed from July 29 , the reopening time will be notified separately.
Lvliang Fenyang Shanglinshe Ecotourism Scenic Spot issued an announcement on August 1, saying that at around 12:10 on August 1, 2022, a female tourist visited the scenic spot after the "zipline" project ended. , collided with the recovery device of the zipline equipment and accidentally fell. After the incident, the staff of the scenic spot actively carried out rescue work as soon as possible, and sent the injured to the hospital for rescue. At present, the incident is under further investigation. The Shanglinshe Ecotourism Scenic Spot has been closed for rectification, and a comprehensive investigation of potential safety hazards has been carried out.
From: Shanxi Evening News