Source:Medical Journal span>
In the treatment, prevention and first aid of cardiovascular and cerebrovascular diseases, there are three kinds of medicines that we are most familiar with: nitroglycerin, Suxiaojiuxin pills and aspirin.
Among these three medicines, some can be used for first aid in the event of a sudden myocardial infarction, and some can quickly relieve coronary heart disease such as chest tightness and palpitations. Some of the sudden symptoms of heart disease can help high-risk groups to prevent the occurrence of cardiovascular and cerebrovascular diseases, and help those who have suffered from the disease to reduce the recurrence rate of the disease.
However, what is the relationship between these effects and drugs? Many people may not be very clear! Today, the editor will tell you how to use these three medicines! The difference is huge!

nitroglycerincan be first aid, coronary heart disease essential nitric acid Glycerol tablet is a common medicine for coronary heart disease patients, it can quickly relieve angina pectoris, but it must be noted that only those diagnosed with coronary heart disease need to prepare.
what
what
when
  span>
waiting
use< /p> When you suddenly feel chest painThe typical angina pectoris of coronary heart disease is paroxysmal chest tightness, suffocation, and chest pain, which appear behind the sternum and can radiate to the heart Front area and left arm. The site of angina can sometimes "deviate", appearing in the upper abdomen or radiating to the neck, jaw, left shoulder, or right anterior chest. During the attack, you may feel crushing pain or suffocation, or even feel suffocation with the fear of dying. Nitroglycerin can be used at this time.
Services
Using
method
angina pectoris , immediately sublingually contain 1 tablet of nitroglycerin. Each tablet contains 0.5 mg. It is recommended to chew the nitroglycerin tablet lightly and then sublingually. Generally, symptoms can be relieved within 1 to 3 minutes of oral administration. If it is necessary to inhale oxygen at the same time, if it is not effective or the curative effect is not obvious after taking it for 5 ​​ minutes, you can take 1 more tablet, and it can be taken continuously at most 3 times (3 tablets in total), 5 minutes apart each time.
Note
Meaning
Affair
  span>
items
✔< strong>When taking nitroglycerin, sitting is the best.Sitting is better than lying and standing. Orthostatic hypotension can cause dizziness and low blood pressure due to insufficient blood supply to the brain , and even syncope symptoms; if the supine position is taken during oral administration, it may increase the burden on the heart due to the increase of blood return to the heart, thereby affecting the efficacy of the drug.
✔Never take it with water! Sublingually taking nitroglycerin, the absorption rate is about 80%, and the maximum effect is generally achieved 5 minutes after taking it. Swallowing with water has a slow onset of action, and the liver has a degrading effect on it, and only about 8% of the drug ingredients are absorbed, which greatly reduces the effect of the drug. ✔Three tablets in a row are invalid, be sure to hit 120 If you get sick after taking 3 timesIf it cannot be relieved, do not continue to take nitroglycerin tablets, call 120 in time, and do not move the patient at will. ✔If you are diagnosed with coronary heart disease, carry it with you, but do not keep it close to you span>When carrying nitroglycerin with you, try to avoid putting it in your close-fitting pockets. Because nitroglycerin is highly volatile, it is necessary to avoid the effect of receptor temperature to accelerate the failure of the drug. ✔Replace regularly, don't let the medicine fail The validity period of nitroglycerin at room temperature, sealed and protected from light is within 3 years after the production date, and it will be ineffective after the expiration date. However, some nitroglycerin may fail in 3 to 6 months due to repeated opening of the bottle cap. Storage in non-light-proof bottles is more likely to fail. Ineffective nitroglycerin will not feel astringent, swollen, or flushed when taken under the tongue. Once it fails, it will not work in first aid, which will delay the time for rescue. ✔Use with caution in these two groupsnitric acid The adverse reactions of glycerol mainly include orthostatic hypotension, intracranial pressure, and intraocular pressure increase, so it should be used with caution in patients with glaucoma and cerebral hemorrhage.

Suxiao Jiuxin Pillsfor emergency use and for people at high risk of coronary heart disease People with high work pressure, high blood pressure and blood lipids during physical examination, and angina pectoris without a clear diagnosis are all high-risk groups of coronary heart disease. Suxiao Jiuxin Pills can be used to relieve sudden chest tightness symptoms. Suxiao Jiuxin Pills can resist myocardial ischemia, protect the heart, reduce blood viscosity, relieve spasm and relieve pain, and can also be taken under the guidance of a doctor for the prevention and treatment of cardiovascular and cerebrovascular diseases.
what
When
when
< span> 
waiting
use< /span>
Take it when chest tightnessWhen chest tightness, precordial discomfort, left shoulder soreness and other aura symptoms occur, you should quickly take Suxiao Jiuxin Pills , must not wait for a typical angina attack before taking it. Because every attack of angina pectoris will cause serious damage to the function of the heart and brain, taking medicine in time when there are aura symptoms can achieve better results. It usually takes effect within a few minutes after taking it, which can effectively prevent sudden death. However, Suxiao Jiuxin Pills are only emergency medicines and cannot fundamentally treat the disease. You should seek medical attention as soon as possible after symptoms are relieved.
Services
Use
square
  span>
Methods
In acute attacks, the dose of Suxiao Jiuxin Pills should be small, usually 4 capsules first , under the tongue when ingesting. It can also be chewed and placed under the tongue to speed up its action. If symptoms are not relieved after 10 minutes of medication, you can take another 4-6 capsules as appropriate. For other treatments, please follow the doctor's advice.
Note
events
  < p>items
✔tongue Sublingual administration, fast absorptionSuxiao Jiuxin Pill is suitable for sublingual administration. The active ingredients of the drug are absorbed through the sublingual mucosa and can quickly enter the blood circulation. For faster action, the pill can also be crushed and placed under the tongue. ✔Sit and eat, never stand< span> Take it in a sitting position, which can reduce the amount of blood returning to the heart, reduce the burden on the heart, and make the myocardial oxygen supply relatively meet its own needs, thereby relieving the disease. It is not advisable for the patient to take the medicine in a supine or standing position. ✔No effect after taking twice in a row If the symptoms are not relieved after taking the medicine for two consecutive times, the patient should be sent to the hospital in time. ✔The active ingredients are volatile, remember to check and replace regularlySuxiao Jiuxin Pill is a kind of Brown drop pills with special fragrance, usually valid for 1 year. If it is found that the medicine becomes soft, sticky, discolored or broken, it is best to replace it with a new one immediately, so as not to delay the rescue opportunity due to failure. In addition, if the sublingual administration does not have the same spicy, bitter and spicy taste, or burning, refreshing and penetrating feeling, you should quickly change to a new medicine. ✔These two types of people should be used with caution 1. People with low blood pressure Use with cautionSuxiao Jiuxin Pills should be used with caution in patients with hypotension. Suxiao Jiuxin Pills have a certain antihypertensive effect. After taking the medicine, patients with hypotension may experience symptoms such as dizziness, aggravating the condition of hypotension. In addition, the main ingredients of Suxiao Jiuxin Pills are Chuanxiong and Borneol. Long-term use of borneol and other drugs will consume Qi and damage Yang, resulting in decreased heart function. Therefore, when using it, be careful not to overdo it and not to take it for too long. 2. People with weak spleen and stomach should not use it frequently.Suxiao Jiuxin Pills can be taken once in a while during an angina pectoris attack to relieve symptoms, but remember not to take it frequently. Because the main ingredients of Suxiao Jiuxin Pill are Chuanxiong and Borneol, if people with weak spleen often take it, the properties of its own content will cause problems in the patient's digestive system, which may cause stomach discomfort and frequent diarrhea.

aspirinusually used to prevent disease and recurrenceThe scientific name of aspirin is acetylsalicylic acid. Along with penicillin and diazepam, it is listed as the world's three major classic drugs, and its contribution is to greatly reduce the morbidity and mortality of cardiovascular and cerebrovascular diseases. The clinical application of aspirin is mainly for primary prevention and secondary prevention. It is the most suitable for people who have had cardiovascular and cerebrovascular diseases and are very likely to have cardiovascular and cerebrovascular diseases. .
what
what
when
  span>
waiting
use< /p> Best on an empty stomachIt is generally best to take it on an empty stomach at night, and those with obvious gastrointestinal reactions can take it after breakfast.
Services
Use
square
  span>
Methods
The standard dose of aspirin for long-term anti-platelet aggregation is 81-162 mg per day, generally 100 mg per day is sufficient. The specific usage and dosage should be given by the clinician according to the individual condition.
Note
Note
Events
Item
✔Aspirin is a medicine, not a supplement strong>Some elderly people think that long-term use of low-dose aspirin can cure diseases and strengthen their health without disease? This view is wrong. Aspirin as a drug also has its indications. For patients with high risk of thrombosis, long-term use of aspirin is recommended to reduce cardiovascular and cerebrovascular risks, which is primary prevention. It is not recommended for other people to take it, or follow the doctor's advice. ✔Aspirin takes a few hours to work, not an emergency< span> For acute myocardial infarction, the onset of aspirin is relatively slow, at least a few hours. Even if there are currently stronger anti-platelet aggregation drugs, such as ticagrelor, it will take half an hour to take effect. If there is no other emergency medicine around, only aspirin, the dose should be 300 mg, not just "two tablets". In addition, in order to speed up the absorption effect, chewing is more useful than "swallowing with water". ✔Use these five people with caution1 , Gastrointestinal reactions are the main adverse reactions of aspirin, therefore, patients with gastric and duodenal ulcers should not use aspirin in the acute phase. During the stable period, aspirin enteric-coated capsules, which have relatively little damage to the gastric mucosa, can be changed or taken with food to reduce irritation to the gastrointestinal tract. 2. People who usually have a tendency to "spontaneous" bleeding, such as those with frequent bleeding gums or skin, should not take aspirin. Aspirin is contraindicated in patients with hemophilia or thrombocytopenia. 3. Those with allergic constitution should not use aspirin, because it can induce allergic reactions such as skin rash, asthma, angioedema or mucosal congestion. Among them, asthma is more common, which can cause breathing difficulties and wheezing a few minutes after taking the medicine, and even lead to death in severe cases, which is called "aspirin asthma". 4. Pregnant women taking aspirin may be at risk of developing fetal defects. Aspirin also enters breast milk, causing the baby to have a tendency to bleed, so it should also be used with caution in breastfeeding women. 5. People who have undergone surgery recently, especially those who have undergone ophthalmology, craniocerebral, and visceral surgery, are prohibited from using aspirin.
[Very Important]Do not take the medicines together! If you are not sure how to use it, in the event of a sudden illness, call 120 and briefly describe the patient's physical symptoms to the medical staff, who will guide the medication and first aid methods. SummarySimple to remember
*The article is reproduced on this platform, if there is any infringement, please contact to delete
/strong>
1. The Shanghai doctor involved in the "tumor shady" was suspended from practicing, and the related company was fined 1.65 million yuan< /p>
2. The most comprehensive explanation of the cardiac conduction system
3. Step on the air", is this the heart "calling for help"?
4. Rare heart shot video of ventricular fibrillation attack
5. Prevention and prevention of atherosclerosis Governance
Hello, my friends, let me have a private message with you.
Because WeChat has changed the push rules, tweets are no longer displayed according to the timeline, if you don't click "Watching"Or without "star", you may not see our feeds!
If you don't want to miss our great content, hurry upstar ⭐Let's go!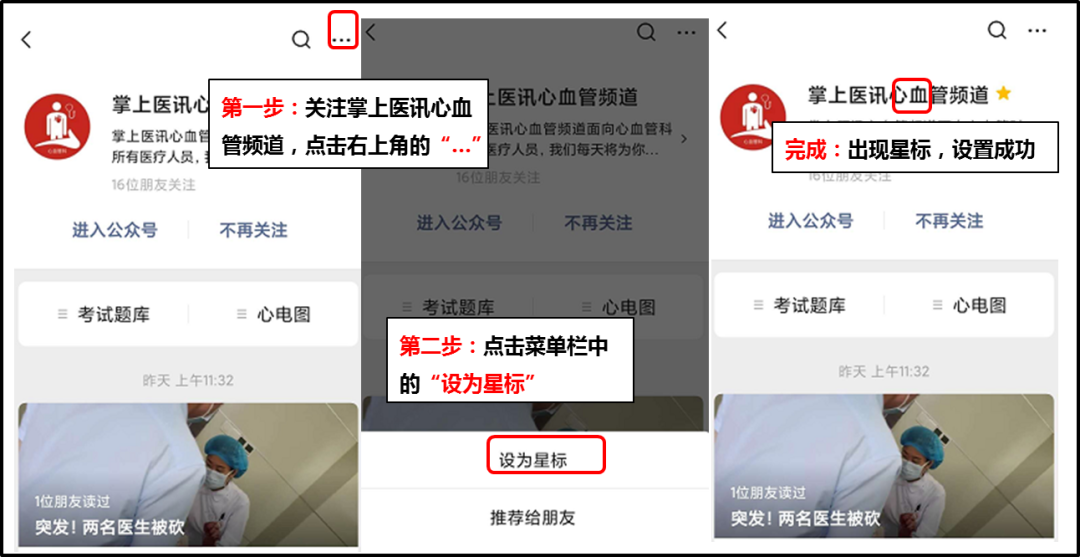 good looking people span>Watching