Jimu News commentator Xu Hanxiong
Recently, tourist Liu Min (pseudonym) and friends reported a group trip to Yunnan, but unexpectedly, they were threatened by the tour guide "knowing your home address and ID number, white-collar workers need to spend at least 8,000 yuan". On the afternoon of August 3, the staff of the Kunming Municipal Bureau of Culture and Tourism in Yunnan responded that they have paid attention to the matter and are currently investigating and handling it. (According to Jimu News on August 4)
According to reports, from the 19th to 26th of last month, Liu Min and his friends signed up for a 6-day, 5-night Yunnan tour group. The total fee for the two people was 1580 yuan. , which includes room and board, excluding airfare. She introduced that before joining the group, she asked the staff if the tour group needed shopping, and the staff responded that the group was not a shopping group. What she did not expect was that during the tour, the tour guide not only did not allow tourists to add contact information to each other, but also threatened to know the tourists' ID numbers and home addresses, and the difference in travel fees would be recovered if they did not shop.
Relevant videos show that the tour guide also divides the shopping consumption levels for tourists, saying that "the working class consumes 3,000 to 8,000 yuan, and the urban white-collar workers consume 8,000 to 20,000 yuan." Under the pressure of the tour guide, Liu Min and his friends bought things for five or six thousand yuan, and one of the group members bought 130,000 yuan of jade.
This news made netizens' first reaction be, why is it Yunnan again?
Why is there such a reaction? It is in my impression that many negative examples of Yunnan's tourism market have been exposed. Yunnan has also rectified the chaos in the tourism market for many times, but it has been repeatedly banned, which is unavoidable.
On May 7, 2015, Yunnan Provincial Tourism Development Commission held a special action meeting to declare war on "unreasonably low prices". The reason is that during the May Day that year, an incident of "girl tour guide scolds tourists for not shopping enough" was exposed. The tour guide involved said that there was no basic salary, insurance or even subsidies for taking a tourist shopping group.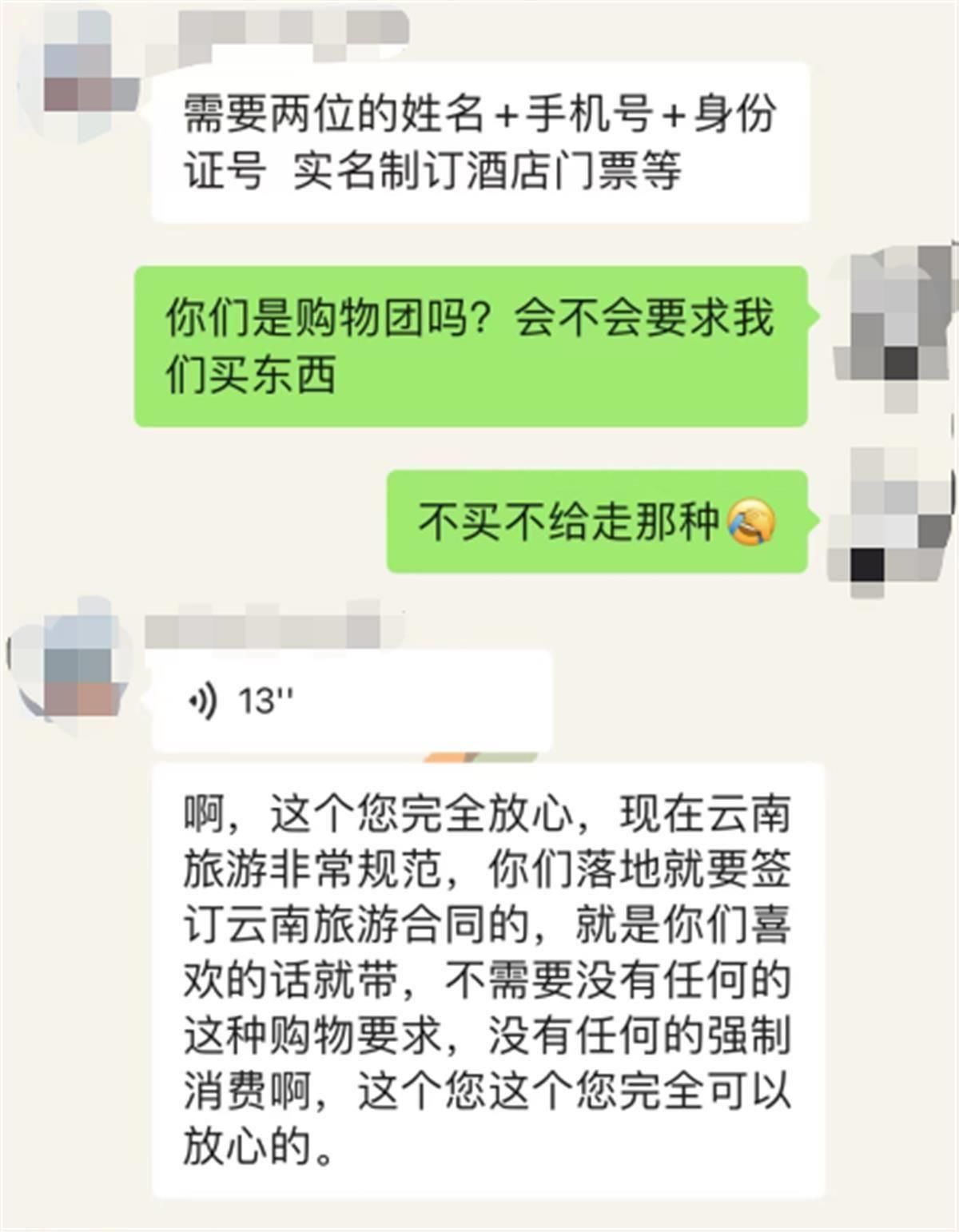 Related chat screenshots (Source: The Paper)
October 2016, online again The exposure of a video of Yunnan tour guides forcing tourists to shop and consume has attracted great attention from the National Tourism Administration, requiring the Yunnan Tourism Development Commission to quickly investigate and deal with the tour guides and enterprises involved. Yunnan Provincial Tourism Development Commission requires that travel agencies organize tourism activities at unreasonably low prices, deceive tourists, and obtain illegitimate benefits by arranging shopping or arranging other self-funded projects.
On April 15, 2017, Yunnan Province introduced 22 measures to strictly rectify the order of the tourism market. In the past year, 163 tour guides who violated laws and regulations were investigated and 252 travel agencies that violated laws and regulations were investigated and punished.
In 2018, a tour guide in Yunnan was sentenced to 6 months in prison and fined 2,000 yuan for the crime of forced trading for forcing shopping, abusing tourists, and driving tourists out of the car.
On January 30, 2019, the Yunnan Provincial Department of Culture and Tourism released 12 typical cases of order rectification in the tourism market, 7 travel agencies were revoked their business licenses, and 6 tour guides had their tour guide certificates revoked. At the same time, a tour guide was administratively detained for 7 days and fined 500 yuan on suspicion of forced buying and selling.
It can be seen that the order of the tourism market in Yunnan has been rectified, but the irregularities are still going their own way.
As early as 2015, a travel agency source revealed that tour guides employ various modes such as self-employment, long-term employment, and temporary employment, and the management is not standardized. Yunnan has stated that it will establish a tour guide dispatch system and a reasonable tour guide salary system to eradicate the frequent "bad tour guides" problem. But after so many years, has the problem been cured?
The new version of the "Guide Management Measures" came into effect on January 1, 2018, which stipulates that when a tour guide commits forced shopping, rebates, etc., the maximum penalty can be revoked the tour guide qualification certificate. Can the relevant regulations be put into practice and play a role in punishing evil and promoting good?
The matter of blackmailing tourists into shopping is still under investigation. I really hope that rectifying the order of the tourism market will not be discovered together, but will be dealt with together. But if they are dealt with together, they should be eliminated together, which can play a role of "killing one and setting an example to a hundred". From the management point of view, it can prevent the "evil tour guides" from surviving, and stop coming out to disgust tourists and the tourism image of Yunnan.