AxcellaTherapeutics announced today that its investigational drug AXA1125 has achieved positive interim results from the EMMPACT Phase 2b trial in patients with nonalcoholic steatohepatitis (NASH). Data analysis showed that AXA1125 helped NASH patients achieve statistically significant and clinically meaningful improvements in liver stiffness, inflammation and liver fat mass.
NASH is a serious, progressive liver disease. The cause is that the liver cannot metabolize lipids and carbohydrates normally, resulting in excessive fat accumulation in the liver and causing chronic inflammation, which in turn causes progressive liver fibrosis (scarring), eventually leading to liver cirrhosis, and even liver failure, liver cancer and death. . In NASH patients, advanced fibrosis is highly associated with the risk of developing liver-related disease and death. Each (onset) node of these diseases is affected by dysregulation of a specific pathway, which can lead to a range of symptoms. Common risk factors for developing NASH include obesity, high blood lipids (eg, high cholesterol and triglycerides), and type 2 diabetes. There are currently more than 100 million NASH patients in the world, yet there is still no approved therapy for the treatment of NASH.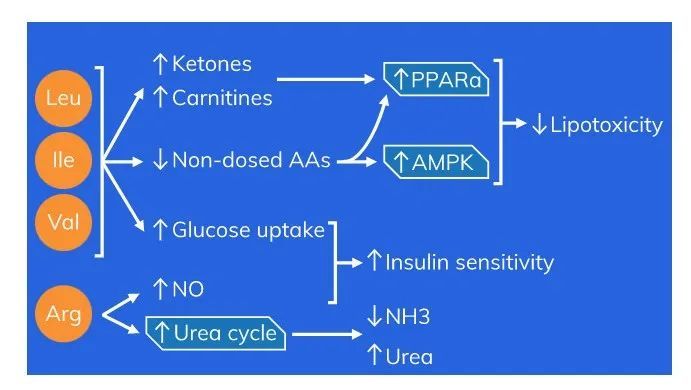 ▲Pharmacological mechanism of AXA1125 (Image source: Axcella official website)
AXA1125 is a multi-target oral drug candidate, an endogenous metabolic modulator (EMM) combination developed by Axcella, consisting of six amino acids and other derivatives. These molecules are master regulators of multiple metabolic pathways. By combining them into different combinations, this therapy may restore the homeostasis of multiple key biological pathways and improve cellular energy efficiency. For example, branched-chain amino acids (BCAAs) in this drug product promote glucose uptake, increase insulin sensitivity, and reduce lipotoxicity. Among them, arginine (Arg) can reduce ammonia production and liver cell destruction, and glutamine (Gln) and arginine can reduce inflammation through their effects on intestinal epithelial cells. N-acetylcysteine ​​(Nac) has anti-inflammatory effects by promoting glutathione synthesis and reducing reactive oxygen species (ROS). In February this year, the U.S. FDA granted AXA1125 Fast Track designation for the treatment of NASH.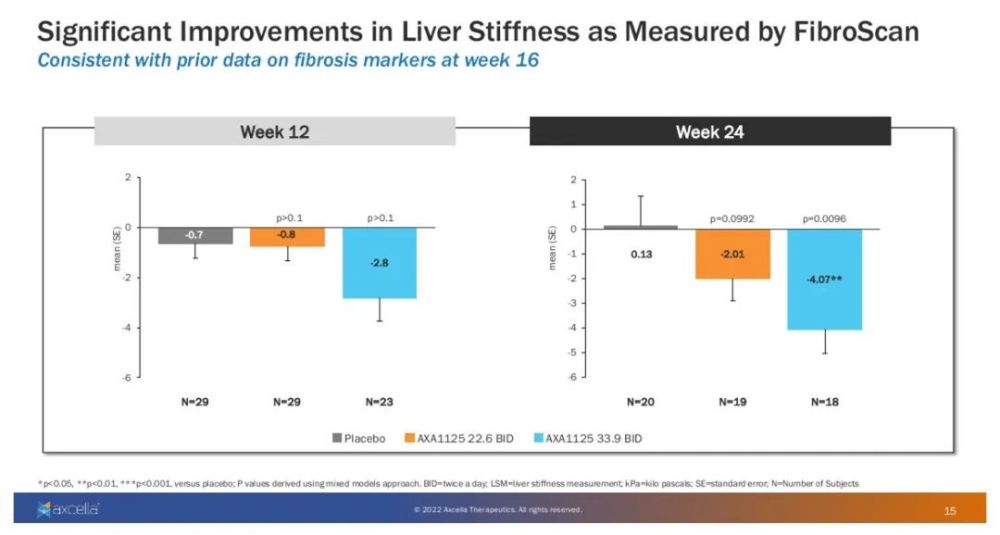 ▲AXA1125 clinical data (image source: Reference [3])
EMMPACT is a global, double-blind, placebo-controlled, dose-ranging, clinical Phase 2b trial to examine the safety, tolerability and efficacy of AXA1125 in patients with NASH. This scheduled interim analysis looked at data from 82 patients at week 12 of the trial and 58 at week 24. All enrolled patients had biopsy-confirmed stage 2 or 3 NASH, and about half of them also had type 2 diabetes. Enrolled patients were randomly assigned in a 1:1:1 ratio to receive placebo, 22.6 g or 33.9 g of AXA1125 twice daily.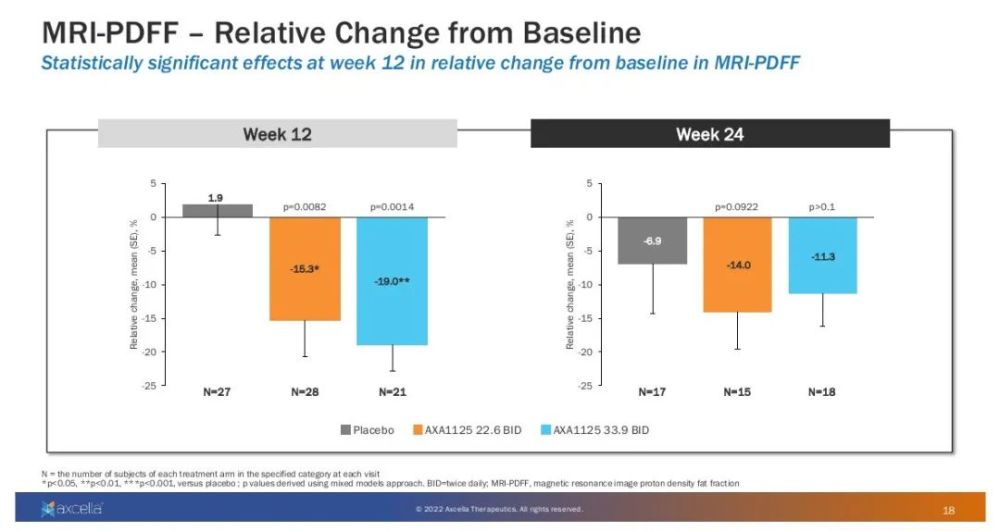 ▲AXA1125 clinical data (image source: Reference [3])
At 24 weeks,there was a significant improvement in liver stiffness measurements (LSM) in the high-dose group compared with the placebo group, with placebo, low-dose, high-dose The changes in LSM in the dose groups were 0.13, -2.01, and -4.07 kilopascals (kPa) (low dose: p=0.0992, high dose: p=0.0096). Statistically significant improvements in alanine aminotransferase (ALT) levels were seen at 12 and 24 weeks, and after adjustment for placebo values, ALT in the low and high dose groups The difference in change was -28.61% (p=0.0183) and -36.3% (p=0.0082). In addition, significant improvement was also found in patients' liver fat content at 12 weeks as assessed by Magnetic Resonance Proton Density Fat Fraction (MRI-PDFF) compared to baseline. The change in liver fat content in the low and high dose groups was -18.98% (p=0.0082) and -21.24% (p=0.0014) after adjustment for placebo group values. This experimental data shows that AXA1125 has a unique multi-target effect.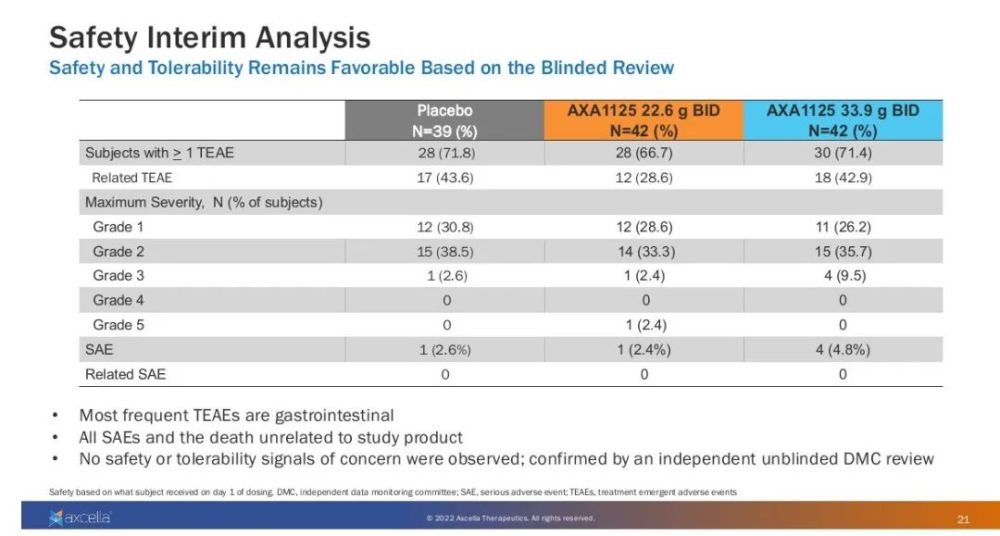 ▲AXA1125 clinical data (image source: Reference [3])
AXA1125 also demonstrated a favorable safety profile in trials, and both doses will be continued in future trials. Consistent with the results of previous trials, the results were similar in patients with type 2 diabetes and those without diabetes.
"We think the 12- and 24-week interim analysis results are very encouraging," said Mr. Bill Hinshaw, CEO of Axcella, "These results show that AXA1125 compared with placebo at 24 weeks. Treatment of AXA1125 can achieve statistically significant improvements in metabolic, inflammatory and fibrotic biomarkers, findings that make AXA1125 a potential first-line treatment for NASH. We will continue to conduct trials and collect data. We expect to report in the first half of 2024 Top line, biopsy results at 48 weeks."
WuXi AppTec provides integrated, end-to-end new drug R&D and production services for the global biopharmaceutical industry, covering chemical drug R&D and production, biological research, preclinical testing and clinical trials R&D, cell and gene therapy R&D, testing and production. If you have relevant business needs, please click the picture below to fill in the specific information.