The water was surging, and the person wearing the swimming ring leaned forward and backward, and the head and neck of the swimming ring were "fighting" together.
Recently, netizens posted a video on social media with the text "Water park, really lively". Netizens commented "I can't see a seam even if I see a needle and insert a needle", "I thought it was a pile of rubber hairbands at first glance" and "a screen full of donuts".
Jiupai News learned that the amusement park in the video is the Heiyu Lake Water Park in Daqing City, Heilongjiang. The staff said that the incident happened on August 7, which was a Sunday. About 2,000 tickets were sold that day, but tourists all went to play at the same time, which caused the crowd.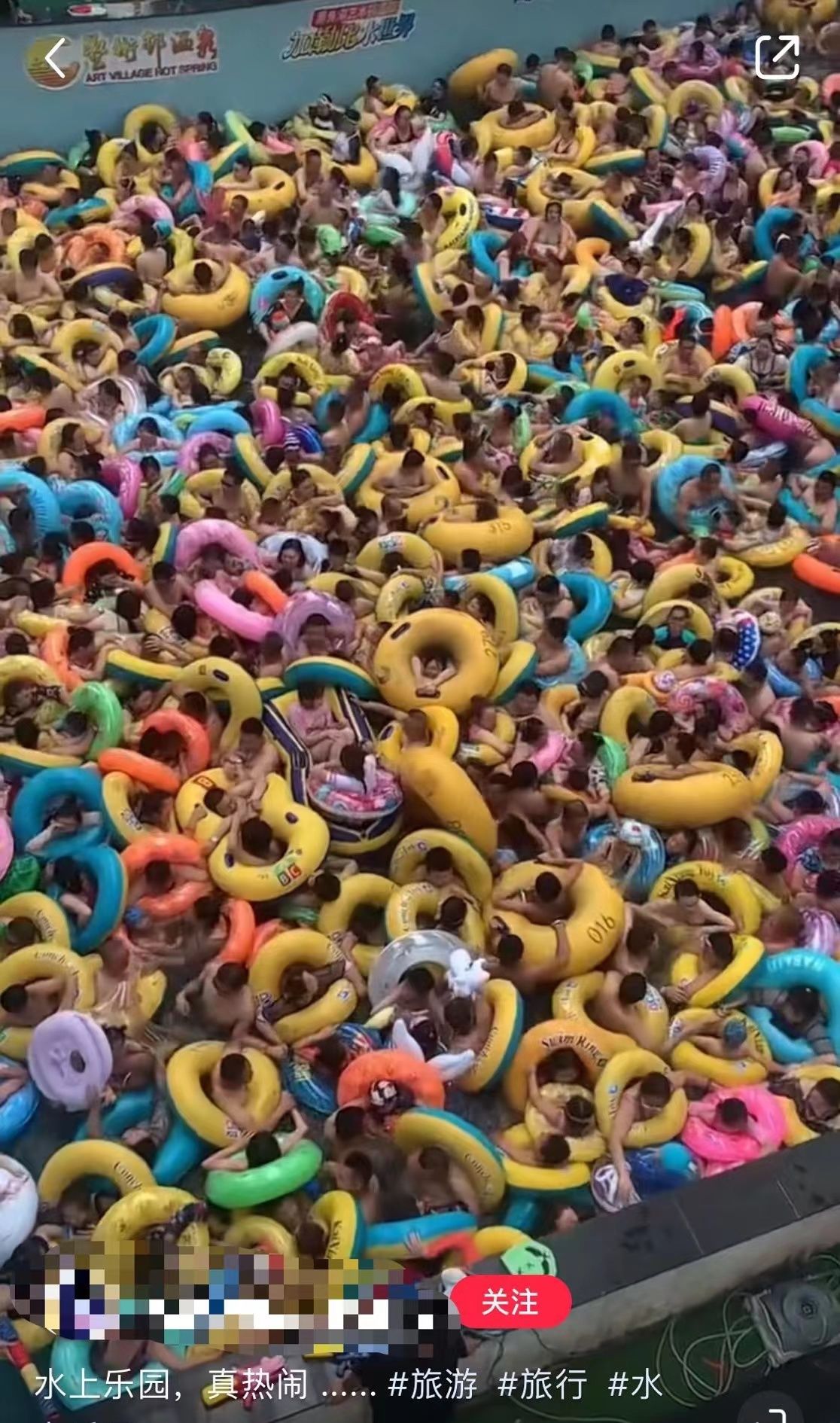 staff He also said that at present, the scenic spot has limited the daily flow of 1,500-2,000 people. "If there are too many people, no more people will be let in," he said.
The video caused a discussion on the Internet. Netizens said that the safety hazard is too great. "If the swimming ring is buckled upside down and you can't turn over, you will drown." There are also concerns that overcrowding will cause water quality problems.
Jiupai News contacted a staff member of the Legal Supervision Section of the Daqing Municipal Health and Health Department, saying that they had received reports from the public yesterday about the water quality problem in the park. The inspection matters are the responsibility of the Sartu District.
A staff member of the Sartu District Health and Family Planning Comprehensive Supervision and Law Enforcement Bureau said that the water quality of the Blackfish Lake Water Park will be tested on a daily basis. Check the time node."
Previously, the Daqing Saertu District Market Supervision Administration told the media that the park is an in-hotel project and the hotel has been ordered to Strengthen current restrictions and epidemic prevention efforts.
Jiupai news reporter Xu Ming
[Breaking news] Please contact the reporter on WeChat: linghaojizhe
[Source: Jiupai News]
Disclaimer: The copyright of this article belongs to the original author. If the source is wrong or infringes your legal rights, you can email Get in touch with us and we will deal with it promptly. Email address: [email protected]