At about 8 am on August 9, a screenshot of a suspected Xiamen Cultural and Tourism Bureau staff requesting travel agencies in Xiamen to notify passengers to leave Xiamen was circulated on social media.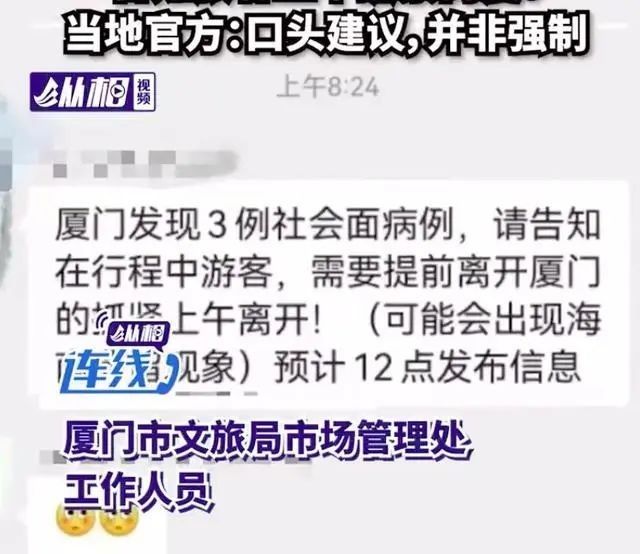 Dongfang.com·Zhongxiang Video asked the Market Management Office of Xiamen Municipal Bureau of Culture and Tourism as a tourist. The staff said that if there are cases, it must be public news.
As for the information to inform tourists to leave the building in advance, the staff said: "This is a verbal suggestion, and there is no mandatory requirement for everyone to leave."
According to a report by Xiamen Daily on August 9, from 0:00 to 12:00 on August 9, 3 new confirmed cases (2 common and 1 mild) were newly confirmed in Xiamen, all of which have been closed-loop transferred to designated medical institutions for isolation treat.
Xiamen Gulangyu and other scenic spots and places
temporarily closed
The Gulangyu Cultural Tourism Development Center of Xiamen City, Fujian Province announced today (August 9) that, according to the requirements of the normalization of epidemic prevention and control, the scenic spots and exhibition halls under the jurisdiction of the cultural and tourism center will organize epidemic prevention and control. The rehearsal will be temporarily closed from 12:00 on August 9 until further notice.
In addition, this morning, Xiamen Siming District Administrative Service Center, Siming District Cultural Center, Siming District Library Qianpu Branch, Siming District Maternal and Child Health Hospital, Xiamen Tong'an Film and Television City Scenic Area, Xiamen Beichen Mountain Scenic Area, Xiamen Tianzhu Mountain Scenic Area and other scenic spots have also issued notices, announcing the suspension of opening to the outside world, the closure of museums, the suspension of clinics, and the closure of parks.