On the night of August 5th, the Sanya New Coronary Pneumonia Epidemic Prevention and Control Work Headquarters issued a notice: From 6:00 a.m. on August 6th, the city will implement temporary global static management, in addition to ensuring basic social operation services, epidemic prevention and control Except for emergency and special circumstances, the movement of people will be restricted throughout the city, and urban public transportation will be suspended until further notice.
He Shigang, deputy mayor of Sanya, said in an interview with the media that as of that day, there were still more than 80,000 tourists in Sanya. care and provide relevant services. According to the latest report from the Hainan Province New Crown Epidemic Prevention and Control Press Conference on the afternoon of August 6, about 32,000 people in Sanya are currently stranded in hotels.
In the early morning of August 7th, according to Sanya's official WeChat news: From 12 to 24:00 on August 6, 2022, 160 new confirmed cases were added in Sanya (15 of which were asymptomatic infections) ), 125 asymptomatic infections. From 0:00 on August 1 to 24:00 on August 6, a total of 615 confirmed cases and 213 asymptomatic infections were found.
For this reason, Jiupai reporters contacted several tourists stranded in Sanya to learn about their living conditions.
[1]Stayed in a villa hotel
"We have more than 10 people to stay for another 7 days, I'm afraid it will cost a lot." Zeng Li from Sichuan ( A pseudonym) told Jiupai News that she and her relatives came to Sanya for vacation and stayed at the Mandarin Oriental Hotel. Now they are quarantined in the hotel, and the daily fee for a single room is about 2,500 yuan.
The reporter saw on a travel platform that Mandarin Oriental is a seaside villa-style hotel, and the minimum reservation price for a 2-night stay is 4,788 yuan. Among them, the price of "Capella Linghaige Garden View Room with Double Breakfast" is 4,588 yuan per night.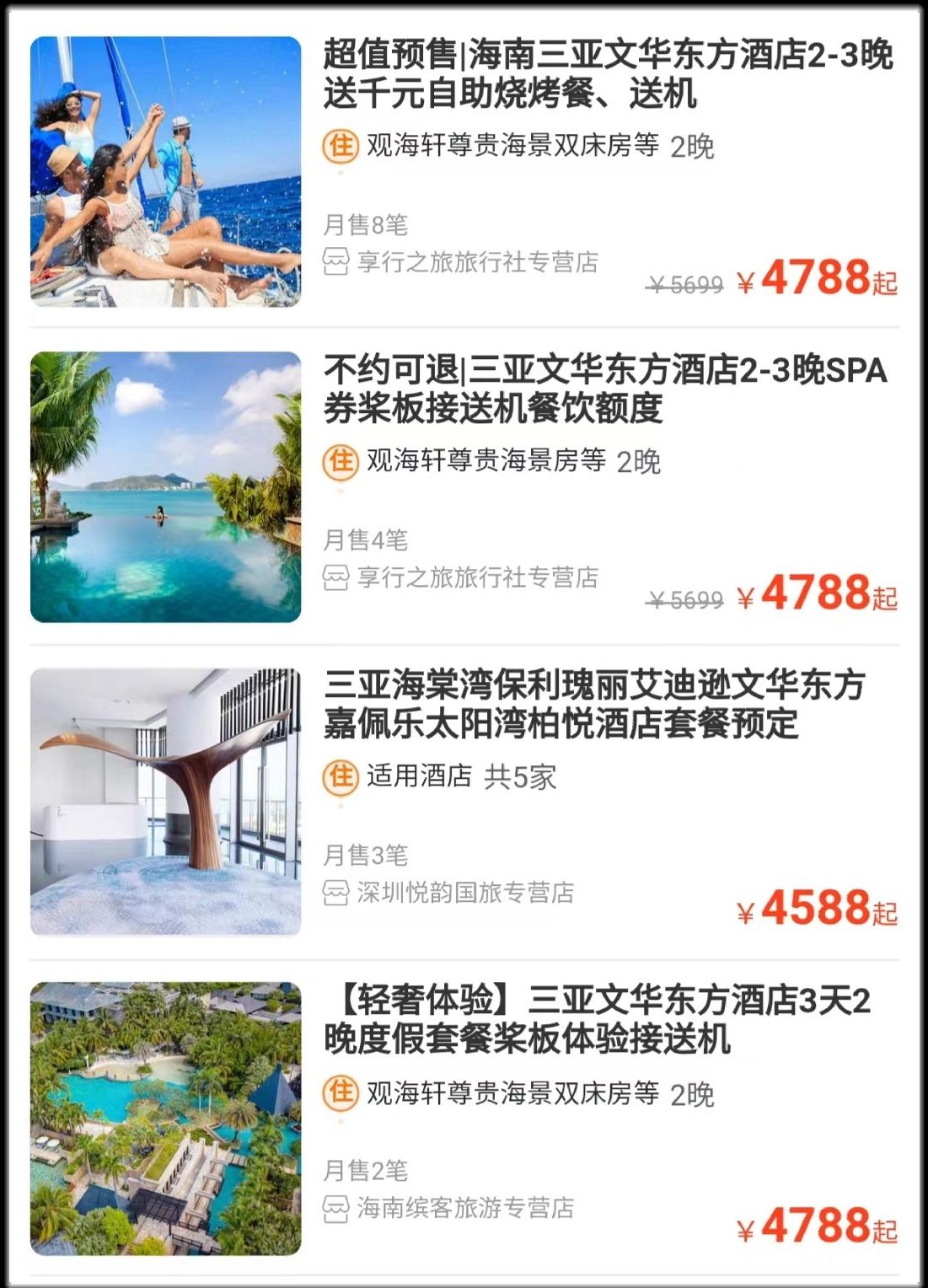 Mandarin Oriental hotel price on a travel platform
Zeng Li noticed that the hotel's half-price discount was based on the rack rate.
Zeng Li and her party, who originally booked a hotel "counting the days", were stranded at the hotel. "Although the price is 50% off, the price is still much higher than the off-season." Zeng Li told reporters that the self-service barbecue in the hotel is 780 yuan per person. If the Chinese food is settled by ordering meals, the daily accommodation and dining expenses of more than ten people are not small.
"At present, the hotel has arranged nucleic acid testing points, two tests in three days, and the interval between the two tests should be more than 24 hours." Zeng Li is looking forward to returning to Sichuan as soon as possible.
[2] The local hospital in Sanya has set up a 24-hour testing point
Li Jie (pseudonym) from Wuhan, Hubei, and a friend with two children, I came to Sanya for tourism in early August. "At that time, I was told that it would take 48 hours to leave." Li Jie, who had planned to return to Wuhan on August 6, was told that two consecutive flights had been cancelled, and is now stranded at a homestay in Tianya District, Sanya City.
This time, when she came to Sanya to play, Li Jie chose a homestay with a price of 500 yuan per night. When she saw that stranded tourists could continue to stay at the hotel at half price, she was told that the homestay was not within the scope of the discount. The owner of the homestay said that the homestay is not a hotel and is not within the scope of subsidies.
On the afternoon of August 6th, Sanya City held a press conference at which it was introduced: From 6:00 a.m. on August 6th, 2022, temporary global static management will be implemented, and the hotel will provide tourists with the renewal of half-price discount. Live service. After completing the 7-day risk investigation (that is, the nucleic acid test is negative on the 1st, 2nd, 3rd, 5th, and 7th days within 7 days), tourists can leave the island after evaluation.
According to relevant regulations, leaving Sanya City requires two negative nucleic acid certificates within 48 hours, and the interval between the two negative nucleic acid test reports must be ≥ 24 hours. Li Jie told reporters that the local hospital in Sanya has set up a 24-hour testing point for citizens to test nucleic acid.
[3]The airport staff were too busy to raise their heads
He Dou (pseudonym) from Qingdao, Shandong came to Sanya for a vacation on August 2, a family As soon as the four of them landed, they saw the news that "Sanya reported 1 positive case", but He Dou did not choose to return. "I arrived in Sanya on August 2 after transferring for 6 hours, and I booked a more expensive hotel. I thought I would come here and play for a few days before leaving." He Dou told reporters, "Our area has always been a low-risk area, plus nucleic acid testing. The result was slow, and I wanted to return halfway, but couldn't make it."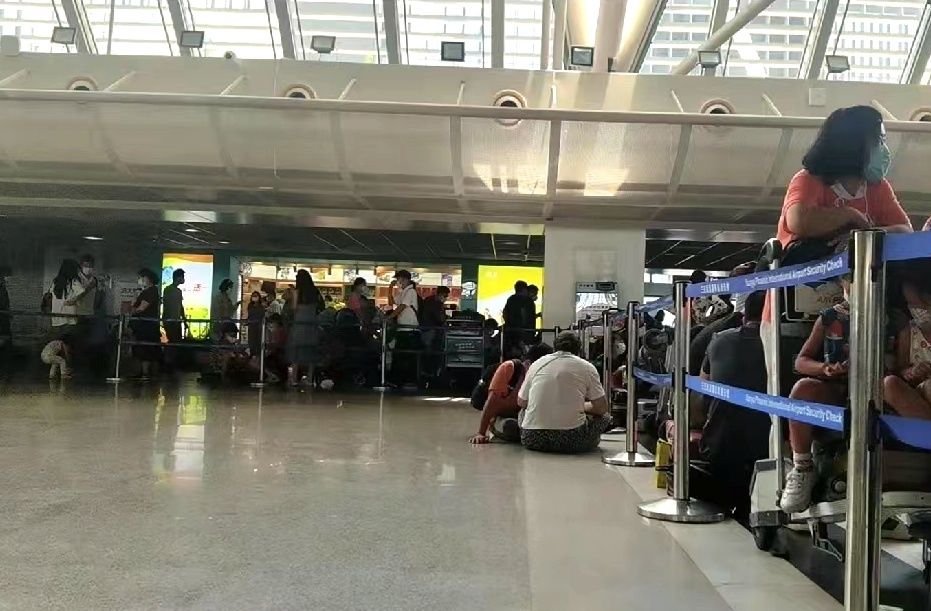 Sanya on the morning of August 6th Airport. Photo Source Interviewee
In the early morning of August 6, He Dou saw the news of "the whole city is silent" and rushed to the airport with her husband and two children. According to He Dou's recollection, at Sanya Airport that morning, "a lot of people with children sat on the floor." The staff at the entrance of the airport were so busy checking health codes and nucleic acids that they couldn't keep their heads up.
He Dou regrets that his family arrived at the airport on the morning of August 6th and changed the flight from 6:05 pm to 12:00 noon on the same day, and the system was closed during check-in , and the mobile phone system shows that there is no ticket that can be changed. Seeing the crowd at the airport, He Dou, who was afraid of infecting his children, left the airport at noon and went to the hotel in Yalong Bay.
Another tourist from Shanghai said that he boarded the plane at 11:00 a.m. on August 6, and was informed that the flight was cancelled after staying in the cabin for 2 hours; at 4:30 p.m., all the accompanying tourists took the flight Arrive at Sanya Bay by bus and stay in a hotel with free board and lodging.
"I hope the lockdown can be lifted as soon as possible and go home soon!" said He Dou at the end of the interview.
Jiupai News reporter Ma Xiao
[Breaking news] Please contact the reporter on WeChat: linghaojizhe
[Source: Jiupai News]
Disclaimer: The copyright of this article belongs to the original author. If the source is wrong or infringes your legal rights, you can contact us by email, and we will deal with it in time. Email address: [email protected]