China Daily, August 10th. On August 10th, led by the team of Professor Jiao Liqun from Xuanwu Hospital of Capital Medical University and National Neurological Medical Center, and jointly completed by 8 medical centers in China, angioplasty and stent placement in China to treat symptoms Severe Intracranial Arterial Stenosis: A Multicenter, Randomized Controlled Clinical Trial (CASSSISS) Conclusion, it has promoted the progress of the prevention and treatment of cerebrovascular diseases in my country. The relevant results were published in the top international medical journal JAMA.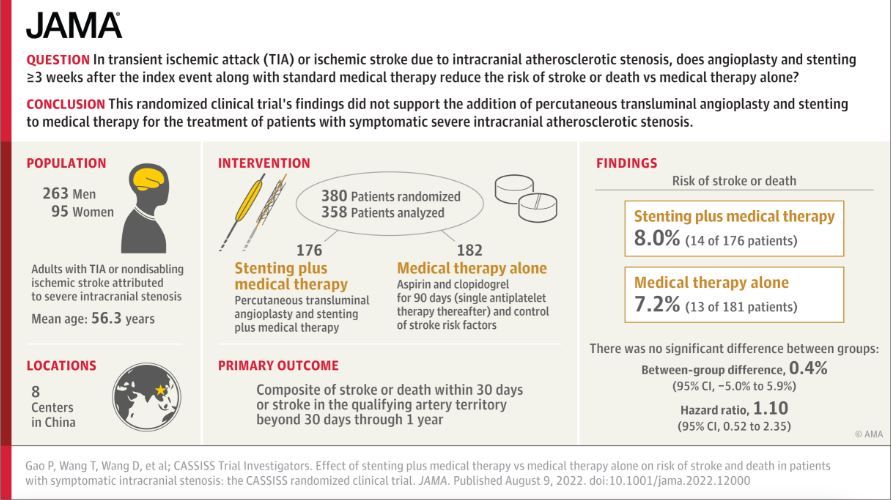 Stroke is the first cause of death and disability in my country. The "China Stroke Prevention and Control Report 2020" shows that the prevalence of stroke in my country increased from 1.89% in 2012 to 2.58% in 2019. About 82.6% of strokes are ischemic strokes, and the common types are cerebral infarction and transient ischemic attack. From 1990 to 2019, the incidence of stroke in our population decreased by 9.3%, but the incidence of ischemic stroke increased by 34.7%. The "China Health Statistical Yearbook 2019" shows that in 2018, more than 3.73 million cases of ischemic stroke were discharged in my country, a seven-fold increase in 10 years compared to 2008.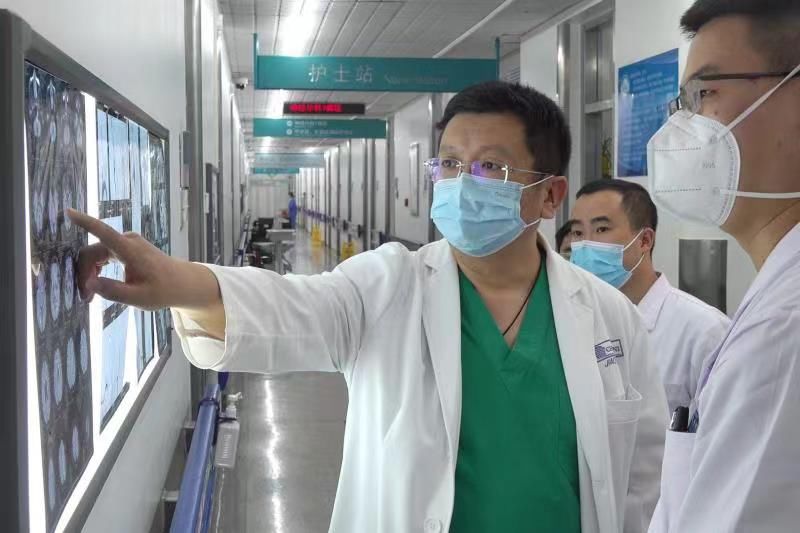 For the treatment of cerebral vascular stenosis, the main cause of ischemic stroke, endovascular therapy such as stent placement has always been regarded as a potential secondary prevention method. However, the SAMMPRIS and VISSIT studies in the United States—the only two multicenter randomized controlled trials in the world comparing stents with drug therapy alone—showed that stent therapy had higher complications and was worse than drug therapy alone. In this regard, there have always been many doubts in the academic community. In recent years, multiple prospective registration studies and real-world studies at home and abroad have shown that intracranial artery stents are still safe, and the risk of complications is only 2.0%-4.3%, which is in sharp contrast with the 14.7% of the SAMMPRIS study.
Cerebral artery stenosis is a high-risk disease unique to Asians, and there is still a lack of high-quality evidence based on Chinese data for its treatment. Data based on Western populations may not be applicable to Chinese populations, and the conclusions of studies in Western countries are inconsistent with the actual clinical work experience in my country. In order to re-evaluate the safety and efficacy of endovascular therapy for cerebral artery stenosis and provide Chinese evidence for the international treatment of cerebral artery stenosis, the CASSISS study was born with the support of the "Twelfth Five-Year" National Science and Technology Support Program of the Ministry of Science and Technology.
The CASSISS study is currently the third in the world and the first in China and Asia as a multi-center randomized controlled clinical trial, involving a total of 380 patients. The patient selection criteria, operation timing, and medical center capacity were optimized, and the prevention and treatment effects of stents and simple drugs on stroke or death in patients with severe cerebral artery stenosis were compared. The results of a 10-year study show that under the conditions of optimizing the patient population and operator experience, for patients with severe cerebral artery stenosis, stent combined with drug therapy is equivalent to drug therapy alone in preventing stroke or death.
Based on the conclusions of this study and previous studies, patients with cerebral artery stenosis who have transient or persistent symptoms of cerebral ischemia, such as amaurosis in one eye, limb weakness or slurred speech, should be further evaluated for cerebrovascular conditions. If the degree of stenosis of the cerebral arteries exceeds 70%, it is considered severe stenosis, and drug treatment can be tried first. If drug therapy fails, endovascular interventional therapy can be tried. The findings suggest that endovascular treatment should be started 3 weeks after symptom onset.
With Chinese data, the CASSISS study not only answered Chinese people's own questions, but also answered worldwide questions, providing new medical evidence for endovascular treatment of cerebral artery stenosis. At the same time, the CASSISS study also provides important inspiration for the future research direction of intracranial atherosclerotic stenosis. Future research will focus on conceptual and technological innovations in disease diagnosis and assessment, as well as advances in interventional devices and technologies.