August 1st, "Shanxi Province Traditional Chinese Medicine Regulations" was officially implemented! Taiyuan's "Implementation Plan for Building a Strong City of Traditional Chinese Medicine" has also been passed, including the implementation of 10 special actions for the revitalization and development of traditional Chinese medicine, including the improvement of the service capacity of traditional Chinese medicine hospitals, the coordinated development of traditional Chinese and western medicine, and the encouragement of the establishment of traditional Chinese medicine clinics. Taiyuan will be fully built into a strong city of traditional Chinese medicine. , Shanxi will also strive to become a major province of traditional Chinese medicine. On August 1st, the "Shanxi Province Traditional Chinese Medicine Regulations" was officially implemented. On August 2nd, the Taiyuan Municipal Government stated at a press conference that the government passed the Construction 10 special actions of the "Implementation Plan for Strengthening the City with Traditional Chinese Medicine", a series of highlights in the "Implementation Plan" are remarkable, such asencouraging traditional Chinese medicine doctors Full-time or part-time establishment of TCM clinicsencouraging the flow of medical staff; encouraging famous and veteran TCM teams to operate boutique TCM institutions; encouraging the establishment of TCM academics and featured core strengthsoutpatient clinics, clinicsand more. The 10 special actions for the revitalization and development of traditional Chinese medicine include: ❶< span>Implement the TCM hospital special action to improve service capacity. By building a city-level TCM medical center, strengthening the county-level TCM capacity building, and promoting the standardized construction of TCM-medical alliances and medical communities, the city's TCM service capabilities have been continuously improved. ❷Implement the Special Action for Coordinated Development of Chinese and Western Medicine. Promote diagnosis and treatment services of integrated traditional Chinese and western medicine and make up for the shortcomings of traditional Chinese and western medicine services. ❸Implement the Special Action for the Construction of Key Specialties of Traditional Chinese Medicine. Promote the construction of 10 characteristic specialties and specialties such as TCM lung disease and encephalopathy, and improve the level of TCM diagnosis and treatment of difficult diseases and acute and critical illnesses. ❹Implement the special campaign for the construction of traditional Chinese medicine talent team. Support famous and old Chinese medicine experts to rely on the studio, set up clinics and outpatient departments with their academic advantages and characteristics as the core, and send qualified institutions Included in the designated institutions of basic medical insurance. TCM physicians are encouraged to open TCM clinics full-time or part-time. ❺Implement the Special Action for the Development of Chinese Medicine Industry. Relying on superior TCM medical institutions and teams, establish a group of famous doctors' practice platforms, and create a group of high-quality TCM institutions operated by a group of famous doctors.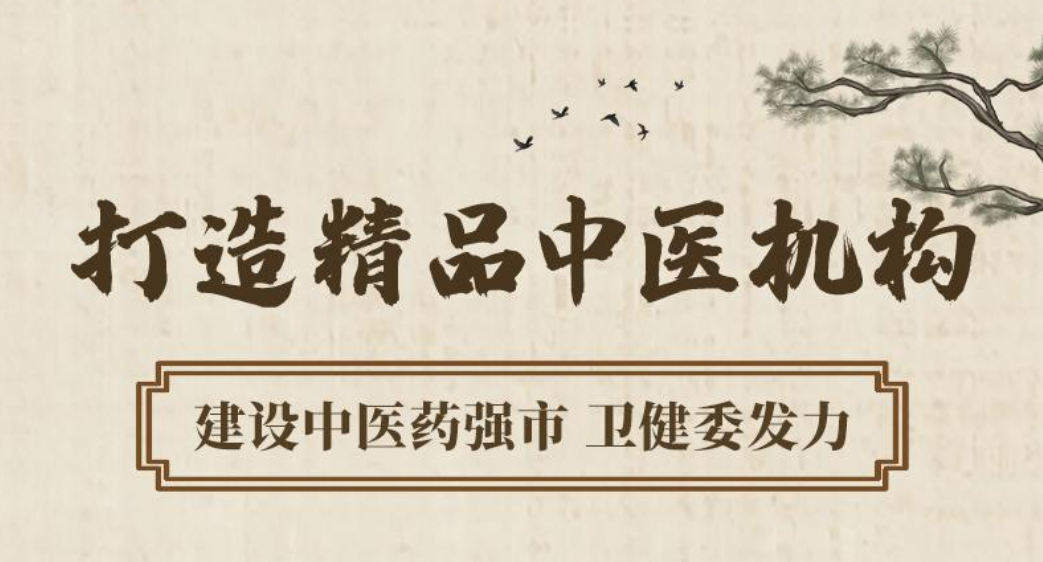 ❻Implemented the Special Action to Improve Grassroots TCM Service Capability. Encourage primary medical and health institutions to set up a unified zhongmedical treatment area (Chinese medicine hall< strong>), set up a county-level TCM appropriate technology network promotion base, configure appropriate technology video promotion equipment, and increase the training of grass-roots TCM personnel. ❼Implement the Special campaign to improve the ability of Chinese medicine to treat diseases and rehabilitation services. Set up in TCM hospitals above the second level and qualified non-TCM medical institutionsPrevention Department, at the grassroots level Medical and health institutions set up "Traditional Chinese Medicine for Pre-disease" Guidance Room, enriching the content of TCM's pre-disease treatment in basic public health service items, and will < /span>Appropriate treatment items are included in the contracted service package of family doctors, and TCM treatment intervention programs are promoted among key populations and chronically ill patients span>. ❽Implement the Special Action for Information Construction of Traditional Chinese Medicine Services. DevelopInternet Chinese Medicinehospitals, and promote the development of Online and offline integrated services and telemedicine services. ❾Implement the Special Action of Traditional Chinese Medicine Academic Inheritance and Innovation. Compiled and published a collection of famous doctors and famous doctors, established the Taiyuan Civilian Traditional Chinese Medicine Protection Directory and the Intangible Cultural Heritage Protection Directory, so that 27 representative projects of intangible cultural heritage such as Fushan Medicinal Diet Health and Fitness Technique have been inherited and developed. ❿Implement the Traditional Chinese Medicine Health Culture Tourism Service Brand Demonstration Action. Represented by the famous medical master Fu Shan in the late Ming and early Qing dynasties, Taiyuan created a characteristic brand of traditional Chinese medicine culture in Taiyuan;Fushan Garden, Wanmu Ecological Garden, Botanical Garden, etc. are integrated into the cultural tourism industryTraditional Chinese medicine characteristic health tourism routes, forming strong experience and participation Wide range of traditional Chinese medicine health tourism product system. Shanxi Cloud Media showed several key points of this special campaign in the form of posters:

in addition
to carry out traditional Chinese medicine health consultation assessment, intervention conditioning, Follow-up management and other pre-treatment services"
The second is "for social forces to organize TCM outpatient departments and clinics that only provide traditional TCM services, regional medical and health service system planning and
There are no layout restrictions for the setting plan of medical institutions
".
Thirdly, "the provincial people's government should formulate support policies for grass-roots TCM talents, and provide guarantees in terms of remuneration, professional title evaluation, advanced education and training. Encourage TCM talents to go to the grass-roots level and economically underdeveloped areas to engage in traditional Chinese medicine. Serve".
This means that social TCM institutions are not restricted by regional planning, and TCM institutions can provide professional medical services and "pre-disease" pain conditioning, health consultation, and health care services, expanding the scope of TCM clinics It reduces the restrictions on the projects carried out by TCM clinics, and can carry out dimensionality reduction attacks with massage health centers to provide more professional service advantages.
Drawing:Ouyang Qiong
Source reprint: Taiyuan Municipal Government/Shanxi Cloud Media
heightimg>contentimg> layout="responsive" sizes="(min-width: 320px) 320px, 100vw" src="https://mmbiz.qpic.cn/mmbiz_gif/Ljib4So7yuWhmNDqrjZqNjbJWxKnkp6Ijib3Fp4st0l5pFGgteibhEsA1wkqux1AS2ZHN9wQ8bohXbWiaLshHGAebA/640″width<640" -common-profile class="js_uneditable custom_select_card" data-alias="hxyjwcom" data-from="2" data-headimg="http://mmbiz.qpic.cn/mmbiz_png/V33QHpmw8NcUtjq7RvkKnluZD5LkYVrGmy4hicpmqUoZvibZUQGThVFpibEnjowPyFlOyxAibQPAGic0wTLg9FlOyxAibQPAGic0wTLg9? -id="MzA5NzM4MzMwNQ==" data-is_biz_ban="0" data-nickname="Huaxia Medical Community" data-pluginname="mpprofile" srcignature="We are an open platform for sharing medical management wisdom and enhancing workplace competitiveness! Columns are: famous experts column, cooperative transfer, job search, industry information, etc. It is a website whose main content is to improve non-medical technical job skills to serve hospital talents. The website takes Internet + training + talents as its core product for sustainable operation and development. ">
Warm reminder:
As the WeChat public account platform has adjusted the push mechanism, in order to ensure that you can< /p>
To receive the latest articles from us, please set us as "star", or click at the bottom right corner of the end of the article "I'm watching".
Special statement: This article is reprinted, the push is for sharing, text (Picture)The copyright belongs to the original author. Unless there is no confirmation, Huaxia Medical Circle will indicate the author and source. If there is any infringement, please let us know, we will delete it immediately and apologize. Thank you! Please reprint in other media Be sure to include the author and source!
Recommended reading:
< /p>
What is a "skinny dog" department?
Northeast Securities: Private Chinese Medicine Center Industry Research Report

span>
Competing to do medical beauty, obstetrics and health care, how to break through the women's and children's hospital trapped in customer acquisition?
The National Health and Medical Commission held a meeting! Introduce the policy support and development achievements of private Chinese medicine!
Source
:
Comprehensive arrangement of diagnosis and lock industry
This article is organized by "an open platform for sharing medical management wisdom and enhancing workplace competitiveness"——Huaxia The official WeChat [subscription number] of the medical community network (hxyjw.com) chooses to publish; the main columns of the website: famous column, medical community lecture, job recruitment, industry information, cooperation and transfer, etc.

< /p>

Submission email: [email protected]

Hospital management and communication QQ group: 245840268
For more articles or video lessons from the author, please click in the lower left corner