Modern Express (Reporter Liu Weijuan) Since 6:00 a.m. on August 6, the whole city of Sanya has implemented temporary global static management. In addition to ensuring basic social operation services, epidemic prevention and control, and emergency special circumstances, the city-wide restrictions on the movement of people , suspend public transport in the city. Modern Express reporter learned that, affected by this, the price of return air tickets from Sanya to Beijing, Shanghai, Nanjing and other places has skyrocketed. Among them, Sanya to Nanjing on August 7, the lowest fare is 1738 yuan (excluding tax, the same below), and the most expensive is 3230 yuan.
As of 1:10 pm on August 6th, a travel platform showed that the fares for flights from Sanya to Nanjing on August 6th ranged from 905 yuan to 2,590 yuan, and the fares rose on August 7th. Starting from 1738 yuan, the most expensive one is 3230 yuan, and they are all connecting flights. Looking at the overall fare in August, it currently shows that Sanya to Nanjing will cost more than 1,000 yuan for three days on August 7th, 8th, and 9th, with a minimum of 1,355 yuan; August 10th, 11th, and 12th The lowest fare starts from 847 yuan; from August 13 to the end of August, the fare still remains low, and the platform shows the lowest price from 655 yuan.
Modern Express reporters learned that there are many tourists staying in Sanya at present, and it is the peak tourist season, and the accommodation price is not cheap. After this round of epidemic in Sanya, many tourists want to return quickly. Therefore, the price of return air tickets from Sanya has skyrocketed in the past two days.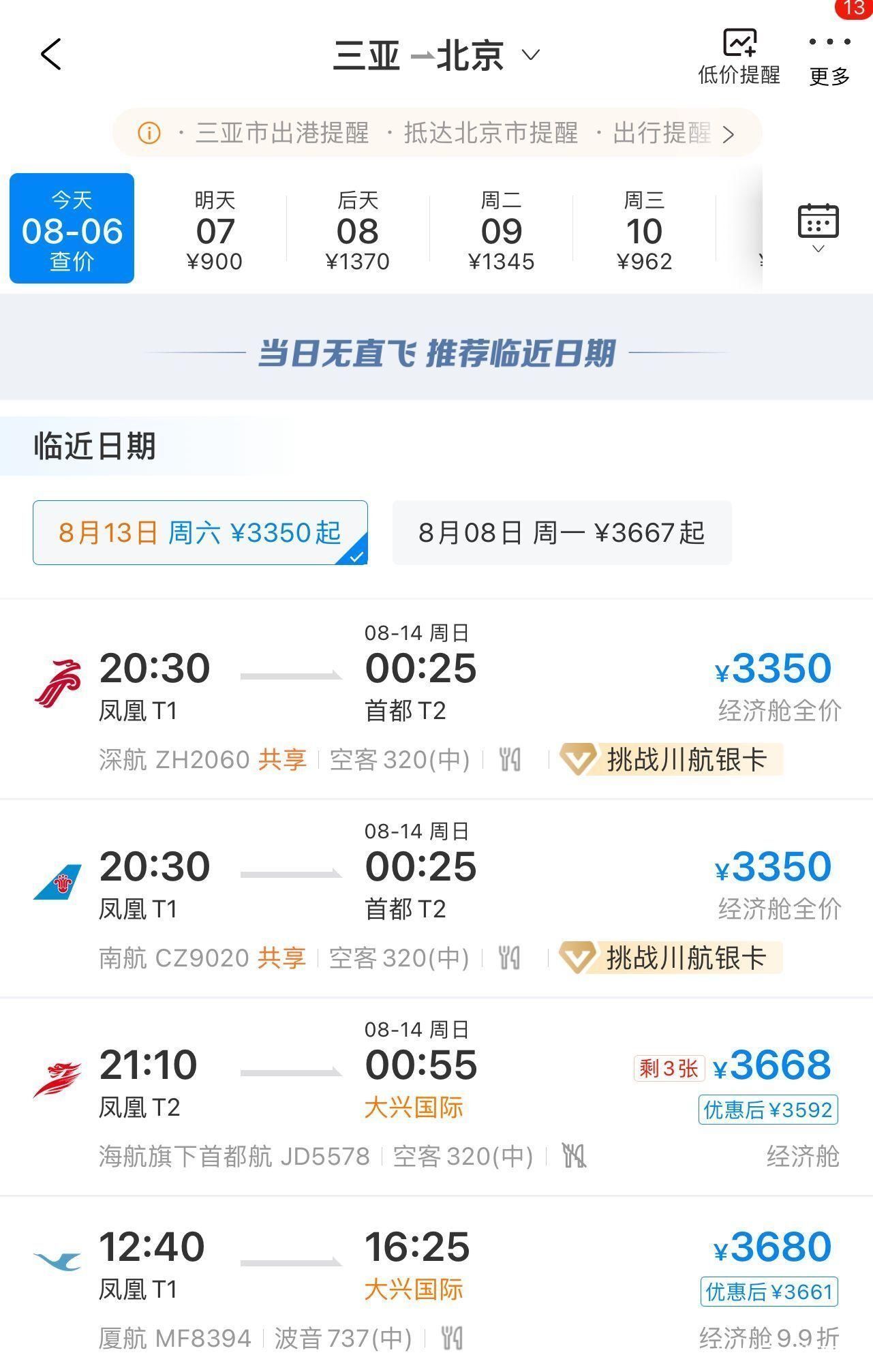 △On August 6, the fare from Sanya to Beijing will rise to 3350 yuan.
Take Sanya to Beijing as an example , As of 1:15 pm on August 6, a travel platform showed that on August 6 flights from Sanya to Beijing, such as Shenzhen Airlines ZH2060 and China Southern Airlines CZ9020, the fare has risen to 3,350 yuan, which is the full price of economy class. Checking the flight on August 7, there are no direct flights. The fares of connecting flights range from 2,132 yuan to 4,594 yuan. The lowest fare is 2,132 yuan. After taking off from Sanya, it will transfer to Guiyang, and then fly to Beijing, plus The total transit time is 21 hours and 35 minutes. In contrast, the fare of 4,594 yuan takes a shorter time, and the whole journey takes 8 hours and 35 minutes, with a transfer in Hangzhou.
Passengers need to be reminded that with the changes in the epidemic prevention and control situation, air ticket prices are also fluctuating in real time. In addition, if you leave Sanya, you need to hold two negative nucleic acid test certificates within 48 hours. The nucleic acid test time is subject to the sampling time, and the time between the two negative nucleic acid test reports must be 24 hours or more.
(Modern Express All Media)