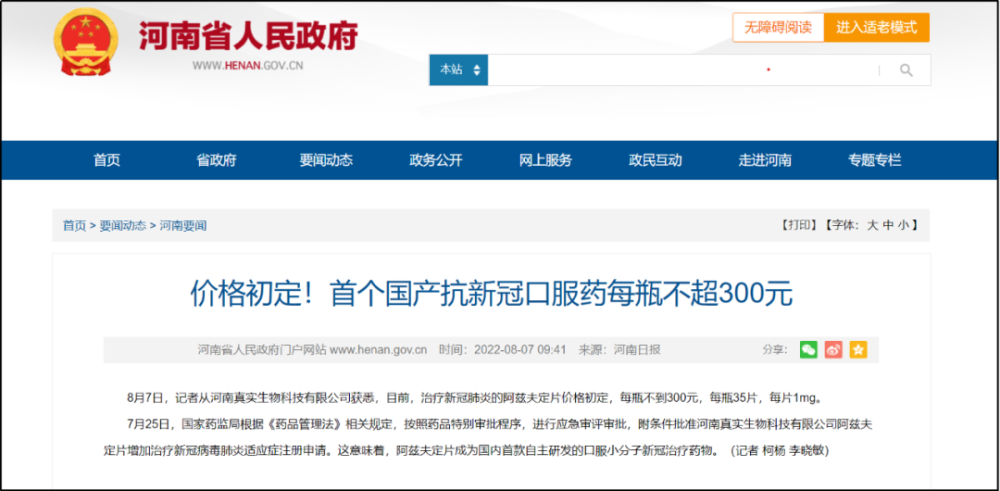 Source: Henan Provincial People's Government Website
On August 7, according to Henan Daily, Henan Real Biotechnology Co., Ltd. learned that At present, the price of Azvudine tablets for the treatment of new coronary pneumonia has been initially determined, and each bottle is less than 300 yuan. Yuan, 35 tablets per bottle, 1mg per tablet.
On July 20, 2021, the State Food and Drug Administration granted conditional approval to azvudine in combination with other reverse transcriptase inhibitors for the treatment of adult HIV-1-infected patients with high viral load .
With the conditional approval of the new indication, Azvudine can be used to treat adult patients with common new coronary pneumonia. The State Food and Drug Administration requires the marketing authorization holder to continue to carry out relevant research work, complete the conditional requirements within a time limit, and submit the follow-up research results in a timely manner.
Information source: Henan Provincial People's Government website
Planning: North China
Lilac Garden is a professional platform for medical practitioners, with the mission of "helping Chinese doctors". Download the "Lilac Garden App" to discuss cases with peers, study open classes online, use clinical decision-making tools such as medication assistants, and find reliable medical positions in Lilac Talents.