This article is from: China Daily
Nostalgia Guizhou Light and Shadow Night Tour Art Park is located in Qingzhen City, Guiyang City. Lin Jian
Recently, the Nostalgic Guizhou Scenic Spot in Qingzhen City, Guiyang City has become a popular "out of the circle" and has become an Internet celebrity check-in point for outings and surrounding tours in Guiyang, attracting an endless stream of tourists. Since the opening of the Nostalgic Guizhou Light and Shadow Art Park on July 22, "Lighting up the night economy and enjoying the summer season", it has attracted about 80,000 tourists for sightseeing.
The Nostalgia Guizhou Night Tour Project has light and film exhibitions with rich themes, as well as cutting-edge special effects designs and installations in China, presenting the universe and the stars, bringing visitors a new "night tour" life experience.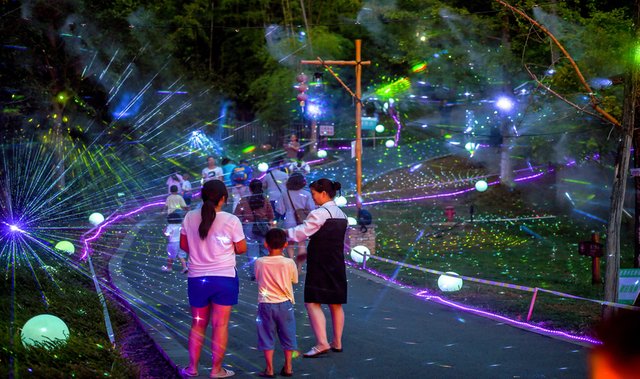 Tourists stroll in the nostalgic Guizhou scenic spot to enjoy the night view. Lin Jian
At night, the nostalgic Guizhou scenic spot is intertwined with light and shadow, which is very beautiful. The fantastic foggy luminous forest is like a place that carries the spiritual energy of all things in the world; the romantic firefly light is a good memory for the midsummer night; the vast galaxy full of science and technology, experience the universe and outer space The exciting light and shadow tour; the exciting scene interpretation, relive the classic stories that have traveled through the millennium; the gorgeous light and shadow city, bring you a dreamy interstellar crossing… This unprecedented audio-visual feast is a new night tour for the general public and tourists. choose.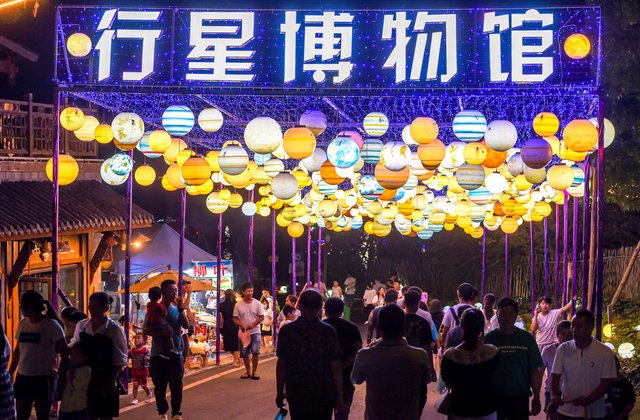 Tourists stroll in the nostalgic Guizhou scenic spot to enjoy the night view. Lin Jian
In addition, tourists can also taste the Guizhou specialty snacks in Baijiayan Snack Street with family and friends in the dreamy night view, have a buffet barbecue in the rice field restaurant, or whatever. Customized by the private chef of The Burrow, after a delicious meal, stay at the Lanshan Hotel, take a hot bath, and experience a perfect sleep in the mountains accompanied by the cicadas and birds in the forest.
August 4th is the Qixi Festival. Mr. Zhao, a citizen of Qingzhen, and his lover who have been in love for 5 years wandered in the Nostalgic Guizhou Light and Shadow Night Tour Art Park. He told reporters that he and his lover would enjoy the same festival on this festival. Light and shadow art is a very happy and romantic thing. The grand and spectacular park has a strong artistic atmosphere, or dynamic or soulful music and energetic dance flashes complement each other, which makes you and your lover feel different from the past in this traditional festival, and feel more happy.
It is understood that the Nostalgia Guizhou Light and Shadow Night Tour Art Park Light and Shadow Exhibition will last until October. In addition, during the summer vacation, Nostalgia Guizhou also specially launched a series of activities such as tent starry sky camping, group wedding, growth summer camp, rice field barbecue, and light and shadow Lanshan.