Shexiang Ancient Town is the largest ex-situ poverty alleviation and resettlement area in Dafang County. It is a national AAAA-level tourist attraction. In recent years, the county has created a night sightseeing gathering area and themed event display through brand building, business format implantation, and activity promotion. In the first half of 2022, Shexiang Ancient Town received 175,000 tourists, and the comprehensive tourism income was 15.2 million yuan.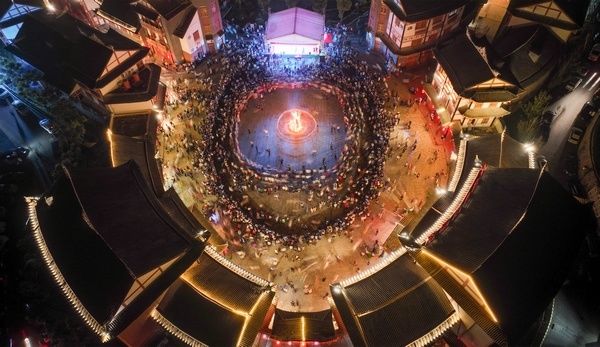 Aerial photography of the scene of the fire sacrifice ceremony in Shexiang Ancient Town, Dafang County. Photo by Wang Dingchao
Create a night sightseeing gathering area. Build three commercial blocks in the ancient towns of the South District (Luxury Fragrance Mark), North District (Ancient Town Legacy) and Central District (Urban Zen Heart), with eight themed cultural squares, ten art towers, and ancient Yi terraced tourist attractions, etc., covering Shops, inns, activity centers, museums and other facilities. The construction area of ​​the ancient town is about 489,000 square meters. From south to north, it is closely connected by tourist trails and sightseeing lanes for about 2.3 kilometers, of which the commercial part is 63,000 square meters. Up to now, more than 500 events such as terraced field light shows, terraced field ethnic costume exhibitions, and terraced field cultural performances have been held, attracting 250,000 tourists to check in.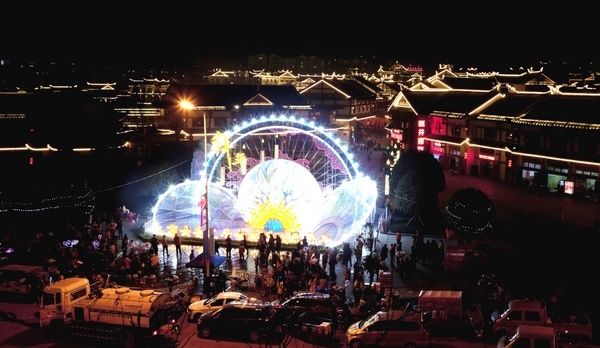 Night view of the South Gate of the Spring Festival in Shexiang Ancient Town, Dafang County. Photo by Jian Qing
Create a theme event display area. Seize the opportunity of rural revitalization, take tourism to drive economic development at night, and hold a series of activities such as "Luxury Fragrance Culture Festival", "Yi Nationality Torch Festival", "Yi Nationality Sacrifice Water" and "Yi Nationality Fire Sacrifice" to create a culture based on Yi nationality. The highland of tourism and culture, and improve the brand awareness of "the hometown of luxury and fragrance, the holy land of ancient Yi, and the beauty and generosity". Up to now, 16 series of activities have been successfully held, such as "Shexiang Ancient Town Dragon Boat Medicine Market Yaoxiang Nong", "Shexiang Ancient Town Fire Sacrifice Ceremony", "80 Open-Air Film Culture Square", and more than 200 cultural and artistic activities of various characteristics. Attracting 150,000 citizens and tourists.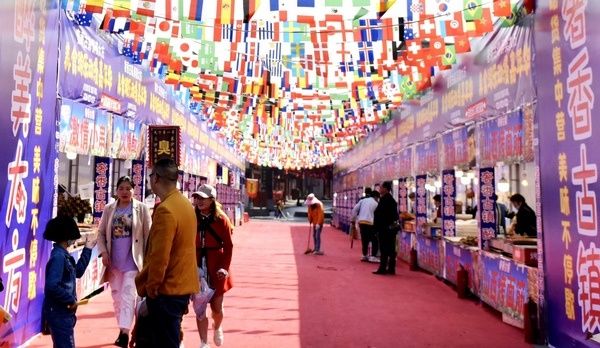 Dafang County Shexiang Ancient Town Food Festival. Photo by Li Yueping
Create a comprehensive commercial and trade functional area. Successfully built the only multi-functional fashion commercial center with a total operating area of ​​26,000 square meters around the ancient town – Jiaxin Moore City Commercial and Trade Complex. The commercial area relies on a multi-level brand and business format innovation combination to further meet the growing consumption needs of citizens and tourists. , enriching the supply of high-end consumer market at night. In June this year, Dafang County's "Colorful Guizhou, Charming and Generous" consumption promotion activity was successfully held here, attracting more than 150,000 people to come to spend, and the transaction amount reached 1.68 million yuan. There are more than 70 local specialties in the ancient town, and more than 20 specialties have been selected. The gourmet restaurants have made profits of more than 5 million yuan, driving more than 500 local jobs. (Rao Weiwei)