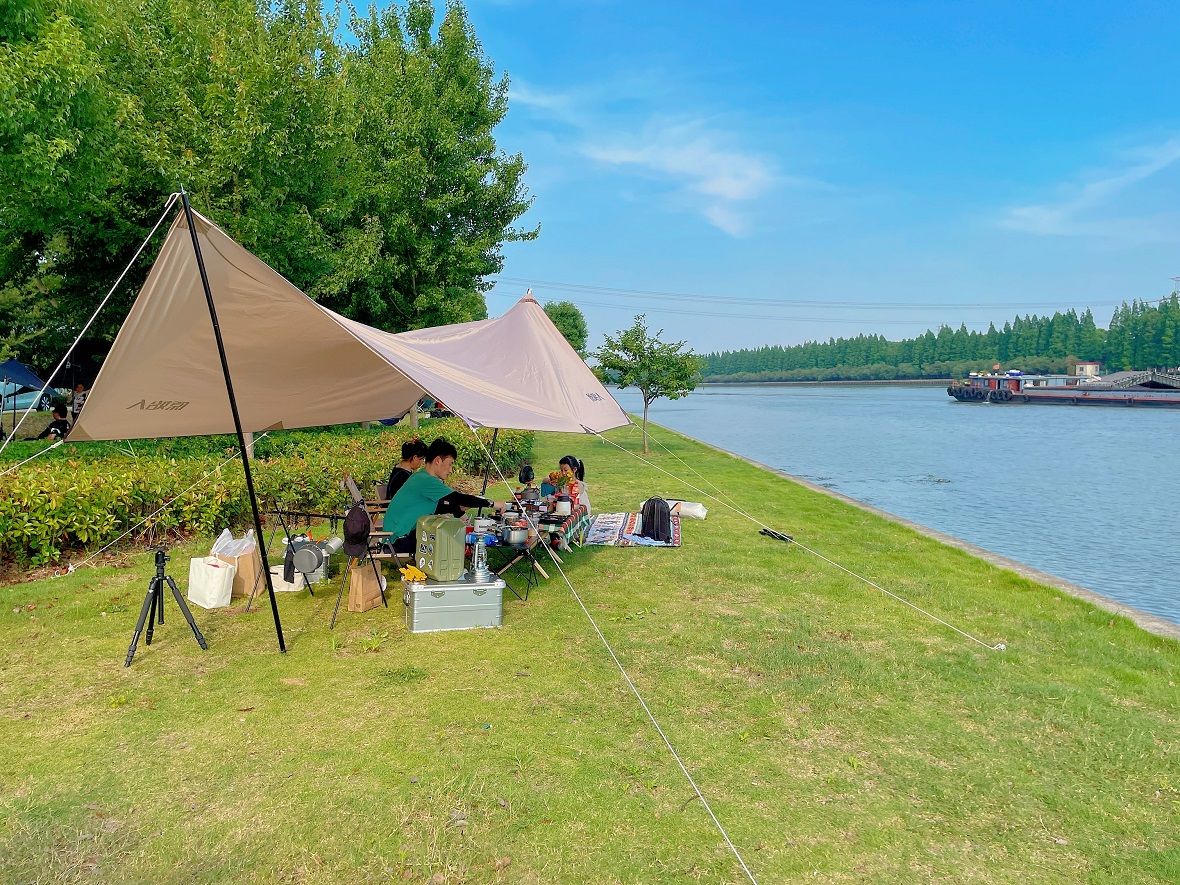 Twilight falls, the sky is propped up, the atmosphere lights "climb" full of ropes, butterfly wood, round tables "sit in rows", barbecue grills The aroma is tangy, the evening wind blows, and the lake on the other side ripples. On the weekend evening, post-85 Luo Yuan spent nearly 3 hours getting ready at the Dadian Lake camp in Qingpu District, and had the "first meal" of a picnic accompanied by bouquets and music. It was night, and the family set up the projection and watched the open-air movie next to each other. Every camping is such a similar "process", not only not greasy, but also more interesting.
What are the young people in Shanghai doing on weekends? Camping must be a popular option. Every weekend, the countryside nature camp is full of laughter, and exquisite camping activities at landmark check-in points emerge one after another. Even in the park at the door of the house, young people set up tents and small table boards. Camping has become a new way of entertainment for urban youth, which not only satisfies young people's pursuit of a comfortable and comfortable outdoor experience, but also builds a new youth social circle.
Experts believe that the ecological park belt around the city that Shanghai is promoting has built an "ecological soil" for urban camping, which will boost this leisure method to release more new content. The industry standard, let this urban "green" entertainment open the "instruction manual".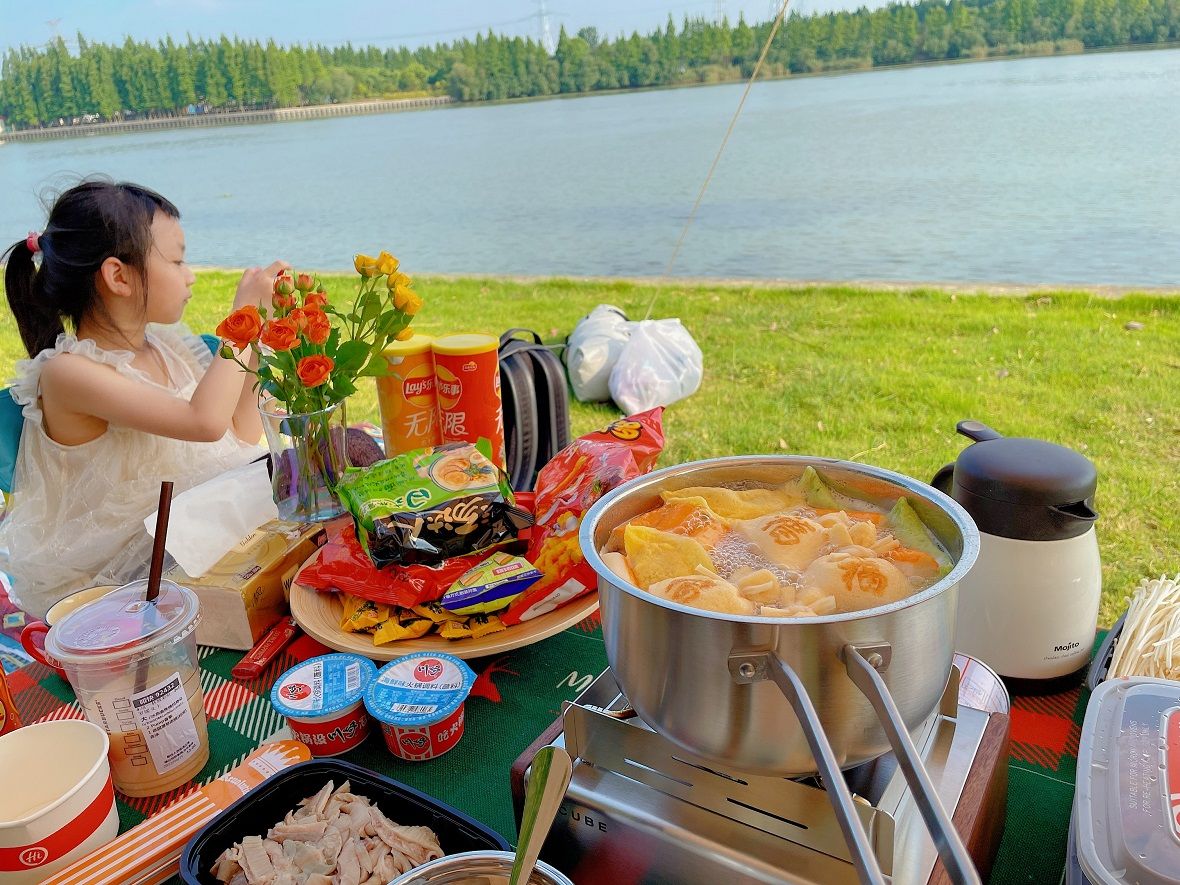 After two "changes", camping has become a new summer fun
< p> "Businessmen" were the first to feel that camping was "out of the circle".
Dai Zheng, the founder of "Good Morning Wilderness", felt two changes: during the "May Day" holiday in 2020, they planned a large-scale camping event in Changxing Island Country Park. As soon as the notice came out, the orders were sold out instantly ; Since July this year, the new campsite in cooperation with Qingpu Sun Island Resort Hotel has been officially put into operation. It is full on weekends and the "attendance rate" on weekdays is also very impressive.
Many campers said: "This is the yearning for 'going out'."
Lin Wenli, deputy secretary of the Jing'an District Social Organization Youth League Working Committee, used to bring her family occasionally Go to the surrounding park to sit and blow your hair. This year, after three months at home, she is eager to "get back" to nature. When I ask my friends, my feelings are probably similar.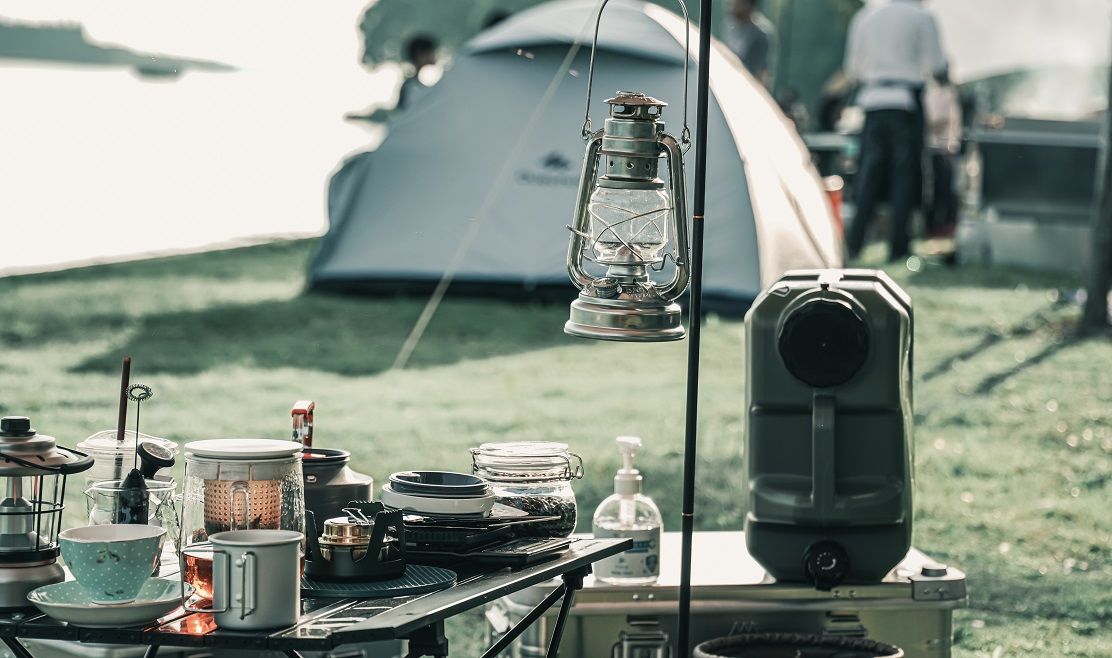 A youth community to share camping information was created. Lin Wenli, who used to be the "head of the group", shared the information of "a beginner's campsite suitable for punching in" in the original "group buying group", and received a warm response from the youth in the community. The "group buying group" was transformed into a "camping resource sharing group", and the number of members increased to 225 within a month. Under her leadership, the young people spoke freely: from the destinations suitable for camping, where to buy cost-effective equipment, to the safety issues that need to be paid attention to during wild camping…
Young people communicate with each other Under the influence, camping has become a new wild interest this summer. Luo Yuan joined the community in the process, and these days she "goes out" every weekend. "It's not so convenient to travel to other cities, and there are not so many indoor activities. I simply found a venue in the suburbs of Shanghai. There are lakes and mountains, which is enough to relax." Especially in summer, camping by the lake at night, facing the waves Warm wind, frogs and crickets play "Summer Sonata".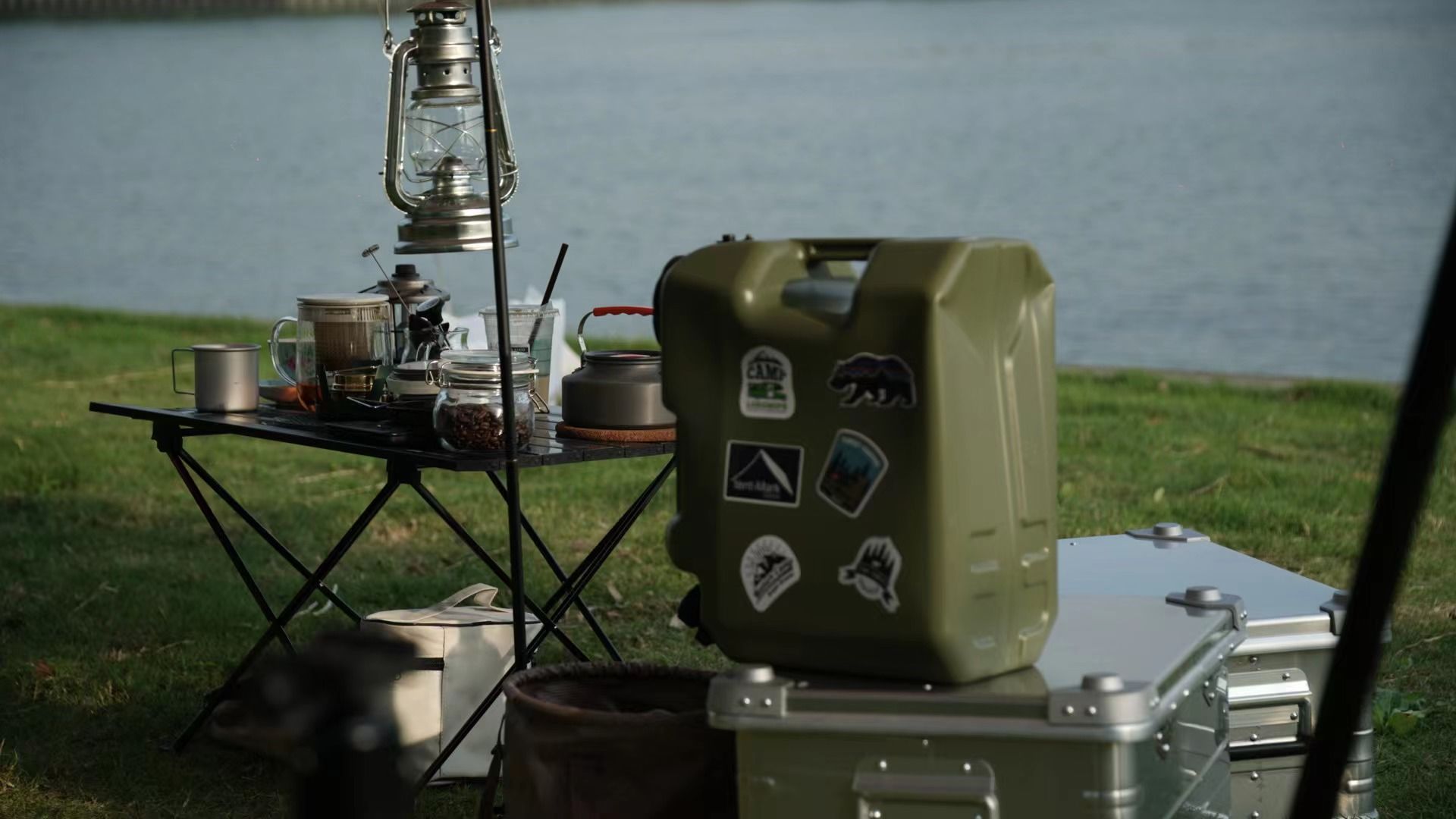 Classic landmarks become destinations, "camping+" adds atmosphere
In the eyes of "talents", camping is divided into three categories: basic park picnics, open-air overnight stays in the countryside, and landmark building camping punch cards. Of these, driving to the countryside is the most common form.
Dai Zheng called it "the process of self-sufficiency": drive dozens of kilometers, find a free campsite in the wild, spend 5 to 6 hours building an "outdoor living room", and live in a campsite. It takes three or four hours to disassemble it at night, and the self-satisfaction of survival in the wild arises spontaneously.
Like mastering a new technology, young people will also upgrade their equipment according to the needs of camping. At first, Luo Yuan just bought an ordinary tent canopy. Later, thinking of "dressing up", she started with ambient lights. Later, she prepared small refrigerators, barbecue grills, projectors, etc. for the convenience of outdoor living, costing a total of nearly 2,000 yuan.
The camp is also iteratively upgraded, so that more "newcomers" are willing to join. For example, the paid campsites have more complete infrastructure, with independent bathrooms, air conditioning and other convenient facilities, and the cheapest can be "packed in" for only 50 yuan.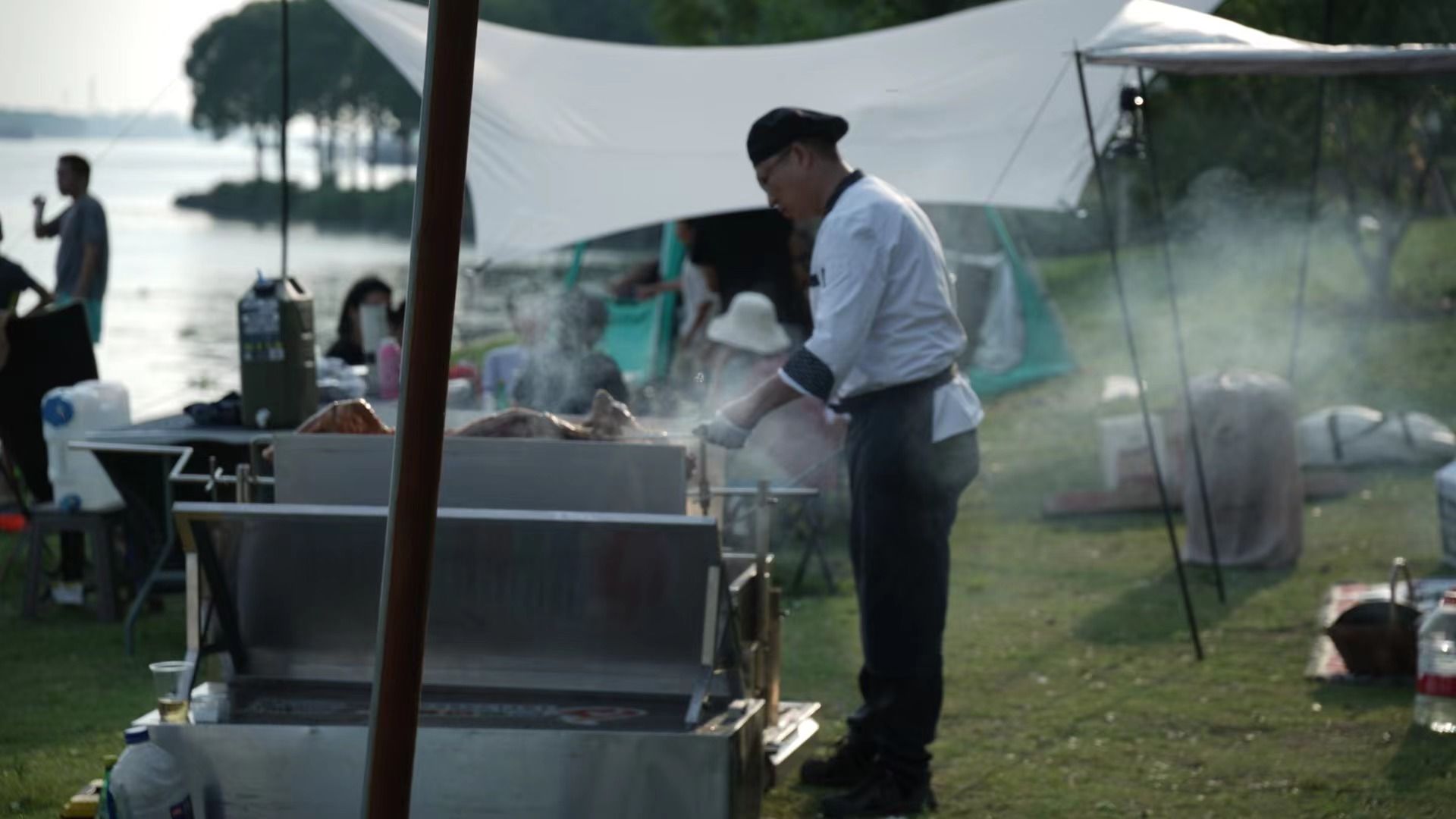 Even, you don't need to go to the countryside for camping, and the classic landmarks around you can be your destination. "Good Morning Wilderness" cooperated with Shanghai Tower, and launched a series of activities in July and August this year. A market-style camp was built on the roof, and different styles of tents and folding chairs were placed. Each weekend has different themes, such as parent-child activities, outdoor yoga, concerts, African drum classes, etc. Participants can not only take pictures and punch cards in front of the beautiful scenery, but also experience the atmosphere of camping like a "flying on the water". "Contact with the trend in a more convenient and refined way, in line with the current young people's pursuit of fresh consumption concepts, and camping has gradually become 'camping +'." Dai Zheng said.
The social nature of camping also makes young people yearn for it. Shao Yang, a member of the Youth Federation of Jing'an District, made many new friends during the camping process, all because of "object exchange". The tent was next to the tent. When he encountered a situation where the fire could not be ignited, he knocked on the "door" next door as if he was familiar with each other, and held hands with each other to solve the problem. In the evening, neighbors also share food with each other, so a friendship is a natural progression.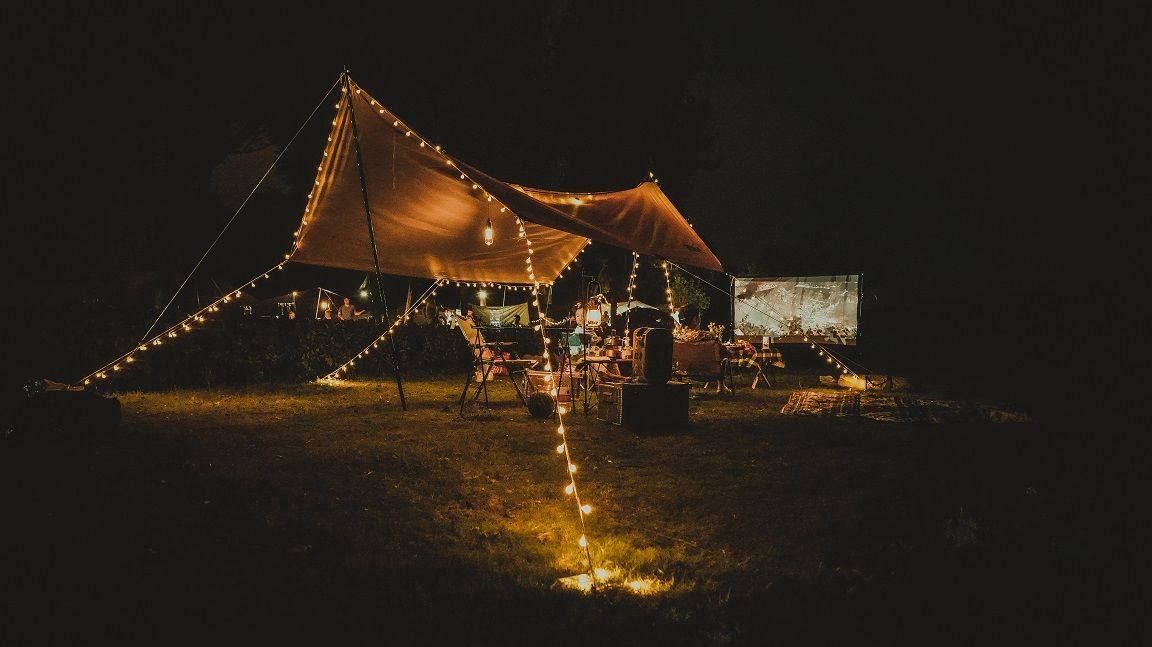 Opportunities and challenges coexist, and the "instruction manual" cannot be missed
During the "14th Five-Year Plan" period, Shanghai will use "ecological Guided by the construction goal of "city", we will focus on building a "park city", "forest city" and "wetland city" to continuously meet the growing needs of the people for a beautiful ecological and green environment. The "Guiding Opinions on Promoting the Construction of Shanghai Park City" proposes that by 2025, the number of parks will increase to more than 1,000.
The city is more green, providing living space for camping. According to Zhou Wuzhong, a professor at Shanghai Jiaotong University, on the one hand, the urban living environment in Shanghai has become better, and citizens have more desires for outdoor activities; on the other hand, country parks, pocket parks, etc. Campgrounds will continue to grow.
The craze for camping will not fade away, there are opportunities and challenges at the same time. Zhou Wuzhong believes that the construction of campsites should take into account the greenness and practical functions, and cannot blindly pursue high-input and high-end hardware facilities, nor can all green spaces be converted into campsites in order to meet market demand.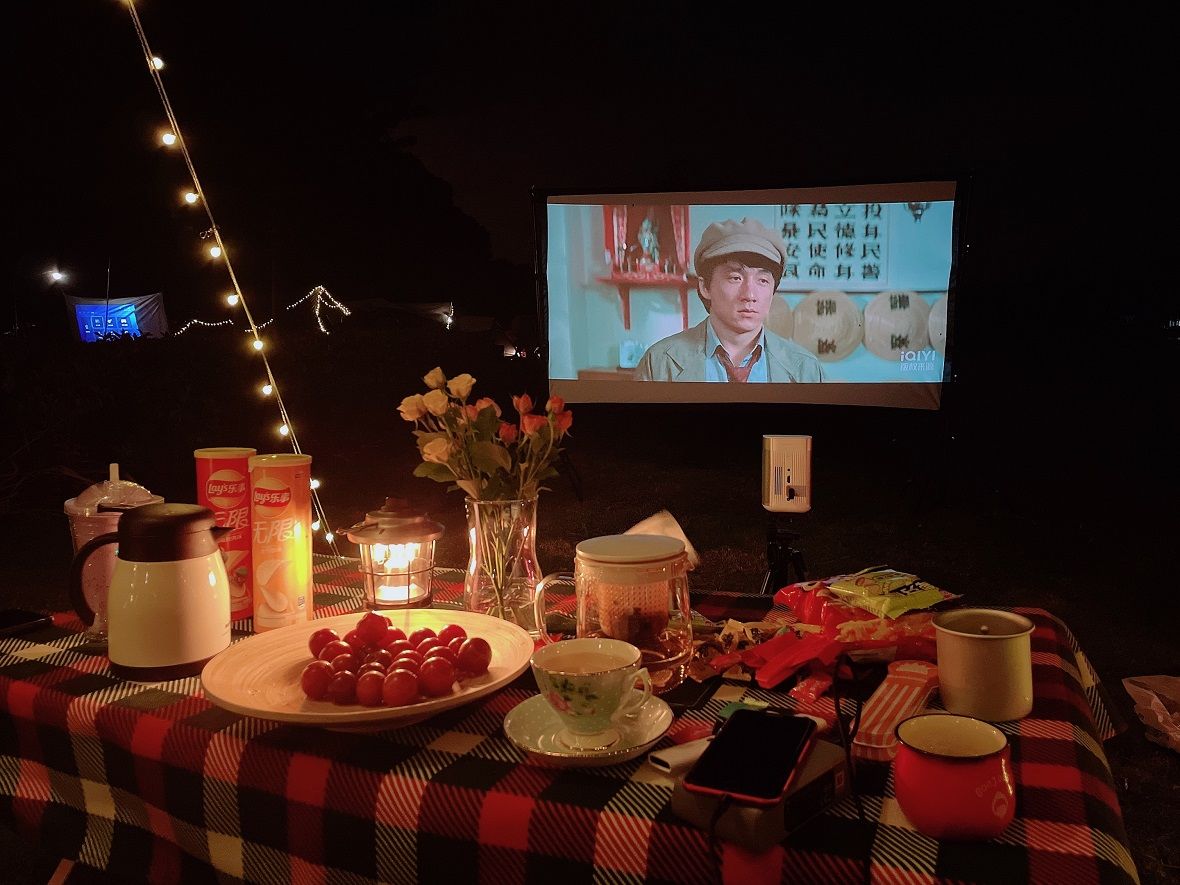 "Camping+" has made this niche leisure method gradually popular, and as a result, there are various businesses. Dai Zheng suggested that there should be institutional norms for the camping industry to avoid camping sites that want to "make quick money", so that citizens can truly experience the meaning of camping.
Many "camping experts" obviously feel that when the crowds pour into the camp, the hidden dangers such as garbage and mud are not small. Zhou Wuzhong suggested to promote the establishment of the Shanghai Camping Industry Association and formulate industry norms. For example, set up relevant signs at the entrance of campsites, set up centralized wet garbage collection bins at public toilets in parks and green spaces, and set up areas for the use of open flames, "to make this emotional and interesting lifestyle, safe and high-quality experience. degree of protection".
Author: Zhan Yue
Picture: Photo courtesy of the interviewee
Edit: Zhu Yue
Editor in charge: Gu Yiqiong
*Wenhui's exclusive manuscript, please indicate the source when reprinting.