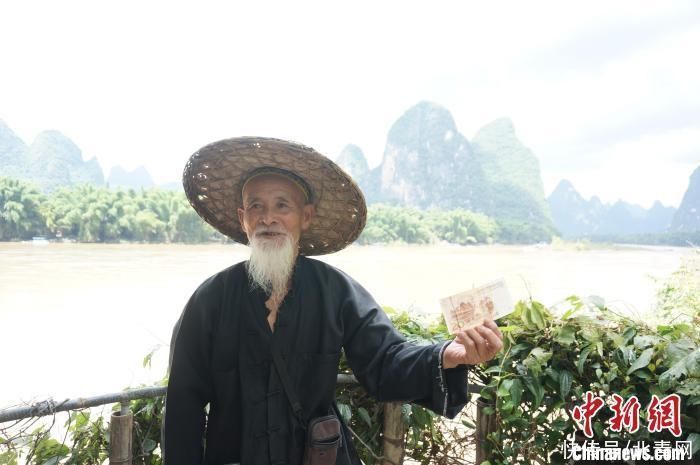 The picture shows the best photography spot for the 20 yuan background pattern in Xingping Town, Yangshuo County, Guilin City. Huang Yuechuang displayed the 20 yuan Guilin landscape pattern. Photo by Ou Huilan
Chinanews.com, Guilin, August 3rd, title: Fishermen models on the Li River in Guilin
Author Jiang Fenghui Ou Huilan
Xingxing in Yangshuo County, Guilin City, Guangxi The best photo spot for the 20 yuan background pattern in Pingzhen, Huang Yuechuang, who is over 80 years old, wears a bamboo hat and a Chinese-style jacket. This is Huang Yuechuang's daily "job", he is a famous local fisherman model.
Since the 1980s, as one of the first tourist cities in China to open to the outside world, Guilin has been favored by domestic and foreign tourists for its "landscapes that are the best in the world", and many local fishermen have eaten "tourist meals" one after another. , a group of fishermen models on the Li River came into being.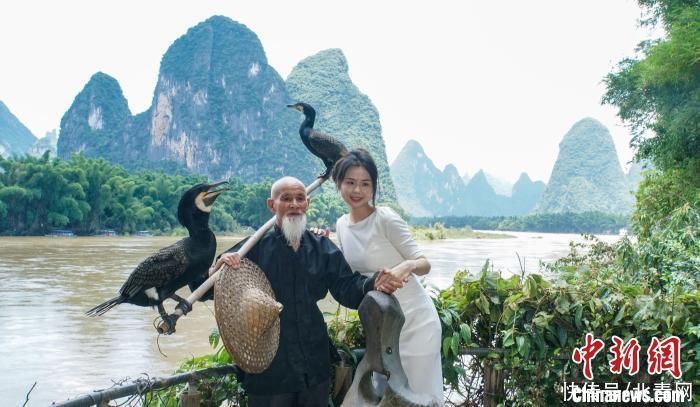 The picture shows the best photography spot for the background pattern of RMB 20 in Xingping Town, Yangshuo County, Guilin City. Tourists take a group photo with Huang Yuechuang. Photo by Ou Huilan
Huang Yuechuang, who lives in Dahebei Village, Xingping Town, Yangshuo County, has relied on fishing for generations. "I started working part-time as a fisherman model on the Li River in 2000." Huang Yuechuang, 82, said that in summer and autumn, when the Lijiang River is beautiful, it is the peak photography season, and many photographers will call him in advance to "make an appointment". ".
Huang Yuechuang has a small notebook at home, and remembers the contact information of photographers who come to take pictures by appointment. The photographers who come here are all over Russia, Germany, France, Australia and other countries. Huang Yuechuangjia also has a yellowed album, which contains more than 20 photos of him as a model.
Among them, in 2014, Australian photographer Navelle Jones shot "Homecoming" for him, which won the Sony World Photography Award that year. Huang Yuechuang said with a smile that the photographer specially sent him a photo at that time, with English and Chinese written on the back of the photo, "I recognize the two Chinese characters, they are 'Sony'."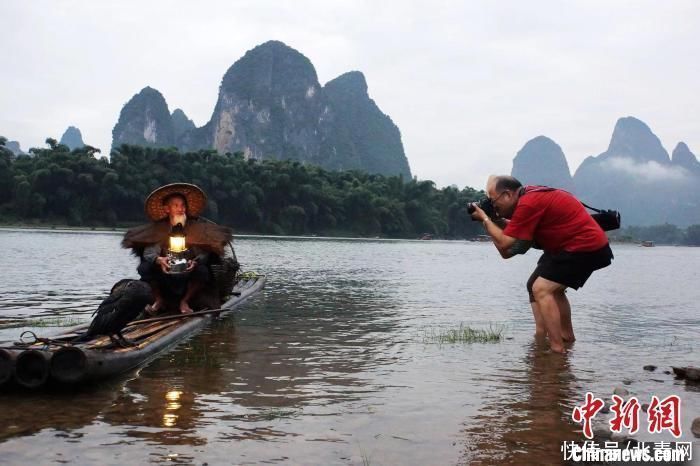 The picture shows the photographer taking pictures of Huang Yuechuang. (Data map) Photo by Huang Huaming
Huang Yuechuang is slowly becoming popular, and more photographers and tourists come to him. Huang Yue created a business card and named it "Lijiang Fisherman".
In order to become a fisherman model, Huang Yuechuang has developed a unique ability to cast a net, throwing the fishing net into a high circle to meet the shooting needs, growing a long beard, and self-taught photography Books make oneself more professional when shooting, and these are popular with photographers. "Although it's inconvenient to eat with a long beard, the characters look more ancient in this way." Huang Yuechuang said.
In order to show the traditional fishing activities of "Lijiang River Fishing Fire", Huang Yuechuang keeps a pair of cormorants all year round. Feed a catty of fish every day, and the cormorants are also obedient and obedient.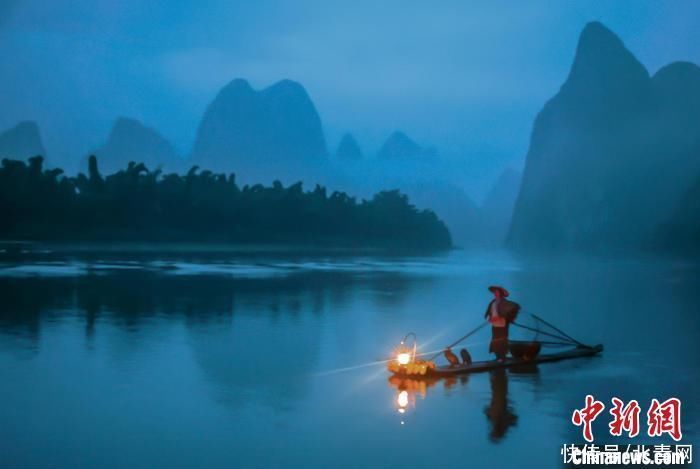 The picture shows Huang Yuechuang showing "Lijiang Fishing Fire". (Data map) Photo by Qin Zhong
According to reports, "Lijiang River Fishing Fire" was originally a traditional fishing activity on the Lijiang River in Guilin. When night fell, the fishermen took the bamboo rafts, lit torches and brought them with them. Go fishing with some cormorants. On the river, fishing fires are like stars, and cormorants appear and disappear on the water, forming a charming night hunting picture.
As Huang Yuechuang became famous, many fishermen along the Li River gradually embarked on the road of modeling. In 2008, Huang Yuechuang's brother Huang Quande resigned from his job of raising ospreys in a large-scale local live-action drama. He grew a white beard and dressed as a traditional fisherman. The two brothers formed a model partner, and Huang Quande also became the "oldest" fisherman on the Li River. model.
"When I was feeding ospreys before, many tourists were very curious about me, often asked to take pictures with me, and some even tipped me. Maybe from then on, I was already an amateur model Yes." Huang Quande said.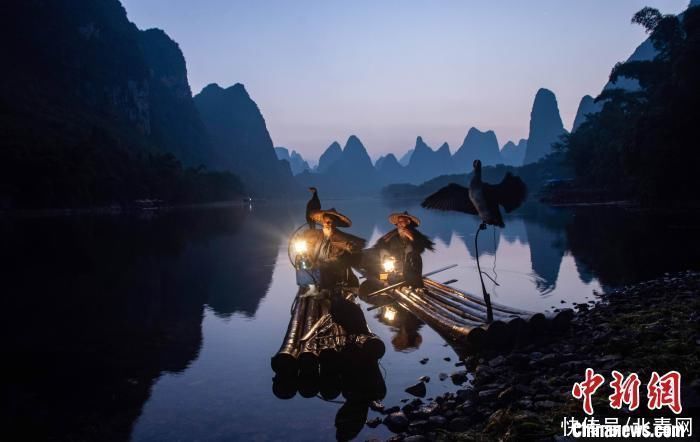 The picture shows the Huang Yuechuang brothers becoming fishermen model brothers. (Data map) Photo by Tang Mengxian
The brothers take care of each other. In the past few years, whenever I received a phone call from a photographer, if I needed two fishermen models and two bamboo rafts, Huang Yuechuang would go with my brother. Supported the bamboo raft to the shooting point. The older Huang Quande sits on the boat and poses, while Huang Yuechuang casts a net, or directs the cormorants to fish, in accordance with the photographer's shooting action requirements. A classic photo of the fishermen brothers also followed.
In recent years, Huang Yue's creations have become popular all over the world as a fisherman model, which has also brought him an improvement in his life. Before the epidemic in 2020, Huang Yuechuang could have an annual income of 50,000 to 60,000 yuan. When he was young, he lived in a brick house and traveled by bicycle. Now he and his family live in a small building, and the family also bought a car.
82-year-old Huang Yuechuang said frankly that his brother is now over 90 years old, and he is also very old. Riding a bamboo raft and casting a net also requires skill and strength. He loves to be a fisherman model, but now There will be selective orders, so don't let yourself get too tired. (End)
Source: China News Network