This article is reprinted from: Guangming.com
CCTV news: The 2nd Consumer Expo was officially opened today (July 25) in Haikou City, Hainan Province. The 100,000-square-meter exhibition area brings together more than 2,800 domestic and foreign brands of products. The holding of the Consumer Fair has added another impetus to Hainan's tourism consumption.
After the first Consumer Expo was held, many exhibitors increased their business development in Hainan, and new brands continued to set up shop in Hainan, which not only enriched duty-free commodities, but also brought sales growth.
In a duty-free city in Haikou City, Hainan Province, the reporter saw many consumers choosing perfumes, cosmetics, skin care products and other products. Among these consumers, many are old customers.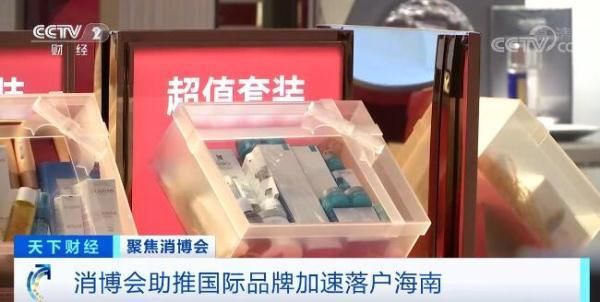 The person in charge told reporters that nearly 500 international brands have been introduced in this duty-free city's exhibition area of ​​more than 20,000 square meters. Even so, more brands are optimistic about the Chinese consumer market this year and intend to enter.
Zhan Xingzhou, President of Shenzhen Duty Free Group: The Consumer Expo is like the "engine" of tourism consumption and the "highway" that promotes the development of duty-free enterprises. Last year, we participated in the first consumer expo. In the past year, our sales in Hainan has increased by 120% year-on-year, and the number of customer orders has increased by 4 times, exceeding one million pieces.
In another duty-free city in Sanya, Hainan, the charm of duty-free goods attracts tourists from all over the country. Data show that last year, CDFG's sales in Hainan alone exceeded 60 billion yuan. There are more than 750 domestic and foreign brands in Haitang Bay Duty Free City, and more than 30 brands have entered after the Consumer Expo last year.
Gao Xujiang, Deputy General Manager of China Tourism Group CDFG Co., Ltd.: Since the Consumer Expo last May, I think our influence has grown, especially in some international Brands are paying more and more attention to our Chinese market, especially the Hainan market. For example, some brands that were difficult to attract investment in the past are much easier to negotiate after the Consumer Expo, and there are some substantial progress. , For example, some electronic products and make-up are now also stationed in some duty-free shops in the Hainan area of ​​CDFG, as well as some first launch, first store, first creation, etc.
China International Consumer Goods Expo provides a global consumer boutique exhibition and trading platform, which is conducive to the sharing of China's market opportunities by all countries in the world, and is also conducive to China's provision of more high-quality consumer goods to the world. Ni Qiang, vice governor of Hainan Province, said in an exclusive interview with a reporter from this station that the holding of the Consumer Expo has promoted the return of overseas consumption and economic growth.
Reporter Bai Yue: What changes has it brought to Hainan after the first consumer expo?
Ni Qiang, Deputy Governor of Hainan Province, Director of the Free Trade Port Working Committee Office: We promote our economy through consumer fairs, duty-free shopping on outlying islands, and the return of consumption increase. Hainan's total retail sales of consumer goods last year ranked first in the country, and the two-year average (growth rate) ranked first in the country. Consumption is now driving more than investment. It should be said that driven by consumption, the growth rate of GDP jumped to the second place in the country last year, and our two-year average (growth rate) was the first in the country.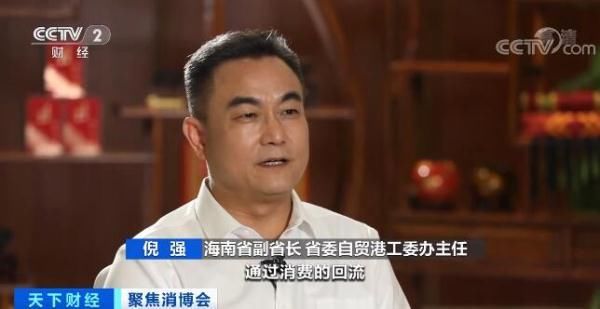 Ni Qiang said that after the first consumer expo, many exhibitors who participated in the expo came to Hainan for field visits, involving high-end manufacturing, food processing, In many industries such as ecological environmental protection, since this year, some enterprises have invested and built factories in Hainan, which has strongly supported the construction of Hainan's modern industrial system. Data show that the actual utilization of foreign capital in Hainan Province will increase by 16% in 2021 on the basis of doubling in three consecutive years, and the total amount will jump from the fifth lowest in the country to the ninth in the country.
Ni Qiang, Deputy Governor of Hainan Province, Director of the Free Trade Port Working Committee Office: Nowadays, many international companies have come to Hainan through the Consumer Fair, mainly using Hainan's backing A geographical advantage in the domestic super-large market; on the other hand, domestic enterprises also use this platform to promote their products and services to a broader international market.