This article is from the WeChat public account: Sanlian Life Lab (ID: LIFELAB2020), author: Alian, editor: Tingbao, header image from: Visual China
This summer, the middle class in Beijing, who can't go to the island and can't surf, began to indulge in the replacement of island surfing – holding a paddle Board to the river to find happiness.
Paddleboard, a sport that originated in the sea of ​​Hawaii, is now in Beijing's overgrown rivers with ambiguous water, making every Beijing middle-class a favorite. Transformed into a white stripe in the waves.
Kunyu River "Hundred Geese Fighting" Source: @ Sunny Day
Beside the Liangma River on the middle-class stage, beautiful men and women were chatting and laughing in the river, and the Chaoyang crowd by the river gathered to watch. The happiness of one person on the board is the carnival of a group of people on the shore.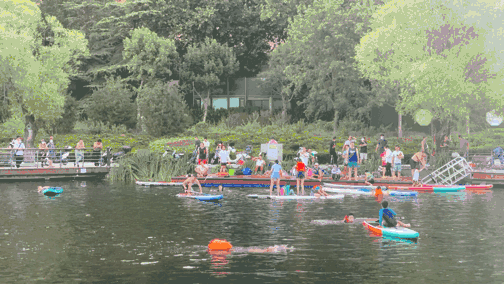 while in The Kunyu River, the "Holy Mecca" of Beijing's paddle board, can cause "boat jams" during peak periods.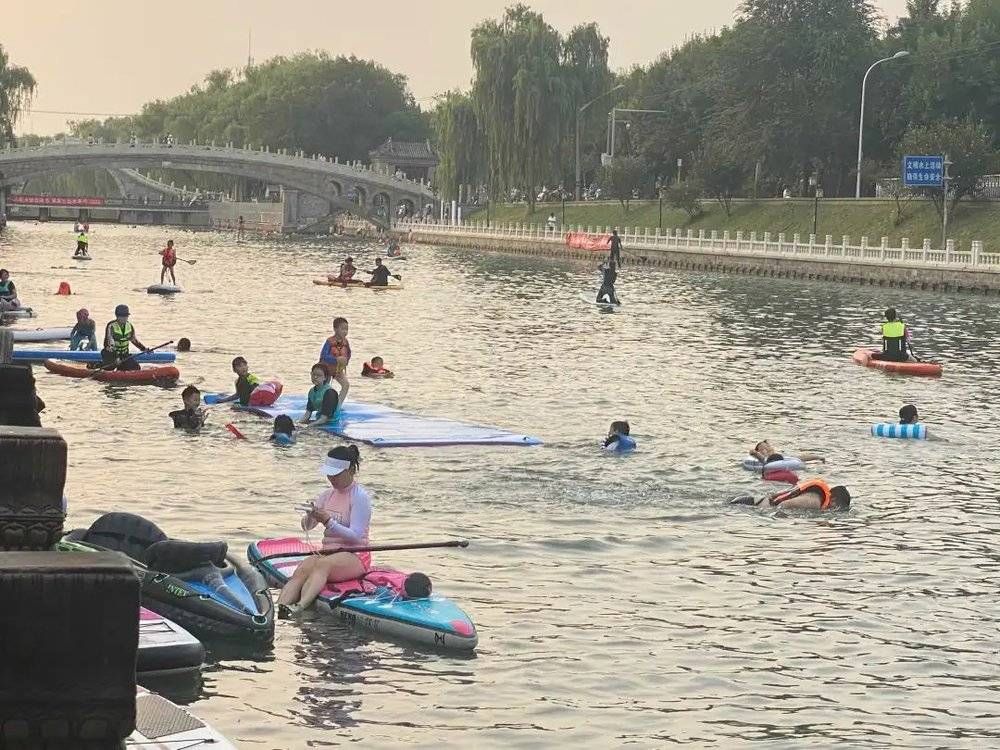 Yes The uncle felt that wild swimming was no longer fragrant, and he took his wife to play in the water on the board. I row the boat for you, you chat with your old bestie, and row a Beijing middle-aged and elderly love story together.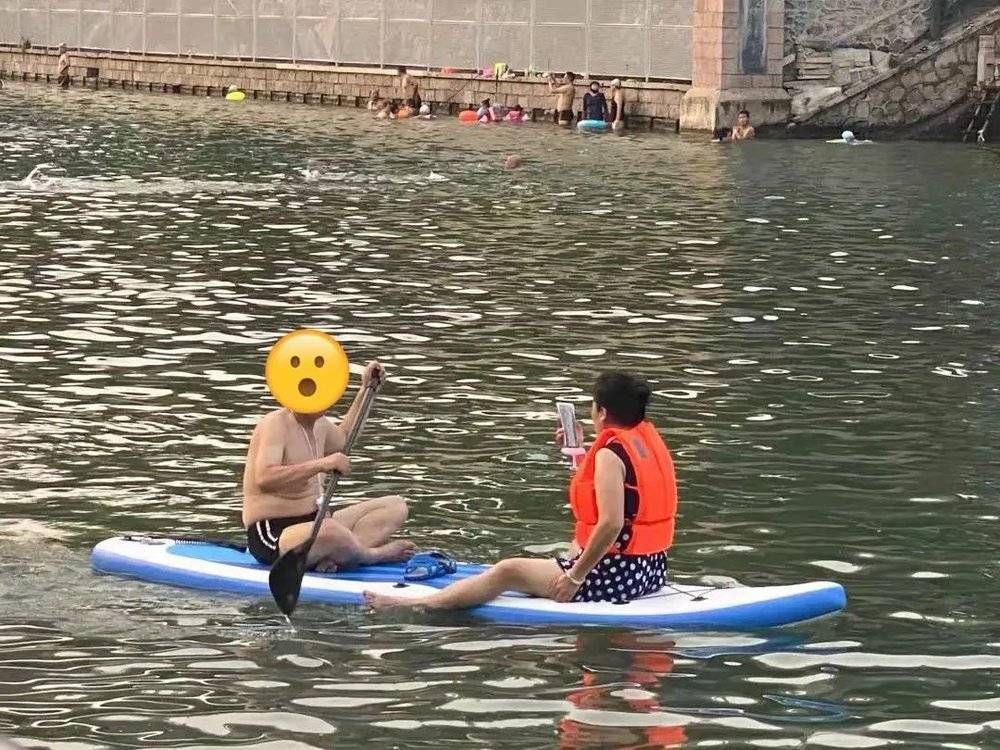 Paddleboard Yoga, paddle brunch, paddle mermaid… on paddle board, you can do anything.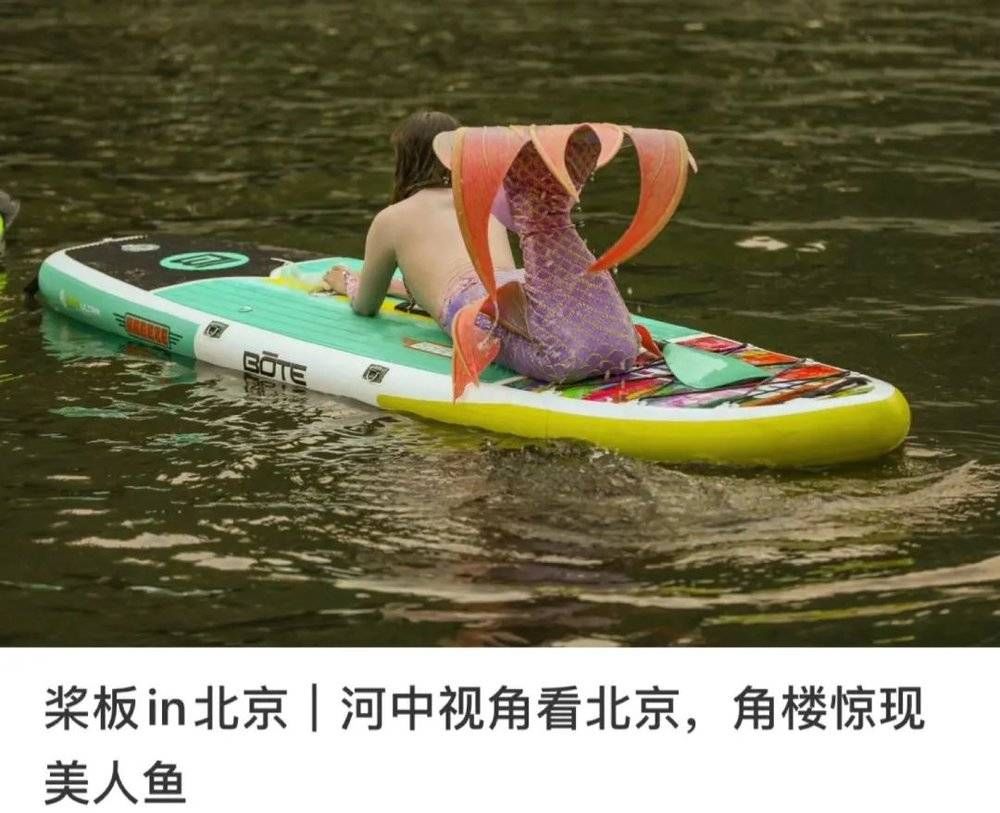 Source: Internet blogger Zhao NA
< p>
The unrequited love of the middle class in Beijing for the sea is all on this board.
The big stage of paddle board, the middle class is fighting!
An entry-level paddle board, usually 2.8m to 3.7m long and 80cm wide, made of PVC. After ten minutes of inflation, it becomes full and firm, and you can start "floating" with the matching paddle in hand.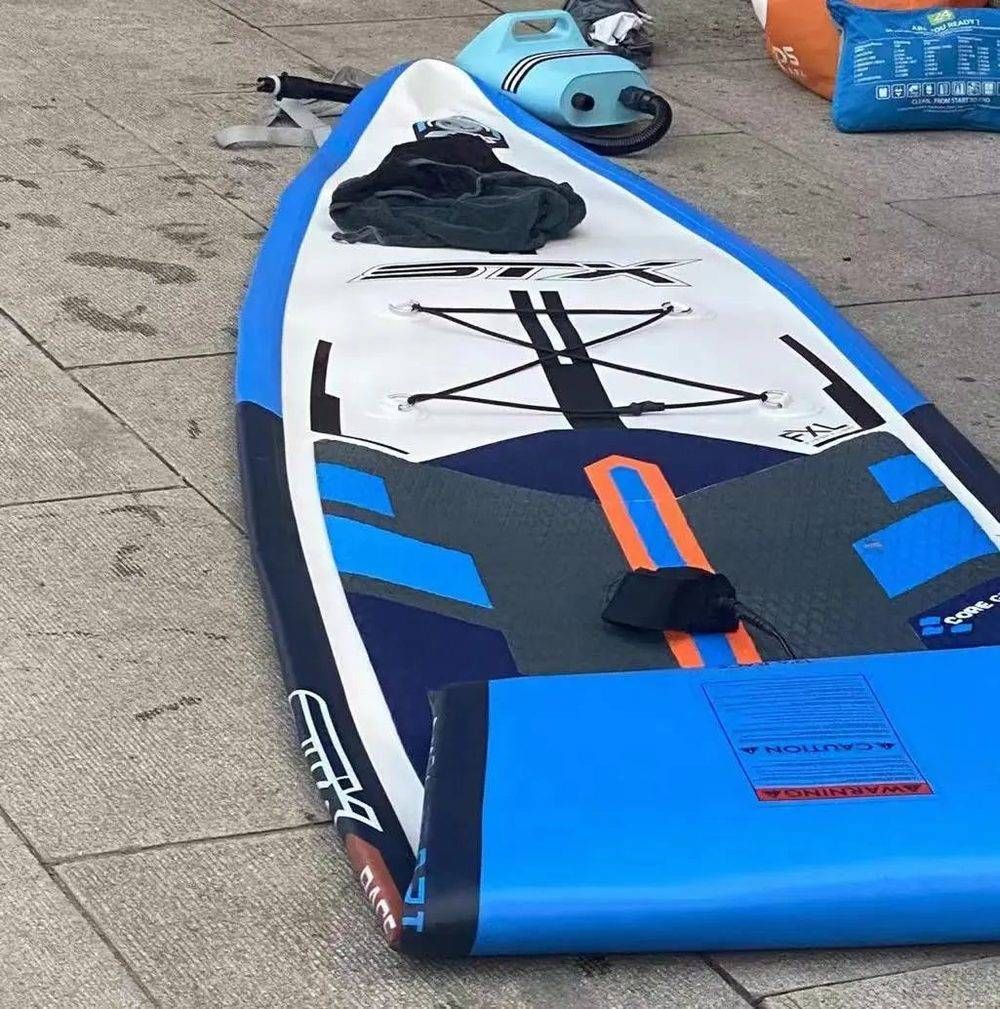 Uninflated paddles
After rinsing, let the air out, dry it and fold it, then you can pack it home.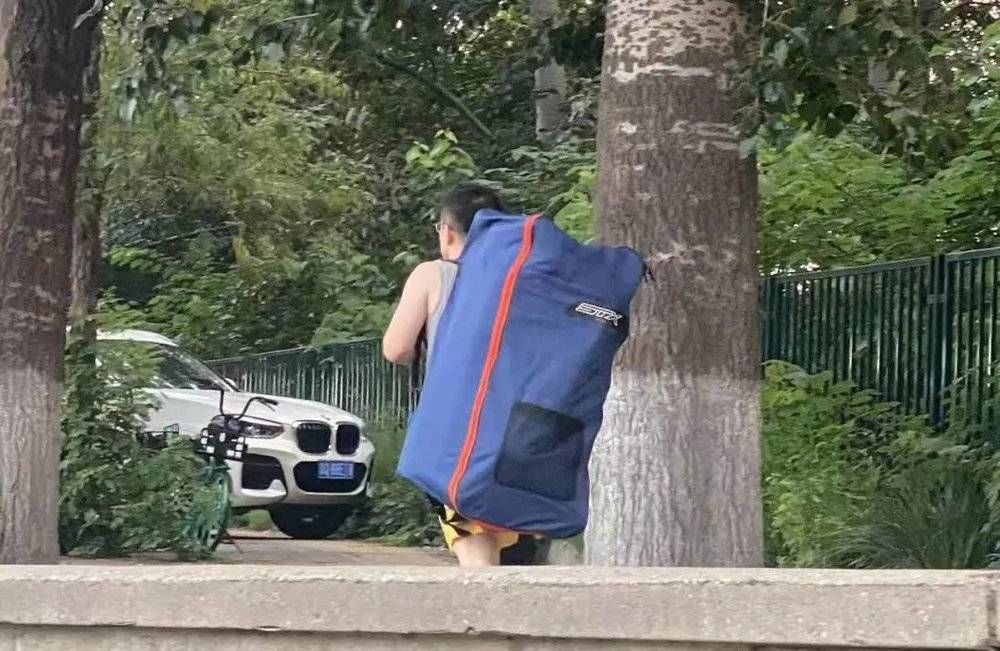 It is not too small when folded, so it requires a little space for the home p>
What you can do on a paddle board is wilder than you think.
Doing yoga, playing Frisbee, walking the dog, walking the baby, these are all basic operations.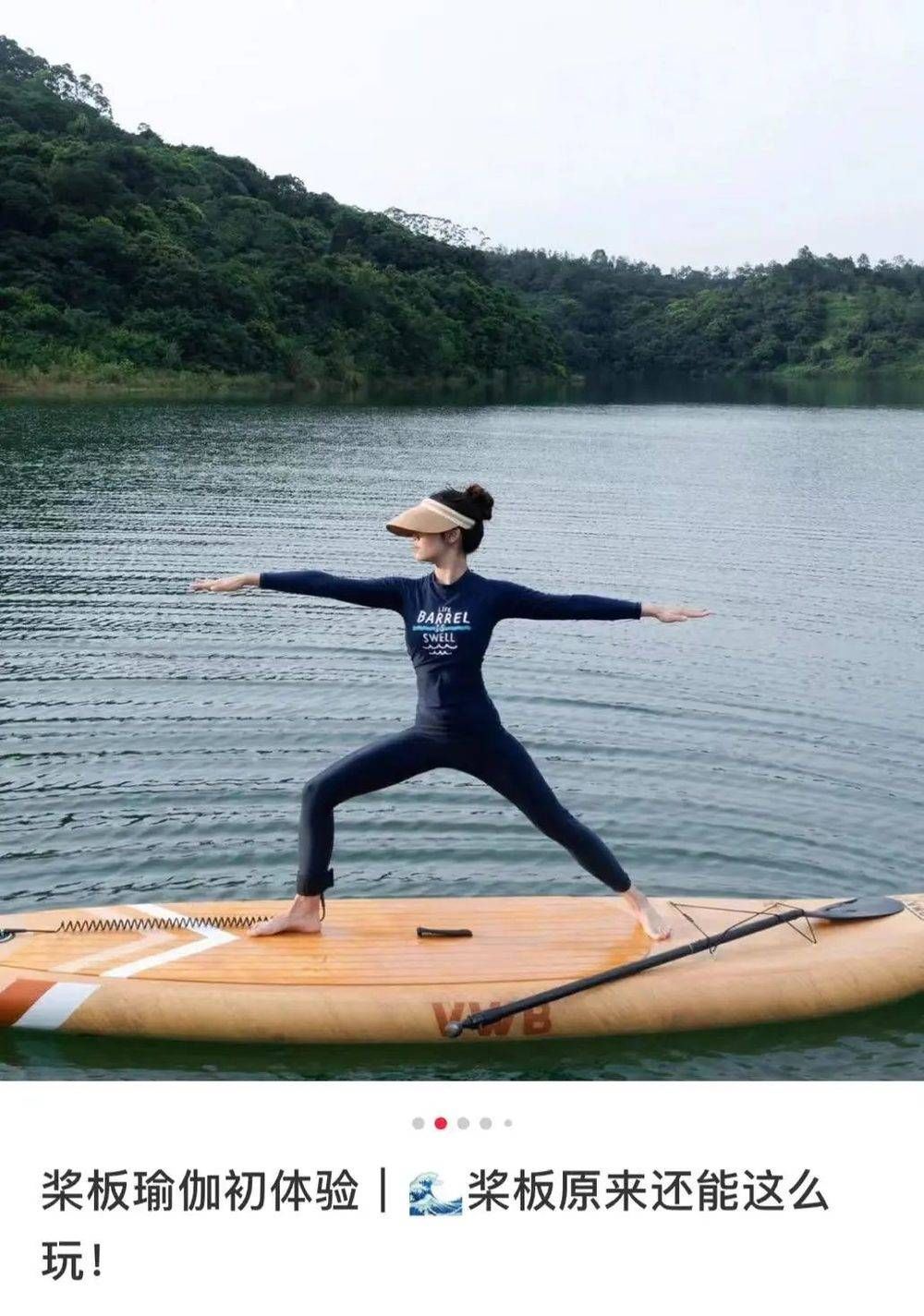 Source: Internet blogger Shalin GaGa
As the first batch of paddleboarders in Beijing, Brother Hong, a post-70s IT engineer who has played paddleboard for 7 years, tells you that you can use gliding on the board.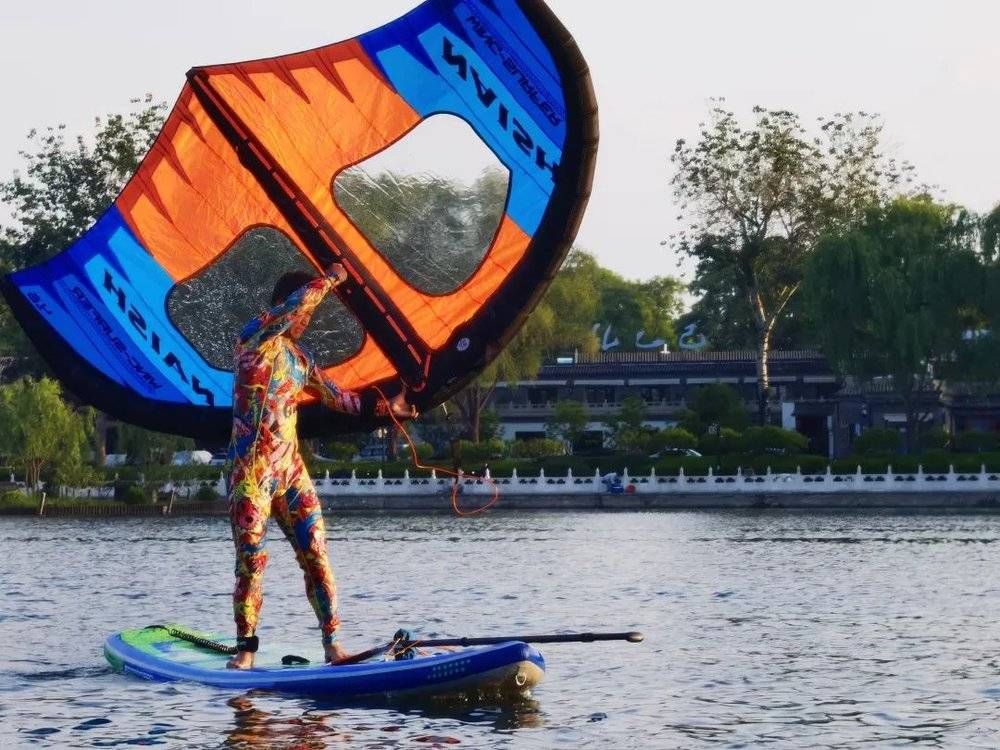 Winter is also Can swing sculls.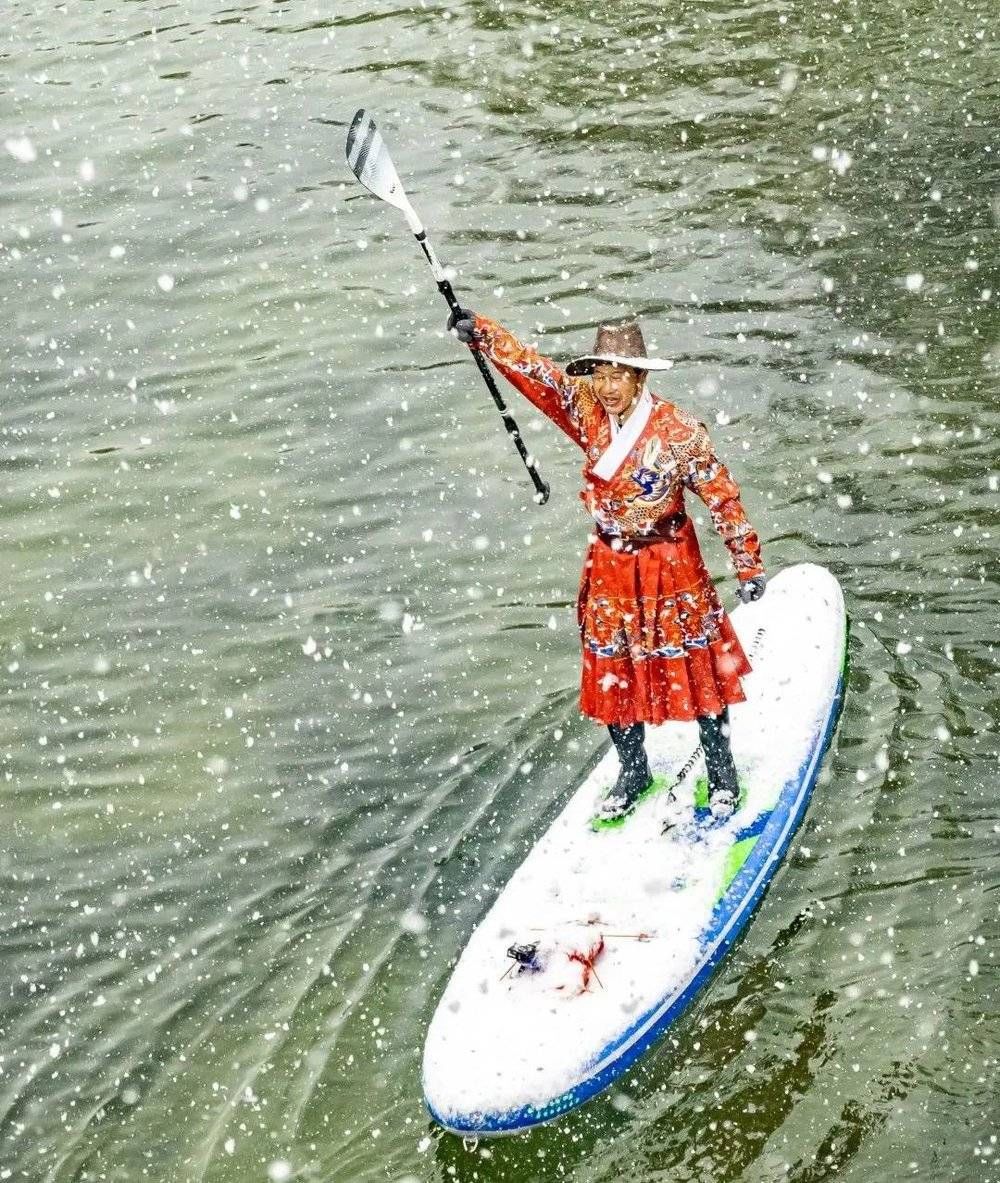 Tiger skin leggings are the unruly of the paddlers.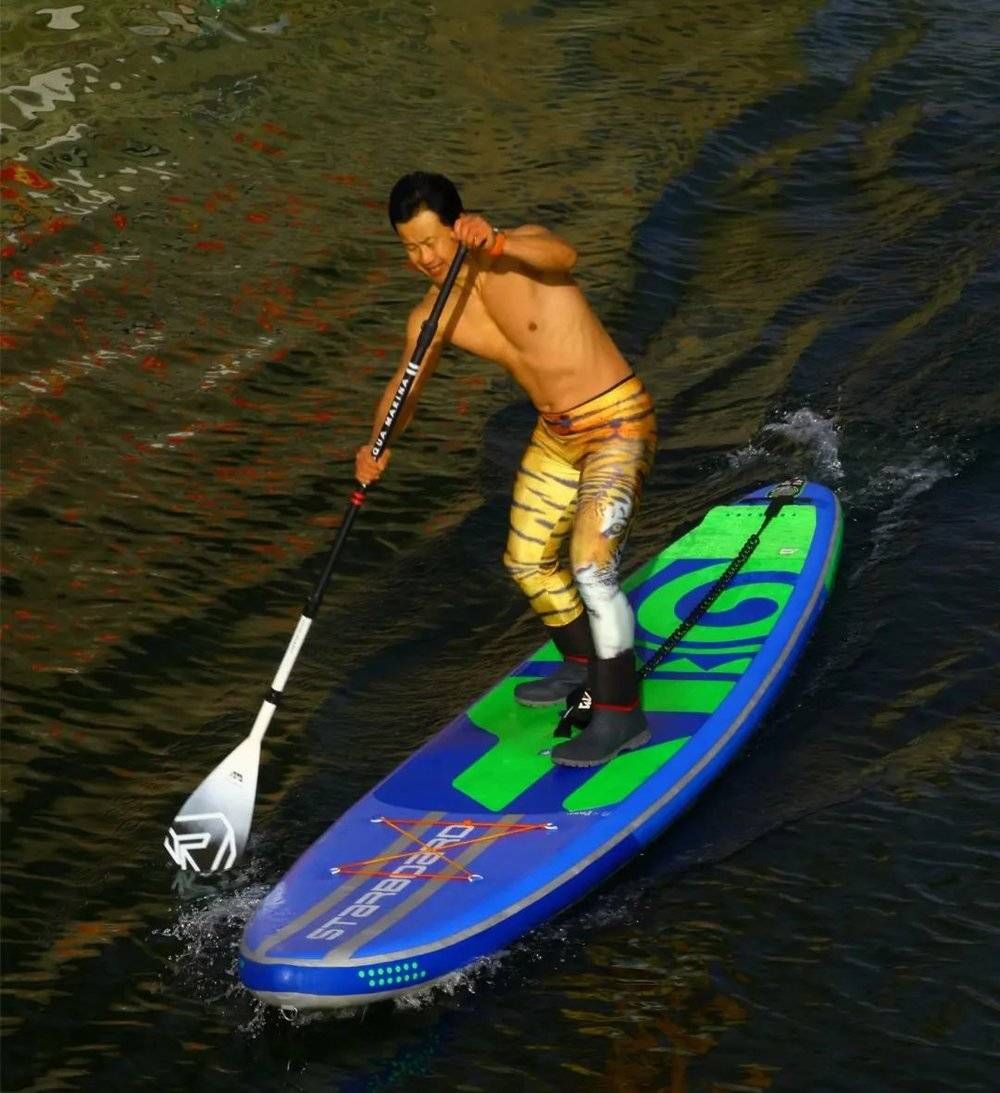 p>
Panther suit, the speed of the paddlers.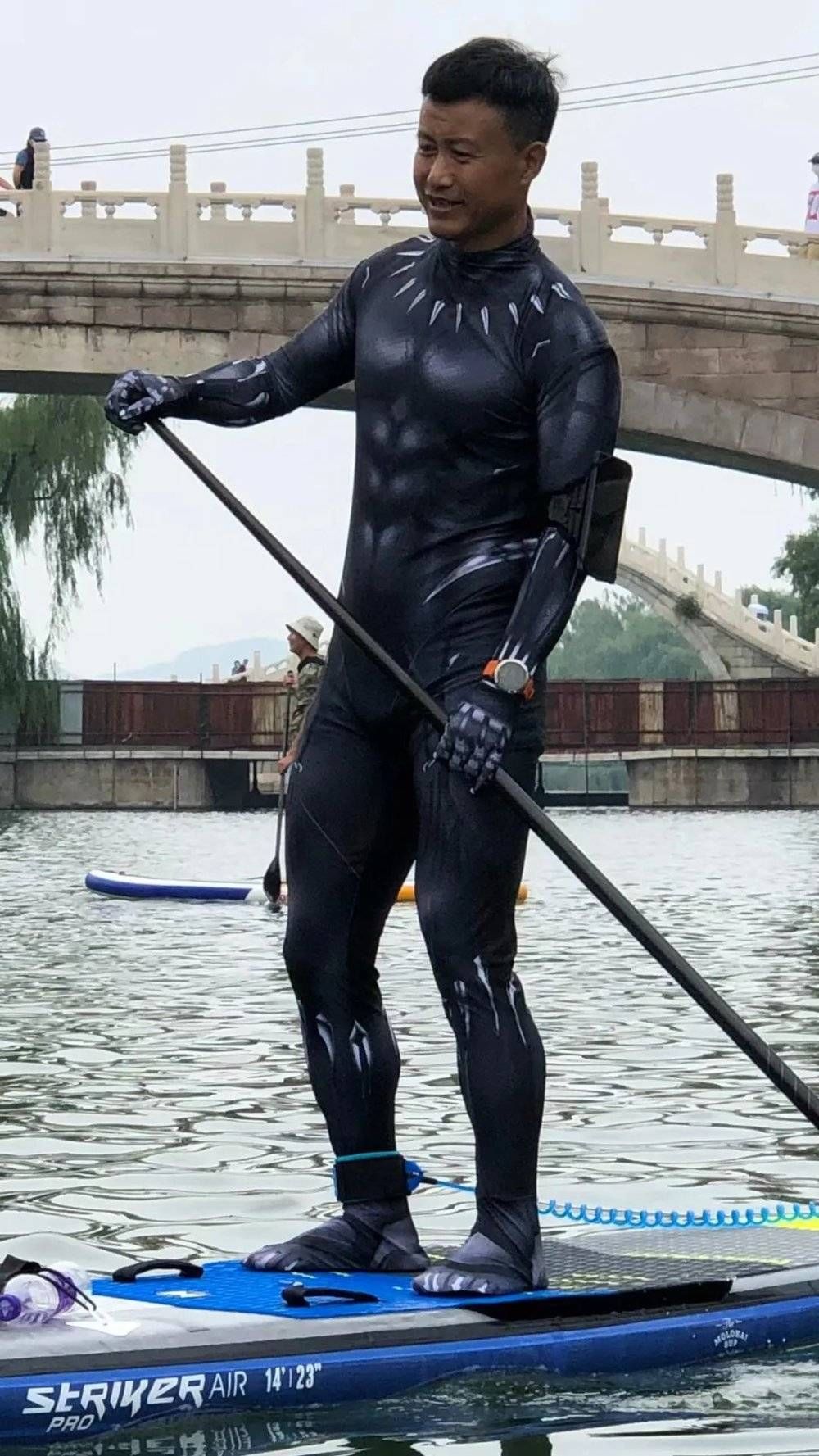 Indian hot style, just ask who to compete with?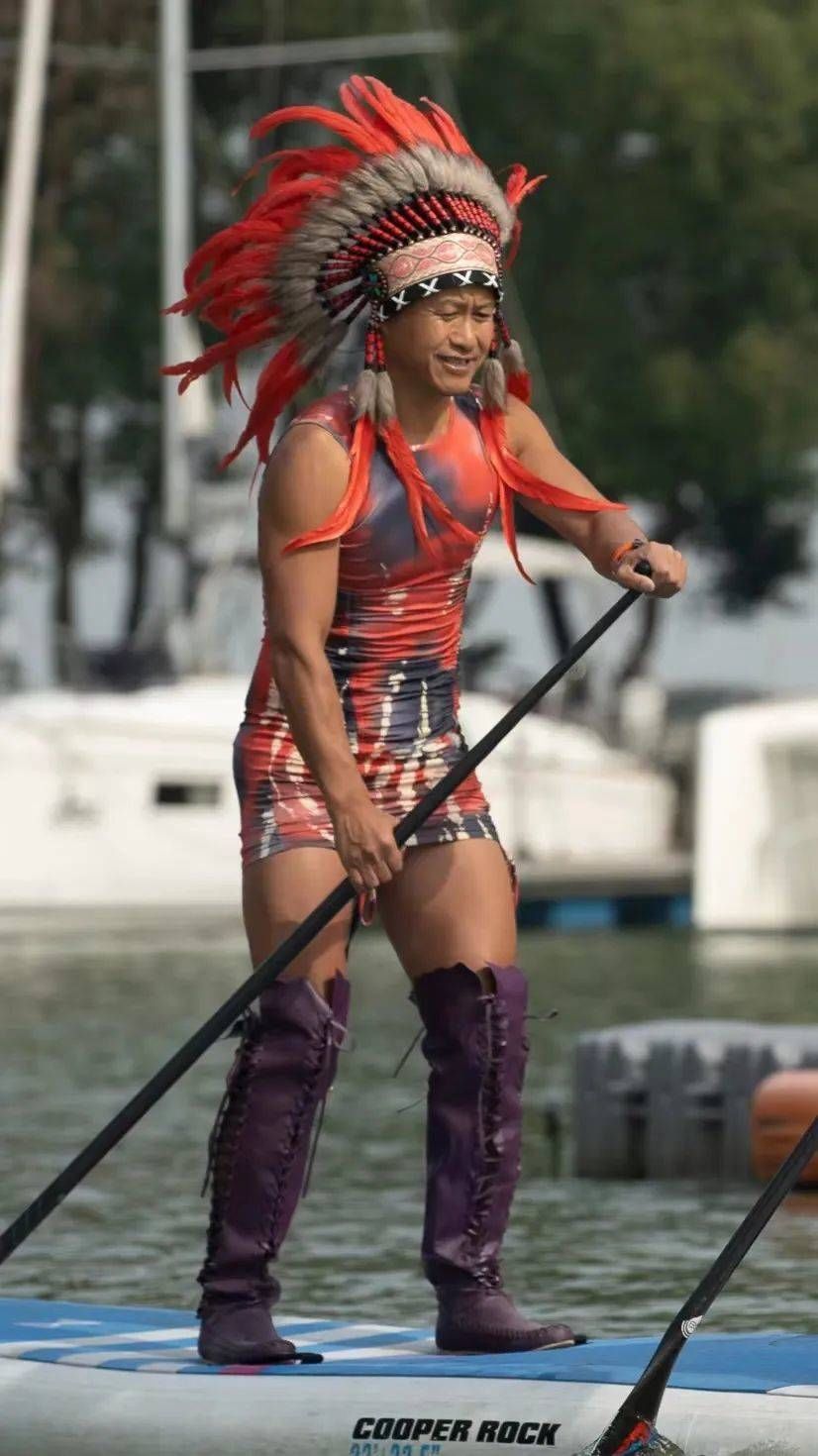 Since the first board in 2015, Brother Hong has successively owned More than 30 paddle boards with different functions, the total cost is more than 100,000. The most expensive one is the carbon fiber rigid board, with a market price of about 10,000.(Yes, you only need to use any sports equipment. If you buy "carbon fiber", you will stand at the top of the chain of contempt.)
In addition to paddle boards, Brother Hong is also a triathlon and cross-country running. Waiting for hardcore sports fans. But when summer comes, 80% of his career I spend the rest of my time on the paddle board, play three or four times a week, happy to be able to do a full handstand on the paddle board. "It must be a little empty now that I'm not paddling."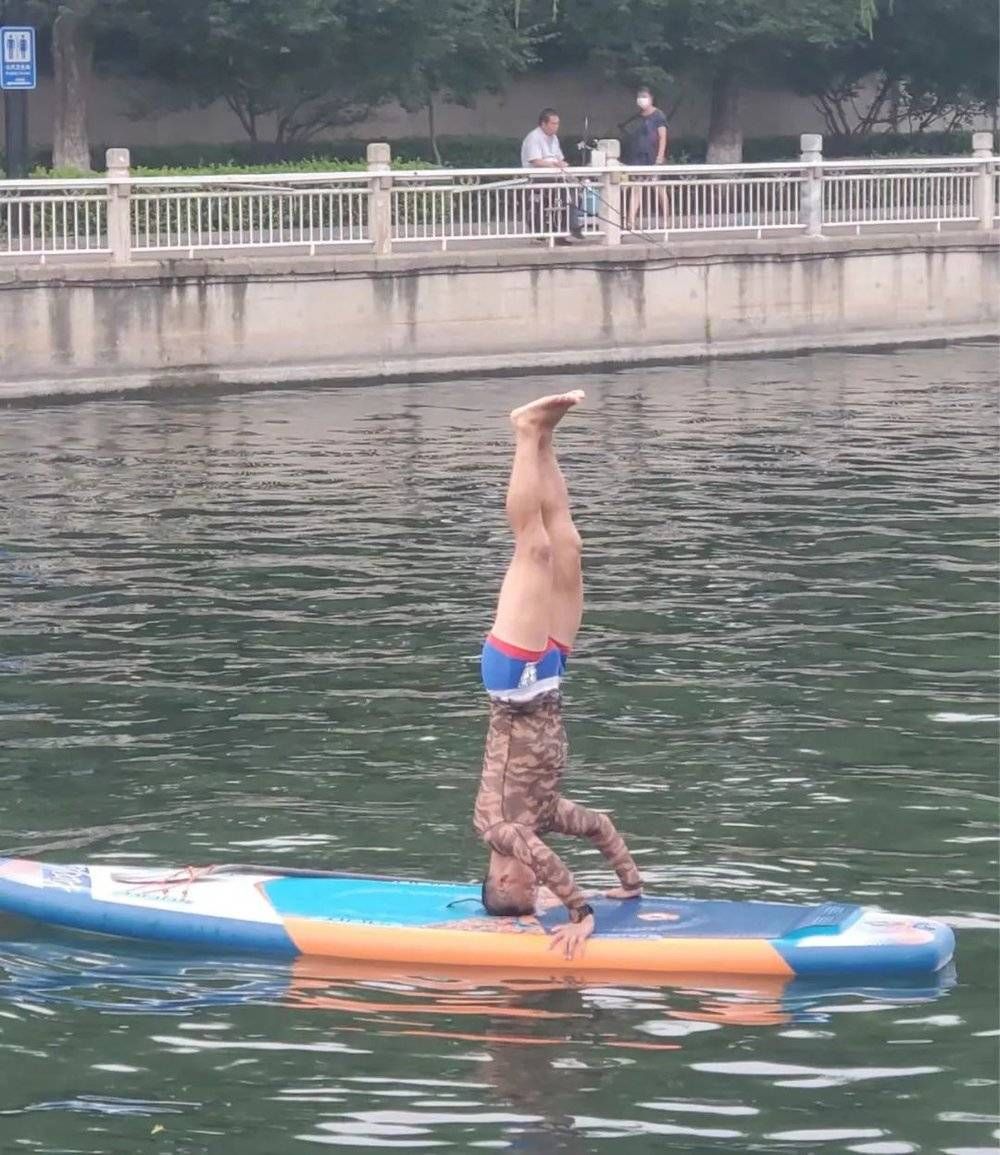 < /p>
Peng Peng, a post-80s working in the film and television animation industry, tried a paddle board with a friend while camping in Chaobai River near Beijing in early summer, and got into the pit. "You can roll it up and put it in the trunk at any time and play anywhere."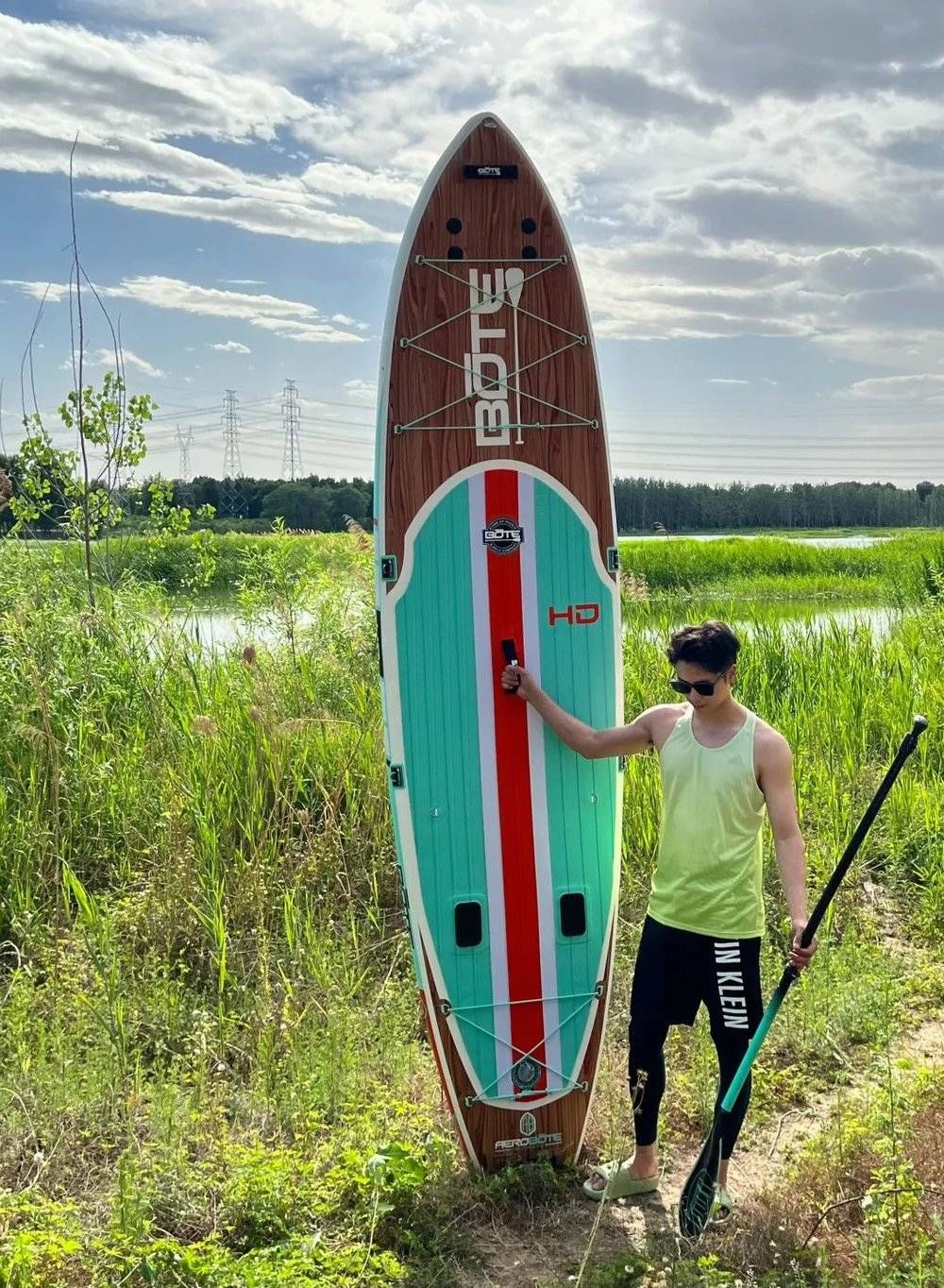 Peng Peng and his paddle board
I also got into the pit because of a photo I saw by chance: "It was a man The pictures of the paddle board in the snow touched me very much, I felt like a lonely hero in the world."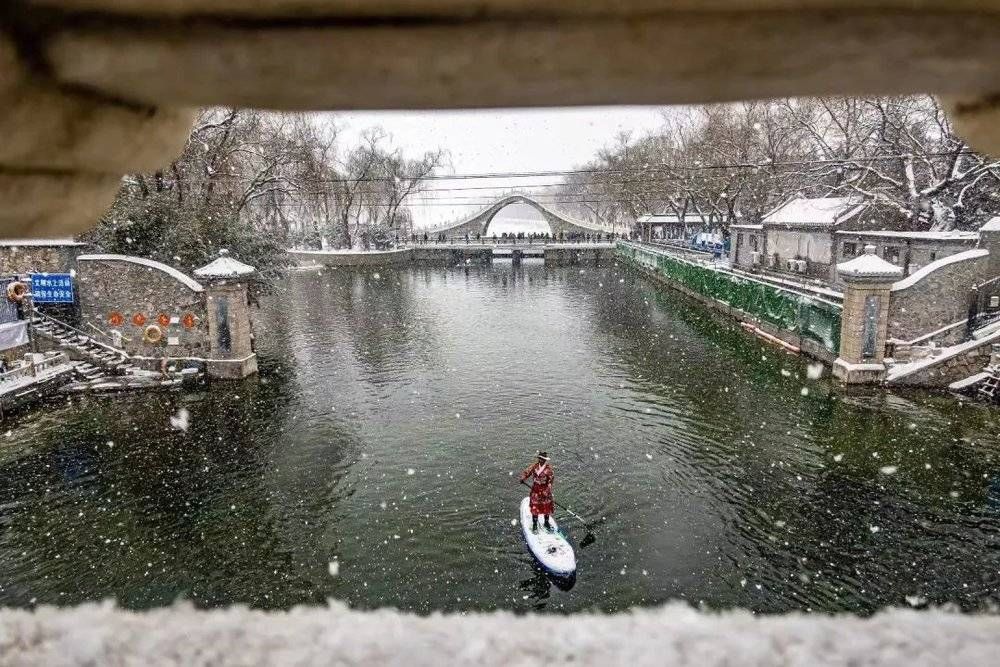 It's not this one, but Brother Hong is also very brave in the snow.
So, in the During this year's "618" period, Peng Peng began to sign on the Internet. In addition to workmanship and performance, the appearance of the board is also very important. In the end, Peng Peng picked a BOTE brand paddle board known as "LV of paddle boards". Tiffany blue color matching, the total price is also close to 10,000. "For our job, the requirements for appearance are still quite high, and I don't want to bump into others in the water. So it's better to do it in one step, add a few thousand more to buy the best-looking one."
< br/>
Since I bought this board, Peng Peng has become the most eye-catching player among board friends.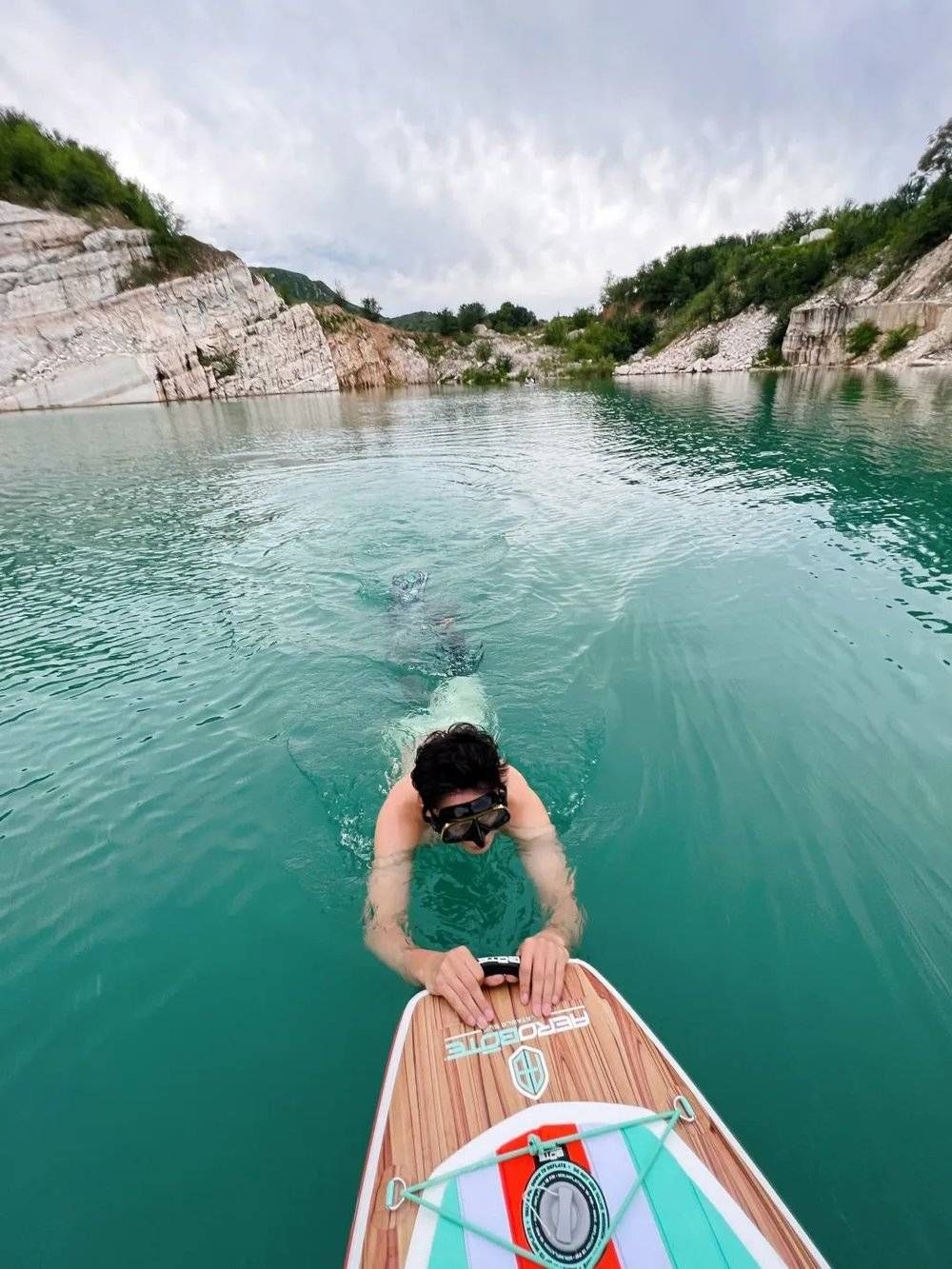 his This board is considered a luxury price in the paddle board, which is 6,7000 higher than the medium-priced paddle board. He also gave this brand of board to a few friends around him. On weekends, everyone met to drive to the surrounding areas of Beijing, find a waterside to launch a boat, and have a "luxury socializing".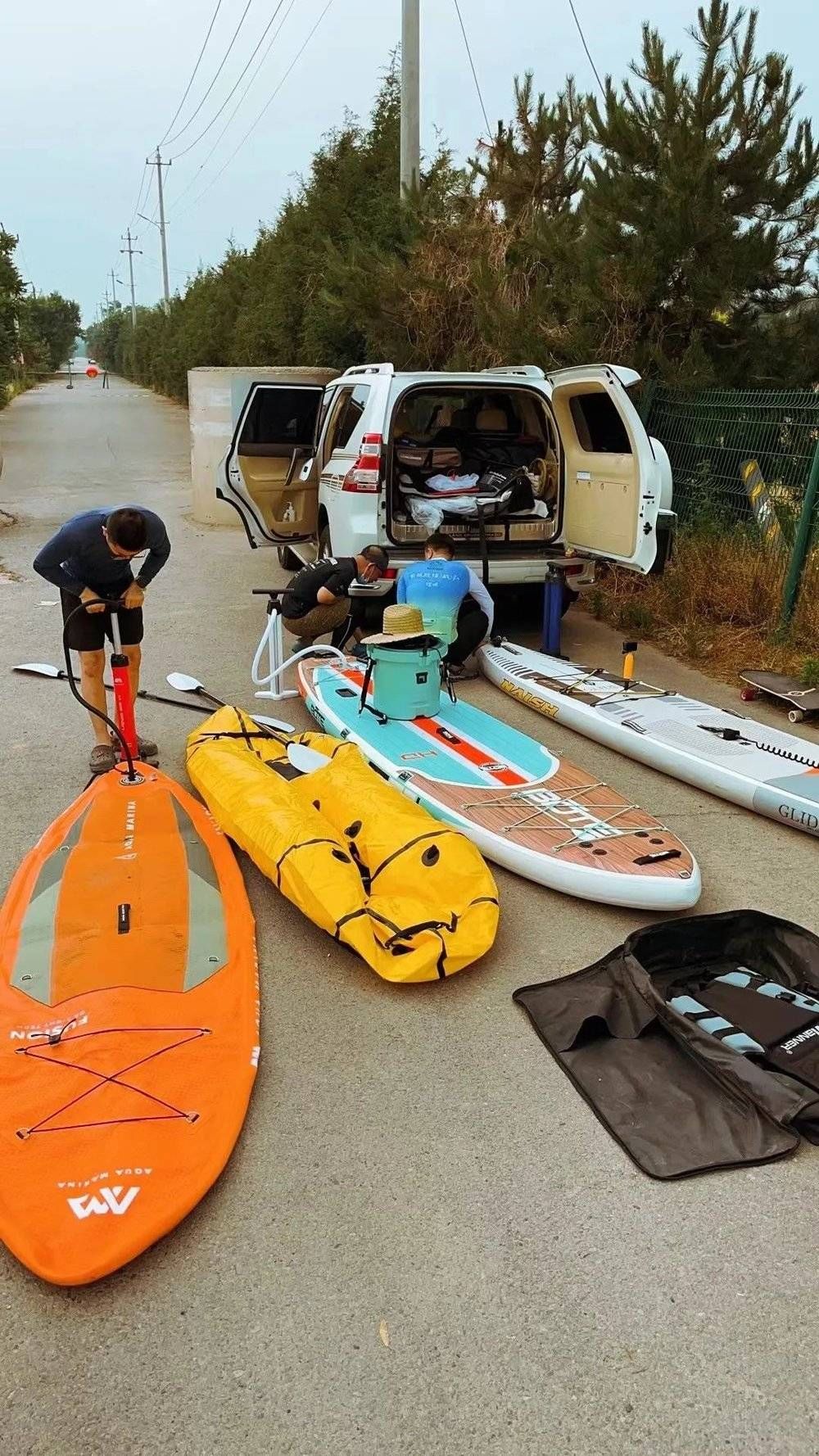 camping, Barbecue, paddle board and nature – after this combination of punches, Peng Peng's circle of friends can be said to be a model room for Beijing's middle-class weekend.
Playing paddle board, you can roll it, you can also rot it
With Peng Peng In the same way, many paddle players get into the pit, in fact, from the kayak.
After a short try, they all jumped into the arms of paddleboards – kayaks can only sit, and paddleboards are really 100 kind of posture. You can stand, sit or stand upside down, and you can jump in the water if you have nothing to do.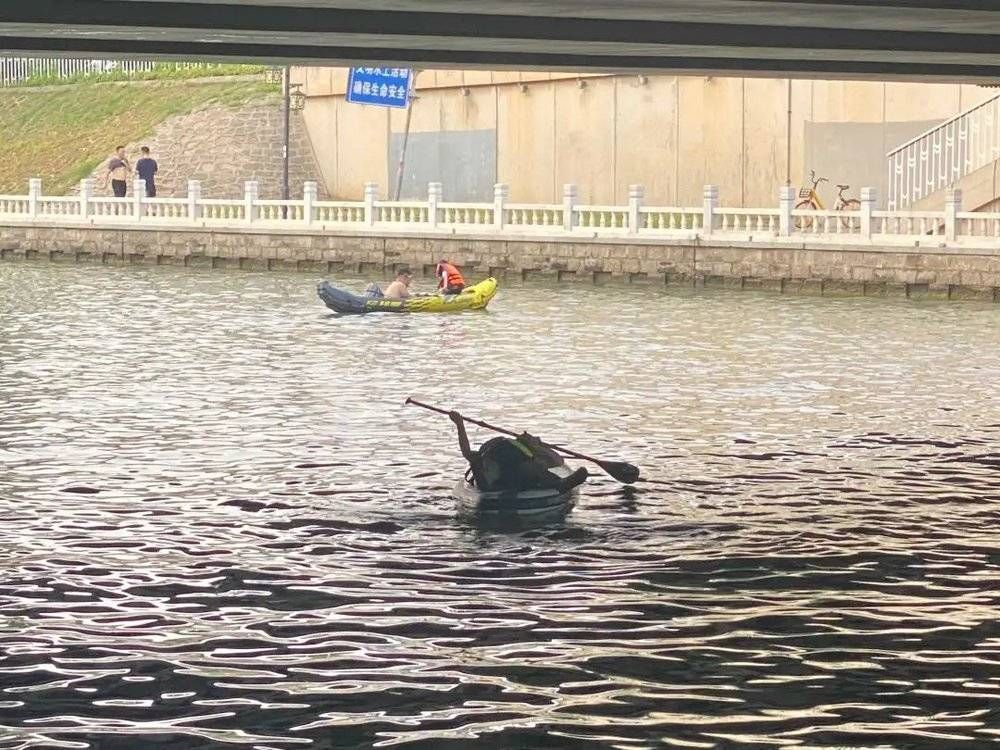 < p>In the Kunyu River, a paddle board player is lying down and rowing
The paddle board is very fast to get started, and you can learn how to stand on the board and master the balance in 2 hours , and then cooperate with the paddle board, even if you can paddle away, you have already learned it.
Like Frisbee, Lu Chong and other popular popular sports with extremely low thresholds, you can work hard or let yourself stay in the game for a long time. In the introductory stage, just having fun is enough.
Peng Peng has also tried surfing, and the threshold is much higher, "Surfing is really a difficult sport that requires balance, core, and various grasps. Waves, it takes effort to learn techniques to play." Although they all originated in the sea, paddleboards make people lie flat with confidence. "The paddle board is like a point-and-shoot camera, I don't have to spend too much money, I just enjoy the ease with which I'm on it."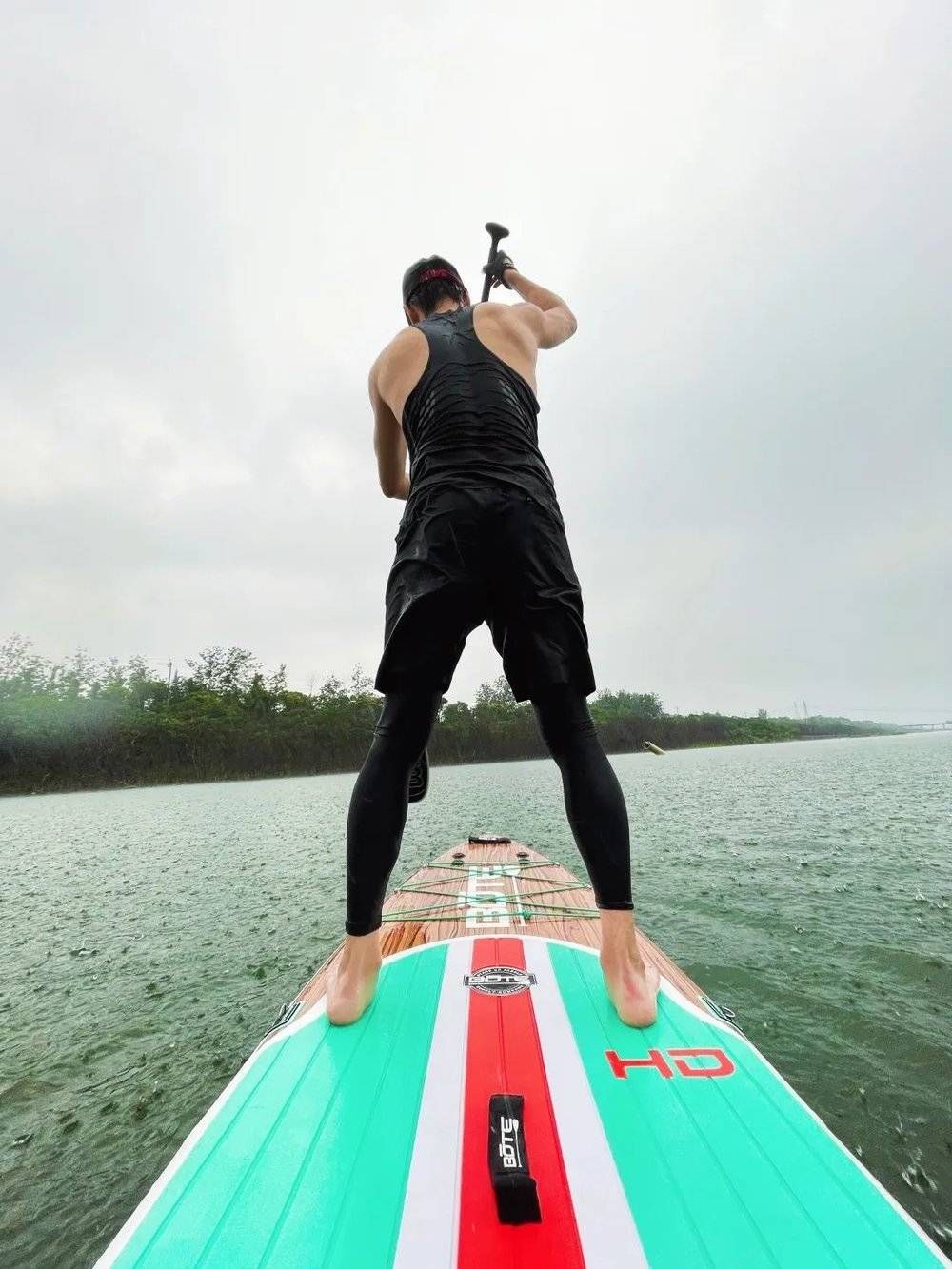 Wang Jing, an insurance practitioner born in the 1980s, at first A little bit of the idea of ​​paddleboarding to get in shape. "Rowing should be able to train the back muscles. But then I only go once a week, and it is not good to train muscles."
Afterwards, she did not pursue any purpose. . Every weekend, Wang Jing rides her own small electric car to the southeast moat, which is seven or eight minutes away from home, and allows herself to be free for a while. "Don't think about anything else, just focus on your paddle position."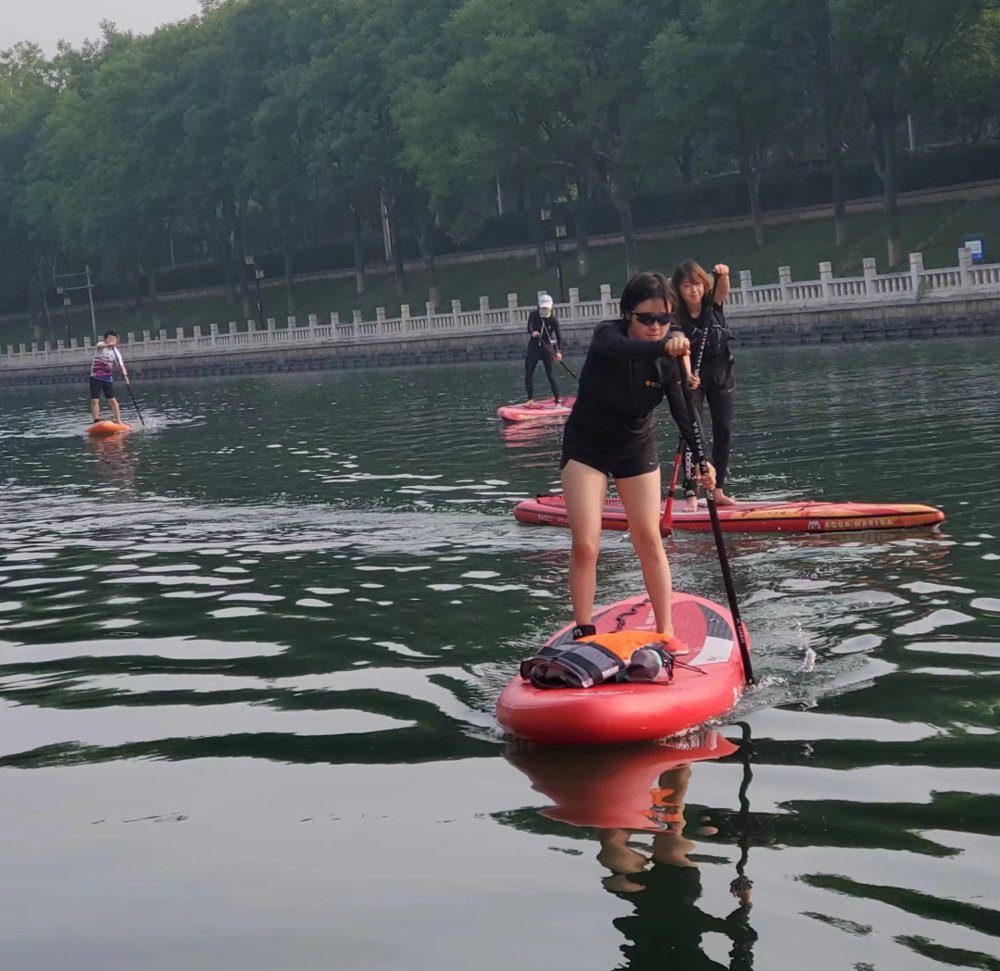 Wang Jing and board friends play paddle board together
Wang Jing can even play board while walking her baby. "Once I took my baby to paddleboard, and I bought a bottle of beer to take with me. It's very pleasant to have a drink while watching my baby's little hands and feet play in the water."
< br/>
Brother Hong is regarded as the "Rolling King" in the Beijing paddle board circle. His famous deeds are: From Beijing to Tianjin.
During May Day in 2021, Brother Hong set off from the Summer Palace in Beijing, followed the Kunyu River and passed through the Beijing-Hangzhou Grand Canal. In two days, Brother Hong paddled during the day and went ashore to rest at night. He traveled more than 100 kilometers on the paddle board and finally arrived in Wuqing District, Tianjin.
On the way, Brother Hong saw the sunset on the water and the rape field in the evening. "A lot of the scenery looks completely different from the water."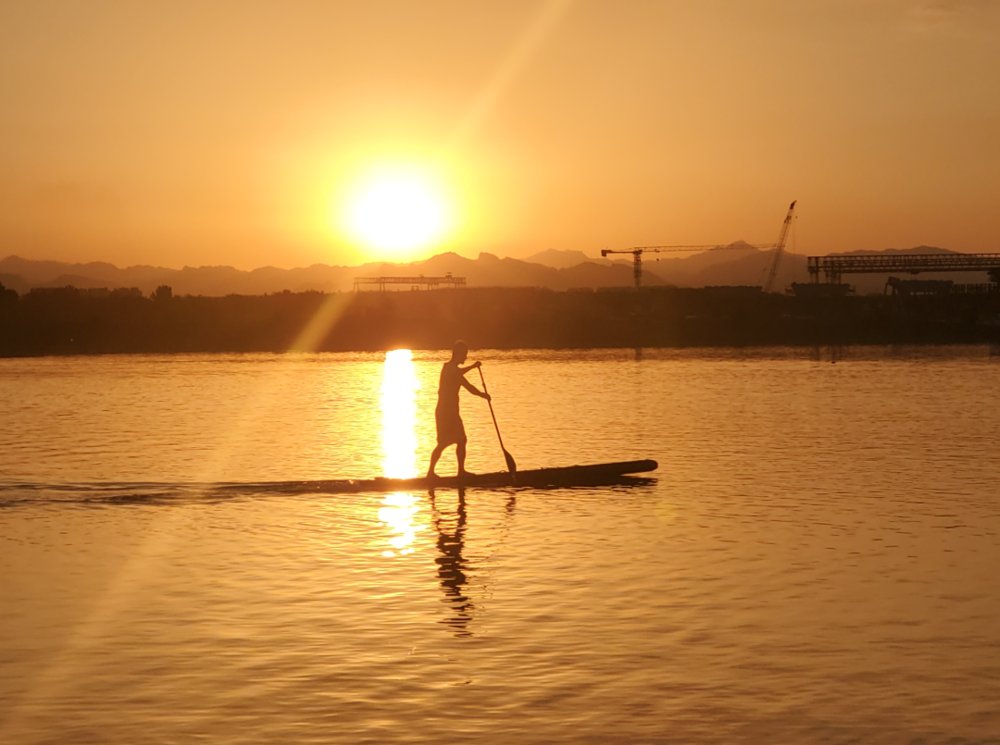 When he stood on the board and crossed the river, all he could hear was the sound of his own paddling. Although he was tired and sunburnt for two days, the "ascetic practice" on the water was a little stimulation that paddleboard could bring him outside of his daily life.
Beijing can also become an island since playing paddleboard
It took two strokes After more than a month of paddleboarding, Wang Jing felt that the biggest gain was: For the first time, she discovered that Beijing had so much water.
Many boarders are like this: they are accustomed to Beijing with poor greenery, gray and bare, and also used to the water in big cities. Taboos from afar. It wasn't until I played the paddle board that I realized that under the slogan "Civilization and water-friendly", in the tight Beijing, you can also play in the water yourself.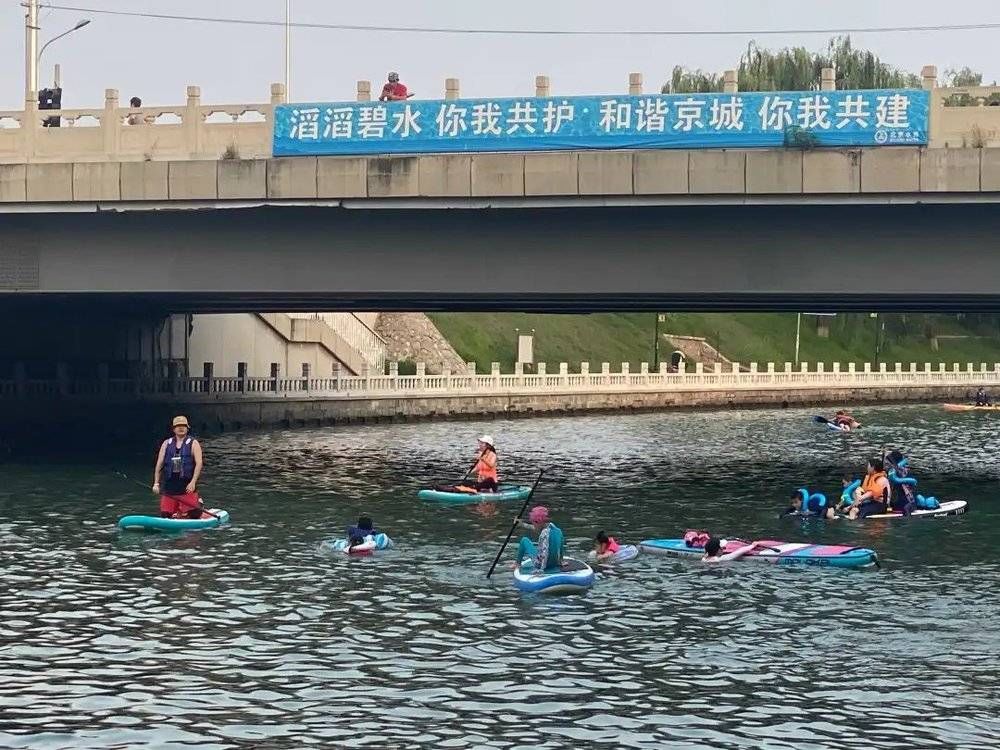 Now, As long as there is water and paddleboards in Beijing, it's like a beach, it's all about seeing and being seen. "I used to look at others on the shore, but now others look at me on the shore."
Wang Jing's board friends are just like that. "Come. "When I went boating in Houhai for the first time, an elder brother and his daughter-in-law were walking on the side of the road and asked on the shore: 'What are you doing? How did you row?'"
"I told him where the group owner is in the river. The elder brother rode an electric bike and went to the group owner to scan WeChat. Later, he quickly joined the group, bought a paddle board, and is now in the group Active."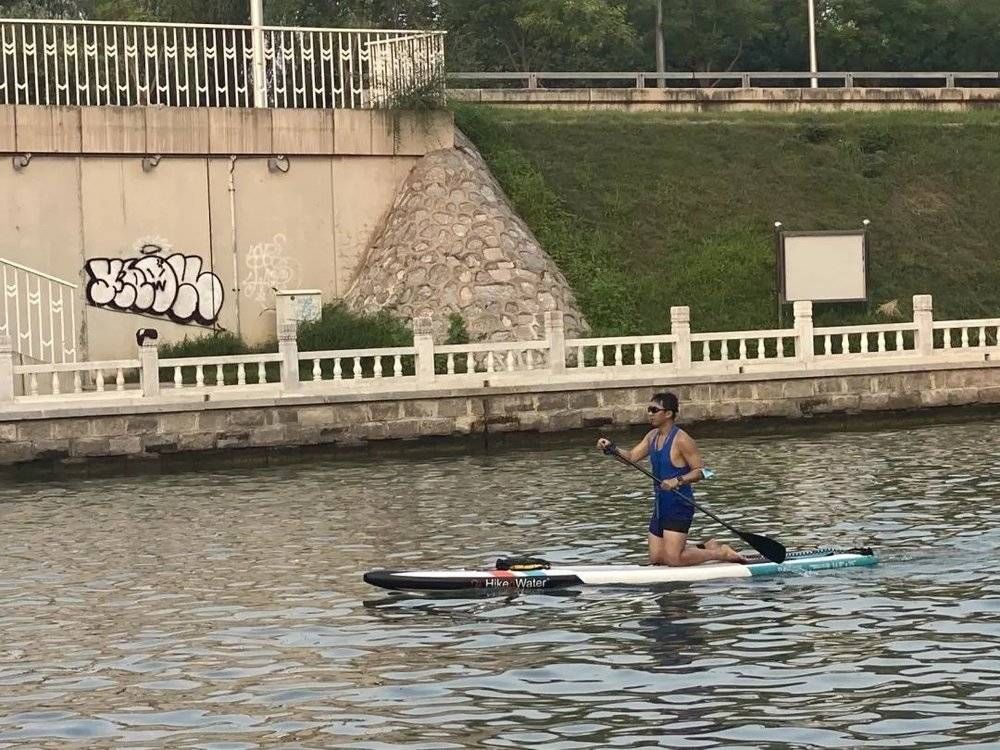 Paddleboarder in Kunyu River< /p>
Pumba still remembers the "self-liberating" experience when he first played paddleboard. "I have been in Beijing for so many years, and it has been difficult for her to give me a feeling of being in close contact with nature. There is a sense of urbanism and a sense of distance everywhere."
p>
And that weekend by the Chaobai River, his friends were all barbecuing on the bank, and he rowed on the river alone, "The water is very clean, the water plants are beautiful, and there are blue sky and white clouds above my head, it seems that I finally found some Something you haven't seen in a long time. At this point you're going to think it's a hassle to inflate the paddles all the way here, but it's worth it."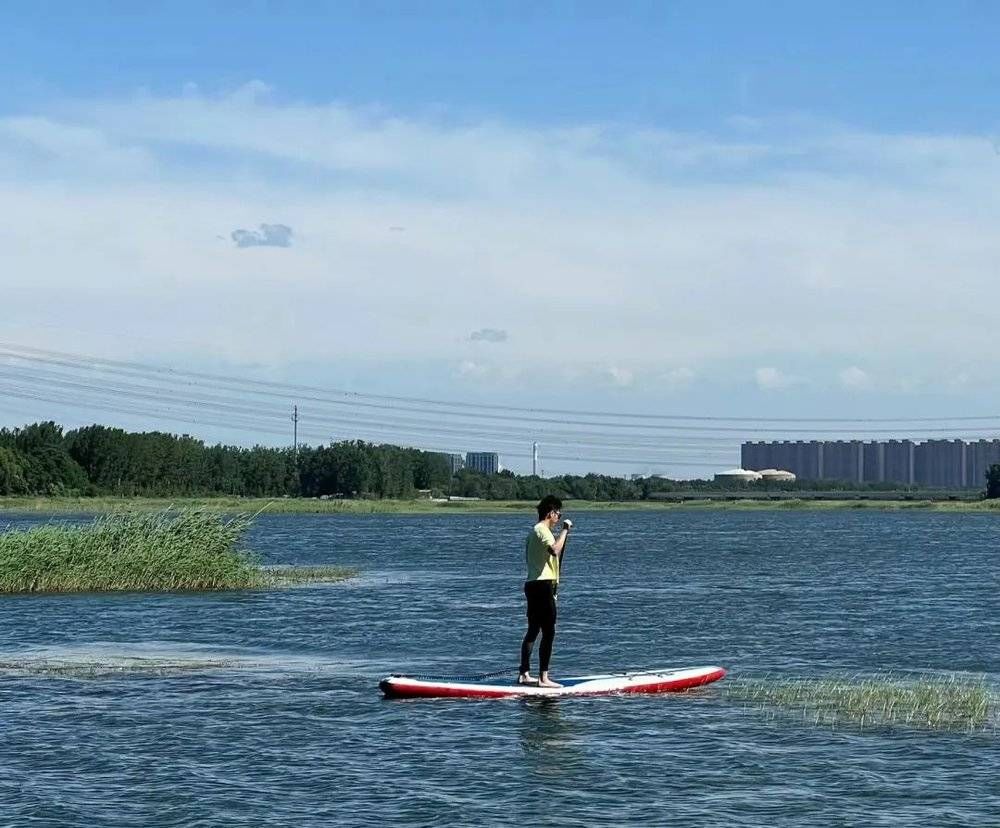 I also played paddle board once. Hailstorms have already started falling in downtown Beijing. The air is also humid, and it may pour rain at any time. "The environment at that time matched the weather, and it felt like the state we were in when we went diving in Southeast Asia before the epidemic. "
That day, paddle board made Beijing look like an island.
< /p>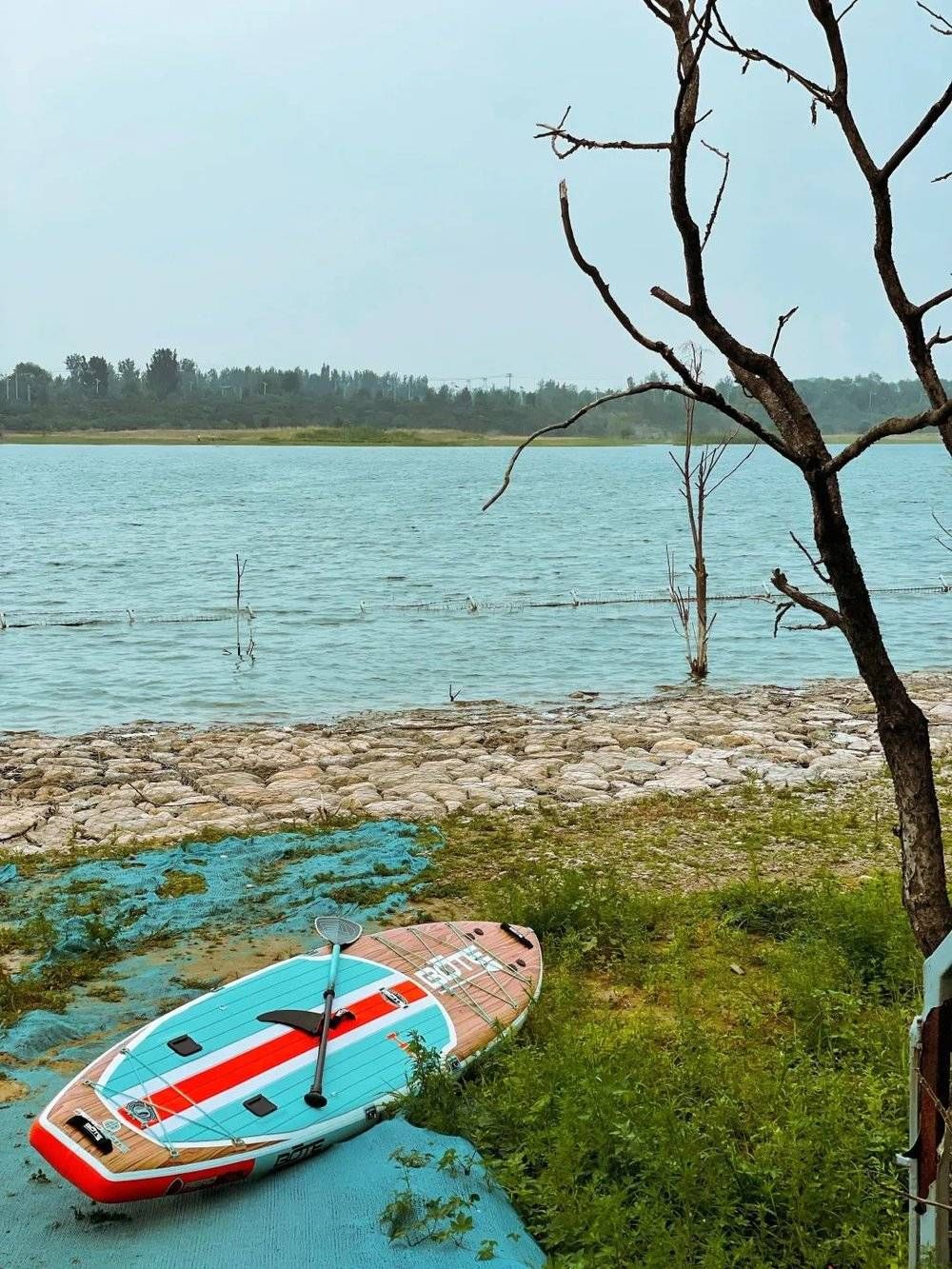 Conclusion
p>
One day in May, I went to the Kunyu River to play paddleboard for the first time. The scene by the river is very similar to the summer when I was a child.
< p>There are young people with camping gear by the water, and there are uncles who are drinking and eating peanuts on a wooden table.
Half of the people in the water are there On the board, half of it is wild swimming, and paddling everything else that can be paddled – if you can play in the water and you're done.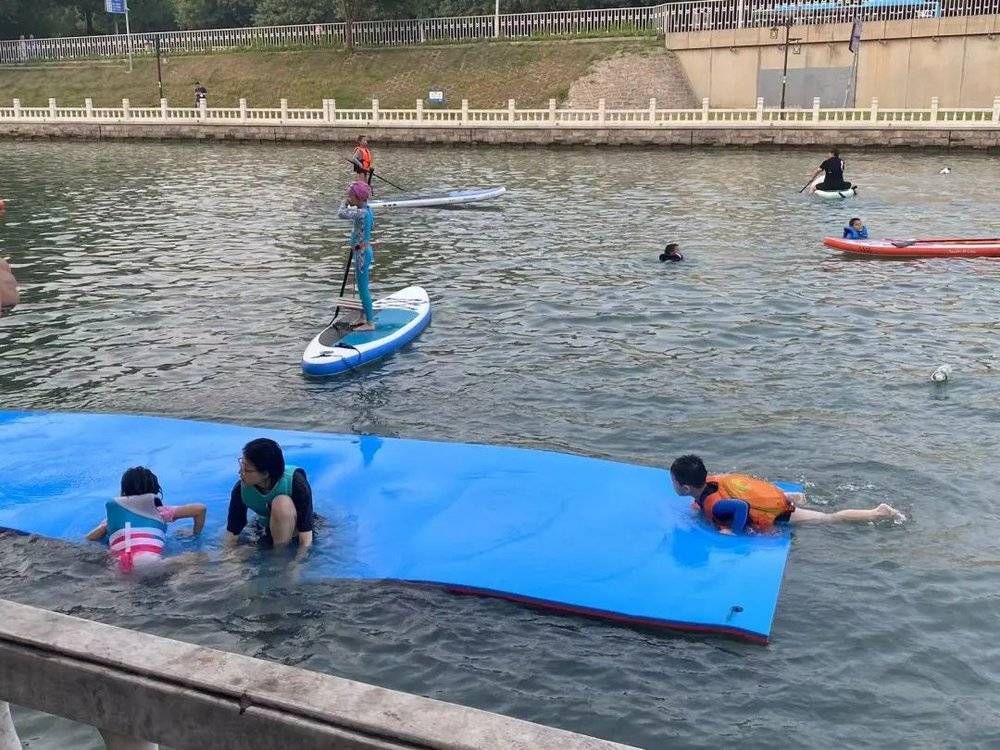 I don't even know what this row is about
On the scene, there is a paddle board standing A pair of mother and daughter. The daughter was tired of playing and wanted to go ashore, and her mother urged her to get off the board: "I have to play for a while. "
There is no age difference when it comes to playing with water.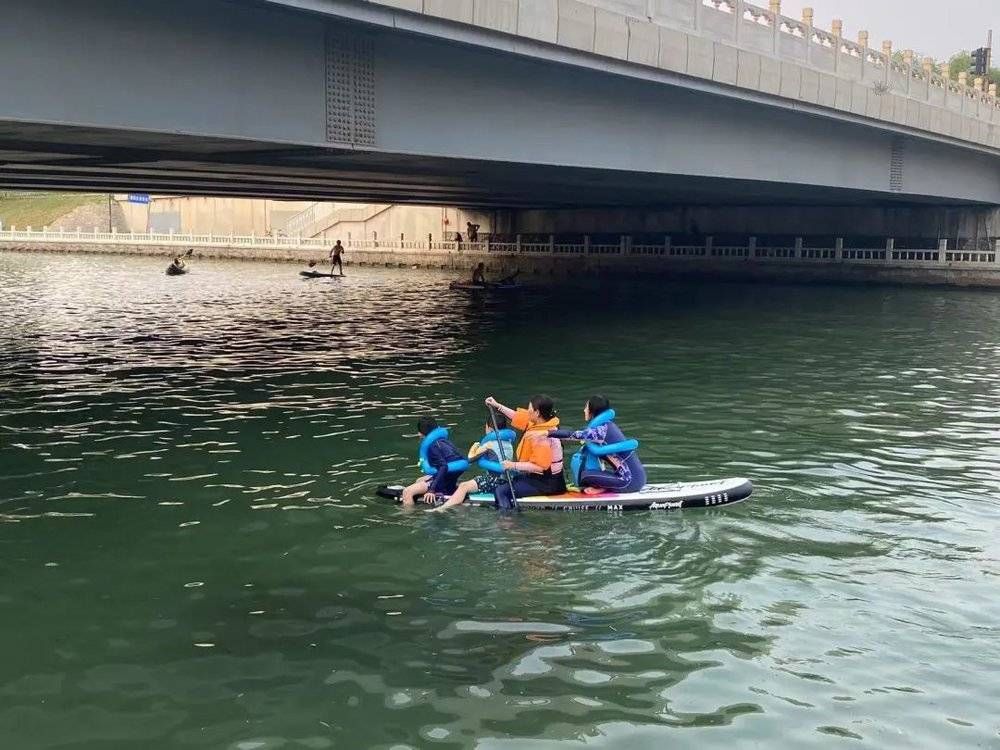 A mother with 3 children paddle board
< p>To be honest, most of the wild rivers in downtown Beijing are turbid and unclear. I am not willing to let me go swimming in the wild.
So, play On the day of the paddle board, it was the first time I came to Beijing for 7 years and had intimate contact with the water in Beijing. It is not very elegant, but it can make fishing, swimming, paddleboarders and boaters gather together, just like Beijing.< /p>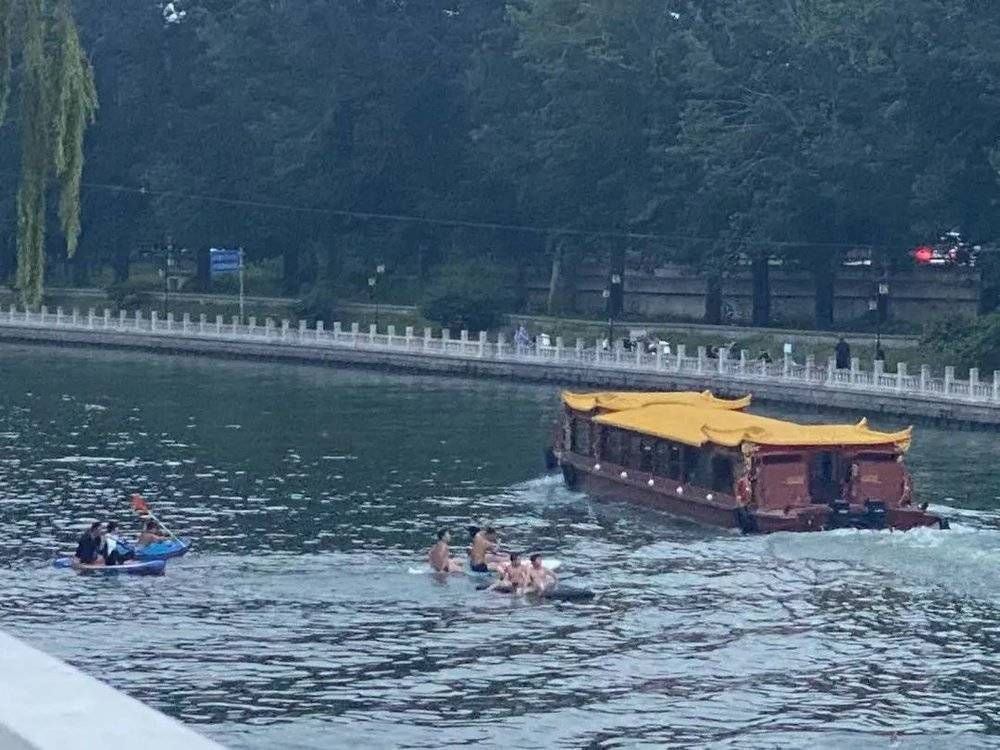 This summer, The suffocated Beijingers are in such wild rivers, realizing their "island" dream.
Really, they are playing with this In fact, Beijingers, I have never lost.
The pictures without the source of this article are provided by the interviewee and the author
This article is from the WeChat public account: Sanlian Life Lab (ID: LIFELAB2020), author: Alian, Editor: Ting Bao