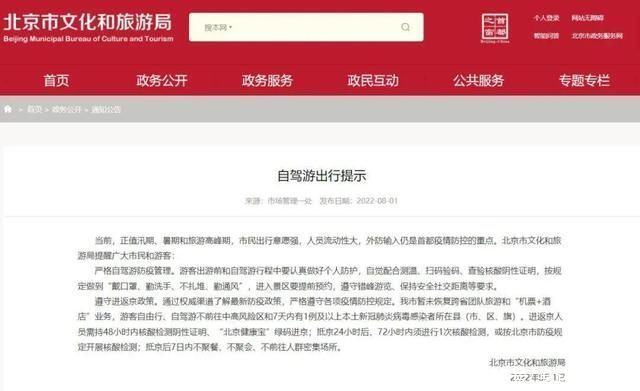 On August 1, the Beijing Municipal Bureau of Culture and Tourism issued the "Travel Tips for Self-driving Travel", the original text is as follows:
Travel Tips
Currently, During the flood season, summer vacation and peak tourist season, citizens have a strong willingness to travel, and the mobility of personnel is large. The import of foreign defense is still the focus of epidemic prevention and control in the capital. The Beijing Municipal Bureau of Culture and Tourism reminds the general public and tourists:
Strictly manage the epidemic prevention of self-driving tours. Tourists should take personal protection seriously before traveling and during self-driving tours, consciously cooperate with temperature measurement, code scanning and verification, and check the negative nucleic acid certificate, and "wear masks, wash hands frequently, do not get together, and ventilate frequently" according to regulations, and enter the scenic spot. Make an appointment in advance, follow the requirements of off-peak tours, and maintain a safe social distance.
Abide by the entry and return policy. Learn about the latest epidemic prevention policies through authoritative channels and strictly abide by various epidemic prevention and control regulations. Our city has not resumed inter-provincial team travel and "air ticket + hotel" business. Tourists are not allowed to travel to medium and high risk areas and counties (cities, districts, flags) where there are 1 or more local COVID-19 infections within 7 days. ). Those entering and returning to Beijing must carry a negative nucleic acid test certificate within 48 hours and the Beijing "Health Treasure" green code to enter Beijing; 24 hours after arriving in Beijing, they must take a nucleic acid test within 72 hours, or carry out nucleic acid testing according to Beijing's epidemic prevention regulations; No gatherings, gatherings, or going to crowded places within 7 days after arriving in Beijing.
Beijing Municipal Bureau of Culture and Tourism
2022 August 1
Source: Beijing Municipal Bureau of Culture and Tourism
[Source: Window of the Capital]
Disclaimer: This article is reproduced for the purpose of conveying more information. If the source is incorrectly marked or infringes your legal rights, please contact the author with the ownership certificate, we will correct or delete it in time, thank you. Email address: [email protected]