Source: Fuzhou Daily
When the romantic Qixi Festival meets cool digital technology, what kind of sparks will collide? On the morning of the 4th, Jin'an District Jinjishan Park launched a nearly 2-minute "Romantic Qixi Festival" – Jinjishan Park AR Lighting Show.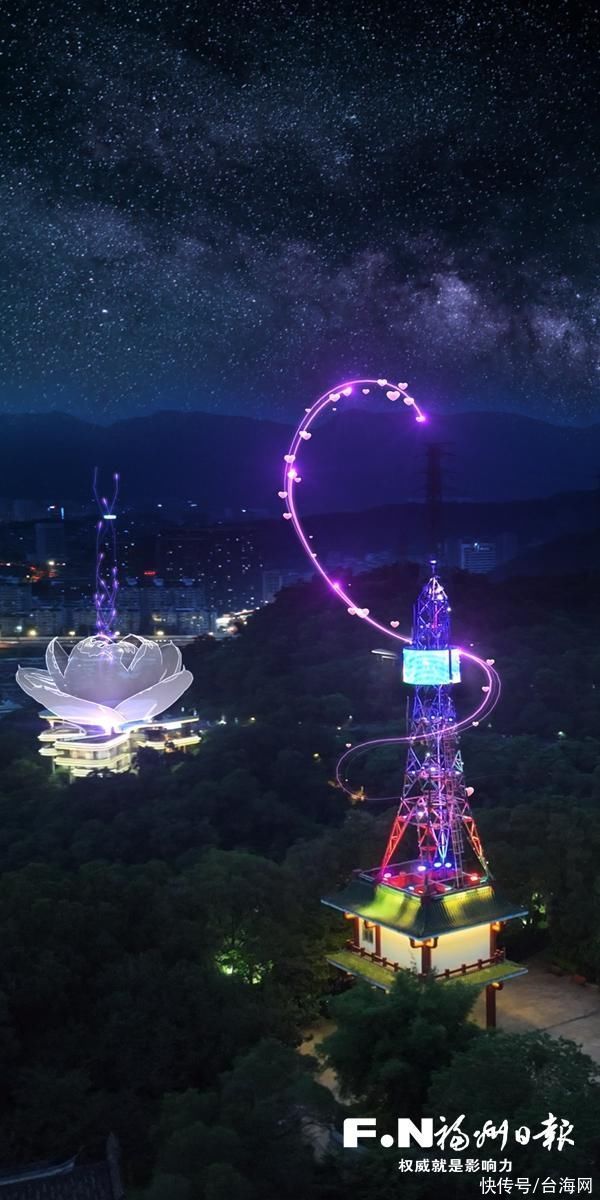 "Romantic Qixi Festival" – AR Lighting Show in Jinji Mountain Park. (Photo courtesy of Jinji Mountain Park)
Under the dazzling star river, the Golden Rooster Pagoda "lights up" a dazzling shadow show, and the dynamic streamer rushes straight into the sky, converging into a silver "river", cascading from the starry sky Down, the tower body is radiant in an instant.
Feihong Bridge is also one of the protagonists of this light and shadow show. Surrounded by flying "light and shadow butterflies", Feihong Bridge turns into a romantic pink "Magpie Bridge". Romantic Tanabata atmosphere.
Pink light and shadow dance, the Jasmine Hall and the city's high-rise buildings complement each other, a pure and flawless jasmine flower quietly blooms in the sky, the soft and clean petals symbolize the beautiful meaning of love, and also echo the "Moli" Fuzhou's beauty. theme.
Finally, the bright moon is in the sky, the fireworks are dancing, and the Golden Rooster Pagoda is transformed into one of the elements of the "blessing culture" – the banyan tree, with its luxuriant branches and leaves, light and shadow, implying the beauty of the banyan city. wish.
AR light show is a new form of light show that has emerged recently. It is different from the traditional form performed on the spot. It uses digital technologies such as AR (augmented reality) technology to create a series of virtual scenes combined with real scenes, which is widely favored. .
"The AR light show is based on the theme of Qixi Festival and 'Moli' Fuzhou. It combines elements of 'fu culture' such as banyan trees and jasmine flowers, combined with the landmark buildings of the park, to create a romantic Qixi Festival atmosphere for citizens. Lin Shuqin, head of Jinjishan Park Management Office, said that Fuzhou has a strong digital atmosphere. Jinjishan Park, as a national AAA-level tourist attraction and one of Fuzhou's "Top Ten Popular Parks", is gradually introducing real-life AR through the natural integration of virtual and physical environments. It is expected that during the Mid-Autumn Festival, the function of on-site scanning of landmark buildings to watch AR light shows will be realized, and AR light shows with different themes will be launched on the Mid-Autumn Festival and National Day.
"The visual feast brought by the collision of digital technology and local scenic spots has been welcomed by the public. In the next step, we hope to join hands with more local scenic spots in Fuzhou to create a more visually stunning AR Technology experience." said Wu Chuanhua, general manager of Fujian Tianchen Digital Technology Co., Ltd., the organizer of the AR light show. (Reporter Lin Rongsheng and Lin Yiting)