Auntie Zhang got up at 5:30 in the morning to start work and ended at 8:30 in the evening. She has lived a "996" life in her old age.
Before the epidemic began, she became the team leader of a certain building in Lane 543 through voting in all lanes. Now she has to go out.
Nursing home-like community
Aunt Zhang (pseudonym) said that she was born in 1947 and her family used to live "over the People's Square". Now, the wife has passed away, the eldest daughter is sealed in her own community building, and the youngest daughter is far away in Zhuhai, she lives alone in the home of the old community.
Lane 543 of a certain road in Beicai Town is located in the center of the closed area of ​​Pudong New Area. Most of the residents here were relocated from the core area of ​​Shanghai in the 1990s – to make room for the construction of a modern city.
Together, there are only three or four households of young adults under the age of 50, and the other residents are mostly elderly people in their 60s, 70s, 80s, and 90s, and their caregivers Young grandchildren, some only one or two years old. Among them, 10 households have various difficulties such as advanced age, living alone, and physical disabilities.
"You see when people walk into our community, they say, oh, this community is like a nursing home." Aunt Zhang said.
Omi Kerong came, and soon, other buildings were closed first. Later, in Aunt Zhang's corridor, there were four elderly people who tested positive for nucleic acid at first, and then the buildings were closed. After that, four elderly people from four households were found to be positive for nucleic acid. In the words of Aunt Zhang, the entire lilong was "annihilated" and all the buildings were sealed up.
Shanghai is not only a big city, but also an "old" city. Here, people over the age of 60 make up 23.4% of the permanent population – nearly a quarter.
The seventh census data shows that in Shanghai alone, there are 5.815 million elderly people over 60 years old, more than Guangzhou, Shenzhen and Wuhan combined. Shanghai is similar in size to Shenzhen, but Shanghai has seven times as many people over 65 than Shenzhen.
Older communities often do not see a few young people. Even if their children and parents are in Shanghai, young people mostly live in neighborhoods closer to where they work, while older people live in contiguous old neighborhoods.
543 is just so "old". On March 16, the community began to close and control, and the epidemic still did not stop spreading. Lane 543 belongs to the community neighborhood committee with a total of six staff members serving thousands of residents, and three of them soon became positive. Some residents reported on Weibo that the community was flooded with wild vegetable vendors and was in a situation where almost no one cared.
Neighborhood committees are too busy to take care of themselves, elderly people in their 60s have to take care of their grandchildren, and most of the young people have other tasks. One of the tenants was a young working man, who had no source of livelihood due to the epidemic control. He came to find Aunt Zhang and was introduced to a nearby hospital as a "big white". There is also a young and middle-aged cadre in the building, who was also recommended to go to other places as an epidemic prevention volunteer.
Now there are almost only the elderly and children left in the building, and Aunt Zhang is the team leader of the building. At the critical moment, although she was in her 70s, had diabetes, and had suffered a cerebral infarction, she still needed medicine to maintain it, but she still had the duty to become a volunteer.
Image source: provided by respondents
A day in 996
Do nucleic acid every morning, the organization downstairs is organized by volunteers, and the labels on the sampling tubes are also posted by volunteers.
Aunt Zhang only drank a bottle of milk in the morning, and together with another volunteer and the doctor who came to test the nucleic acid, she was responsible for calling the room number and scanning the code until 1:30 in the afternoon.
The nucleic acid was over. When I got home, my neighbor cooked seven dumplings for Aunt Zhang to eat. Because her teeth were swollen, and half of her face was swollen, she couldn't eat anything too hard.
Lie down for a while, and the supplies arrive. Even the "big whites" seem to have a certain degree of fear for their "yang building", and every time they deliver supplies, they are sent downstairs and left.
There is no protective clothing or disposable gloves. Aunt Zhang wears an ordinary medical mask. When the epidemic prevention materials are scarce, she puts a food plastic bag on her hand and knocks on the door.
As a native of Shanghai, Aunt Zhang was an "iron girl" when she was young – this word with the characteristics of the times can't be more accurate to describe her – she worked in Xinjiang for 18 years, She participated in the "Iron Girl Class" of a certain regiment of the Production and Construction Corps. She did various heavy tasks and was received by the chief. Her name was even recorded in the local annals. It was not until 1980 that she replaced her retired mother and returned to Shanghai to work as a worker in a spinning mill.
Now, she's an iron granny.
Auntie Wu (pseudonym), the team leader of the building next door, is 69 years old this year, and several other aunts in the lane actively participated in volunteer services before the epidemic, and this time she became a volunteer in the building. She said that during the most difficult 20 days from March 16 to April 18, supplies were distributed five times. Among them, the vegetables were only sent twice, the first time was a lettuce, and the second time was a cabbage.
If there are many people in the family, these things are not enough to eat, and you still need to rely on group purchases. In the name of team leader Lou, Auntie Wu asked the young people in the lane to help with the operation. She bought several times at her own expense, and distributed the purchased vegetables to a few needy households.
The supplies here today are good, including salted ducks, a family of fish, and a few duck eggs. Aunt Zhang and Aunt Wu asked a young man who came to work from other places to help, and they sent supplies to each family. There are several "yang" families who have been quarantined in the square cabin, please aunt ZhangFor safekeeping, she added a few more ducks in the refrigerator.
After distributing the supplies, there is still the task of applying disinfectant to the community and corridors. Aunt Zhang and Aunt Wu wrapped their heads in towels and went out again with disinfectant. After tossing until 8:30, she returned to the empty home, ready to eat some more.
Care from afar
Aunt Zhang has lived alone at home since her husband died nine years ago. The youngest daughter works in Zhuhai and has also done public welfare for decades. She once tried to take her mother to another place, but her mother was not used to it, so she bought a plane ticket on her own initiative and ran back to Shanghai.
At first, no one thought that Shanghai, an international metropolis, would be closed for 20 days, and it would be so troublesome that there would be a shortage of supplies. When the daughter heard that her mother's community was blocked, her niece began to help her buy vegetables in a group like everyone else.
When the whole of Pudong was blocked and express delivery was also banned, the little daughter was almost in a hurry after she spent four nights in a row helping her mother cook food online, but couldn't buy anything. crazy.
"I've never encountered anything like this, first time," she said.
At that time, she wanted to fly home, but her mother immediately refused because she was afraid that her daughter would also be locked in the community, which would affect her work. The younger daughter contacted the Enpai Foundation in Shanghai through a friend. This non-profit organization has been supporting community construction in Shanghai for a long time and has deep volunteer resources. Since the start of the epidemic control, it has distributed vegetable packs to more than 3,000 elderly people living alone in Shanghai. They responded quickly and quickly mobilized manpower to verify the situation of the elderly and disabled people in need of assistance.
On April 16, ten boxes of vegetables, biscuits, and eight-treasure porridge sent by the public welfare organization were delivered to the gate of the community, and Aunt Zhang asked Aunt Wu to help them in. She is an elderly person who lives alone and also belongs to the scope of assistance, but she split her share of food into three and distributed it to families who are not alone but have a large family and lack of supplies.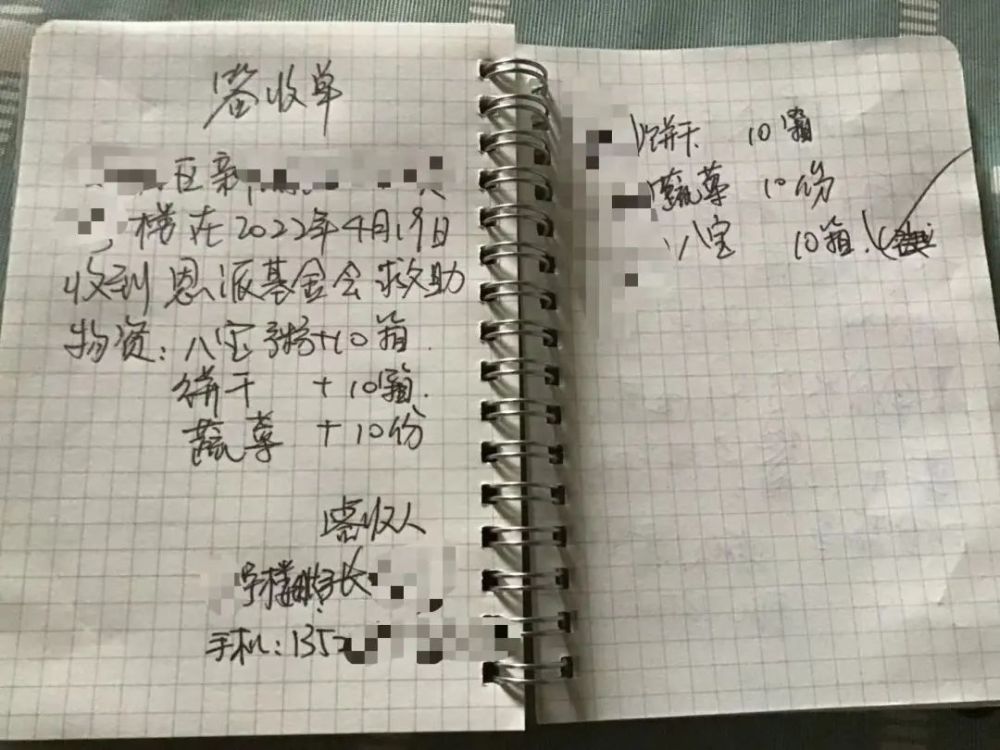 Later, the non-profit organization sent another batch of materials. Image source: provided by respondents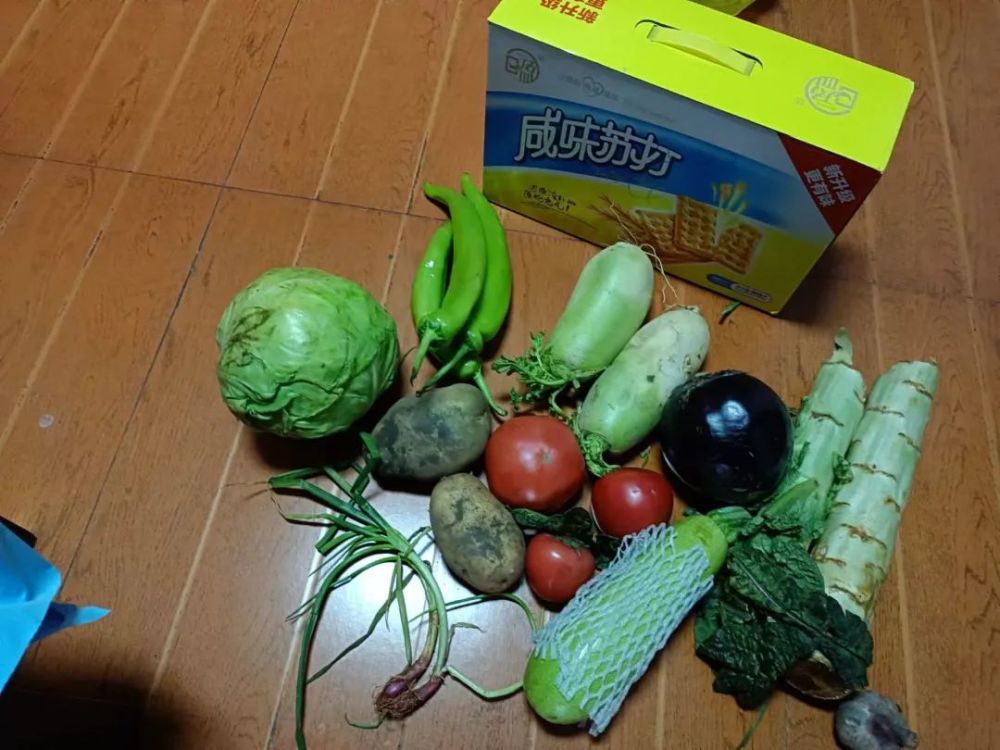 Image source: provided by respondents
The youngest daughter has a lot to say about this. During the phone call, she "scolded" her mother for a meal, saying that the non-profit organization had finally verified the recipients of assistance. How could she just distribute her food to others?
But with her mother behind her back, she choked on the phone.
Mother has diabetes, sequelae of cerebral infarction, and hereditary thyroid disease in her family, which caused her to have all thyroid removed. An elderly person living alone with such a healthy condition becomes the team leader of the building. What if there is a "yang"? What if I get sick at work? In case…
"I don't want my mom to do it, but I can't have a hard fight with her, right. I'll definitely follow her. Just be happy, don't be tired, yes, I also want to comfort her. Almost from the outbreak of the epidemic to the present, I call her every day and video with her every day, and she thinks that I am annoying."
The neighborhood committee has a staff member who specializes in collecting medical and drug needs, but he also has times when he is too busy. For a month, the most urgent medical need was an elderly person suffering from a hypertensive emergency, but the supply of medicine was cut off. Finally, Aunt Wu took the pass and rode to the hospital to help prescribe medicine.
Auntie Zhang doesn't think much about the eventuality. "I told my daughter that if you don't do it and he doesn't do it, is this society okay? They think about it, my mother is still a little enlightened, because we are all people who have suffered," she said.
Daughter's consciousness is another. After the public welfare organization in Shanghai issued a notice of lack of capacity, she mobilized more than 3,000 people in her circle of friends and called on more people to join the team to help the elderly living alone and those in need. She also asked friends in Shanghai and friends who are Douyin celebrities to help forward.
"The older generation in Shanghai is thrifty and willing to contribute to this society." She said, "We should set an example for the next generation and pass on the good spirit of their generation to the next generation. "
Today, many areas in Shanghai have been closed for a whole month, and lane 543 continues to be closed for management. The elderly volunteers are continuing their work, and the lives of hundreds of elderly people are also maintained in the dull.
At present, the staff of the neighborhood committee who were previously infected with the new crown have also recovered and returned to their posts.
543 Lane is still alive. Shanghai is slowly recovering.
Planning
Planning: ZYing | Producer: Feidi
Cover image source: provided by respondents