For thyroid disease, there are generally no obvious symptoms in the early stage, and it is often seen as a painless neck mass or nodule, or it is discovered overtime in the physical examination. In the later stage, with the enlargement of the thyroid gland, it may cause hoarseness, sore throat, difficulty swallowing, swollen lymph nodes in the neck, etc. At this time, it is necessary to consider whether malignant transformation has occurred.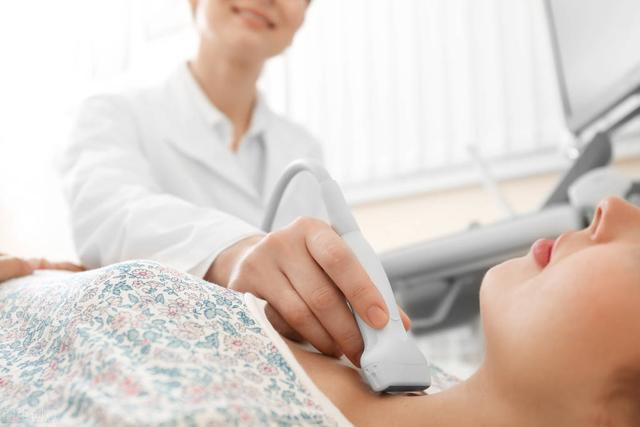 One of my female patients, surnamed Su, from Nanjing, is 28 years old this year. Ms. Su was a thyroid nodule found during the physical examination the year before last. mm, so the local doctor just asked her for regular check-ups. But some time ago, a friend of Ms. Su was diagnosed with papillary thyroid cancer, which scared Ms. Su. She remembered that she also had thyroid nodules, so she quickly re-examined and found that the nodules were bigger than before. a lot. Ms. Su was worried about the possibility of a malignant change, so she came to Beijing to see a doctor after being recommended by a friend.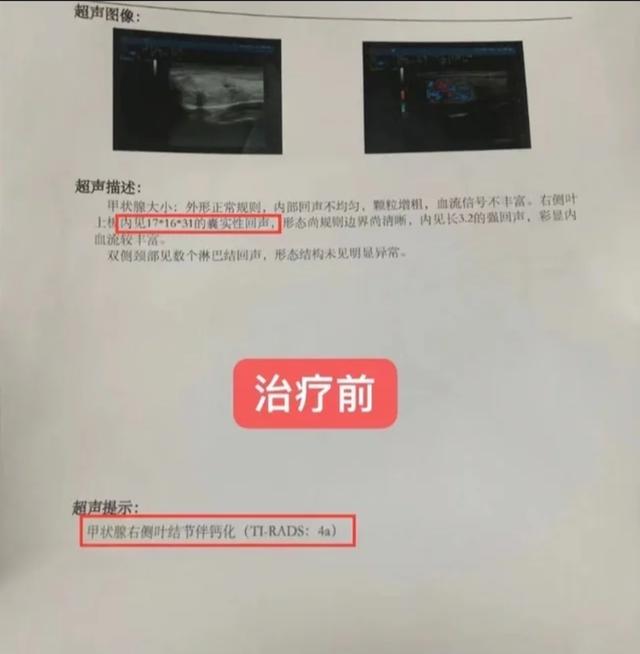 I did an ultrasound on Ms. Su again, and the report showed that a 17×16 mm cystic solid echo was visible inside, the shape was still regular, and the boundary was still clear , the blood flow signal is richer; ultrasound prompt: right thyroid lobe nodule with calcification grade 4A. After seeing the examination, I told Ms. Su that her nodules are indeed likely to become malignant now, and they have reached grade 4A. It is recommended that she receive treatment as soon as possible. At present, ablation can still be done. It was time to perform surgical resection.
Finally, Ms. Su accepted my suggestion and decided to perform microwave ablation to avoid surgical resection at that time. Before she left, Ms. Su also consulted me about malignant thyroid lesions and asked her friend's papillary thyroid cancer whether it was serious or not. Can ablation be done?
General thyroid cancer can be divided into papillary carcinoma and follicular carcinoma according to its tissue origin and degree of differentiation , medullary carcinoma and undifferentiated carcinoma.
1. Papillary thyroid carcinoma
is the most common clinical thyroid cancer, with approximately It accounts for 60-80% of all thyroid cancers. It has a high degree of differentiation, slow growth, poor invasion and metastasis, and low risk. Some people call it "lazy cancer". For papillary thyroid microcarcinomas less than 1cm in diameter and papillary thyroid carcinomas that have not yet metastasized, ablation can be performed without surgical resection, but once metastasis occurs, only surgical resection can be performed.
2. Follicular Thyroid Cancer
This thyroid cancer is caused by thyroid follicles It is derived from differentiated cells, accounting for about 10-15% of all thyroid cancers. The age of onset is generally 5-10 years later than that of papillary thyroid cancer, and it is more common in the elderly over 50 years old. Follicular thyroid carcinoma is slightly more malignant than papillary carcinoma, and is prone to local invasion or hematogenous metastasis. Once distant (lung, bone, etc.) metastasis occurs, the therapeutic effect will be greatly reduced and the prognosis is poor.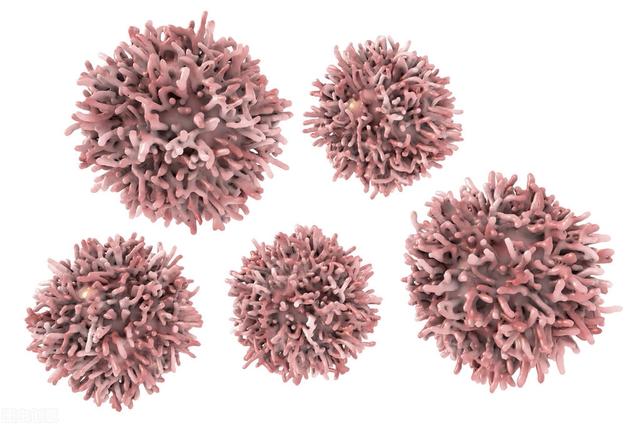 3. Medullary Thyroid Cancer
This is a relatively rare and special thyroid cancer, about It accounts for 5% of all thyroid cancers, it is differentiated from thyroid parafollicular cells (ie, C cells, which secrete calcitonin), and is often associated with other diseases (eg, pheochromocytoma, parathyroid tumors, neurofibromas) etc.) coexist, we call it "multiple endocrine neoplasia (MEN2 type)".
Because the secretion of calcitonin (CT) in patients with medullary thyroid cancer is abnormally increased, the detection of calcitonin in the blood is helpful for the early stage of medullary thyroid cancer diagnosis. Medullary thyroid carcinoma can locally infiltrate and metastasize to distant sites (eg, lung, bone, liver, and brain), and has a poor prognosis. The disease is mainly treated by surgery.
4. Anaplastic Thyroid Cancer
This type of thyroid cancer is the most malignant , the least common, the age of onset is relatively old, the progress is rapid, the early distant metastasis may occur, the treatment opportunity is small, and conservative treatment is generally adopted, and the efficacy and prognosis are extremely poor.
[If you have any questions, you can leave a message by private message, and we will reply when you see it]
#thyroid test# #thyroid# #ultrasound#