Sino-Singapore Jingwei, August 5th. On the evening of the 4th, Real Biotechnology Co., Ltd. (hereinafter referred to as Real Bio) submitted a listing application to the Hong Kong Stock Exchange. It is worth noting that Real Bio is the first company that has been approved for the listing of domestic anti-new crown oral drugs with conditions.
According to the listing application, Real Bio is a R&D-driven biotechnology company dedicated to the development, manufacture and commercialization of innovative drugs for the treatment of viral, tumor and cerebrovascular diseases.
It is reported that Azvudine, the core product of real biology, is a pyrimidine nucleoside drug with broad-spectrum antiviral activity. Previously, it was conditionally approved by the State Food and Drug Administration for the treatment of HIV infection and COVID-19 in July 2021 and July 2022, respectively. 19 of oral direct-acting antivirals. The company is fully prepared to initiate commercial sales of Azvudine.
In terms of financial data, the company's other income and income in 2021 was RMB 1.376 million, compared with 68,000 in the same period in 2020; the loss in 2021 was 197 million, and the loss in the same period in 2020 was 151 million. In the first five months of 2022, the company's other income and gains were 8.45 million yuan, with a loss of 218 million yuan.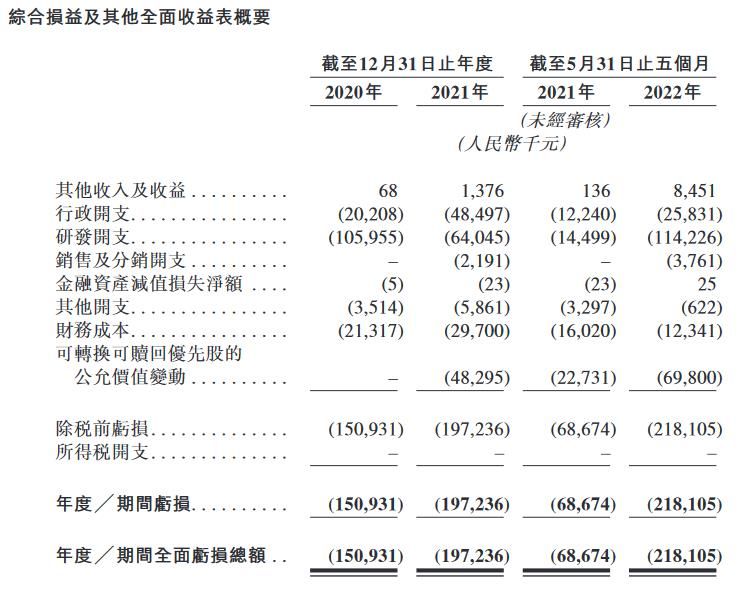 Source: Listing Application
During the Track Record Period, working capital requirements were met primarily through equity financing as well as loans and other borrowings. The directors are of the opinion that the company has sufficient working capital to meet at least 125% of its cost requirements for the next 12 months, taking into account the Group's available financial resources, including cash and cash equivalents, and estimates of internally generated funds.
In terms of executives, the listing application shows that the current executive director, chairman, CEO and chief scientific officer of the company is Du Jinfa, 67 years old, American. The resume shows that Du Jinfa has been the CEO and Chief Scientific Officer since he joined the group in January 2019. He was appointed as a director on September 26, 2019, and was transferred to the executive director and chairman of the board of directors on August 1, 2022. .
Before joining Real Bio, Du Jinfa was engaged in postdoctoral research on antiviral and antitumor drugs at the University of Georgia from 1992 to 1998; from 2021 to 2011, he worked for Pharmasset Inc. U.S. clinical-stage pharmaceutical company that discovered, developed and commercialized new drugs for viral infections (listed on NASDAQ and later acquired by Gilead Sciences, Inc) as associate director of chemical research; from 2012 to 2015, at Gilead Sciences, Inc As a senior research scientist, mainly responsible for the research of new antiviral drugs; from August 2015 to December 2018, served as the CEO and chief scientific officer of Mattel (a biopharmaceutical company established by itself). (Sino-Singapore Jingwei APP)