This past year has been a very busy one for the most productive biopharmaceutical companies.
The last ranking list was based on 2016 data to rank the most productive biopharmaceutical companies, and a lot has changed over the five years. First, two of the top 10 companies that year, Celgene (Celgene) and Allergan (Allergan), are no longer independent companies. The companies that acquired them were Bristol Myers Squibb (Bristol-Myers Squibb) and AbbVie (AbbVie). A place in the ranking list for both years.
COVID-19 vaccines catapult BioNTech and Moderna to the top of the list. The two companies have achieved about $20 billion in revenue with just 3,000 employees, so the per capita income of the two companies' mRNA specialists is far ahead of the third company, Gilead Sciences, which has 14,400 employees and is expected to be in 2021. Annual revenue of $27 billion.
Without a COVID-19 vaccine superstar, Gilead would retake the No. 1 spot. Still, Gilead's productivity has fallen sharply over the past five years. On the one hand, Gilead's hepatitis C franchise has lost its luster. On the other hand, through the acquisition of Kite Pharma and Immunomedics, Gilead has expanded into the oncology field, inevitably increasing the number of employees, but currently sales are relatively limited.
Pfizer nearly doubled its revenue per employee in 2021 compared to 2016, thanks to a huge windfall from a COVID vaccine partnership with BioNTech. Eli Lilly, which owns the anti-inflammatory drug Olumiant and several anti-coronavirus antibodies already used to fight COVID, also has a spot on this year's list.
Top 1: BioNTech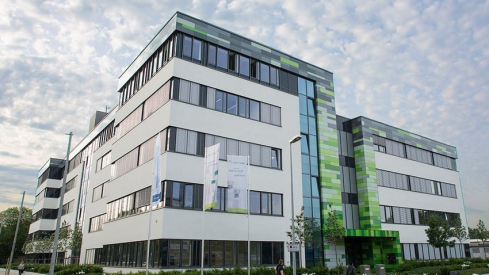 2021 headcount: 3,082
2021 revenue: €18.98 billion ($22.45 billion)
2021 earnings per employee: $7.28 million
2020 earnings per employee: Approx. $246,000
BioNTech may not have the same mRNA-based vaccine as its transatlantic rival Moderna, but that hasn't dampened BioNTech's immunotherapy ambitions. While BioNTech maintains vaccine research collaborations in cancer with the likes of Regeneron, the company isn't shrinking its ranks as it sets its sights on future mRNA projects as well as other ventures such as cell therapies.
With CEO Uğur Şahin's ambitious plan to transform BioNTech into a "21st century immunotherapy hub", more mRNA production projects are rapidly emerging in places like Africa. This means that BioNTech is planning for future establishments. Multiple reports indicated that the company had 3,082 employees worldwide at the end of 2021, an increase of about 1,000 from 2020, when BioNTech had 1,941 employees.
BioNTech has surpassed $18B in sales of its COVID-19 vaccine this year and is poised to join the ranks of the world's top drugmakers. This momentum has also continued into 2022. In late January, BioNTech planned to increase the number of employees at its vaccine plant in Marburg, Germany, by 50%. BioNTech has added about 200 employees since acquiring the site from Novartis in 2020, a company spokesperson told Fierce Pharma earlier this year. Now, it plans to hire 250 more employees by the end of the year. The site was acquired with around 300 workers.
In the early days of the pandemic, BioNTech partnered with Pfizer on a massively successful vaccine collaboration. The partner shoots have generated tens of billions of dollars in revenue so far, and the companies are stepping up to help the government with its fall booster campaign.
Top 2: Moderna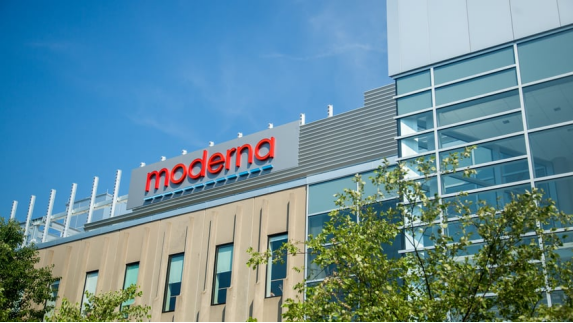 2021 headcount: 2,700
2021 revenue: $18.47 billion
2021 income per employee: $6.84 million
2020 employee earnings per capita: Approx. $618,000
Moderna's goal is to build an mRNA empire, and it's growing its workforce and expanding its business boundaries to achieve that.
Unlike German mRNA vaccine drugmaker BioNTech, which teamed up with Pfizer to bring its COVID-19 vaccine to the masses, Moderna charted its own path to market. At a valuation of more than $18 billion in two years, Moderna has used those awards for its next mRNA business targeting diseases like influenza and cancer, as it has built an impressive global business reputation .
Coronavirus aside, Moderna has not strayed from its fundamental focus on R&D, pitting its mRNA technology against viruses such as cancer, influenza, respiratory syncytial virus and cytomegalovirus. The company has fulfilled its mission to grow itself into a top global force in sales and manufacturing.
Moderna is also expanding its footprint in Europe after opening stores in some of the region's largest economies in 2021. In the group's business profile, Moderna's next locations are operations in Belgium, Denmark, the Netherlands, Norway, Poland and Sweden.
Top 3: Gilead Sciences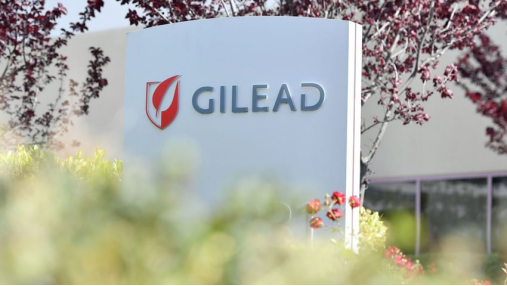 2021 headcount: 14,000
2021 revenue: $27.31 billion
2021 employee earnings per capita: $1.95 million
2020 income per employee: $1.82 million
While Gilead Sciences has weathered changing fortunes over the years, the company remains one of the most productive established drugmakers in the biopharmaceutical space. In 2021, Gilead's fortunes will largely focus on the COVID-19 drug Veklury. The drug generated $5.6 billion last year, a 98% increase from 2020. Thanks in part to a boost from Veklury, Gilead's total revenue rose 11% last year to $27.3 billion.
Gilead's two cents: Drugmaker gets boost from Biktarvy, Veklury. Elsewhere, the company's employees are working to develop oncology products, including breast cancer drug Trodelvy and cell therapies Yescarta and Tecartus. Gilead also has 20 oncology drugs in development and 30 clinical trials underway. The oncology focus is part of Gilead's goal to generate a third of its revenue from oncology products by 2030, a far cry from oncology revenue, which will account for less than 7% of its total sales in 2021.
Gilead continues to work to increase the diversity of its workforce. The company aims to increase the percentage of women in leadership to 39 percent. Gilead was also named the best place to work for LGBTQ+ equality by the Human Rights Campaign Foundation.
Top 4: Regeneron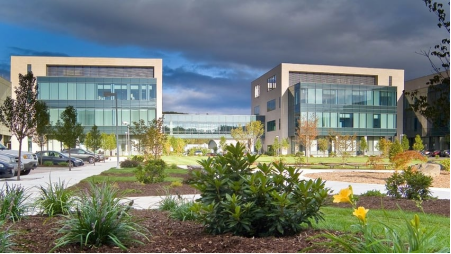 2021 headcount: 10,368
2021 revenue: $16.07 billion
2021 income per employee: $1.55 million
2020 income per employee: $930,000
By 2021, Regeneron already holds a position as one of the most productive workforces in the biopharmaceutical sector. That's thanks to blockbuster drug Eylea being developed for macular degeneration and Dupixent for eczema and asthma.
When the COVID-19 pandemic hit, Regeneron quickly fought back with another killer drug. Regeneron has developed an antibody therapy, REGEN-COV, for the treatment of high-risk populations. The therapy was approved for use in 2020 and then went on sale in 2021 as it generated $5.8 billion in U.S. revenue, boosting Regeneron's revenue from $8.5 billion in 2020 to $16.1 billion in 2021.
Eylea and Dupixent did their part. While Eylea's global sales rose from $7.9 billion in 2020 to $9.4 billion last year, Dupixent's sales rose to $6.2 billion from $4 billion in 2020.
The surge in revenue allowed it to easily outpace Regeneron's operating expense growth, which rose from $4.9 billion in 2020 to $7.1 billion last year. This figure includes raw material, packaging and labor costs associated with the production or sale of the product. Regeneron has stayed true to its biotech roots, focusing on what it does best – developing new treatments for a variety of diseases.
Regeneron plans to spend $800 million to boost production in New York while adding 1,500 new jobs. While Regeneron has successfully commercialized its therapies in the United States, it has left these operations outside the United States to other large companies. Outside the U.S., Regeneron has partnered with Bayer to develop Eylea and Roche to develop REGEN-COV. The company and Sanofi launched a full-scale development of Dupixentball cooperation.
Regeneron added 1,245 jobs in 2021, from 9,123 employees at the end of 2020 to 10,368 at the end of last year. As the company has had a prosperous year, it has not skimped on top talent fees, adding about 200 technicians with Ph.D.s. As for 2022, Regeneron's revenue per employee is expected to return to pre-pandemic levels. Sales of REGEN-COV have also been discontinued as the antibody combination has proven ineffective against the omicron variant.
Top 5: Bristol Myers Squibb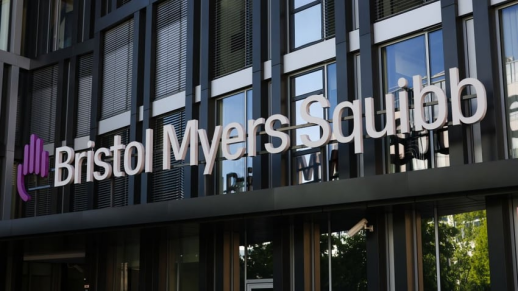 2021 headcount: 32,200
2021 revenue: $46.39 billion
2021 income per employee: $1.44 million
2020 income per employee: $1.41 million
Besides the COVID-19 drug upstart, Bristol-Myers Squibb was the most productive of the Big Pharma last year. The New York-based drugmaker's 2021 revenue per capita of $1.44 million puts it fifth on the list, behind BioNTech, Moderna, Gilead Sciences and Regeneron, all of which have reaped windfalls from selling COVID-19 products .
But the high productivity of BMS is not surprising. The company ranked seventh, according to 2016 figures, and later acquired Celgene, which was No. 2 that year, in a $74 billion mega-merger.
Following an M&A transaction, companies often save costs by cutting overlapping functions to achieve so-called "cost synergies" while achieving better performance than the sum of everyone. BMS currently expects to save $3 billion annually by integrating Celgene by 2022.
By the end of 2019, the combined BMS workforce will be approximately 30,000 people. After Amgen bought the blockbuster psoriasis drug for $13.4 billion, some of the employees who backed Otezla may not have joined the combined company. Last year, BMS' total headcount increased by about 6.4 percent to 32,200. Meanwhile, the company's revenue rose 9.1% year over year to $46.39 billion, helped by growth in its three top companies selling drugs: Revlimid, Eliquis and Opdivo.
Bristol-Myers Squibbdiscoveredthe impact of automation and virtual reality in two new CAR-T manufacturing plants Apply. BMS recently downsized some of its manufacturing operations while revenue grew. Last year, it sold a capsule and tablet manufacturing plant in Switzerland to WuXi AppTec. With the FDA approval of CAR-T therapies Breyanzi and Abecma in 2021, BMS has been expanding its cell therapy manufacturing capabilities.
BMS officially opened a new cell therapy facility on its Devens, Massachusetts campus with 150 new employees and plans to eventually add "hundreds" of jobs . It has also built a new factory in Leiden, the Netherlands, which is expected to be operational by the end of 2024 and accommodate "hundreds" of new jobs. The 10 most productive biopharmaceutical companies in the world have announced the TOP5. Who will be the last 5? Stay tuned!
Written by Qiao Weijun
Typesetting|Feng Lixiao
References:
[1]https:https://www.fiercepharma.com/special-reports/top-10-most-productive-biopharma-companies
[2]https:https://www.fiercepharma.com/pharma/top-10-most-productive-workforces-biopharma
This article is an original creation of biological exploration. Personal forwarding and sharing are welcome. If any other media or website needs to be reprinted, the source Biological Discovery must be indicated before the text.