Changjiang Daily, Wuhan Client, August 4th "It's so cool!" In midsummer, more than 140 "Yang Xiaoyi" on the streets of Hanyang have become the favorite place for outdoor workers to enjoy the cool air The resting place is equipped with air conditioners, refrigerators, drinking water machines, etc., to bring coolness to workers such as sanitation workers and takeaway brothers.
Abolish roadside sanitation workshops and carefully build "home for outdoor workers"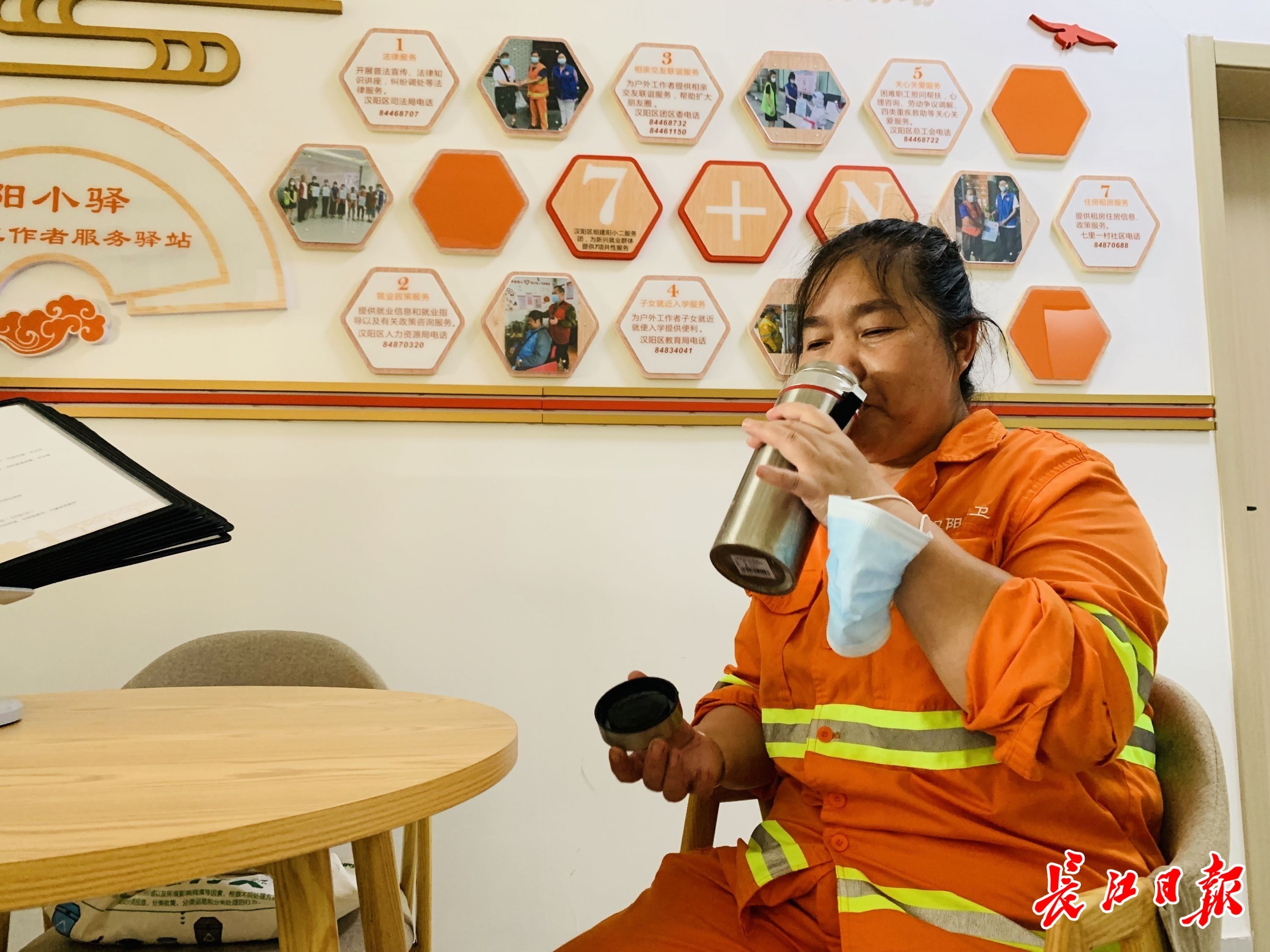 < /p>
In "Yang Xiaoyi" in Qiliyi Village, Hanyang, sanitation workers are resting and drinking water. Photo by reporter Tao Changning
At about 8 am on the 4th, the outdoor temperature had reached over 30℃. The sanitation worker Gao Wangjiao finished the morning cleaning, and she was sweating profusely. She held an empty water cup, When she walked to a "Yang Xiaoyi" on the street in Qiliyi Village Community, she opened the door skillfully, took a glass of water from the water dispenser, and sat on the sofa to rest.
"The sanitation workshop on the roadside used to be made of prefabricated houses. There was no water and electricity, so I could only put cleaning tools, or take a break from time to time. It was very hot in summer." Gao Wangjiao said, now "the sun Xiaoyi" is much better, not only has air conditioning, refrigerators, microwave ovens, but also bathrooms. "You can rest here at noon and watch TV."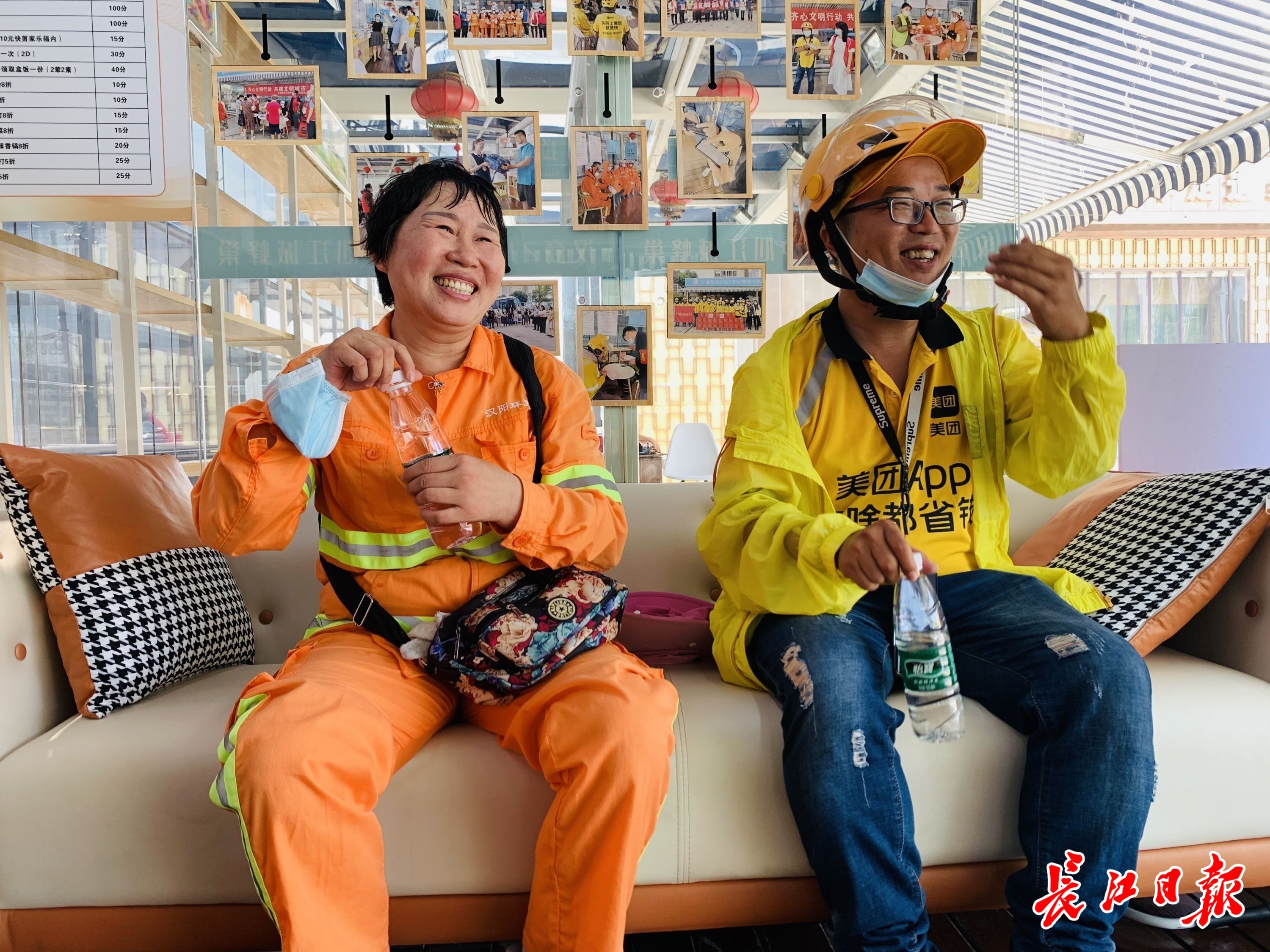 Wangjiawan Hanshang 21st Century Shopping Center Plaza "Yang Xiaoyi", sanitation workers and takeaway brothers are drinking water and resting. Photo by reporter Tao Changning
The reporter saw at the scene that "Yang Xiaoyi", located in the community of Qiliyi Village, Mohu Lake Road, covers an area of ​​about 90 square meters. The large characters "Service Station" are very conspicuous, making it easy for those in need to find them. As soon as you enter the door, you feel cool in an instant, and all the facilities in the inn are readily available, just like home.
The relevant person in charge of the Hanyang District Urban Management and Law Enforcement Bureau introduced that this year, the sanitation facilities will be upgraded, and 83 sanitation workshops on the roadside will be completely demolished. "Yang Xiaoyi" provides rest for all outdoor workers, including sanitation workers.
The relevant person in charge of Qinduankou Street introduced that the "Yang Xiaoyi" located in the Qiliyi Village community was originally a house in the community, but now it has been transformed into a "Yang Xiaoyi" for sanitation workers, express delivery Outdoor workers such as staff, online food delivery staff, online car-hailing drivers, traffic police, and coordinators create a "home" where they can enjoy the coolness in summer and heat in winter. They also provide services such as drinking water, hot meals, maintenance and charging.
The reporter found that "Yangxiaoyi" has multiple functions, and "Yangxiaoyi" in Qiliyi Village is still an office of "road chief". According to Liu Xiaojian, the urban management team leader of the Comprehensive Law Enforcement Center of Qinduankou Street, residents can find the "road leader" at any time if they have various problems such as lampblack and noise disturbing the people, so as to truly realize "road office work".
Set up a shared power exchange cabinet to facilitate the delivery boy, "Yang Xiaoyi" provides personalized service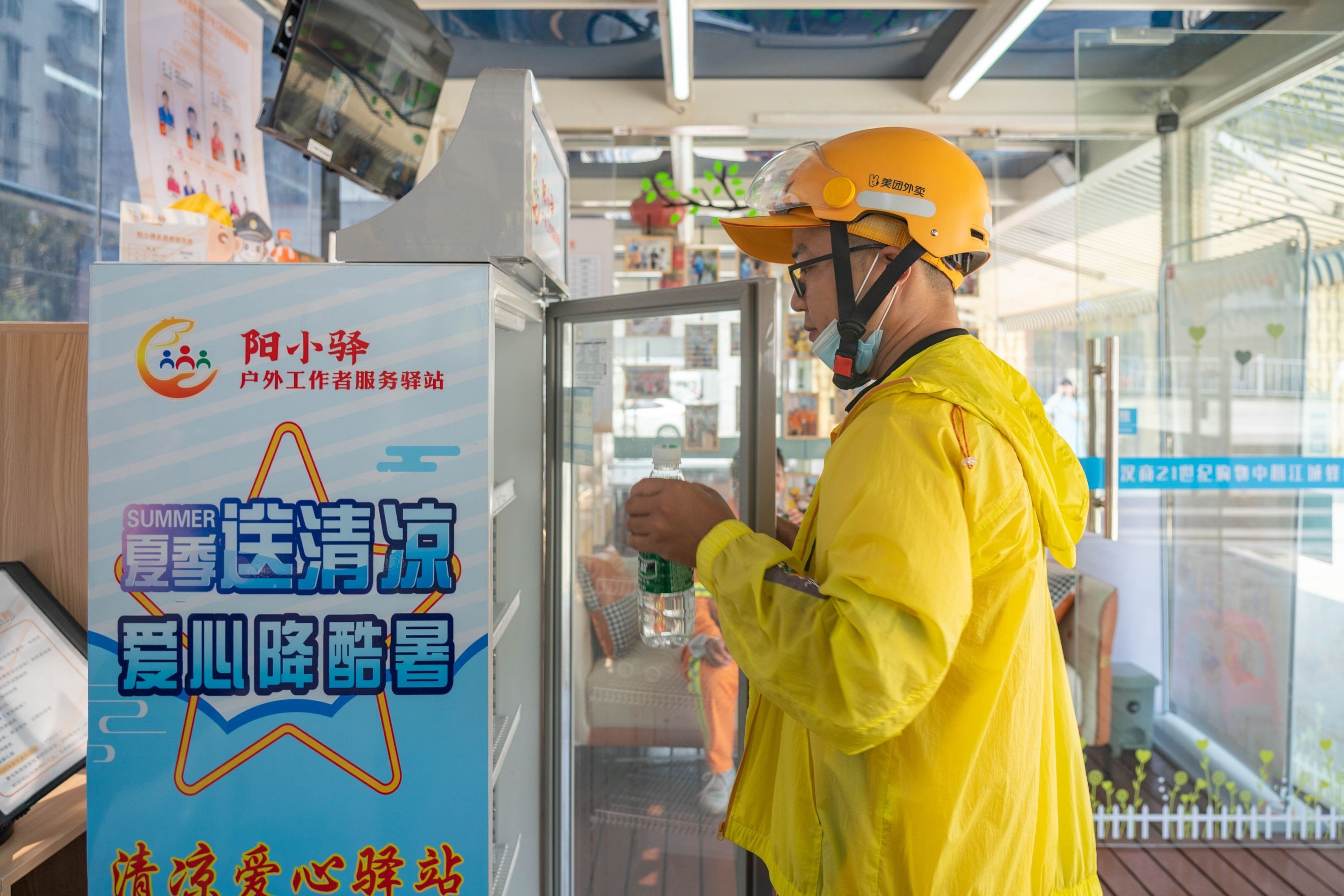 img>
The delivery guy is fetching water. Photo by Correspondent Zhou Yuqin
The "Yang Xiaoyi" in Hanyang District is generally selected in the community, community and commercial area. The service station that the takeaway buddies like to go to.
"It's too hot, I'll go in and get a bottle of ice water." While waiting for the meal, Xiao Yang, the deliveryman, went to the free freezer at the station to get a bottle of cold mineral water and took a sip. He let out a long sigh of relief and sighed, "It's so comfortable."
"It's hot now, and we have to hurry to deliver the food. This inn is right in front of the shopping mall. We have to go through to get our food, and there is drinking water in it. , and a freezer, on such a hot day, being able to drink a bottle of ice water is really 'timely rain'." Xiao Yang said that the station has also set up a shared power exchange cabinet, which is convenient for electric vehicles to replace batteries.
"The community has also established a 'Yang Xiaoyi' WeChat group, and my online name is 'Meituan Liangzai'." Xiao Yang said with a smile that if you have any needs, you can work in the group to the community The staff reported that the community organized the "send cool" activity, and also notified us to come and get drinks such as watermelon and cola. "The reason for sending Coke is because a little brother said in the group that he wanted to drink ice Coke last time, so the community arranged it."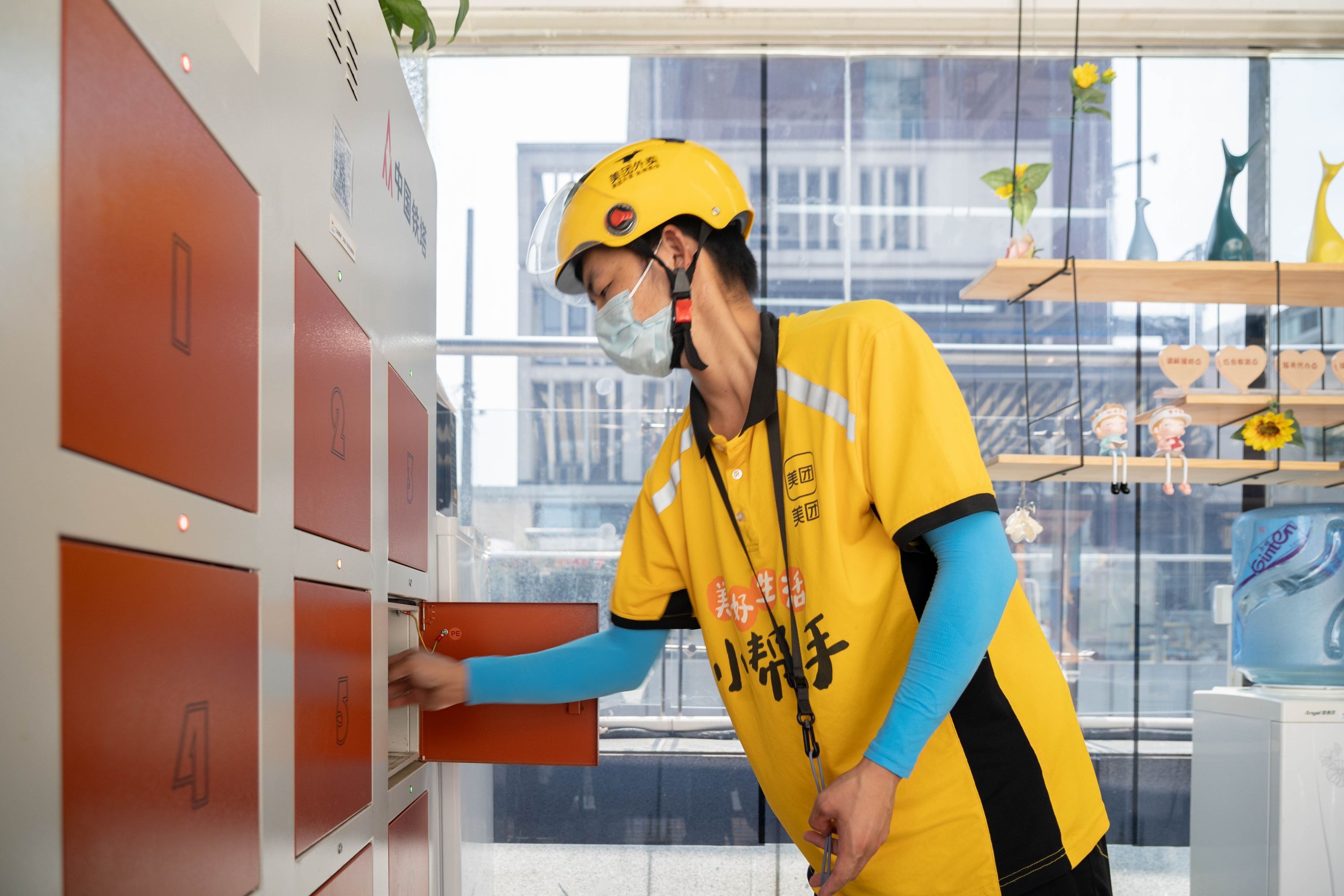 The delivery guy is changing the battery at "Yang Xiaoyi". Photo by correspondent Zhou Yuqin
"Each Yang Xiaoyi will provide some personalized services according to the characteristics of the users." Zheng Liangqin, Secretary of Fengjiafan Community, introduced that this "Yang Xiaoyi" venue is owned by Hanshang provides it to the community for free. Considering that there are many takeaways, a power exchange cabinet is set up. Also, because the takeaway brother is busy with his work and has a lot of mobility, he formed a WeChat group to facilitate contact.
(Changjiang Daily reporter Tao Changning correspondent Zhou Yuqin Zeng Jianying intern Tan Chang)
[Editor: Zhang Jing]
[ Source: Changjiang Daily – Changjiang Net]