This article is from: China News Network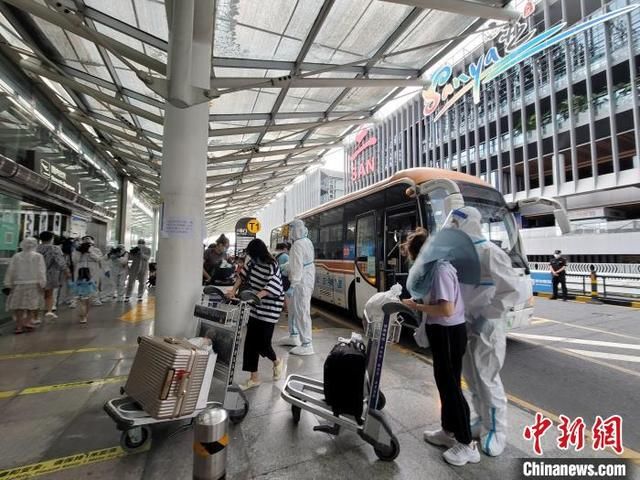 The bus arrived at Sanya Phoenix International Airport with passengers. Photo by Wang Xiaobin
Chinanews.com, Sanya, August 9th (Reporter Wang Xiaobin and Li Yufan) At 16:28 on August 9th, the first batch of 125 passengers stranded in Sanya due to the epidemic took a flight back from Sanya Phoenix International Airport Xi'an.
The Hainan Provincial Headquarters for the Prevention and Control of Novel Coronavirus Pneumonia Epidemic Situation issued an announcement on the 9th that stranded passengers who meet the following conditions will be arranged to return in batches from August 9th:
< p>In epidemic-free cities and counties (districts), the travel group or the hotel where the traveler is in has no positive infection within the past 7 days; or the individual traveler who has not developed clinical symptoms such as fever, dry cough, loss of smell, muscle soreness, etc. in the past 3 days, can use the 2 times within 48 hours (once a day) with negative nucleic acid certificates for return.
In low-risk areas, if there are no positive infected persons in the travel group or the hotel within 7 days of staying in the traveler; or individual travelers who have not developed clinical symptoms such as fever, dry cough, loss of smell, muscle aches, etc. in the past 3 days, the 72 3 times an hour (1 time a day) with a negative nucleic acid certificate to return.
Medium and high risk areas will be reduced to low risk areas after epidemic prevention and control, and the regulations of low risk areas will be implemented.
On a voluntary basis, priority will be given to the return of special groups with medical needs, the elderly, children, pregnant women and their accompanying persons.
According to the announcement, for passengers returning from outlying islands, the city and county governments of the places of detention will uniformly arrange for the passengers to be transported from the place of detention to the airport and other places in a closed loop. Implement "point-to-point" closed-loop pick-up for returning personnel.