(People's Daily Health Client reporter Zhao Yuanzhi intern reporter Hou Jiaxin) According to the latest report of "Sanya Release" on August 9, the virus strain of the Sanya epidemic is Omicron variant BA5.1.3. From 0:00 on Sunday to 24:00 on August 8, Sanya has reported a total of 1,035 confirmed cases and 511 asymptomatic infections in the current round of the epidemic.

1970 doctors and nurses from 4 provinces and cities came to support Sanya
According to He Shigang, Deputy Mayor of Sanya Municipal Government, Hainan Province, more than 80,000 tourists are stranded in Sanya. The pause button was pressed, which also brought challenges to Sanya's epidemic prevention and control work.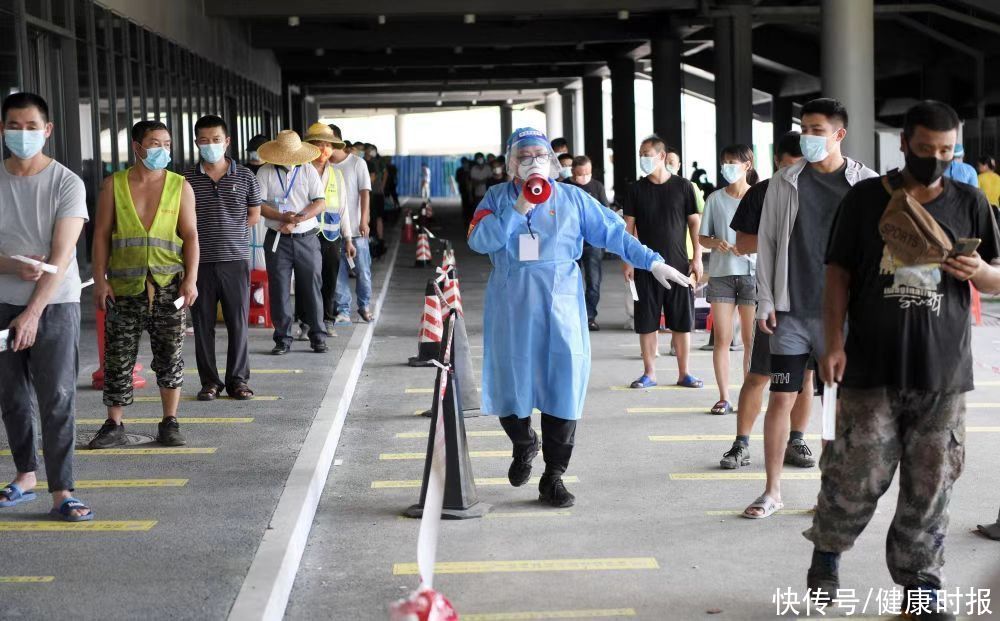 Volunteers deliver fruit to tourists at a hotel in Sanya. Photo by Xinhua News Agency reporter Guo Cheng
According to the support plan of the Hainan Working Group of the Joint Prevention and Control Mechanism Comprehensive Group of the State Council, a total of 8,586 people from 18 provinces across the country supported Hainan this time. Ran Cai, full-time deputy secretary of the Party Committee of the Sanya Municipal Health and Health Committee, said at a press conference on the 8th that as of now, Guangdong, Hunan, Hubei, Henan and other four provinces and cities and counties in the province have supported a total of 1,970 medical staff and Fangcang laboratory personnel in Sanya. , the medical staff immediately invested in nucleic acid sampling, nucleic acid testing, treatment in Fangcang shelter hospitals, and treatment at isolation points.
Previously, the daily detection capacity of Sanya City could reach up to 150,000 tubes. From August 8, the total number of nucleic acid tests in the city in a single day reached 410,000 tubes, and the nucleic acid test results were delayed. problem is resolved.
The second makeshift hospital in Sanya is under rapid construction
At present, the prevention and control of the epidemic in Sanya has entered the key stage During the period, it is reported that at 12:00 on August 3, Sanya has opened a makeshift hospital, providing 1,828 beds, and receiving patients with mild symptoms and asymptomatic infections in different regions. Ji Duanrong, Secretary-General of Sanya Municipal Government, introduced at the press conference on the 7th that there are currently 1,046 beds left in Sanya Fangcang shelter hospital. In order to quickly control the epidemic, the Sanya No. 2 Fangcang shelter hospital has completed the site selection, and has set up rest areas for patients, washing areas, and rest areas for medical staff. It can be completed and delivered before August 11. Provide 2000 beds.
In addition, Sanya Central Hospital has been set as the designated hospital for new crown medical treatment, and Sanya People's Hospital (Sichuan University West China Hospital Sanya Hospital), Sanya Maternal and Child Health Hospital (Shanghai Children's Medical Center affiliated to Shanghai Jiaotong University School of Medicine) has fever clinics. After the outbreak, the three comprehensive tertiary hospitals have all released the latest medical instructions, involving appointments, medical visits, and hospitalization. According to the requirements of epidemic prevention and control and instructions from superiors, the fever clinics of Sanya Central Hospital and Sanya Women and Children's Hospital will be suspended from August 2 and August 6 respectively.
On August 8, Yin Chengling, Deputy Mayor of the Sanya Municipal People's Government, stated at a press conference that in accordance with the principle of "preparing rather than using, and not preparing for unavailable", speed up the Promote the construction and storage of facilities such as makeshift hospitals, isolation points, and designated hospitals; before the advent of tropical storms, we must race against time to reserve testing equipment, epidemic prevention materials, and living materials to ensure that the basic necessities of citizens and tourists are not affected. . In addition, it is necessary to continue to take effective measures to strictly prevent the infection of medical staff, to speed up the rehabilitation and treatment of confirmed cases, to speed up the construction of the second makeshift hospital, and to increase the utilization rate of the makeshift hospital.
According to the "Hainan Release", Shen Xiaoming, Secretary of the Hainan Provincial Party Committee and leader of the Provincial Party Committee's Leading Group for Responding to the Epidemic, said that he will strive to achieve social zero before August 12.