The new crown is not over, and monkeypox is on the rise again. On July 23, WHO declared monkeypox to constitute a global public health emergency of international concern, again causing panic about the infectious disease. To date, more than 18,000 cases of monkeypox have been reported in 75 countries and territories, including five deaths. "Deadly Acne" strikes, how do we deal with it?
Monkeypox, Smallpox, Cowpox and Varicella are all "pox" that cause blisters and pustules on the skin. What's the difference? The same is that they are all DNA viruses, but they belong to different virus families. The viruses that cause monkeypox, smallpox, and vaccinia are monkeypox virus (Monkeypox virus), smallpox virus (Smalpox virsu) and vaccinia virus belonging to the Poxviridae family. (Cowpox virus), the three of them are close relatives, and chickenpox belongs to the Herpesviridae family Human alphaherpesvirus-3 (Human alphaherpesvirus 3 or Varicella zoster virus), and herpes simplex virus, EB virus, etc. are close relatives.
Among these "poxes", the most harmful to humans is smallpox. Since records began, humans have been fighting against smallpox for more than 3,000 years and have claimed hundreds of millions of lives, even if they survived by chance When you come down, your face will be pockmarked, which is creepy and one of the greatest nightmares of mankind. Humans are the only hosts of smallpox and can only spread among humans. Due to the extremely effective "vaccinia" vaccine, human beings finally defeated smallpox. On May 8, 1980, the World Health Organization officially announced that human beings have completely eliminated smallpox, and countries around the world have successively stopped smallpox vaccination. my country has also stopped receiving it since 1981. After 1984, all of China no longer vaccinate. The average incubation period of variola virus infection is about 12 days (7-17 days). The main symptoms include fever, headache, muscle aches, back pain, swollen lymph nodes, rash, etc. The fatality rate can be as high as 30%.
Why do we call the smallpox vaccine "vaccination"? Cowpox is the "smallpox" of cows. After cows are infected with cowpox virus, ulcers usually appear on the udders of cows. The virus can be transmitted to humans through contact. It is more common in milkers, slaughterhouse workers, etc. of female workers contracted cowpox by squeezing the udders of infected cows, and when they recovered, they became immune to cowpox for life, as well as to smallpox. This is because cowpox and smallpox virus have common antigens. We made a smallpox vaccine using cowpox, and carried out extensive vaccination around the world to help us defeat smallpox. The vaccinia virus has made great contributions to the victory over smallpox. This is the greatest contribution of the old scalpers who have silently dedicated themselves to mankind, and it is the great savior of mankind. People born before the 1980s have all been vaccinated with vaccinia.
Monkeypox virus is called monkeypox because it was first discovered in monkeys in 1958. At that time, it was mistaken for monkeys to be the culprit. In fact, monkeys and other primates are just monkeypox virus. The intermediate host of monkeypox, rodents represented by mice are the main hosts of monkeypox, and it may be more appropriate to name it "mousepox". Monkeypox can be transmitted between animals and humans, and it can also be secondary transmitted between humans. Monkeypox is a zoonotic disease.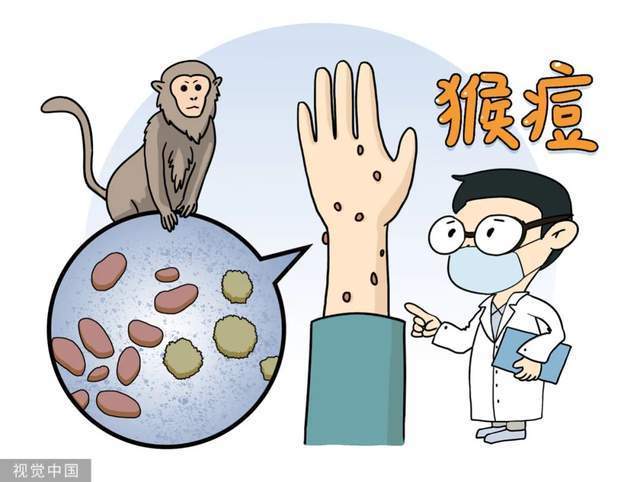 Compared with smallpox, monkeypox is just a little brother. It causes similar clinical symptoms, but its pathogenicity and lethality are much weaker than those of smallpox virus, so there is no need to panic, especially 80 People born before 2000 have been vaccinated against vaccinia, and the preventive effect on monkeypox can reach more than 85%. The incubation period of monkeypox is usually 6-13 days, and the main symptoms of early onset are fever, severe headache, swollen lymph nodes, back pain, muscle aches and weakness, and a rash usually begins within 1-3 days after the fever, focusing on the face and extremities. Monkeypox is a self-limiting disease, meaning the patient will recover on their own without treatment.
Chickenpox, similar to the above several "pox" names, the full name of the chickenpox virus is "varicella-zoster virus", and the characteristics of small blisters all over the body are also quite similar. It occurs mainly in infants and preschool children, and symptoms are more severe in adults than in children. It occurs frequently in winter and spring, and its infectious power is strong, and the transmission route is mainly respiratory droplets or direct contact infection. Chickenpox patients are the only source of infection. After the virus infects the human body, it first proliferates and replicates in the local lymph nodes of the nasopharynx for 4 to 6 days. The first infection of chickenpox is often manifested as chickenpox or an occult infection. After infection, it remains latent in the body for a long time. After being activated due to reasons such as decreased resistance, it will cause people to get shingles, which is almost deadly painful. The incidence of susceptible children can reach more than 95%. The disease is self-limiting and generally does not leave scarring.
Scientific understanding of these different "acne", effective prevention can eliminate fear. With science in hand, there is no need to worry about repelling "acne assassins"!