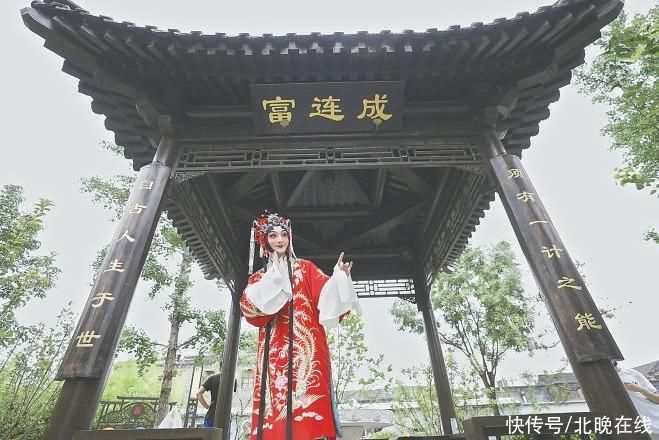 Lu Wei practiced his stage moves in Jingyun Garden near the former site of Dashilan Fuliancheng. Photo by our reporter Wu Yibin
Worn in Chinese clothes, she was graceful and elegant. Raise the sleeves with one hand, open the sleeves with the other, lift the left foot to the right of the right foot, slowly squat down to the ground, pick up the flowers and smell. In the middle of the night, Concubine Yang Guifei seemed to be drunk but not drunk, and she was so gorgeous that the viewers could not take their eyes off her.
After the show left, the costumes faded, and the face was still clean, only to find out that "the imperial concubine" was actually a handsome young man.
She has a thin body, a square face, a raised chin, a pair of peach blossom eyes lying on her white face, smiling like a crescent moon. When I met Lu Wei for the first time, Qingxiu was probably the first impression left on people. Knowing deeply, he will be deeply infected by his obsession with Peking Opera. "I'm from Bozhou, Anhui Province. Most of the other "post-90s" like pop music, but I especially love Peking Opera. It's natural. When I was three or four years old, I liked listening to it in my grandmother's arms." Speaking of Peking Opera, he was in high spirits.
However, at the beginning of learning opera, even my father did not support it. "When I was 6 years old, opera troupes from Beijing were stationed in various places to perform performances. My grandmother's house was a courtyard, and there was an opera troupe next to it. I secretly learned opera with an old gentleman behind my back." Lu Wei recalled and changed him The trajectory of life is a sentence of the old gentleman, "He often said: 'You should go to Beijing and go to a bigger stage.'" Xiao Luwei was deeply touched, and he secretly had a goal in his heart.
From the age of 6 to 14 years old, Xiao Luwei followed the old gentleman as his apprentice for 8 years, "I don't know why, I feel that I am myself when I learn the role of Dan, and the movie "Farewell My Concubine" "Cheng Dieyi is the same." In addition to his handsome appearance and suitable voice conditions after the collapse, the young Lu Wei specialized in male actress. In 2009, he was admitted to Beijing, and he joined Cheng Mi's family – Beijing Qiusheng Club, and since then he has embarked on the right track of Peking Opera art.
Boys have faced a lot of criticism when they sing danjiao. "Some people say why your first-class boy puts on makeup and sings a role, and some people ridicule and say, 'You sing so much that we don't understand'." Speaking of this, Lu Wei was very heartbroken, but he knew that "the four famous actors" and "the four major actors" "Xusheng" are all male, and these are the treasures left by the ancestors. "If there is no one to inherit, won't the national quintessence gradually disappear?" Lu Wei felt that fundamentally, more people must be allowed to understand and enter Peking Opera! "One day, my dad took a photo of my performance and said: 'You still look good!' I know, he began to understand me slowly."
A chance in 2016, He went to Dashilar to perform. Dashilan is the birthplace of Peking Opera, and the four major Anhui classes in Jinjing are here. Many residents like Peking Opera, and Lu Wei feels that he has found a stronghold. Since 2016, he began to work here as a Peking Opera salon. With the help of Dashilan Street, he established a National Essence Garden on the original site of the leading Fulian Chengke Class in Liyuan, and popularized the quintessence of the country through performances and lectures.
"'I hope to get the eight worthy kings, to deal with it, and to sweep away the wolf smoke as soon as possible.' This sentence, especially the word 'smoke', must hold the word, the beginning, the belly, and the end of the word You have to be clear, and you can sing with a melody." Last weekend morning, drama lovers came from all over the country in the face of the sun. Lu Wei held a clapboard, sang and composed, and explained "Zhuangyuan Media" word for word. "'No sound, no singing, no movement, no dancing', Mr. Qi Rushan said, on the stage, even a cough should have a rhyme. This is the difference between our national quintessence Peking Opera and Western drama." As soon as he finished speaking, he nodded frequently off the stage.
In recent years, Lu Wei has been invited to perform in Belgium, Finland and other countries, and has appeared on stages of various sizes such as CCTV and Chang'an Grand Theater. Beside the audience, Lu Wei is very down-to-earth and very energetic, "I feel like I am not me on the stage, I am Xue Xiangling, I am Yang Guifei, I am still a girl in a dream of spring. My destiny in this life is it." p>
Source: Beijing Daily reporter Li Yao
Process editor: U022