Every weekday morning
Lilac Early Reading Timely Update
Track medical hotspots for the first time
Qingdao: Restrict "bright yellow card" personnel from entering relevant venues
On August 4, according to Qingdao, there was no negative nucleic acid test record within 4 days for young people (including those who returned to the youth), and the first line of nucleic acid test signs under the "site code" was blue. The color changes to yellow, that is, "bright yellow card". Such personnel will be restricted from entering public places such as restaurants and supermarkets, and it is strictly forbidden to take buses, online car-hailing, taxis, and subways. (Source: Released by Qingdao)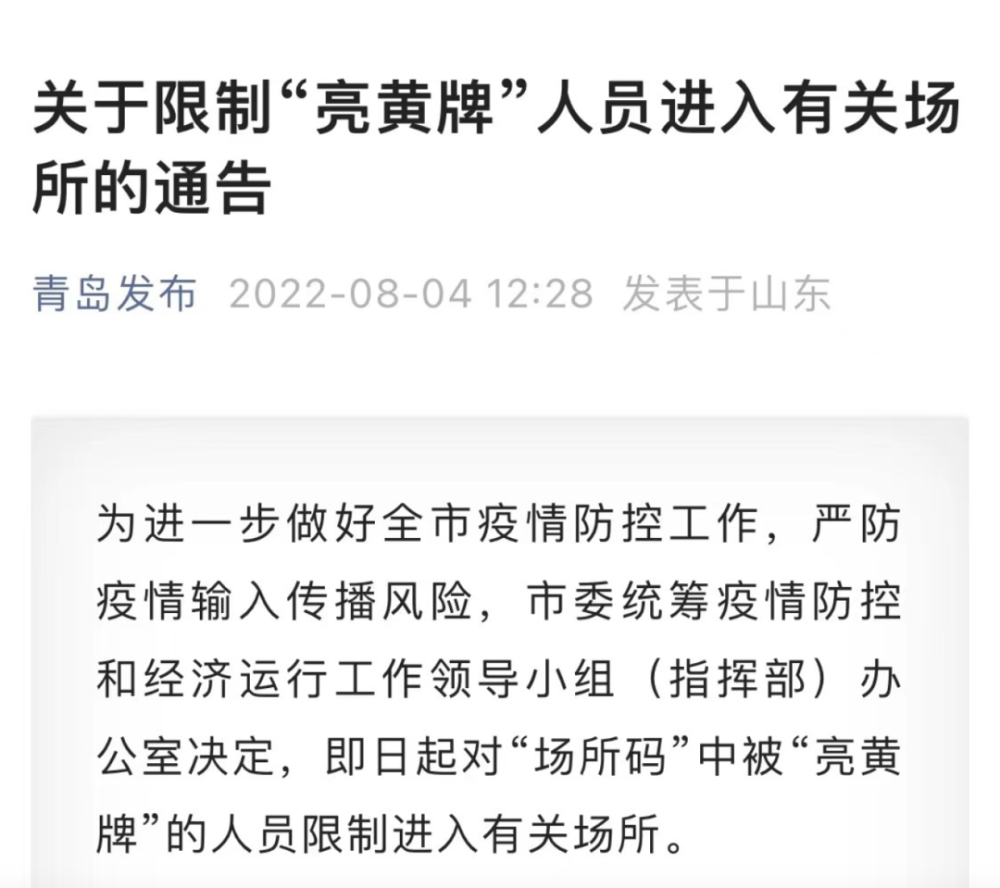 Image source: Qingdao released
Henan Minquan County assigns codes to personnel in the whole region, the official response: it has been corrected immediately
On the evening of August 3, the Henan Minquan County Rong Media Center announced that it will assign codes to all personnel in Minquan County, and assign red codes to 7 high-risk areas and 12 medium-risk areas. Personnel are assigned a yellow code. On the afternoon of August 4, Shangqiu issued a response: The situation has been corrected immediately, and the next step will be strictly in accordance with the requirements of the "New Coronavirus Pneumonia Prevention and Control Plan (Ninth Edition)", and go all out to do a good job in epidemic prevention and control. (Source: Henan Minquan County Rong Media Center, Shangqiu release)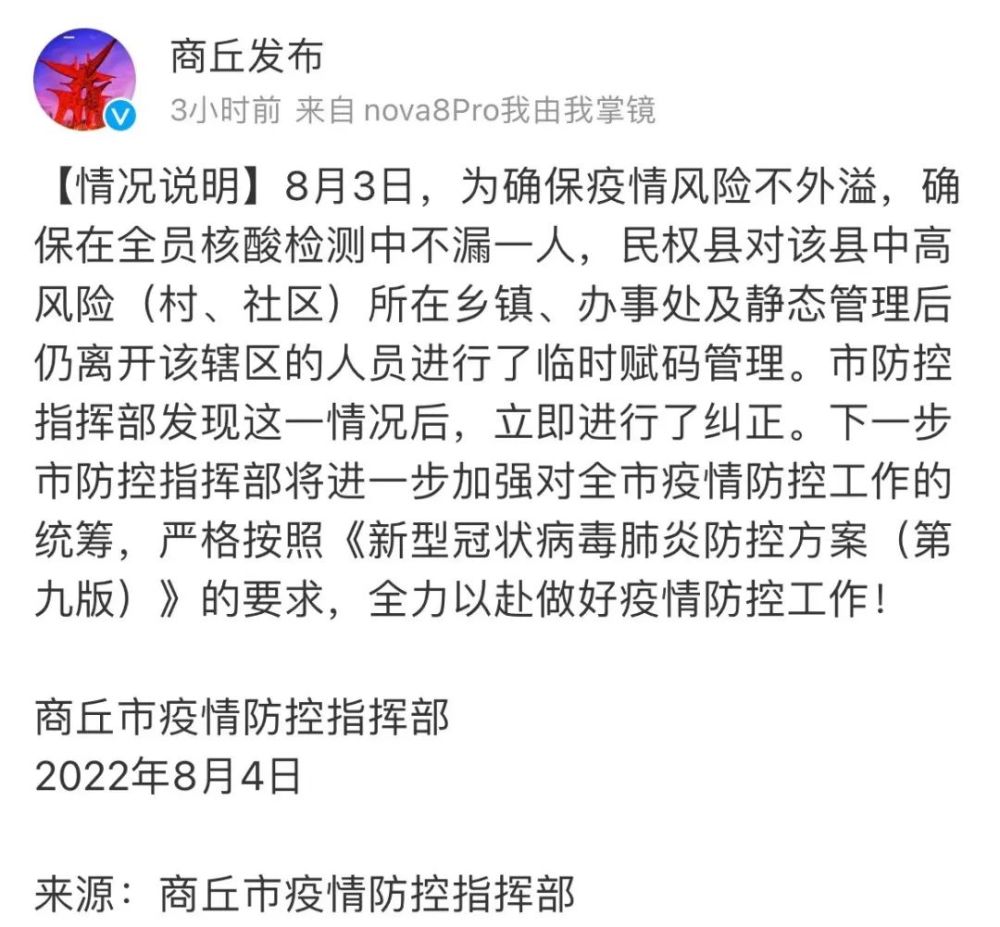 Image source: published by Shangqiu
NEJM: New animal-to-human virus found in China, it is uncertain whether it is human-to-human transmission
Yesterday, scholars from the Academy of Military Sciences, the National University of Singapore School of Medicine and other institutions published an article in NEJM, reporting that a new animal-derived henney that can infect humans has been discovered in Shandong and Henan, China. Pa virus.
Hendra and Nipah viruses belong to the genus Henipavirus in the Paramyxoviridae family and are known to infect humans and cause fatal disease. Recently, in the surveillance of sentinel hospitals with a history of animal exposure in eastern China, through high-throughput sequencing and virus isolation, a new type of Henipa virus, named Langya, was found in a throat swab sample of a patient. Virus (Langya henipavirus, LayV).
The LayV genome consists of 18,402 nucleotides, and its genome structure is the same as that of other henipaviruses (Figure 2) and is the closest relative to the Mojiang virus found in southern China (Figure 3) . Subsequently, a total of 35 patients with acute LayV infection were found in Shandong and Henan, of which 26 were only infected with LayV (no other pathogens were detected), with symptoms such as fever, fatigue, and cough.
Although there have been reports of human-to-human transmission of Nipah virus, no cases and LayV haplotypes (based on three common single nucleotide polymorphisms) have been identified in either space or time There were obvious aggregations on the surface (Figure 4). After tracing 9 patients and 15 close contacts, no close contact transmission of LayV has been found.
As the sample size is too small to determine the human-to-human transmission of LayV, further research is warranted. (Source: NEJM)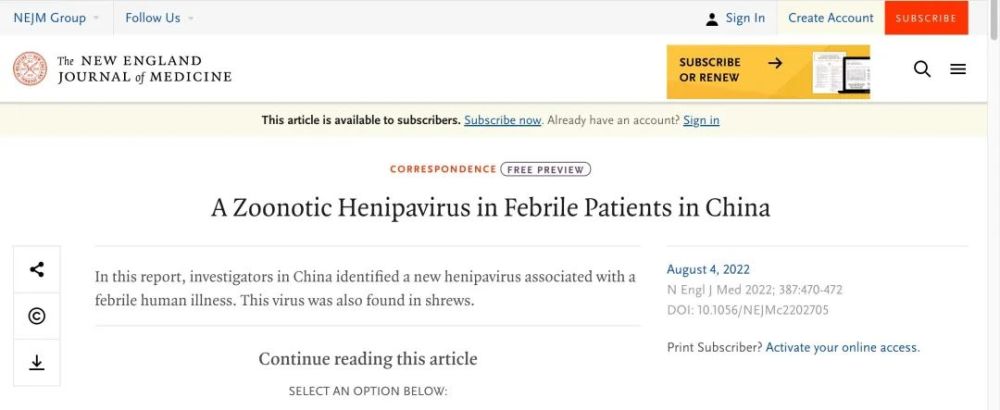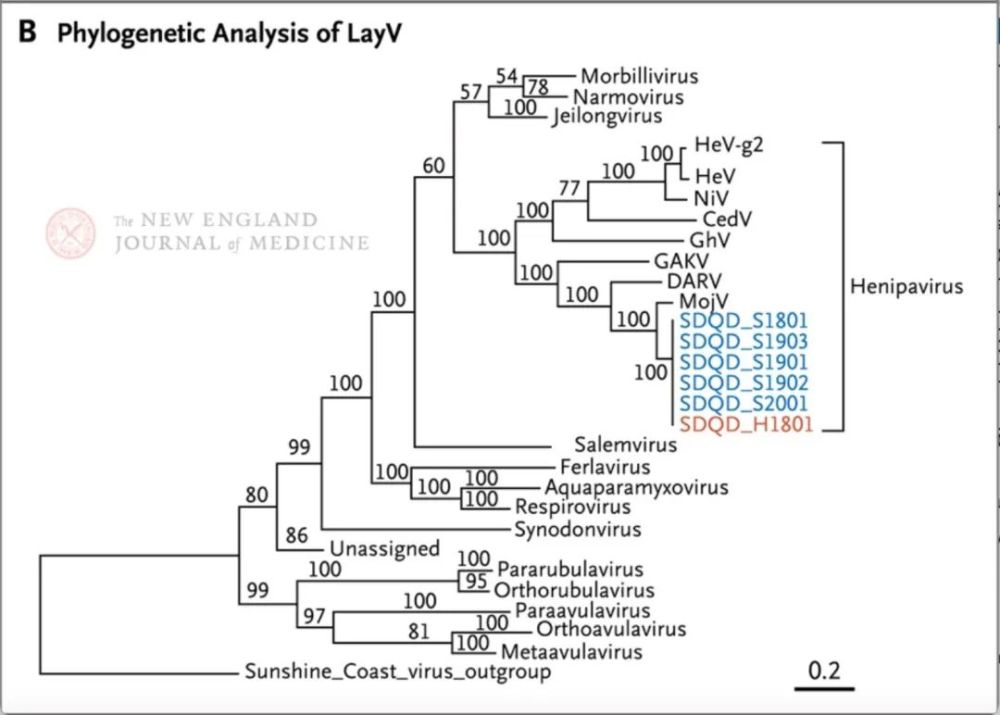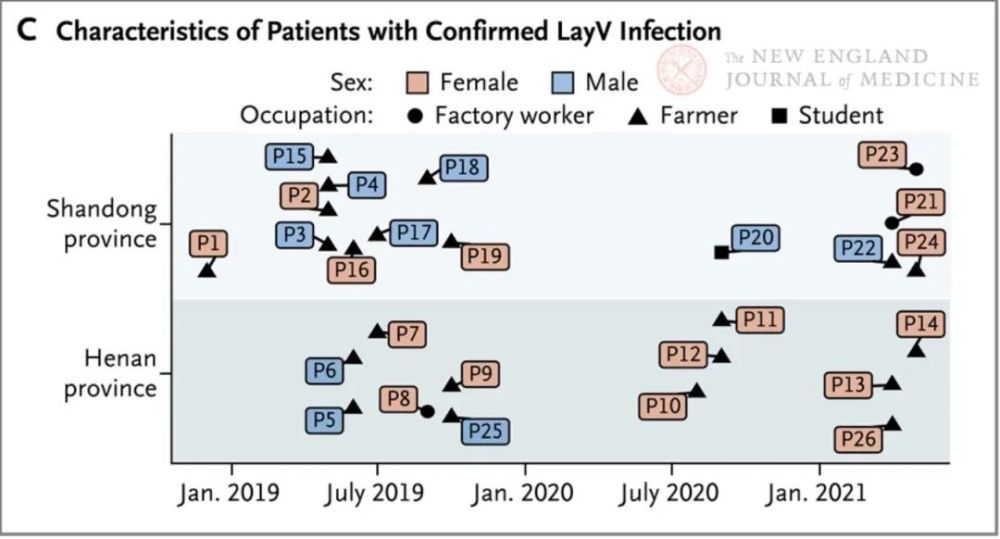 Image source: NEJM
Henan Health Commission: Regulation training certificate is not a prerequisite for hospital recruitment this year
Henan Provincial Health and Health Commission issued the "About the 2022 Resident Physician""Notice on Standardized Training Recruitment", which mentioned: Affected by the epidemic, the completion assessment of residential training in 2022 will be postponed. Certificate of Qualification" as a necessary condition for the recruitment of clinicians in this unit). (Source: Henan Provincial Health Commission)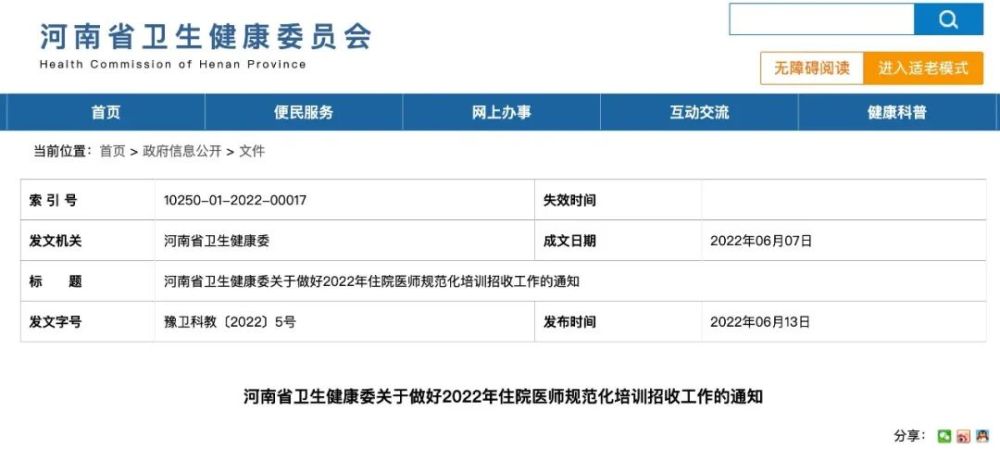 Photo source: Henan Provincial Health Commission
National Medical Insurance Administration:Two pharmaceutical companies were rated as seriously untrustworthy for "giving rebates"
On August 4th, the National Medical Insurance Bureau announced the situation of two untrustworthy pharmaceutical companies: Yunnan Tongfeng Pharmaceutical Co., Ltd. gave rebates to the relevant personnel of Shangri-La People's Hospital in Diqing, accumulatively equivalent to more than RMB 600,000 Yuan; Ningxia Minning Pharmaceutical Co., Ltd. gave rebates to the relevant personnel of Guyuan City People's Hospital, with a total of about 1.14 million yuan. Both companies were rated as "seriously dishonest." (Source: National Medical Insurance Administration)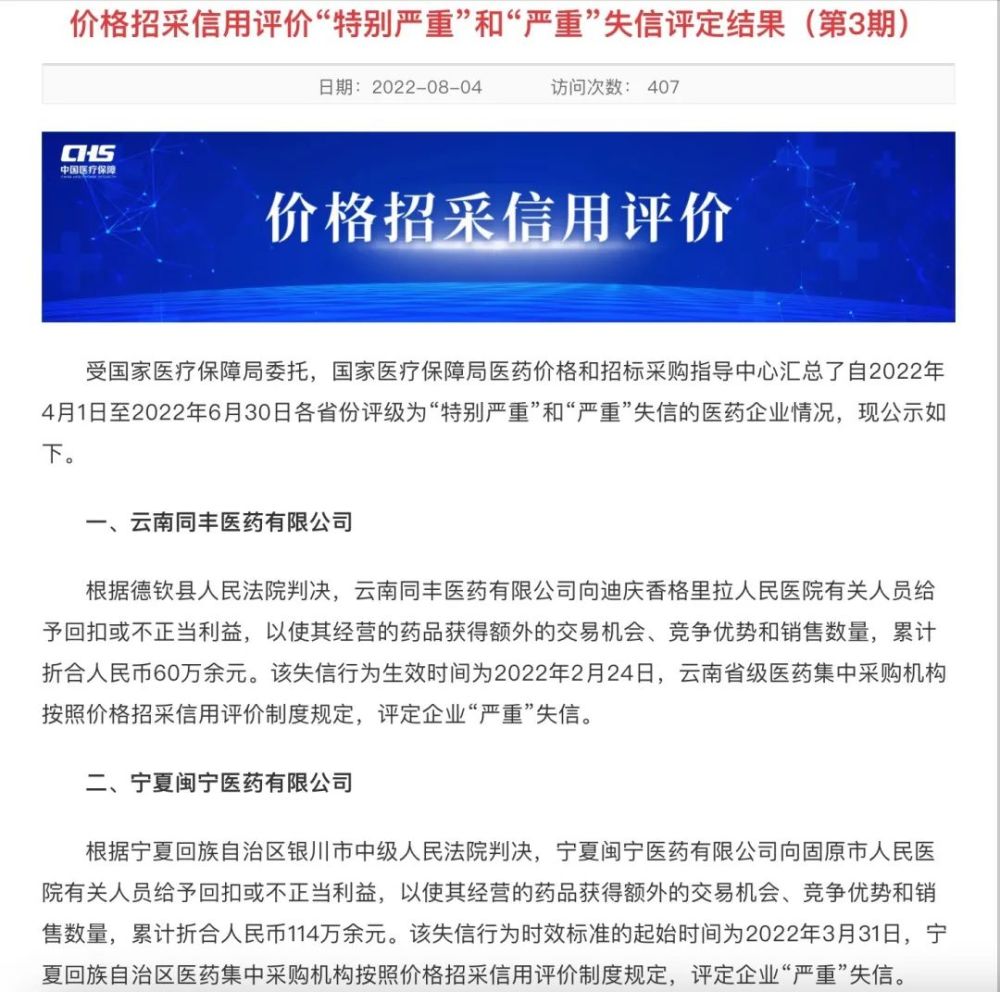 Image source: National Medical Insurance Administration
Sanming releases the latest consumable purchase documents, all of which are low-cost consumables
On August 1, the Sanming Purchasing Alliance released the latest medical consumables procurement documents. The procurement varieties are all low-cost consumables. The varieties are: blood glucose test strips, disposable sterile syringes, nebulizers, disposable pre-filled catheter irrigators, disposable vaginal dilators, disposable intravenous nutrition infusion bags, and disposable enteral nutrition infusion bags , Disposable cervical balloon catheter.
"Procurement Document" mentioned that the Sanming Procurement Alliance will "continue to squeeze the inflated price of medical consumables and reduce the public's burden of medical treatment." (Source: Sanming Purchasing Alliance)
31 provinces, municipalities and autonomous regions added 53 new local confirmed cases on the 3rd
From 0 to 24:00 on August 3, 31 provinces (autonomous regions and municipalities) and the Xinjiang Production and Construction Corps reported 111 new confirmed cases. Among them, 53 were local cases (24 in Hainan, 10 in Inner Mongolia, 9 in Zhejiang, 2 in Fujian, 2 in Shandong, 2 in Henan, 2 in Guangxi, 1 in Chongqing, and 1 in Sichuan), including 6 cases of asymptomatic infection The cases were converted into confirmed cases (4 in Zhejiang, 1 in Guangxi, and 1 in Sichuan). No new deaths were reported. No new suspected cases were reported. (Source: National Health Commission)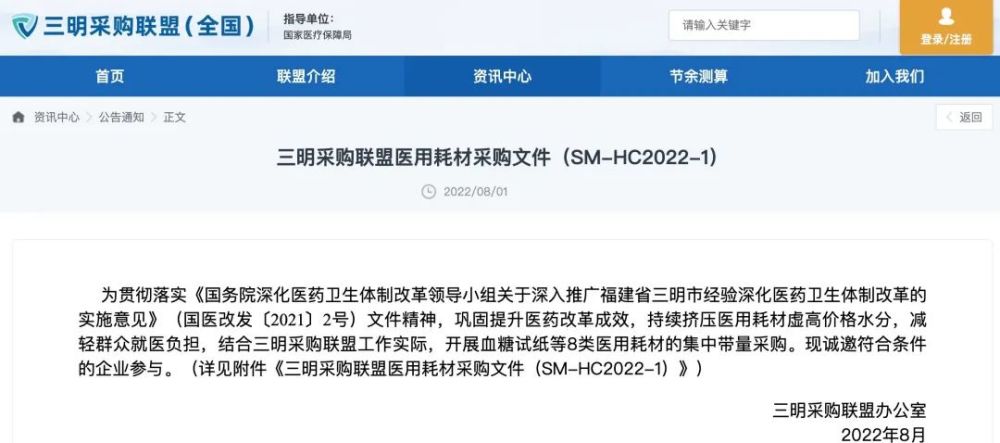 Source: Sanming Purchasing Alliance
Issue 873Lilac Early Reading ends here
Planning: yxtlavi
The source of the title map: Zhanku Hailuo