This article is from: China News Network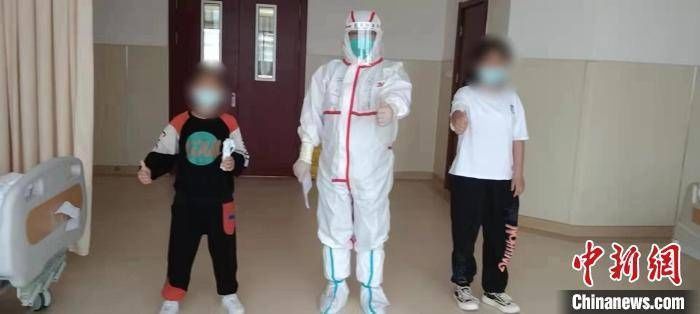 Recently, the Gansu Provincial Health and Health Commission transferred Lanzhou No. 3 Medical staff in the psychiatric department of the hospital set up a psychological counseling group to provide psychological assistance to new crown patients and medical staff. Photo courtesy of Gansu Provincial Health Commission
(Fighting against New Coronary Pneumonia) Gansu pays attention to the mental health of patients, plays games, listens to music, learns abdominal breathing to help reduce stress
China News Service, Lanzhou, July 25 (Reporter Yang Na) "The environment here is relatively closed, people's emotions are easy to influence each other, and both patients and medical staff are prone to anxiety and depression." Recently, the deputy hospital of Lanzhou Third People's Hospital Chang Zhao Dongrong led the psychiatric medical staff of the hospital to provide psychological assistance to patients with new coronary pneumonia. In her opinion, it is particularly important to give patients humanistic care and psychological counseling during treatment.
In order to do a good job of mental health counseling for patients and front-line medical staff, and to ensure the smooth development of medical treatment, after the current round of epidemic in Gansu, Gansu Provincial Health and Health Commission dispatched medical staff from the psychiatric department of Lanzhou Third People's Hospital Set up a psychological counseling group to carry out psychological assistance work in Yantan Branch of Lanzhou Second People's Hospital, Lanzhou New District Fangcang shelter hospital, Gannan Tibetan Autonomous Prefecture and Linxia Hui Autonomous Prefecture.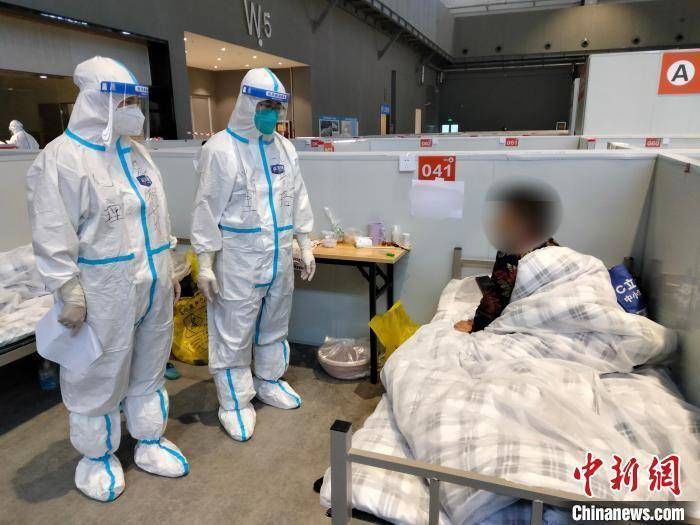 The picture shows the psychological counseling group providing psychological assistance to patients in the makeshift hospital. Photo courtesy of Gansu Provincial Health and Health Commission
Every time they go to designated hospitals and makeshift hospitals, the first task of the psychological counseling team is to comprehensively assess the emotional state of patients through questionnaires and interviews, focusing on children, Pregnant women, the elderly, critically ill patients and other groups, according to the characteristics of different groups, choose to carry out various forms of psychological intervention in a targeted manner.
In Yantan Branch of Lanzhou Second People's Hospital, an 8-month-old infant was admitted to the intensive care unit with symptoms such as fever, cough, sore throat, crying and poor eating. The mother of the child suffers from poor mood. The psychological counseling team comprehensively applied various psychological crisis intervention techniques to make the mother feel warm and safe again, and taught her to learn decompression and relaxation techniques such as abdominal breathing, butterfly beats, mindfulness meditation, etc. Soothing emotions and achieved better psychological intervention effect.
In order to enrich the life of patients during isolation and treatment in designated hospitals, and to enable everyone to better recover their physical and mental health, each psychological counseling group conducts group counseling for patients in the ward. Use game therapy to eliminate communication barriers; use music therapy and painting to reduce stress, eliminate tension, relieve psychological panic, anxiety, loneliness and other emotions caused by diseases and closed environments; through health education, let patients establish a scientific attitude and Confidence to overcome the epidemic. For patients with obvious anxiety, the psychological counseling group also provides psychological assistance through a combination of "one-to-one" online and offline methods, so that patients are no longer lonely and lost.
According to the official news from the Gansu Provincial Health and Health Commission, as of 24:00 on July 24, a total of 469 confirmed cases and 2,733 asymptomatic infections have been reported in this round of the epidemic. There were 12 newly cured and discharged patients, and 38 asymptomatic infections released from isolation. A total of 53 confirmed cases have been discharged from hospital, and 143 asymptomatic infections have been released from isolation. There are 416 confirmed cases and 2,590 asymptomatic infections, all of which are being treated in isolation or under medical observation in designated medical institutions.
"Patients mainly can't figure out why they have this disease, and feel that this disease is very harmful to the body." Wu Qi, a psychiatrist at the Third People's Hospital of Lanzhou City, believes that this is the cause of the patient's psychological The main reason for stress. In order to reduce the psychological pressure of the patients, Wu Qi and fellow experts encouraged the patients in the cabins to do some activities within their ability, such as participating in voluntary services, or communicating with others more, so as to relieve the negative psychological emotions, overcome the disease as soon as possible, and return to a normal life. middle.
"I've heard about mental relaxation before, and I thought it was a long way from our lives. I didn't expect to use it this time. The methods taught by the doctors are quite useful." An elderly patient now follows a doctor daily to practice mindfulness and use abdominal breathing for relaxation.
In addition to paying attention to the mental health of patients, each psychological counseling group also actively conducts psychological counseling for front-line medical staff. Due to high-intensity work and unfamiliar environments, many medical staff are in a psychological state of high tension and high self-demand, and some medical staff even have difficulty falling asleep. The psychological counseling team has established a "Spiritual Station" mutual aid group to provide mental health knowledge education for front-line medical staff in the fight against the epidemic, and use rest time to carry out online group counseling, hypnotherapy and other activities to relieve work pressure, reduce fatigue, and help medical staff. Affirm your self-worth and increase your sense of pride.
It is understood that during the epidemic prevention and control period, Lanzhou implemented temporary control and control. Lanzhou officials paid attention to the mental health problems of people at home from various aspects, announced the psychological counseling hotline, and selected psychological counselors and professionals. Primary and secondary school students, pregnant women, the elderly, etc., provide free mental health counseling services in a combination of online and offline.