Recently, Bishan Hospital Affiliated to Chongqing Medical University (Chongqing Bishan People's Hospital) Internet Hospital and the Chinese Medical Association Tuberculosis Branch Internet Professional Committee held a free clinic activity, and the hospital Internet hospital was officially launched.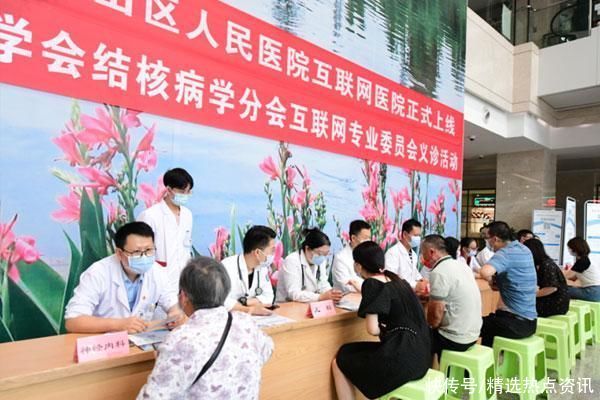 Event site. Photo by Hu Yuejian
At the event site, the hospital's Obstetrics and Gynecology, Pediatrics, Neurology, Respiratory and Critical Care Medicine, Infectious Diseases, and clinical pharmacists provided consultation and consultation on common and chronic diseases for the masses. Preliminary screening, at the same time, it also provides operation guidance such as Internet hospital registration and consultation for the masses, and effectively implements the task list of "I do practical things for the masses".
It is reported that the Internet hospital of the hospital has opened modules such as online expert consultation, re-examination and prescription refills, health information education, etc. Full-process service.
Through the Internet hospital, the way of visiting experts will be more flexible. Experts will be expanded from the original fixed time to work, and expanded to fixed time and online consultation, making full use of the experts' spare time to serve more patients . At present, 50 experts from 6 specialties including obstetrics and gynecology, pediatrics, and neurology have opened online consultation services, of which more than half are experts with deputy senior titles or above.
"After the return patient visits the Internet hospital, the doctor and pharmacist can write the medical record and make a diagnosis for the return patient through the Internet, write a prescription, and the medicine can be delivered directly to the door through the delivery service." The relevant person in charge of the hospital According to the introduction, more than 200 kinds of western medicines and Chinese patent medicines have been opened, and professional pharmacists are equipped to review prescriptions to strictly control the safety of medicines.
In the next step, the hospital Internet hospital will gradually improve various functions. In addition to providing services such as online follow-up refills, offline drug distribution, etc., it is planned to carry out online medical insurance settlement to realize some chronic and special diseases. Online reimbursement. (Chen Jun)