Poster reporter Wen Luyi reported
Recently, Wuhan Aier ophthalmologist Wang Yong posted on the Internet that he would sue Ai Fen, director of the emergency department of Wuhan Central Hospital, for insulting , slander and slander.
On April 27, Aier Ophthalmology Group issued a statement supporting Wang Yong's legal rights protection. Behind this is the medical dispute between Ai Fen and Aier Ophthalmology, which has a market value of 100 billion, which has lasted for nearly two years.
Dr. Wang Yong of Aier Ophthalmology Department issued a document saying that he would sue Ai Fen
On January 1, 2021, Ai Fen, director of the emergency department of Wuhan Central Hospital, Weibo posted that in May 2020, she was recommended by an acquaintance to go to Wuhan Aier Eye Hospital for treatment. Wang Yong, the vice president of the hospital, said that she had cataract in her right eye and performed cataract extraction and intraocular lens implantation for her. Ai Fen spent about 29,000 yuan in total. After surgery, her vision did not improve, but she developed retinal detachment and was almost blind.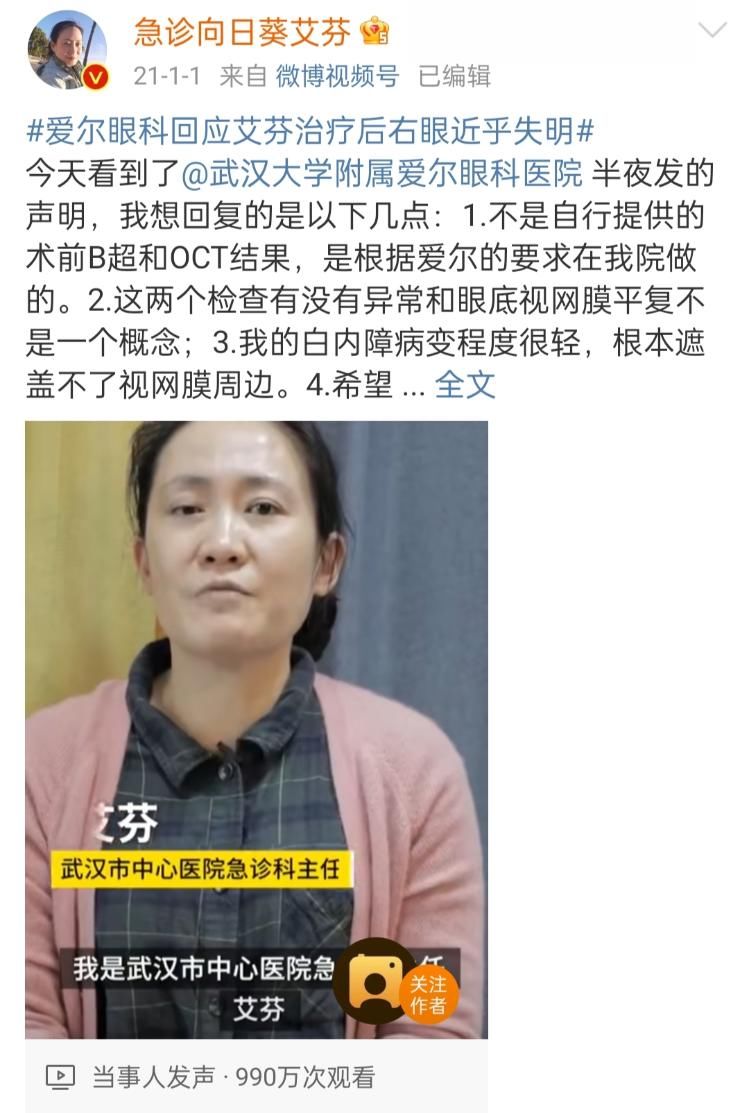 She believes that Aier ophthalmologist Wang Yong did not carefully check the fundus before the operation, and the multiple re-examinations afterwards were not standardized. Delays in the best timing of treatment are responsible for this.
On January 4, 2021, Aier Eye Hospital issued a verification report on the diagnosis and treatment process of Affin: After verification, the retinal detachment in Affin's right eye is not directly related to the cataract surgery. Apply for the identification and inspection of the medical society and related departments together.
In this regard, Ai Fen believes that the report ignores the important points, confuses the public, chaotic management, and shirks responsibility. In February 2021, Ai Fen issued a document saying that it had submitted a report letter to the Wuhan Municipal Health and Health Commission's medical certificate and medical management department "Reporting the illegal and irregular medical behavior of Hubei Aier Eye Hospital with real name".
More than a year after the incident, in April this year, the doctor Wang Yong spoke out for the first time. He believed that Ai Fen's retinal detachment was not directly related to the operation. I applied for a third-party medical appraisal, but Ai Fen didn't go. On April 5, Ai Fen responded that it was not that she was unwilling to take judicial and other avenues, but that she needed to collect evidence first.
On April 26th, Dr. Wang Yong posted again about his medical dispute with Ai Fen. In the article, Wang Yong admitted that Ai Fen complained that the medical procedures were not standardized. But he said that he never forged any medical records, nor did he tamper with any photos. Wang Yong had already told Ai Fen that as long as she came to the hospital with her ID card, she could provide copies of all medical records, but she never did.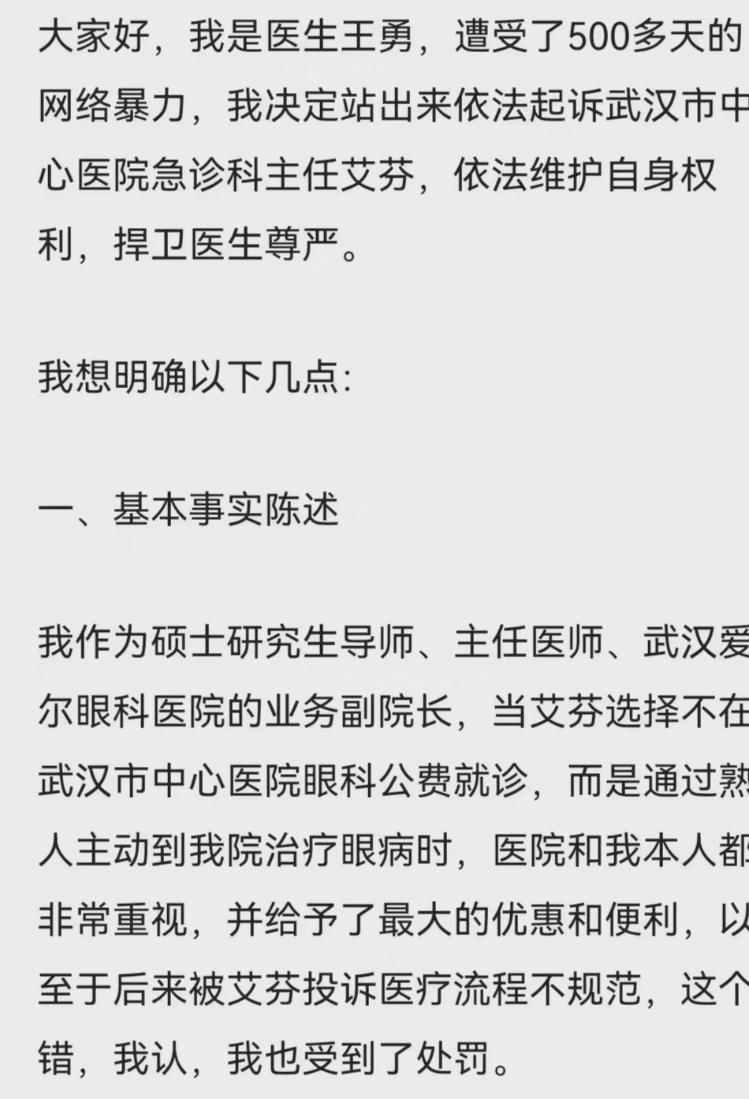 Wang Yong issued a document saying that he would sue Ai Fen
For Ai Fen's previous rights protection description of "Wang Wang" Yong did not check the patient's fundus before surgery." Wang Yong explained in the article: Ai Fen's fundus was checked by other doctors in the team. As the chief surgeon, he did not need to complete all the examinations himself, which is normal. He also expressed condolences and apologies to Ai Fen many times after the incident. Wang Yong called on Ai Fen to sue him for medical disputes.
On April 27, Aier Ophthalmology Group issued a statement expressing its support for the doctor Wang Yong in safeguarding his rights in accordance with the law, so as to protect the doctor's personality rights and professional dignity from being violated. The statement also announced some measures and progress of AIER's efforts to promote self-innovation and embrace social supervision this year.
Ai'er Ophthalmology's stock price fluctuated due to repeated revelations by Ai Fen
Public information shows that Aier Ophthalmology was established in 2003, and in 2009, it was the first batch of 28 One of the listed companies landed on the Growth Enterprise Market. The company's market value has soared from 6.9 billion yuan to 360 billion yuan at one point.
After the eye surgery at Aier Eye Hospital, Ai Fen devoted all her spare time to protecting her rights, except taking care of her children. She began to collect evidence and evidence of illegal medical treatment in Aier Eye Hospital all over the country. Witness, constantly exposing the medical irregularities of Aier Ophthalmology. Her revelations have triggered several fluctuations in the share price of Aier Ophthalmology.
On January 4, 2021, the first opening day after Affin was first exposed, Aier Ophthalmology's stock price fell by 8.93%.
From January 7th to 9th this year, Ai Fen posted a number of microblogs about "Aier Ophthalmology bribes", pointing out that Jiangsu Suqian Aier Eye Hospital gave the "referrer" the operation based on the patient's operation cost 10%-20% of the fee as a rebate.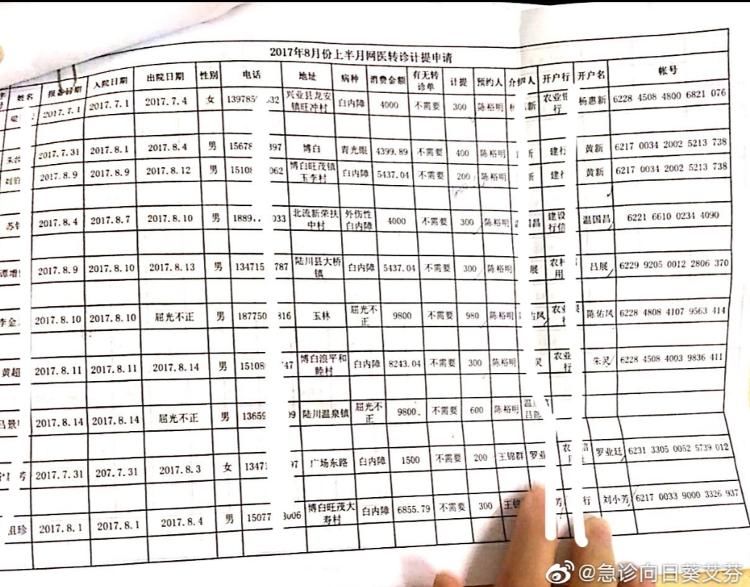 In January of this year, Ai Fen exposed Aier Ophthalmology for bribery
January 9, involving The Suqian Aier Eye Hospital, which was involved in the incident, issued a statement saying that according to the current information on the Internet, our hospital has carried out rectification in accordance with the relevant requirements of the board of directors in 2019, seriously dealt with the employees who violated the rules, and replaced the management team.
On January 10, affected by Affin's revelations, Aier Ophthalmology's share price fell again after the opening, and once fell to the lowest point in half a year, as low as 36.4 yuan per share, with a total market value of 201.6 billion yuan.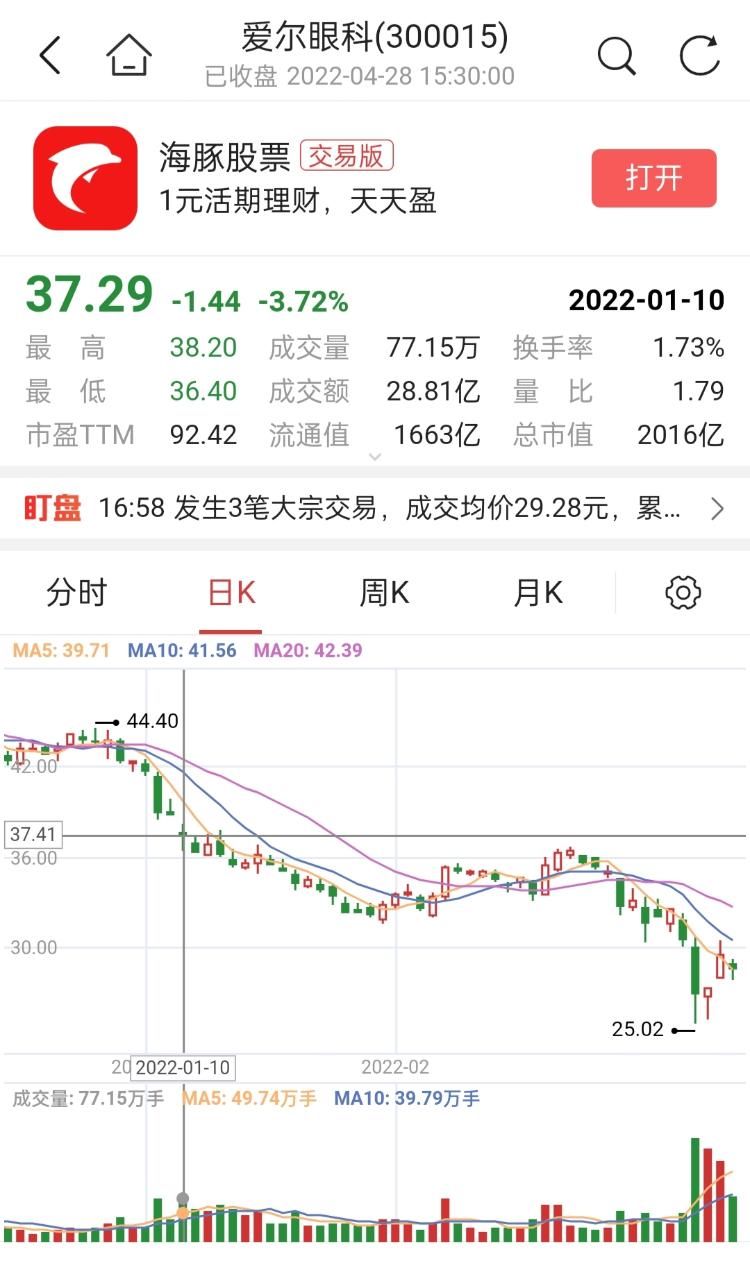 Aier Ophthalmology January 10th share price
The dispute between Ai Fen and Aier Ophthalmology is still continuing. In April, Ai Fen revealed to the media that on April 3, Aier Ophthalmology had expressed through an intermediary that it hoped to give her high compensation, including two river view rooms, but Ai Fen refused.
As for Dr. Wang Yong's message that he wants to sue Ai Fen, she said that she has seen the relevant news, but she has not received a letter of indictment or lawyer's letter from the other party.