This article is reproduced from [China Coast Guard];
On July 28, two tourism companies organized more than 20 tourists to land on Coconut Island for sightseeing and play by paddleboard, suspected of violating the "Coconut Island". The Law of the People's Republic of China on the Protection of Islands was investigated by the Sanya Coast Guard Bureau Lingshui Work Station.
It is understood that the Lingshui Workstation of the Sanya Coast Guard Bureau recently received a report from the public that: in the vicinity of Lingshui Yelin Town (commonly known as "Coconut Island"), it is suspected that a travel company organized tourists to illegally land without residents. Island play. After receiving the report, Lingshui Workstation attached great importance to it, and immediately organized law enforcement officers to conduct inspections near the site involved, and promptly coordinated with relevant ecological and environmental departments to deal with it together. It has been confirmed that "Coconut Island" is an undeveloped uninhabited island, and many tourists have indeed visited here recently.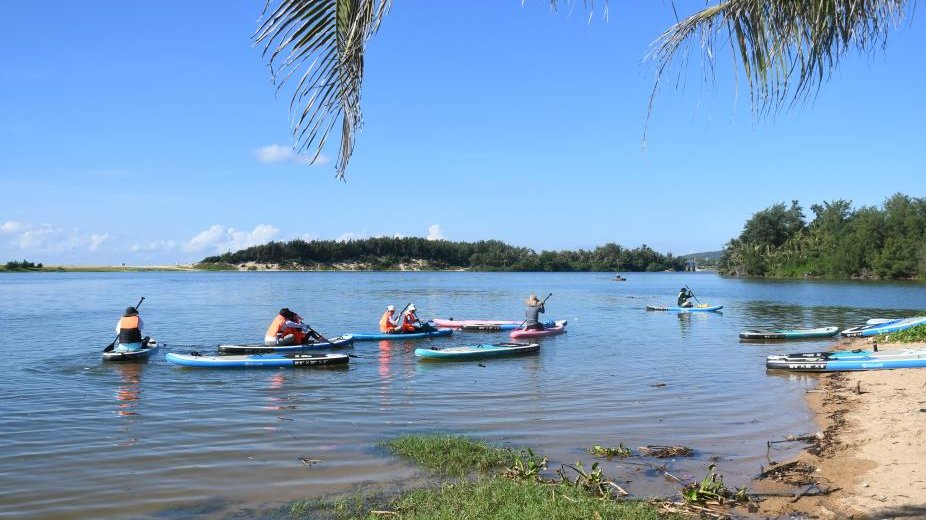 ▲The company involved was illegally organizing tourists to land on the island
At about 9:30 a.m. that day, During the inspection of the island, the coast police law enforcement officers found that there was a continuous noise from the entry point of the "Coconut Island", and people successively boarded the island to take pictures and play. Coast Guard law enforcement officers immediately identified themselves, and gathered all those who landed on the island and conducted on-site inquiries.
▲Paddleboards for illegally carrying passengers
After investigation, the organization of the island tour The participants worked for a sports culture company and a cultural activity service club in Lingshui. More than 20 tourists were found at the scene. Under the organization of the two companies, these tourists landed on the "Coconut Island" for sightseeing and play by paddleboard. According to the introduction of the coast guard law enforcement officer, the above-mentioned two companies have been suspected of violating the relevant provisions of the "Island Protection Law of the People's Republic of China". Lingshui Workstation opened a case for investigation of the illegal behavior of the above-mentioned companies on the same day, and the case is still in further processing. .
Sanya Coast Guard Lingshui Workstation Warm reminder: Unauthorized use of uninhabited islands should maintain the status quo; quarrying, digging sea sand, logging, and production, construction, tourism and other activities are prohibited. Anyone who violates the island protection regulations and conducts production, construction activities or organizes tourism activities on uninhabited islands will face confiscation of illegal income and a fine of not less than 20,000 yuan but not more than 200,000 yuan. It is hoped that tourists will pay attention to protecting marine natural resources when visiting. , to help the construction of ecological civilization in the new era.
(Hainan Coast Guard, Wu Zongren, Wu Hao)