Hebei News Network, April 28 (Hebei Daily reporter Sun Yeda) This afternoon, a press conference on the prevention and control of the new crown pneumonia epidemic in Haigang District, Qinhuangdao City was held, introducing 1 new case of asymptomatic new coronary pneumonia in Haigang District. Information about infected persons.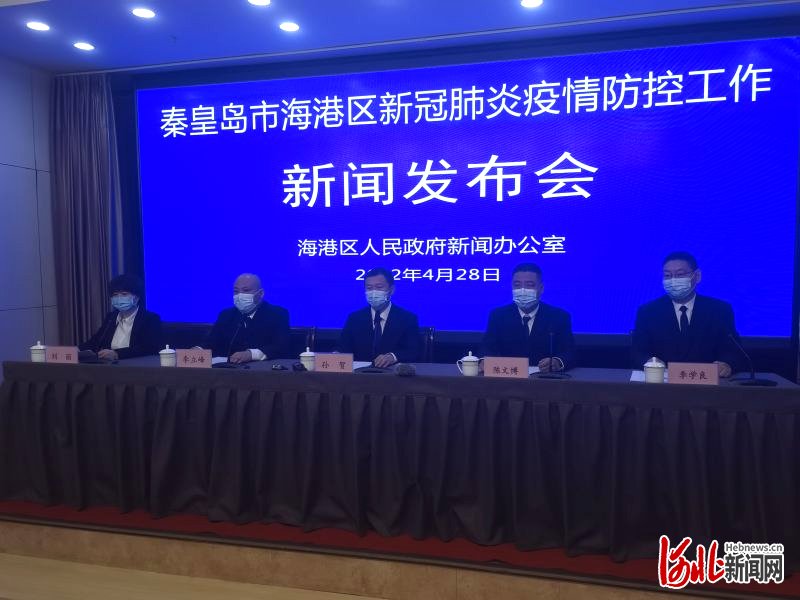 The picture shows the press conference. Photo by Hebei Daily reporter Sun Yeda
On April 27, the traffic and quarantine team at the East Exit of Qinhuangdao of Beijing-Harbin Expressway found a positive case of infection in the routine nucleic acid test of people on the lower expressway. After consultation with experts, it was determined as Asymptomatic infection. This is the second case of asymptomatic infection (hereinafter referred to as asymptomatic infection 2) found in Haigang District since the spring of this year, and is currently being isolated and treated in the Jianguo Road District of the First Hospital of Qinhuangdao City.
It is understood that asymptomatic infected person 2 is a truck driver who arrived at the east exit of Qinhuangdao of Beijing-Harbin Expressway at around 0:43 on April 27, and received nucleic acid sampling from staff. 12 The result was positive at around 20 hours. At 13:30, the Haigang District Center for Disease Control and Prevention carried out nucleic acid sampling again, and the result was still positive. At 19:00, after consultation with the Qinhuangdao municipal expert group, it was diagnosed as an asymptomatic infection of the new coronary pneumonia.
After the initial screening of asymptomatic infected person 2 was positive, the Haigang District immediately organized forces to conduct flow investigation and investigation. As of 12:00 on April 28, a total of 25 people in close contact and 131 people in sub-close contact were identified in the whole district. Relevant personnel in the harbour area have implemented control measures, and relevant personnel outside the area have issued letters of assistance to relevant areas. At the same time, the harbour area conducted nucleic acid tests on close and sub-close contacts, and the results were all negative.
At present, the seaport area has implemented the whole-area closure and control management, and has made comprehensive arrangements for community closure and control, traffic control, domestic garbage disposal, and basic living security for residents. On this basis, 3 villages, 18 communities, and 6 places were closed and controlled for the residences of close and sub-close contacts, with a total of 21,326 people, and the nucleic acid test results of all personnel were negative.
The Haigang District Center for Disease Control and Prevention conducted terminal disinfection of the above-mentioned epidemic-related trajectory environment and object surfaces, a total of 26,400 square meters, and 236 transfer ambulance vehicles.
Asymptomatic infected person 2trajectory:
From April 14 to 26, the asymptomatic infected person drove Freight vehicles travel to and from Tianjin, Jiangsu, Shanghai, Zhejiang and other places, but not in Qinhuangdao.
After returning to Qin on April 27, the activity track is:
Sampling at the nucleic acid sampling point at the East Exit of Qinhuangdao of Beijing-Harbin Expressway from 00:30 to 1:00.
Dine at the food stall opposite Dongfeng Honda 4S store on Donggang Road at 1:20.
Shopping at Guoming Supermarket in Huangbei Village, Donggang Town at 9:35.
From 10:20 to 10:25, after delivering to the Murong Shuo specialty store on Minzu Road, park the car at Huangbei Village.
Take the Ji CR5522 taxi at Huangbei Village at 10:50 and get off at Tesco at 11:12 (stop at Yanxin Garden Qunying Supermarket on the way).
At 11:20, I accompanied my family to Michelle Ice City at the southeast corner of Sun City Central Plaza to buy goods.
At 11:23, go shopping at Luerling Clothing Store on the third floor of Guochen Commerce.
Take Ji CR5233 taxi at Chaoyang Street at 11:55 and get off at Huangbei Village at 12:13.
At 14:00, the patient will be transferred by negative pressure ambulance to the Jianguo Road District of the First Hospital of Qinhuangdao City.