▎WuXi AppTec Content Team Editor
Today, Immatics announced the latest clinical trial results of its T-cell receptor (TCR) cell therapy IMA203 targeting the PRAME antigen. Results of the trial showed 4 (80%) of the 5 patients treated in the Phase 1b clinical trial had a confirmed objective response. Combining data from the Phase 1a and 1b clinical trials, the confirmed objective response rate (cORR) was 50% in 12 patients treated with more than 1 billion TCR-T cell therapy doses. This result shows the potential of IMA203 as a single agent for the treatment of a variety of solid tumors, the press release noted.
Immatics' TCR cell therapyIMA203 targets the Preferentially Expressed Antigen in Melanoma (PRAME), a class of cancer-testis antigens that are characterized by their presence in a variety of solid tumors It is often highly expressed in non-small cell lung cancer, melanoma, head and neck cancer, liver cancer, etc., but it is almost not expressed in healthy tissues other than testis, so it has a high safety. Immatics uses its unique cell therapy production platform to complete the genetic engineering and production of T cells within 6-10 days.
In the previous dose-escalation phase 1a clinical trial portion, low-dose IMA203 demonstrated tumor shrinkage activity. Immatics has used a variety of strategies to improve the effect of IMA203 in Phase 1b clinical trials, including increasing the dose of IMA203, improving the manufacturing process of IMA203, etc.
Trial data show that in patients treated with high doses (over 1 billion TCR-T cells) of IMA203, patients with multiple solid tumors achieved confirmed objective responses, including melanoma , head and neck cancer, uveal melanoma, ovarian cancer, and synovial sarcoma.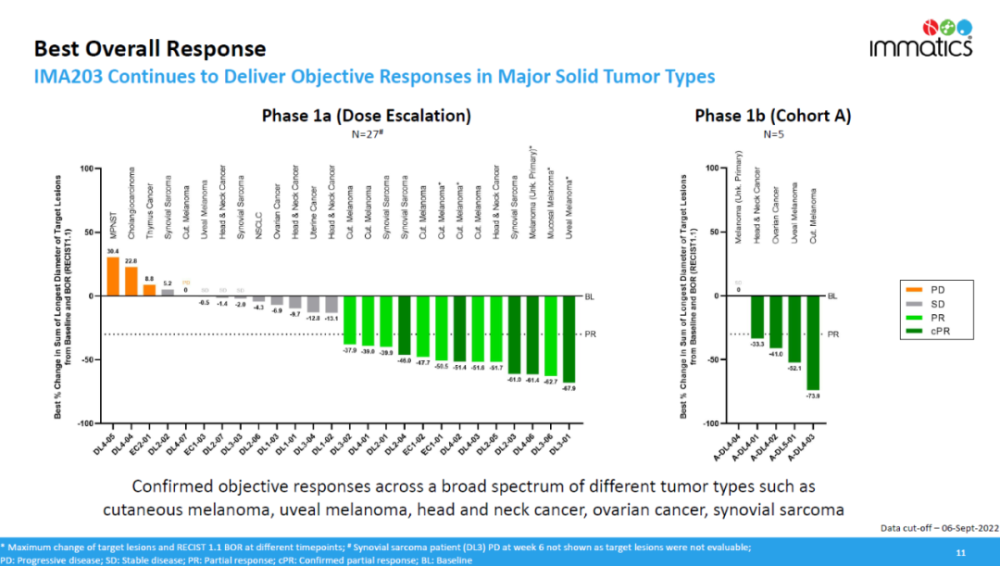 ▲The efficacy data of IMA203 (image source: Immatics official website)
In terms of duration of response, the trial observed early signs of improved efficacy durability with high-dose treatment. In the 4 patients who received treatment and achieved initial remission in the phase 1b clinical trial, the remission duration was more than 12 weeks and they were still in remission.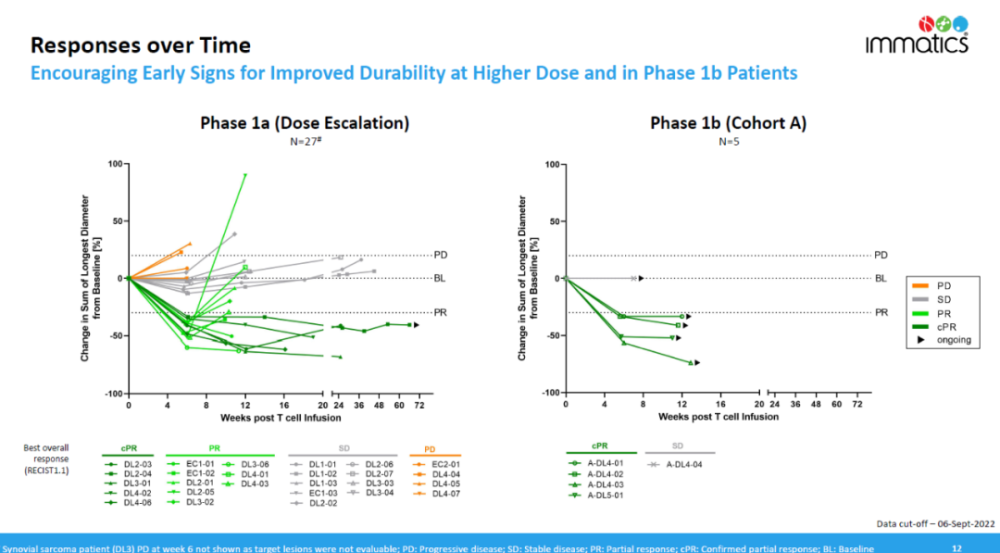 ▲Remission duration data of IMA203 (Image source: Immatics official website)
"Data presented today show the clinical potential of PRAME as one of the most promising targets in multiple cancers." Dr. Cedrik Britten, Chief Medical Officer, Immatics "In addition to data from IMA203 monotherapy, we are still awaiting preliminary clinical data for IMA203 in combination with an immune checkpoint inhibitor, as well as our second-generation product candidate, IMA203CD8," said the company. The company also plans to initiate targeted targeting in 2023. First-in-human clinical trial of PRAME's long-acting bispecific therapy IMA402.
As WuXi AppTec's CTDMO focused on cell and gene therapy, WuXi Bioscience is committed to accelerating and transforming the development, testing, manufacturing and commercialization of gene and cell therapy and other high-end treatments. WuXiXi can help global customers bring more innovative therapies to the market as soon as possible for the benefit of patients. If you have relevant business needs, please click the picture below to fill in the specific information.