▎WuXi AppTec Content Team Editor
Today, BenevolentAI, a biotechnology company dedicated to empowering drug discovery with artificial intelligence (AI), held an analyst and investor event. At the event, the company presented results from a Phase 1b clinical trial of BEN-2293, an investigational therapy developed based on its AI drug discovery platform. BEN-2293 successfully completed the safety and tolerability portion of a Phase 1b clinical trial in patients with atopic dermatitis and demonstrated positive efficacy signals. Based on this result, the company is conducting a Phase 2a clinical trial.
Using AI to empower drug discovery and development is one of the hotspots in the field of new drug R&D. The data presented by BenevolentAI shows that, From 2017 to 2021, the investment in AI drug development will be approximately The rate of increase is 50%, and the number of drugs under development in the internal pipeline of AI drug development companies has also surged from 28 in 2017 to 158 in 2021. However, most of the drug candidates are still in the drug discovery and preclinical development stage. Whether these drugs discovered and developed through AI can be clinically validated in humans is a matter of concern to the industry.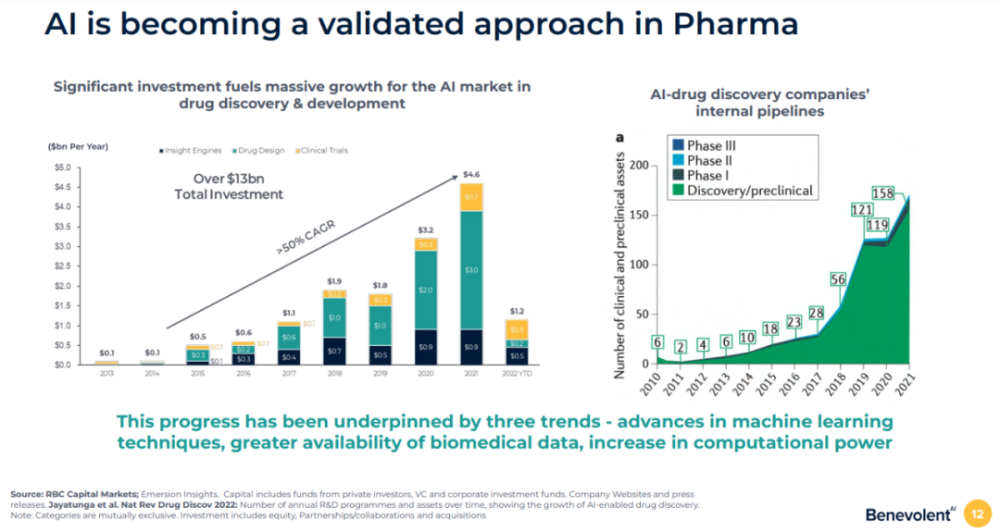 ▲AI drug development has developed rapidly in recent years (Image source: BenevolentAI official website)
BenevolentAI aims to use its AI platform to accelerate drug discovery and development and reduce development costs. The company's drug development model has already contributed to the development of innovative COVID-19 treatments. In 2020, BenevolentAI's team published research in The Lancet showing that Eli Lilly and Company's rheumatoid arthritis drug Olumiant (baricitinib) not only reduces inflammation, but also reduces inflammation by inhibiting a drug called AAK1. The protein that prevents the new coronavirus from infecting lung cells. The research prompted Eli Lilly to launch a clinical trial to test Olumiant's efficacy in treating patients with COVID-19. The therapy is now FDA-approved for the treatment of certain hospitalized COVID-19 patients.
The company's BEN-2293 is a topical pan-TrK antagonist discovered and developed based on its AI platform that simultaneously inhibits TrkA, TrkB, and TrkC-mediated signaling pathway, which provides quick relief of itching while eliminating inflammation. In preclinical experiments, BEN-2293 exhibited high selectivity for Trk receptors and inhibited the release of cytokines that mediate inflammation and CGRP that induces pruritus.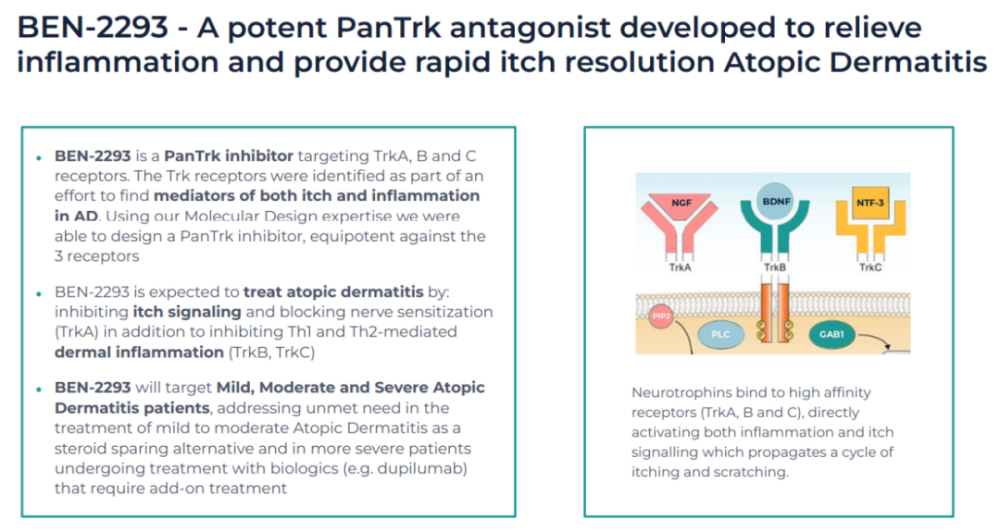 ▲BEN-2293 Introduction (Photo source: BenevolentAI official website)
In this clinical trial, patients with mild to moderate atopic dermatitis received different doses of BEN-2293, or a placebo. The safety and tolerability results of the trial support a dose escalation of BEN-2293 to the highest dose pre-specified in the trial. Moreover, the EASI scores of the two groups receiving the highest and second highest doses, as assessed using the Eczema Area and Severity Index (EASI), showed a significant downward trend after 14 days of treatment. BenevolentAI said that although the study did not have sufficient statistical power to assess whether the efficacy was statistically significant, the results found an efficacy signal for BEN-2293.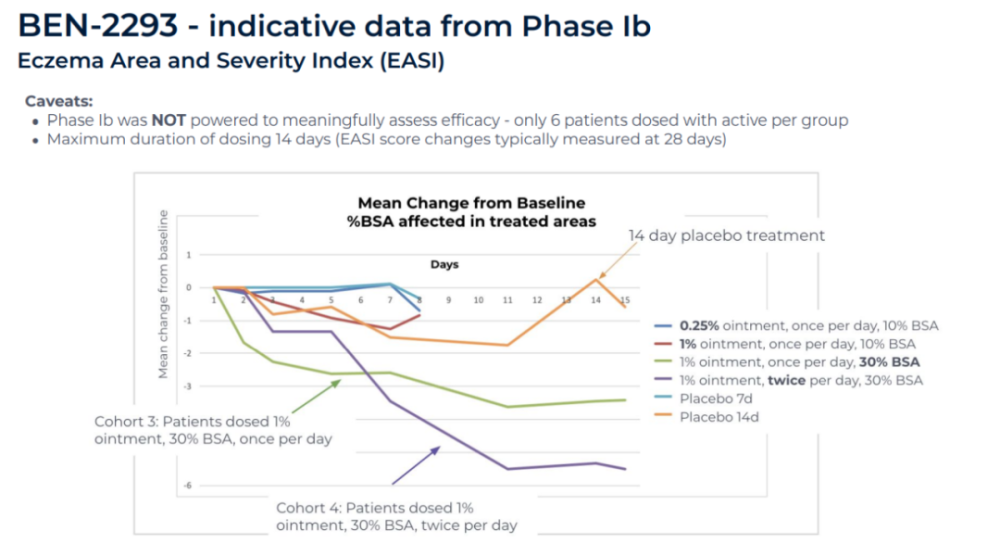 ▲The efficacy results of the Phase 1b clinical trial of BEN-2293 (Image source: BenevolentAI official website)
Currently, a randomized, double-blind, placebo-controlled Phase 2a clinical trial of this drug is expected to complete patient enrollment in the fourth quarter of this year. The company said BEN-2293 has the potential to be a "best-in-class" pan-Trk inhibitor, and it aims to work with pharmaceutical companies to continue clinical development of this therapy.
WuXi AppTec provides integrated, end-to-end new drug R&D and production services for the global biopharmaceutical industry, covering chemical drug R&D and production, biological research, preclinical testing and clinical trials R&D, cell and gene therapy R&D, testing and production. If you have relevant business needs, please click the picture below to fill in the specific information.