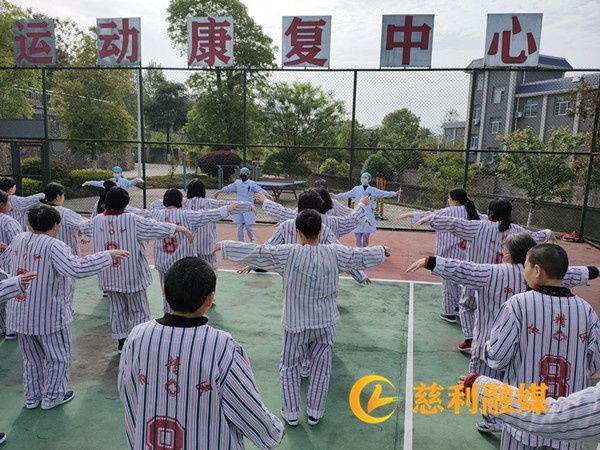 April 19 On the morning of Sunday, the sun was shining brightly at the Sports Rehabilitation Center of Zhangjiajie Psychiatric Hospital. Three nurses are happily leading the dance to the mentally disabled patients accompanied by dynamic music. The patients are lining up. Under the enthusiastic call of the nurses with singing and music rhythm, they stretch their arms and dance their bodies. The scene is full of joyful atmosphere.
"We organize our patients to dance, do aerobics and other activities mainly to help them recover from their illness, because mental disorder is a chronic disease with a long recovery period, often taking months or even years. Many patients here are hospitalized for more than half a year or more than a year. They are confined in the hospital for a long time and have less contact with the outside world. It is easy to make the patients lazy, emotionally indifferent, and social function decline. In this case, we not only treat patients In addition to drug treatment, many rehabilitation courses will also be arranged according to the situation, such as using dance music to enrich the lives of patients and play an auxiliary role in their recovery." Ding Meixia, the head nurse of the eight wards, who led the dance, told the author.
Wang Yan (pseudonym), an 18-year-old patient who has been in the hospital for more than half a year and is recovering, told the author: "I like listening to music and dancing. When I dance, I feel that I have no worries." After speaking, she took off her shoes and performed a dance for everyone. The skillful movements and graceful dances attracted bursts of applause.
"Of course, dance music rehabilitation therapy is not effective at one time. In fact, when we assign tasks to patients, some patients are indifferent and unwilling to participate. We will not force them, but It is to let them watch quietly, and after a few times, they will gradually blend in," said Zhang Ying, director of the eight wards.
It is understood that Zhangjiajie Psychiatric Hospital has established more than 20 acres of agricultural rehabilitation bases outside, including basketball courts, badminton courts, tennis courts, fitness equipment "sports rehabilitation centers", and indoors with calligraphy and painting art Treatment room, library, computer room, music room, sewing room, etc. The hospital has tried many new methods in mental rehabilitation. On the basis of traditional programs such as agricultural therapy and industrial therapy, it has developed new programs such as dance, calligraphy and painting. In recent years, more than 900 patients with mental disorders have participated in rehabilitation training and recovered social functions every year.
Source: Cili News Network
Author: Xue Shupeng, Zhangjiajie Psychiatric Hospital
Editor: Wang Yang