WuXi AppTec Content Team Editor
Today, Eli Lilly and Company announced that its investigational glucose-dependent insulin-stimulating polypeptide (GIP) and glucagon-like peptide-1 (GLP-1) The dual agonist tirzepatide met the co-primary endpoint in the first registrational global Phase 3 clinical trial in the treatment of obese or overweight individuals. The subgroup receiving the highest dose of tirzepatide lost an average of 22.5% (~24 kg) body weight, and 63% of subjects lost at least 20% body weight! This is the first drug candidate to reduce body weight by more than 20% on average in a Phase 3 clinical trial, according to the press release.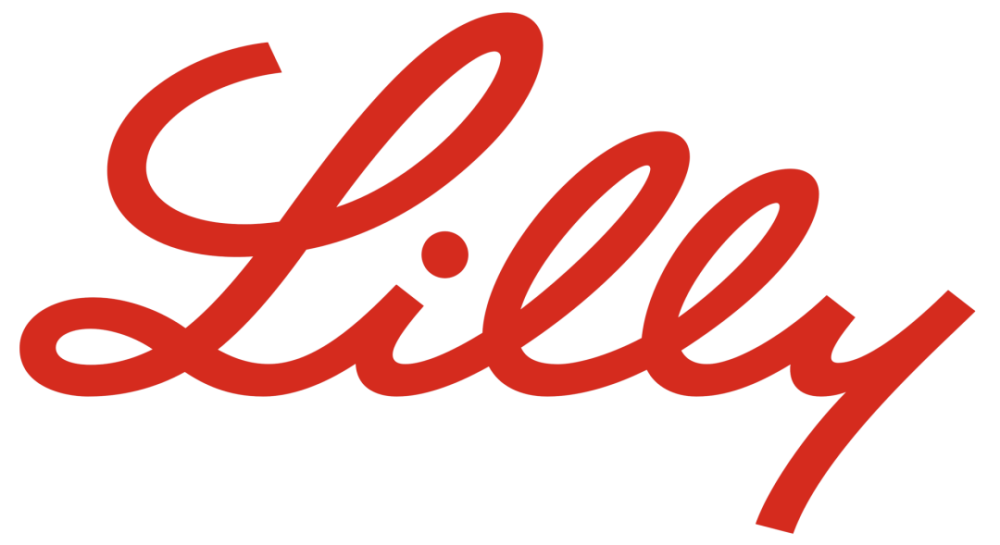 Obesity increases the risk of diabetes and multiple metabolic diseases, and Eli Lilly said at last year's investor event that treating obesity is one of the emerging directions of biomedical innovation. It is also an area that the company focuses on. By treating obesity, people's health can be improved by reducing the chances of developing metabolic diseases and related complications.
The company's GIP/GLP-1 receptor dual agonist tirzepatide can activate both GLP-1 receptor and GIP receptor-mediated signaling pathways, possibly through multiple mechanisms Achieve weight loss effects, including reducing appetite, increasing energy expenditure, and improving the function of beta cells that secrete insulin, etc.. It has shown significant weight reduction in multiple Phase 3 clinical trials in patients with type 2 diabetes, and its regulatory application for the treatment of patients with type 2 diabetes is currently under review by the US FDA.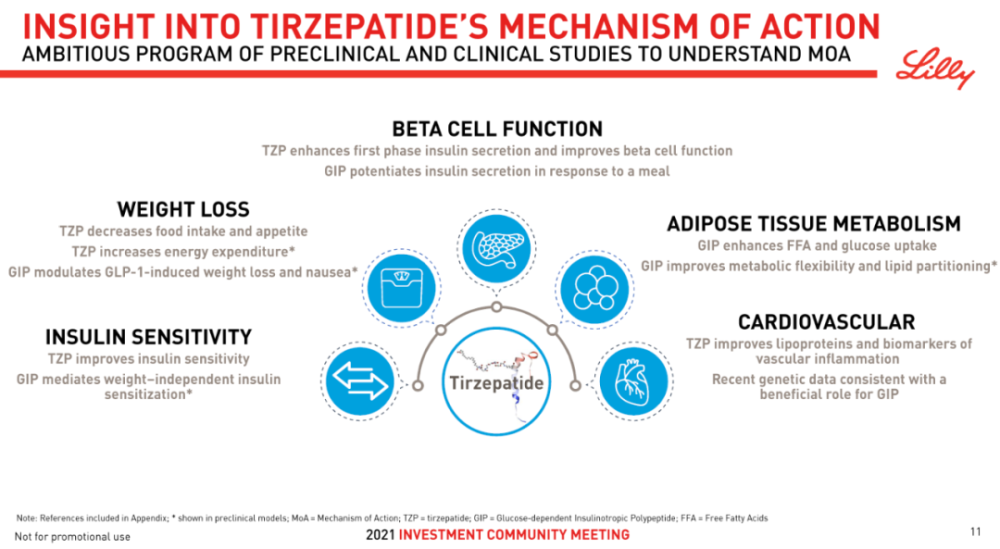 ▲The potential mechanism of action of Tirzepatide (Image source: Eli Lilly's official website)
In this randomized, double-blind, placebo-controlled Phase 3 trial called SURMOUNT-1, people with obesity (without type 2 diabetes), or with high blood pressure The overweight population with at least one comorbidity of , dyslipidemia, obstructive sleep apnea, or cardiovascular disease received either placebo or tirzepatide (at a dose of 5 mg, 10 mg, or 15 mg). They simultaneously received diet control and increased exercise.
Trial results showed that tirzepatide met the co-primary endpoint of the trial, receivingtirzepatide at a dose of 5 mg after 72 weeks of treatment. Group mean weight loss was 16.0%, compared with 21.4% in the 10 mg group and 22.5% in the 15 mg group. The value in the placebo group was 2.4%.
▲Tirzepatide significantly reduces body weight in obese individuals (Image source: Eli Lilly's official website)
Additionally, 89% (5 mg) and 96% (10 mg and 15 mg) of the tirzepatide-treated group achieved at least a 5% weight loss, respectively, The control group was 28%. Thirty-two percent of individuals in the 5 mg group lost more than 20 percent of their body weight, compared with 56 percent in the 10 mg group and 63 percent in the 15 mg group.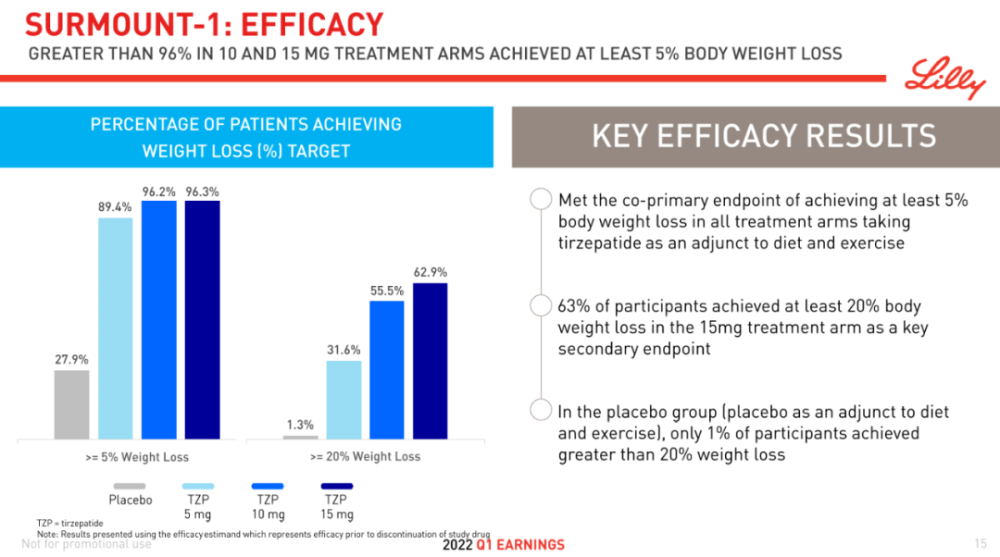 ▲Tirzepatide enables more obese individuals to achieve weight loss of more than 5% or 20% (Image source: Eli Lilly's official website)
The profile of tirzepatide is similar to other incretin-based weight loss therapies in terms of safety and tolerability. The most common adverse events were gastrointestinal reactions, which were usually mild to moderate. In the 5 mg, 10 mg, and 15 mg groups, nausea (24.6%, 33.3%, 31.0%), diarrhea (18.7%, 21.2%, 23.0%), vomiting (8.3%, 10.7%, 12.2%) and constipation ( 16.8%, 17.1%, 11.7%) was the most common adverse reaction. The proportions of these events in the placebo group were 9.5% (nausea), 7.3% (diarrhea), 1.7% (vomiting) and 5.8% (constipation). The proportions of patients who discontinued treatment because of adverse events were 4.3% (5 mg), 7.1% (10 mg), 6.2% (15 mg) and 2.6% (placebo).
"Tirzepatide is the first investigational drug to reduce average body weight by more than 20% in a Phase 3 clinical trial, and these results reinforce our potential to help obese individualsconfidence in power. said Dr. Jeff Emmick, Lilly's vice president of product development.
Lilly is currently testing tirzepatide in several other Phase 3 clinical trials in different types of obesity, with results expected next year.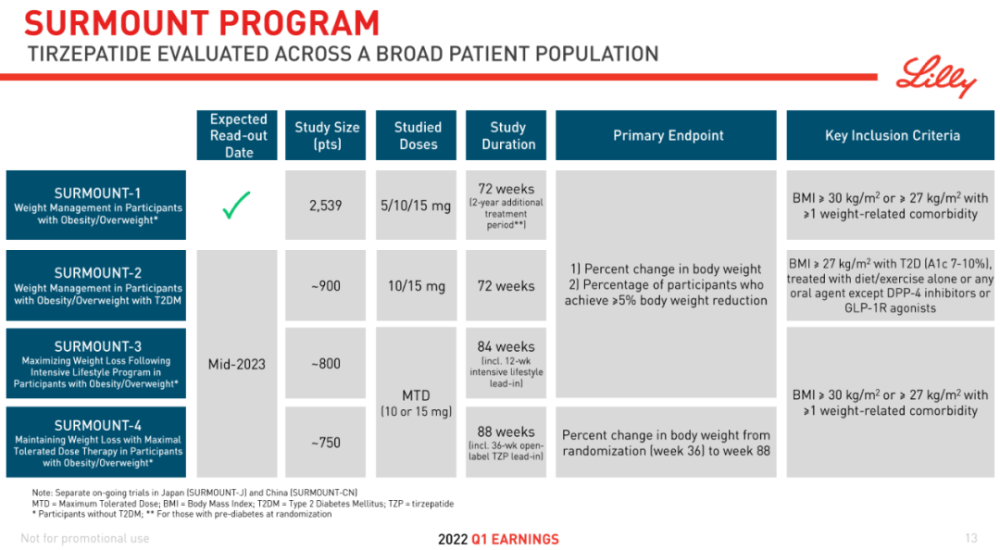 ▲Tirzepatide's clinical development plan (Image source: Eli Lilly's official website)
Historically, most diet pills can only reduce body weight by 5-10%, and there are many safety hazards. In June last year, the GLP-1 agonist semaglutide was approved by the U.S. Food and Drug Administration, becoming the first new FDA-approved drug to treat common obesity or overweight since 2014. A number of weight loss therapies with innovative mechanisms are currently being tested in clinical trials, and we wish them success in their development, leading to more effective and safer weight loss options.