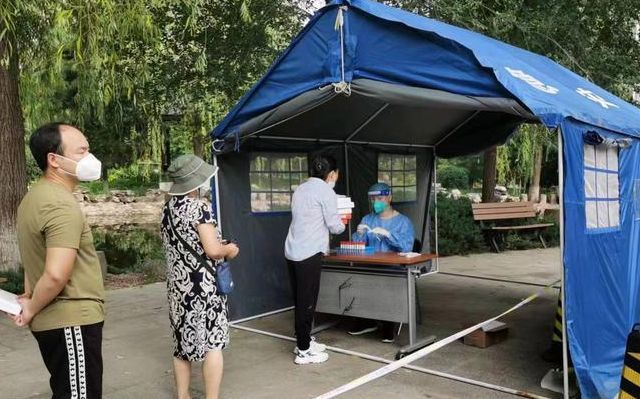 ▲August 1, in Shanghe Village, Luyuan, Shuguang Street, Haidian, Beijing, residents are doing nucleic acid. Photo by Beijing News reporter Pu Feng
On August 1, at the 382nd press conference on the prevention and control of the new coronavirus pneumonia in Beijing, the Municipal Party Committee Xu Hejian, Deputy Minister of the Propaganda Department, Director of the Municipal Government Information Office, and Municipal Government Spokesperson, introduced that after no new local confirmed cases were reported in Beijing for 6 consecutive days, on July 31, Beijing added a new confirmed case of returning to Beijing after the entry quarantine period expired. . New cases landed in Beijing after the overseas entry quarantine period expired, and nucleic acid testing was conducted as soon as possible. Before the nucleic acid test results came out, they consciously stayed at home, discovered the case as soon as possible, and implemented epidemic control as soon as possible, realizing early detection and control. early and minimize risk. The case has been transferred to a designated hospital for isolation and treatment, and the relevant risk points and personnel have been placed under control.
After no new local confirmed cases were reported for 6 consecutive days, new cases appeared again, which once again shows the complexity and long-term nature of epidemic prevention and control. However, after the new cases entered the country, they consciously and strictly implemented various prevention and control requirements, and seized the "first time", which has won precious time to cut off the virus transmission chain as soon as possible and curb the spread of the virus. This not only shows the importance of normalized nucleic acid testing in epidemic prevention and control, but also shows the key role played by individuals consciously implementing epidemic prevention policies.
This self-consciousness, being responsible for oneself, is also a manifestation of being responsible to others and society.
At present, the overseas epidemic situation is still complicated, and the domestic epidemic is spreading in many places. The prevention of overseas import and import from Beijing is the focus of epidemic prevention in the capital. Under the guidance of precise scientific concepts, Beijing's epidemic prevention and control has formulated detailed and strict prevention and control measures for people in medium and high-risk areas, overseas and outside Beijing. Entry isolation, nucleic acid testing, point-to-point return home, etc., different risk areas and different people returning to Beijing have targeted prevention and control requirements.
However, no matter how well-designed the policy is, it needs specific people to implement it and ensure its place. Especially as a "participant", with a greater sense of social responsibility and personal protection awareness, and strictly abide by the epidemic prevention regulations, when the epidemic situation is still uncertain, you can better protect your own life and health, and also put on a layer of safety for the society. Even if an occasional case is confirmed, it can be detected and treated early, and the outbreak can be extinguished in time.
In addition, the epidemic prevention policy seems to be cumbersome and complicated. It is specific to each individual, following the norms and procedures, which is not necessarily troublesome, but it can protect to the greatest extent. protect individuals and everyone from the virus.
At present, during the summer vacation, there is a large flow of people and the risk of epidemic transmission is high. Like the confirmed case in Beijing, we should abide by the epidemic prevention requirements in a responsible manner. In order to protect this normal life with the conscious actions of each of us.
Writing / Liushui (media person)
Editing / Xu Qiuying
Proofreading / Fu Chunyu
p>