On August 1, the winning works of the 7th "China Science Popularization Writers Association Outstanding Popular Science Works Award" were announced.
The "West China Hospital Rumor Refuting Team Medical Popular Science Reader" published by Sichuan Science and Technology Press won the Gold Award for Popular Science Books.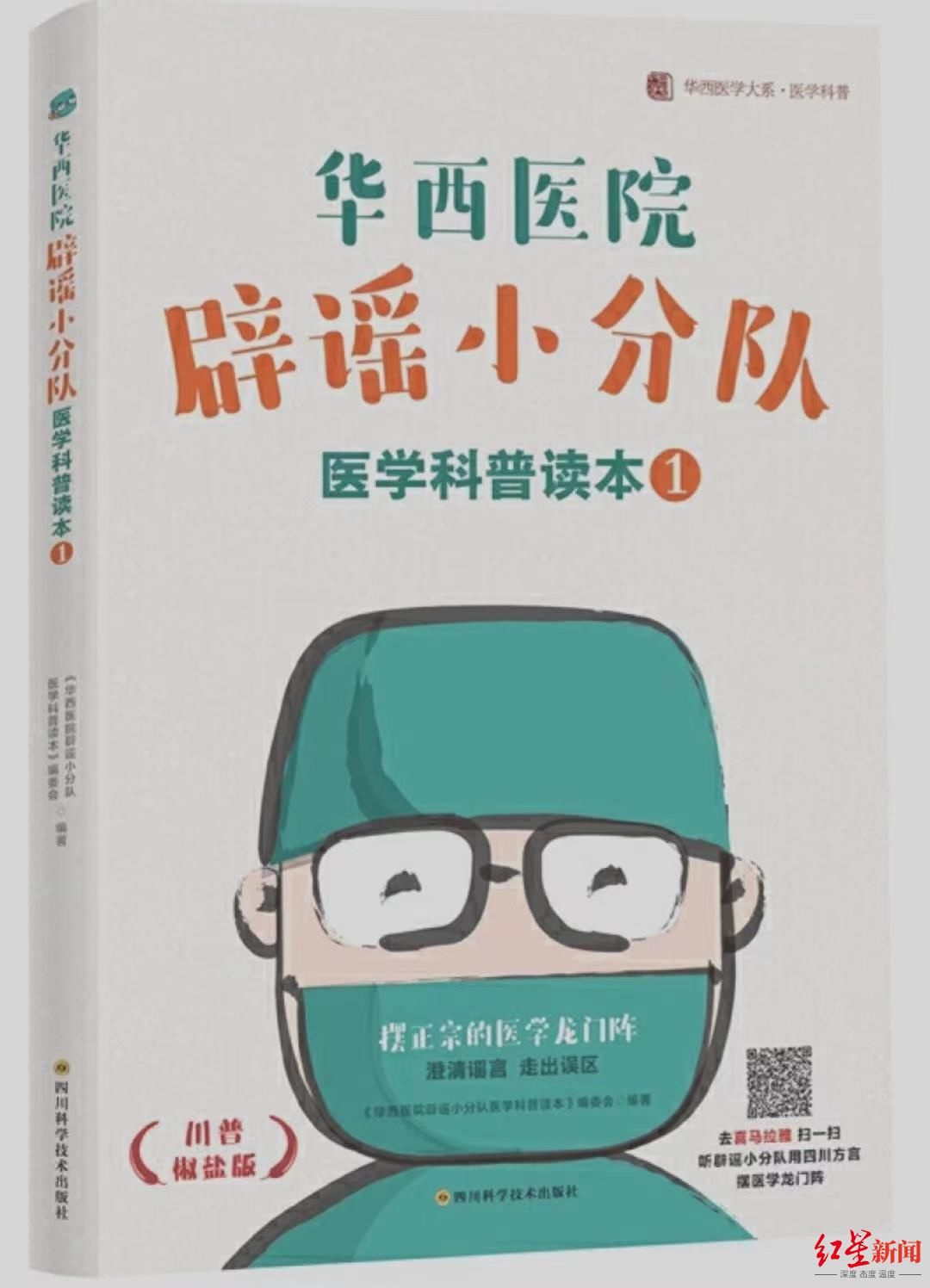 It is reported that the author team of this popular science book is composed of authoritative experts in the relevant medical fields of West China Hospital of Sichuan University , including Professor Zhou Zongke of Department of Orthopedics of West China Hospital of Sichuan University, Professor Hu Bing of Department of Gastroenterology, Professor Deng Yingping of Department of Ophthalmology, Professor Li Ning of Department of Integrative Medicine, etc. Because of this, this popular science book has a high degree of professionalism and credibility.
In addition to being presented in the form of full-color comics, what is more interesting is the witty line of writing and writing, which focuses on daily health care information in Sichuan dialect, such as elimination of hair loss, bad breath, disinfection of tableware, Common misconceptions about cervical pain caused by playing mobile phones, walking for fitness, etc., and provide solutions.
For example, when popularizing how to properly wash face and skin care, the author complained:
"Now everyone regards the face plate as more important than anything else. For most people, it is simply not feasible to wash your face with water every day."
"It is because of listening to so many crooked truths that over-cleaning is caused!" p>
In another example, when it was said that the "fake doctor's article" in the circle of friends was refuted, the author mocked:
"If you don't believe me, look in your parents' mobile phones. There are so many 'shocked' fonts that are 'too scary'!"…
It is reported that since 2015, West China Hospital of Sichuan University has begun to use it in its A series of popular science articles were launched on the WeChat public account to refute rumors about some "common sense" in life and on the Internet. And on Weibo, Douyin and other platforms, the content of the "Huaxi Rumor Refuting Team" is presented through graphics, short videos, and live broadcasts.
These rumor-refuting articles are humorous and easy to understand, and the professionalism of "Huaxi" is reassuring enough that the articles of "Huaxi Rumor-refuting Team" are loved by readers.
Mao Yuchuan Red Star News reporter Jiang Qing
Editor Duan Xueying