Xinhua News Agency, Sanya, August 8 (Reporter Wang Junfeng and Zhou Huimin) "Hello, we will send you some fruit, I wish you a happy life!" On the afternoon of the 7th, at a resort hotel in Sanya, volunteers pushed fruit filled with fruit The luggage cart, knocked on the door of each room, and delivered fruit to the stranded passengers staying in the hotel.
Recently, Sanya, Hainan, a popular tourist destination in China, broke out in the new crown pneumonia epidemic. Due to the peak summer tourism season, many tourists stayed in Sanya. According to statistics, as of August 6, there were 58,900 overnight stays in operating hotels in Sanya, including 25,000 tourists stranded in Sanya hotels.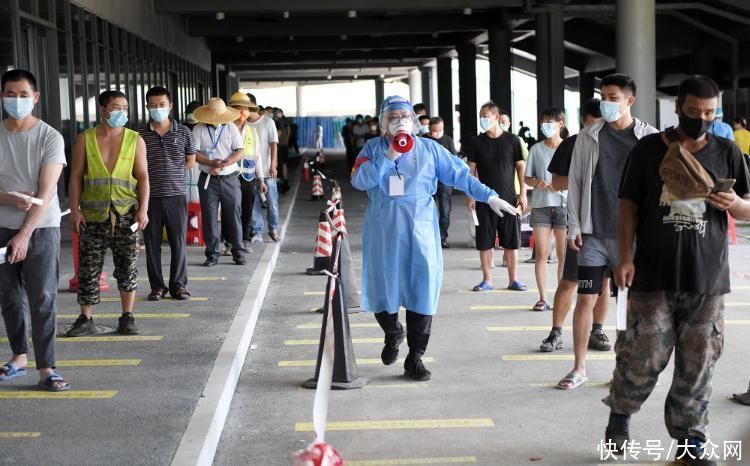 August 7th, volunteers served at the nucleic acid sampling site in Sanya International Sports Industrial Park. Photo by Xinhua News Agency reporter Zhao Yingquan
Sun Jingjing's family of three from Zhengzhou, Henan originally planned to return on the 6th, but due to the cancellation of the flight, they were arranged to stay at the Howard Johnson Guoguang Resort in Sanya along with more than 1,300 other passengers. "No one wants such a thing to happen," Sun Jingjing said, "but it's safe to do so, and we have to abide by the local epidemic prevention policy, and hope to go home safely as soon as possible."
August 6th, Sanya City has properly accommodated 3,273 passengers stranded at Sanya Phoenix Airport in 11 hotels and provided hotel accommodation services for 7 days.
"Tourists should be full of expectations for their trip to Sanya, and they are helpless in case of emergencies." Zhu Ruoyu, general manager of Howard Johnson Guoguang Resort Sanya, said that in order to provide stranded tourists with better services as much as possible Service, while actively adjusting the taste of dishes and delivering fruits to guest rooms, the hotel also tried its best to coordinate and solve problems such as the inconvenience of nucleic acid testing points reported by some guests and the fear of being infected. "On the morning of the 8th, our hotel temporarily added a nucleic acid testing point." Zhu Ruoyu said, "We will also promptly reflect the needs of tourists such as the elderly, pregnant women, and children for medicines and milk powder."
< img class="content_title" height="300" layout="responsive" sizes="(min-width: 320px) 320px, 100vw" src="https://p0.ssl.img.360kuai.com/t018b211ad9948d3984.jpg" width="600">
August 7, volunteers delivered fruit to tourists at a hotel in Sanya. Photo by Xinhua News Agency reporter Guo Cheng
In order to provide good reception services for tourists stranded in Sanya, local authorities require hotels not to drive up room prices, increase room prices in disguised form, or refuse tourists to continue their stay. Tourists should stay at the original hotel room price for their stay. (that is, on the basis of the room rate that has been checked in on the 5th), a half-price discount will be given, and new visitors will be given a half-price discount based on the lowest price announced on Ctrip's official website.
The Sanya Shanhaitian Hotel in Dadonghai, Sanya, Autograph Collection, offers not only a 50% discount on room rates, but also 50% off hotel dining. Zhou Fengjiang, the hotel's resident manager, said, "During special times, our hotel actively responds to the government's guidelines and provides guests with satisfactory service."
According to the deployment requirements of the State Council's joint prevention and control mechanism, tourists are completing the After the seven-day risk investigation, that is, if the nucleic acid test is negative on the 1st, 2nd, 3rd, 5th, and 7th days within 7 days, the island can only be left after evaluation. At the same time, in order to do a good job in travel-related services, Sanya has set up a special class for order cancellation, and strives to do a good job in order cancellation due to force majeure factors such as the epidemic.
Song Xin, a tourist from Jinan, Shandong, checked in at a hotel in Sanya Bay. The hotel arranged a vehicle to pick up the guests for nucleic acid testing. "We have changed our air tickets several times. We hope that the nucleic acid test results will be normal in a few days and we can go home smoothly," she said.
According to tourists' complaints and reports of hotel price gouging and other issues, the Sanya City Remediation Office has taken the lead in organizing relevant departments to deal with suspected price gouging, sitting on the ground, raising the price on the platform and then charging at half price or half price at the store price and other issues involving the hotel to conduct an in-depth investigation.
Ye Kaizhong, deputy secretary-general of the Sanya Municipal Government, said that after verifying violations of laws and regulations, they will be dealt with quickly and severely in accordance with the law, and resolutely put an end to violations of laws and regulations in the tourism market during the epidemic.