On April 18, the reporter learned from the Shaanxi Provincial Department of Education that our province has identified 21 bases including Xi'an University of Posts and Telecommunications as the bases for the inheritance of Chinese excellent traditional culture in ordinary colleges and universities in Shaanxi Province in 2021.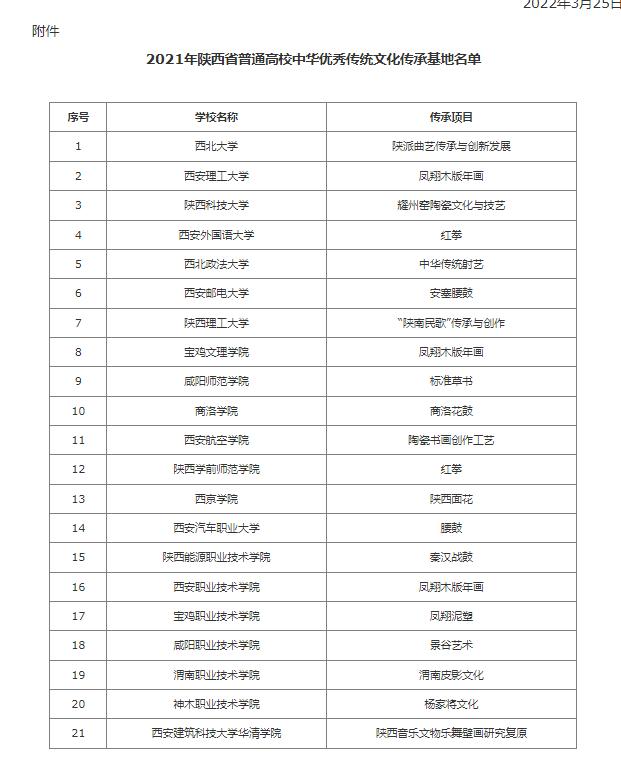 The Provincial Department of Education requires that each inheritance base should benchmark the principles of base construction, Tasks and requirements, open elective courses based on inheritance projects for all students in the school, incorporate them into the school's talent training plan and teaching plan, implement credit system management, and effectively implement 2 credits; build 2-3 school-level inheritance project student associations and 1 A practical workshop; strengthen the education research on Chinese excellent traditional culture focusing on inheritance projects; radiate and drive about 3 local primary and secondary schools and 1 community to carry out popularization education activities of Chinese excellent traditional culture based on inheritance projects, strengthen the exchange of results and Display, and effectively build the heritage base into the characteristics and brand of the school. It is necessary to effectively implement the tasks of curriculum construction, community construction, workshop construction, scientific research, radiation drive, exhibition and exchange, and highlight the function of educating people.
The construction of an excellent traditional Chinese culture inheritance base is a long-term and continuous work. The Provincial Department of Education will implement dynamic management of the inheritance base and regularly review the construction Track monitoring and comprehensive evaluation of the effect and quality, and provide subject, platform and policy support to provincial bases.
Ren Na, All Media Reporter of Xi'an Press