(Liu Xiaoxu, Health Times) In one day, two tourists fell across the country.
According to the Tianjin Jizhou Culture and Tourism Bureau, at about 14:00 on July 22, a tourist suddenly felt unwell and fell into a coma while playing the "Jibujingxin" project in Jiushan Scenic Spot in Jizhou District. He fell during the process and died after rescue efforts were unsuccessful. On the same day, in the Dixin Valley Scenic Spot in Enshi, Hubei, a boy fell from a suspended bridge while playing the "Boo Bu Jingxin" project. After preliminary diagnosis, his lumbar and thoracic vertebrae were fractured, and his scalp was lacerated, and his life was not in danger.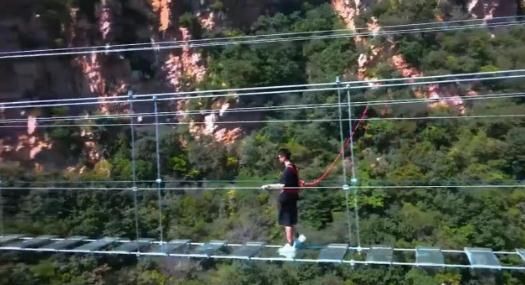 Screenshot of the promotional video in the public account of Tianjin Jiushan Scenic Spot
An inquiry by Health Times found that in recent years, similar high-altitude excursion projects focusing on "exciting" have blossomed in scenic spots across the country. On some social platforms, the "stimulating" pictures of such high-altitude projects can often be seen. Even some high-altitude projects in scenic spots are promoted under the banner of "curing fear of heights". Jiang Sisi, an attending physician in the Department of Psychiatry at Peking University Sixth Hospital, told the Health Times that high-altitude projects certainly cannot cure acrophobia. Even people without acrophobia may have some physiological problems when playing high-altitude projects.
All were accused of having problems with the safety protection measures of the scenic spot
The safety ropes of the "Bubu Jingxin" project in Tianjin Jiushan Scenic Spot where the accident occurred on July 22 and the "Bubu Jingxin" project in Enshi Dixin Valley were fixed on the upper body of tourists, and both fell off when the incident occurred.
According to the Xiaoxiang Morning News, a reporter from the Xiaoxiang Morning News called a sales manufacturer in Shenzhen for the "Boubu Jingxin" high-altitude project. Its customer service staff believes that the main reason for the two falling incidents is the problem of seat belts. "The manufacturer will definitely issue a certificate of conformity when it is sold. They may have a problem with the age. The seat belt will be worn and need to be repaired." , the reporter asked if Bubujingxin is an amusement project if there are too many potential safety hazards, she said: "Bubujingxin has safety measures, it does not mean that it has problems in itself."
Industry insiders said that in general, various factors such as the equipment of safety ropes, the wearing of safety ropes, the operation of scenic spots and rescue may all lead to accidents, but the final cause of the accident remains to be investigated by relevant departments.
At present, the scenic spot in Tianjin has been completely closed for rectification, and the scenic spot in Enshi, Hubei has also been ordered to shut down the amusement project.
A high-altitude project must prevent panic attacks
"High-altitude projects will definitely not cure acrophobia. In fact, people who really have acrophobia will basically not choose to play these projects." Jiang Sisi told Health Times that even people without acrophobia are playing high-altitude projects. There may also be some physical problems.
"If you have anxiety or phobia, and you encounter some minor accidents during the course of playing this project, you may experience panic attacks. The most common is the increase in heart rate and blood pressure. Well, there may be a problem." Jiang Sisi said.
According to the "Guidelines for Primary Care of Generalized Anxiety Disorder (2021)", panic attacks generally last 5 to 20 minutes, often accompanied by a sense of impending death or loss of control. Systemic symptoms, such as chest tightness, palpitation, difficulty breathing, throat blockage, sweating, and tremors. "In this way, it may become the starting point for fear of heights in the future, which means that people who were not afraid of heights will no longer be afraid of heights." Jiang Sisi said.