On the afternoon of August 3, Xiamen Chaozong Palace grandly held the "Commemorating the 360th Anniversary of Zheng Chenggong's Recovery of Taiwan and the Temple of Chaozong Palace". Guests from both sides of the Taiwan Strait gathered to carry out the theme activity of "Promoting Great Love and Continuing Success".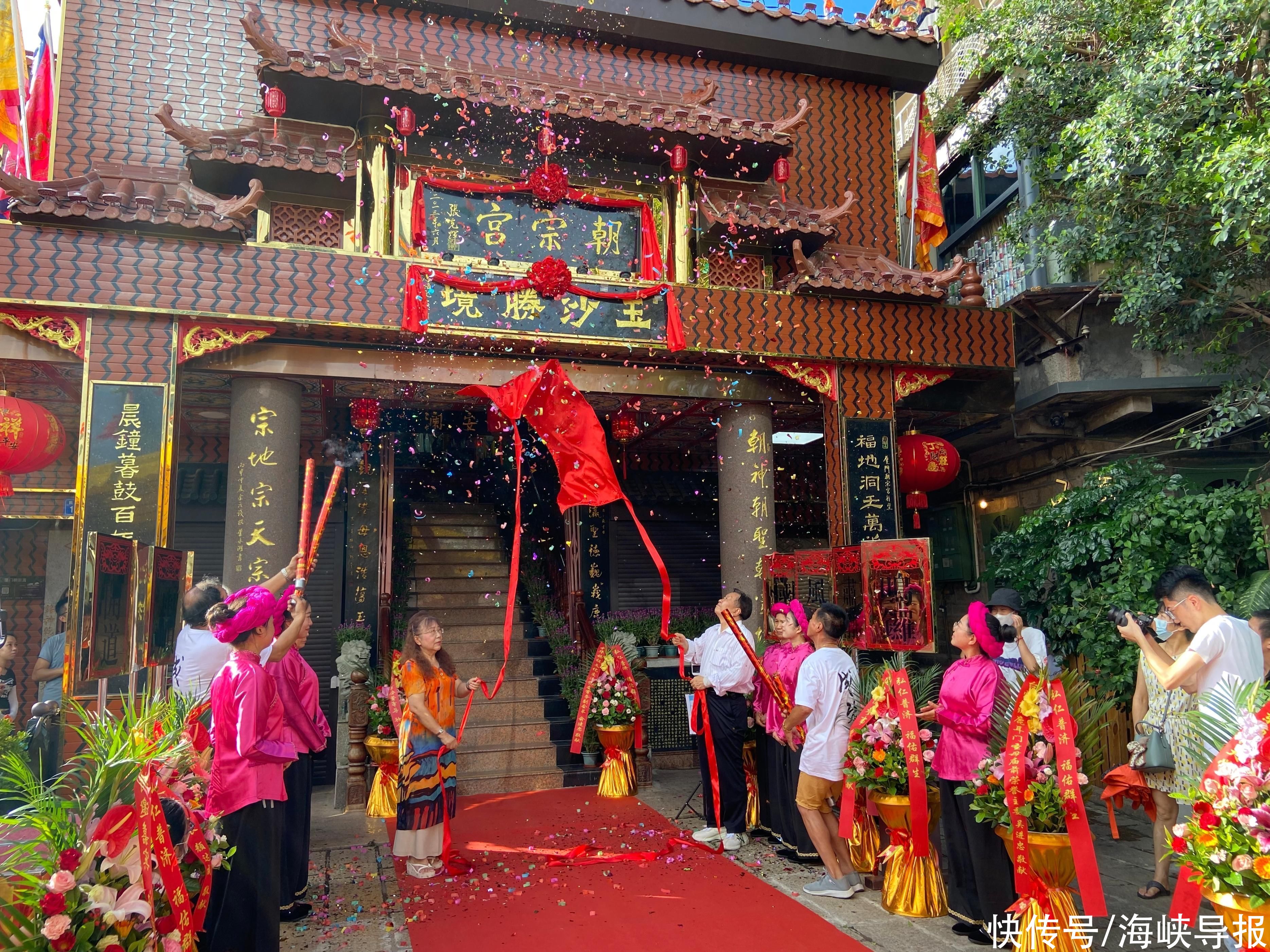 Xiamen Chaozong Palace is located at the end of Shapo, and it was called "Jade Shapo" in ancient times. Shapowei here witnessed the national hero Zheng Chenggong's strategic thinking of "opening the ocean and enriching the country", and also witnessed Zheng Chenggong's great achievements in driving off the load and restoring Taiwan. Chaozong Palace opened a temple here, linking Xiamen, Kinmen and Luermen "the road to success and the love of Mazu".
Mr. Peng Yiwan, a well-known scholar of literature and history in Xiamen, put forward the suggestion of "Three Doors and a Path to Success" after research. This networking event has continued since the summer of 2018. This year, due to the epidemic, Wang Zengrong, chairman of Tainan Orthodox Luermen Notre Dame Temple, and Yang Yaoyun, chairman of Kinmen Mazu Cultural Development Association, sent video congratulations. Wu Jinzhong, the former honorary chairman of the Tainan Orthodox Luermen Notre Dame Temple, and Yan Da, the former vice chairman of the Fujian Kinmen Compatriots Association, who came to the scene, delivered congratulatory speeches respectively.
Tian Zhaoyuan, a professor and doctoral supervisor at the Institute of Folklore Studies, School of Social Development, East China Normal University, who attended the event, said that in view of the profound cultural heritage of the Chaozong Palace and the continuous development and protection of related intangible cultural heritage activities, East China The Intangible Cultural Heritage Inheritance and Application Research Center of Normal University will set up a teaching and research base in Chaozong Palace. At the scene today, the guests present witnessed the signing ceremony of the agreement.
Lin Zhaozhi, director of the Chaozong Palace Management Committee, said in his speech that the Chaozong Palace will give full play to its own advantages, continue the "road to success", and let us move towards the future together.
It is reported that Xiamen Chaozong Palace has carefully planned this commemorative event since the beginning of this year. The event not only received works from various provinces and cities in mainland China, the island of Taiwan, Kinmen, and Hong Kong Special Administrative Region of China, but also received contributions from the United States, Malaysia, Vietnam, Canada and other places. A total of more than 100 couplets were received. After screening, more than 70 couplets were shortlisted. Calligraphers were invited to splash and ink, and the opening ceremony of the "Meeting Ink Exhibition" was held today. (Straits Herald reporter Lin Jingxian)