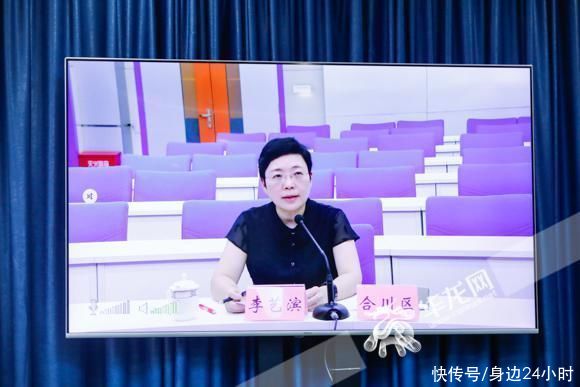 Li Yibin answered questions from reporters. Hualong.com-New Chongqing Client Reporter Shi Tao Photo
Hualong.com-New Chongqing Client News (Reporter Lian Xiao Yuwenxin) As of 20:00 on August 4th, Hechuan District reported 2 confirmed cases and 5 asymptomatic infections. Among them, the first case was an asymptomatic infection and was found in active nucleic acid testing; the other 6 cases were found in close contacts of the first case and in the same community.
On the evening of August 4, at the 109th press conference on the prevention and control of the new crown pneumonia in Chongqing, the deputy head of the Hechuan District People's Government Li Yibin reported the above situation.
Li Yibin introduced that after the outbreak, the 13 special working groups of the Hechuan District Epidemic Prevention and Control Headquarters immediately entered an emergency state. According to the opinions of experts, starting from 23:00 on August 3, Hechuan implemented temporary control measures for the whole area of ​​Heyangcheng Street, Nanjin Street, Diaoyucheng Street and Yunmen Street involved in the case trajectory.
At present, Hechuan District has 1 high-risk area, 9 medium-risk areas, and the rest are low-risk areas.
A total of nucleic acid sampling points were set up in Hechuan District from 21:00 on August 3rd to 20:00 on August 4th during the expansion of nucleic acid detection. 204, more than 4,000 people have invested in nucleic acid testing, and the first round of expanded nucleic acid testing has been completed for the temporary control area. At present, the district is advancing the second round of expanded nucleic acid testing in an orderly manner in accordance with the temporary control area delineated on August 3.
In terms of emergency protection, the district has reserved 8,227 isolation rooms, of which 466 are currently in use. Epidemic prevention personnel, facilities, equipment, etc. are all in place, masks, protective clothing, alcohol and other epidemic prevention materials are in sufficient supply, and 200 emergency support vehicles are in place. The masses of production and living materials are in sufficient supply and prices are stable, and there is no hoarding or out-of-stock situation.
Li Yibin said that in the next step, Hechuan will continue to do a good job in the investigation, push, and control of close and sub-close connections, so as to find out all the risks , manage it; continue to carefully organize and accelerate the nucleic acid testing of personnel in temporary control areas to ensure that no one is missed; continue to strengthen social control, suspend various gathering activities, effectively control liquidity, and strictly prevent risk spillovers; make various emergency preparations , to ensure preparedness, and to protect the daily life of the masses.
Related topics:
Chongqing New Coronary Pneumonia Epidemic Prevention and Control Press Conference
[Source: Hualong.com_Chongqing Today]
Disclaimer: This article is reproduced for the purpose of conveying more information. If the source is incorrectly marked or infringes your legal rights, please contact the author with the ownership certificate, we will correct or delete it in time, thank you. Email address: [email protected]