Jimu News reporter Ding Wei
Recently, tourist Liu Min (pseudonym) and friends reported a group trip to Yunnan, but was threatened by the tour guide "I know your home address and ID number, white-collar workers need to spend at least 8,000 yuan". On the afternoon of August 3, the staff of the Kunming Municipal Bureau of Culture and Tourism in Yunnan responded to the Jimu news reporter that they had paid attention to the matter and were currently investigating and handling it.
According to The Paper, from the 19th to the 26th of last month, Liu Min and his friends signed up for a 6-day, 5-night Yunnan tour group. Fees, excluding airfare. She introduced that before joining the group, she asked the staff if the tour group needed shopping, and the staff responded that the group was not a shopping group. Then Liu Min and her friends went to Yunnan with peace of mind. However, what she did not expect was that during the tour, the tour guide not only did not allow tourists to add contact information to each other, but also threatened to know the ID numbers and home addresses of tourists. Recover the difference in travel fees.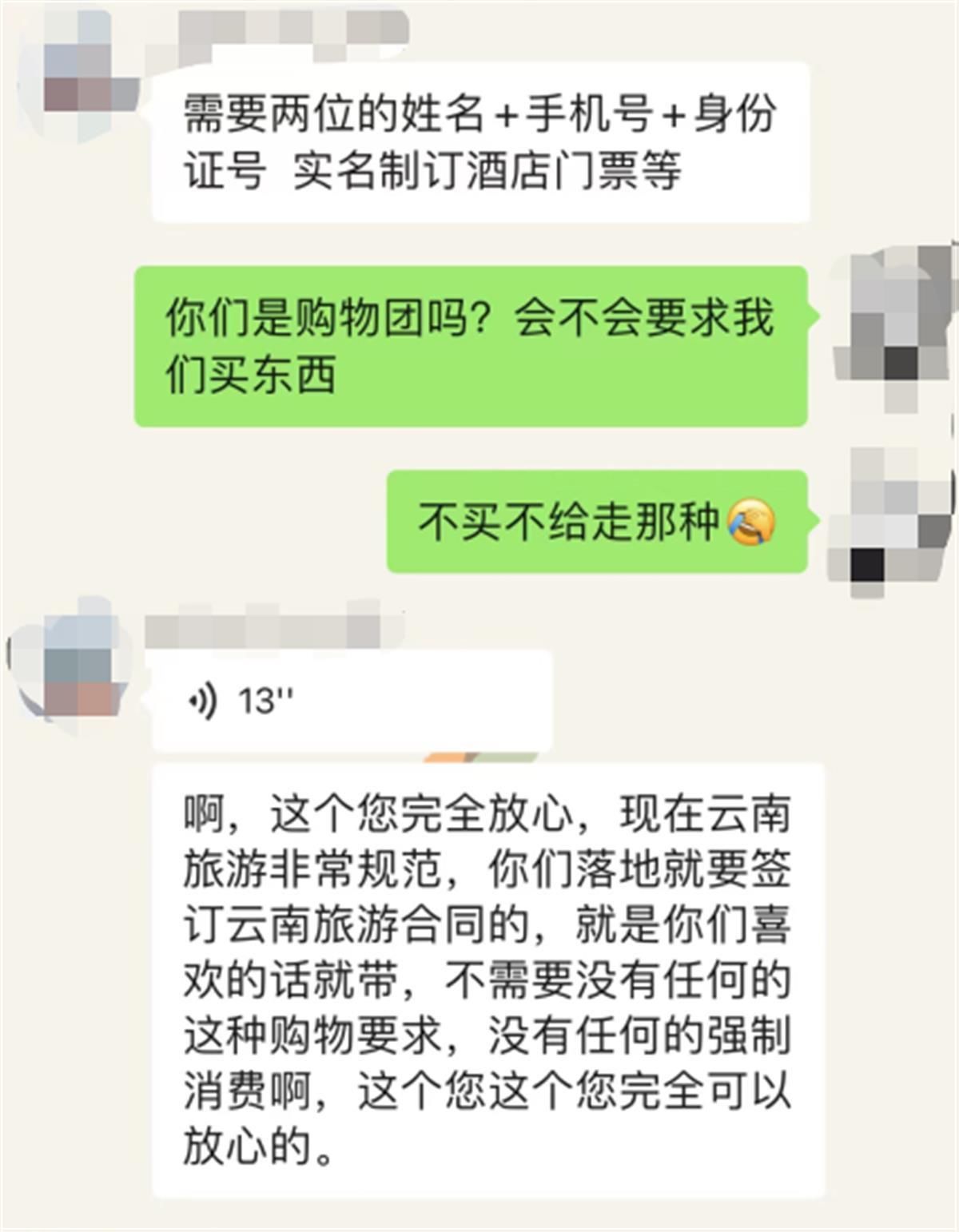 Screenshot of chat (Source: The Paper)
Photographed by Jimu journalist secretly in Liu Min In a video, the tour guide also divided the shopping consumption levels for tourists, saying that "the working class consumes 3,000 to 8,000 yuan, and the urban white-collar workers consume 8,000 to 20,000 yuan."
Liu Min said in an interview with the media that the tour group went to Dali and Lijiang and other places, and they asked for shopping every time they went to each place. Under the pressure of the tour guide, she and her friends bought 5,000 or 6,000 yuan of things , A group member bought 130,000 yuan of jade.
On the 3rd, the reporter contacted the tour guide involved, but he did not answer the phone or reply to the text message.
The staff of Kunming Culture and Tourism Bureau told Jimu News reporter that they have paid attention to the matter and are currently investigating and handling the matter, and the results of the matter will be announced later.