On the afternoon of August 7, Hainan Province held a press conference on the prevention and control of the new crown pneumonia epidemic. The report showed that about 25,000 people are currently stranded in hotels. As of August 7, according to flight steward data, Sanya Phoenix International Airport planned to have 424 flights in and out of the port, 420 of which have been cancelled, and large-scale flights have been cancelled.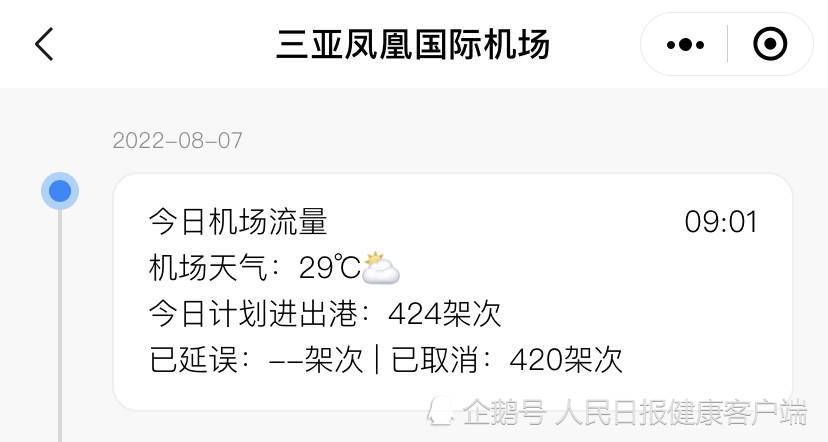 Provide half-price extended stay service for stranded passengers
At the press conference, Hainan Tourism Liu Cheng, deputy director of the He Culture, Radio, Television and Sports Department, said that for hotels that have received stranded tourists, they will provide a 50% discount on the original stay price within 7 days from August 6. If the tourist chooses not to stay at the original hotel, he/she will choose from the list of hotels in the area. Tourists who choose a new hotel by themselves will be given a half-price discount based on the lowest price announced on Ctrip's official website, and the transportation department will be responsible for dispatching vehicles to ensure the transfer of tourists who change hotels.
Liu Cheng introduced that as of August 6, Sanya City had properly accommodated 2,845 passengers stranded at Sanya Phoenix Airport in Sanya Bay Lihe Wyndham Hotel, Howard Johnson Guoguang Resort, Intime There are 11 hotels including resort hotel, Dadonghai Hotel, Dadonghai Barui Boutique Hotel, etc., and provide 7-day hotel accommodation service.
Set up a special class for tourist services to simplify the unsubscription process
Introduced at the press conference, Sanya City has launched a special work mechanism for unsubscribing from the tourism and accommodation industry , coordinating the cancellation of orders due to force majeure factors such as the epidemic. Liu Cheng said that it is absolutely not allowed to evict guests. If the guests who have checked out are stranded, they will be re-checked in. He also requires hotels to explain and appease the tourists in a timely manner, and do their best to ensure the reception service. The telephone number of the service commissioner of the Municipal Tourism Bureau was announced, and fruits of peace of mind were presented to the stranded tourists.
According to the press conference on the 6th, the hotel guests can leave the island after completing the 7-day risk investigation and evaluation.
(People's Daily)