Reporter|Deng Lingyao
Editor|Yang Cheng
According to the news from the Red Star Capital Bureau on July 24, at 7:00 this morning, the WeChat public account "Rao Yixue" issued an article "Little Intelligence" Quiz" bombarded Yin Ye, CEO of BGI Group and Vice Chairman of BGI (65.510, -0.36, -0.55%) (300676.SZ), for making up a series of falsehoods.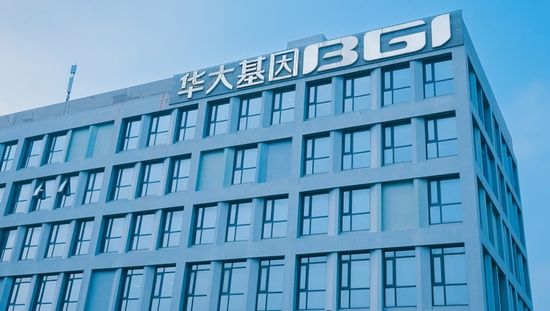 According to the historical publication of "Rao Yi Science", the public account is Rao Yi's personal account, and the introduction is "Scientific knowledge." , culture and fun sharing". In the public account, Rao Yi's label is "Peking University Lifelong Chair Professor". In addition, the official website of Capital Medical University shows that Rao Yi is still the current president of the school.
According to the official website of BGI, Yin Ye, who was born in 1979, holds a doctorate degree. He is the current vice chairman of BGI and a director of Huasheng Diagnostic Center Co., Ltd. company director. He used to be the general manager of BGI, the chief operating officer of Huada Holdings, and the general manager of Shenzhen Huada Gene Medicine Co., Ltd. (now merged with Shenzhen Huada Gene Technology Service Co., Ltd. to become Huada Gene). The introduction of his personal public account "Ge Yin Genes" is to talk about gene gossip, discuss the vertical and horizontal of the industry, and is a fresh, informative, interesting and reliable popular science column.
The Red Star Capital Bureau noticed that Yin Ye's explanation video about the meaning of dreams and why humans dream was inserted into the article "Intelligence Quiz". In the video, Yin Ye said, "Dream is the central nervous system developed in the body and a unique perception of the brain after being upgraded to a dimension." Rao Yi wrote, "I watched a few Yin Ye's videos and found that There are many mistakes, basically all of them are wrong, but some mistakes need to be known by people who know some majors. Generally, people in science will know that there must be a problem after reading a few. If you want to correct and clarify each one, I don't know how many days night."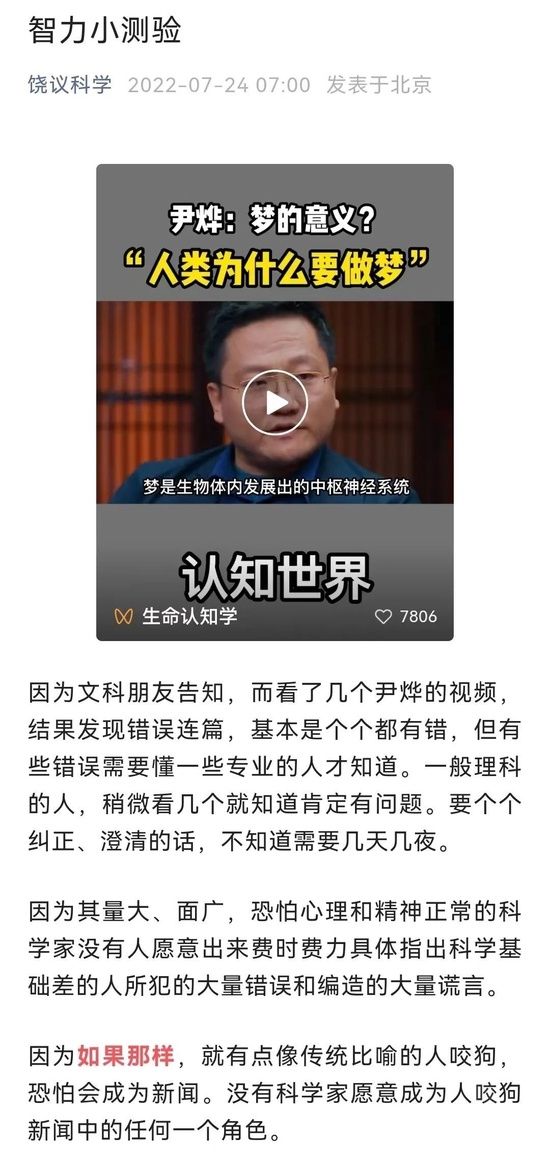 But no one came forward to point out the reasons for Yin Ye's mistakes and lies, Rao Yi thought, "It's a little bit. Like the traditional metaphor, if a man bites a dog, I am afraid it will become news. No scientist wants to be any part of the news about man bites a dog."
In addition, Rao Yi also shouted at the employees of BGI," Yin Ye's superiors should be persuaded to fire him instead of hysterically opposing criticism, because this is the norm for international technology companies." "But if you know he's talking nonsense and support him face to face, it's just to cultivate a horse-beating culture and it will collapse sooner or later."
In this regard, at 8 o'clock this morning, Yin Ye responded to Rao Yi's above point of view in his public account "Ge Yin Gene", saying, "Thank you for your advice."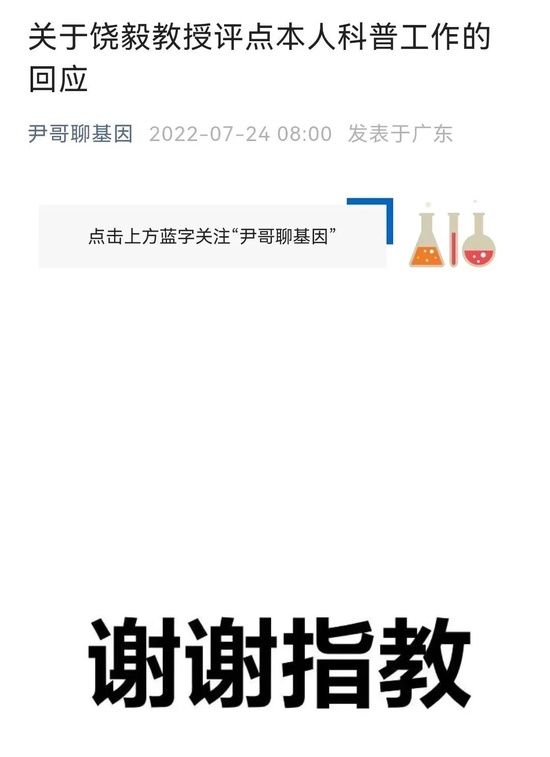 [Source: Red Star News]
Disclaimer: The copyright of this article belongs to the original author, if If the source is wrong or your legal rights are violated, you can contact us by email, and we will deal with it in time. Email address: [email protected]