This article is reprinted from: Guangming.com
According to a recent report by the National Broadcasting Corporation (NBC), last week, a passenger arrived at Darwin International Airport in Australia from Indonesia. Carrying a piece of American fast food faces a fine of up to 2664 Australian dollars or 1874 US dollars (about 12467 yuan).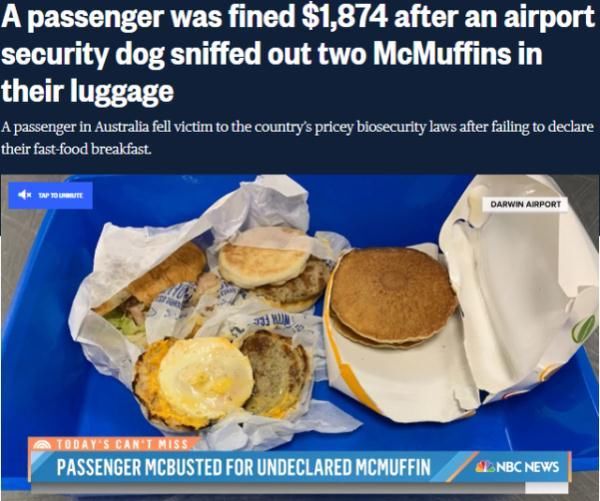 Source: Screenshot of the report
It is reported that the newly added biosecurity detection dog at Darwin Airport is in the passenger's backpack Two slices of eggs, beef sausage and ham croissant were found.
Australian Agriculture, Fisheries and Forestry Minister Murray Watt said in a statement, "This will be the most expensive McDonald's meal this passenger has ever eaten, and the fine is for travel to Twice the cost of an airfare to Bali, but I have no sympathy for those who violate Australia's strict biosecurity regulations, and this recent case shows you're going to get caught."
A month ago, when foot-and-mouth disease The Australian government has announced new biosecurity regulations following the spread of (FMD) in Indonesia, including Bali.
According to Watt, detection dogs are being deployed at Darwin Airport for biosecurity. Australia is currently free of foot-and-mouth disease and testing dogs are working hard to ensure that. All seized food will be tested for foot-and-mouth disease and subsequently destroyed.
Wats also said in the statement: "Biosecurity is no joke – it helps protect jobs, our farms, food, and supports the economy. Travellers need to comply with all biosecurity regulations to ensure they Eligible for entry into Australia."
The report mentioned that in July this year, a woman was fined A$2,664 for forgetting to declare a Subway sandwich when she arrived in Australia after a connecting flight in Singapore. Jessica Lee, a 19-year-old Australian who went viral after sharing her story on TikTok, said jet lag caused her to forget she was carrying a chicken lettuce sandwich so she didn't declare it to customs at the airport.